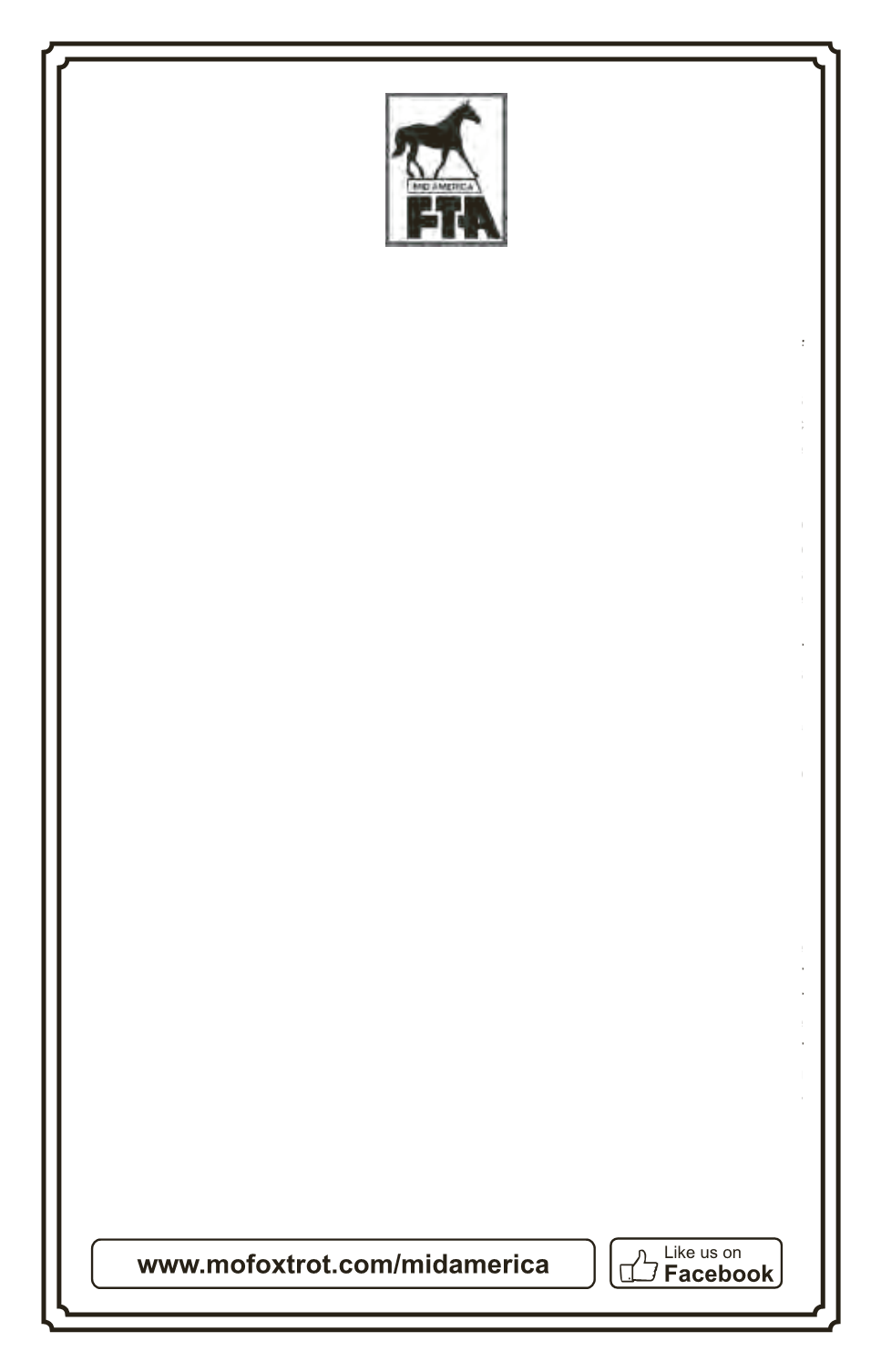 Welcome to the 2015 Grand Slam!! It is our 43nd Annual Two Year Old Fu-
turity and the 48th Annual Mid-America Fall Show. The board has worked extremely
hard this year to offer our members more opportunities to enjoy their fox trotters. First
and foremost, of course, is The Mid-America Grand Slam, one of the premier Mis-
souri Fox Trotter shows of the year. Because of the generosity of our sponsors, both
businesses and individuals, we have lots of opportunities for fun at our show. We are
offering more variety than ever in our classes. New this year are the TBA classes; the
MFT Stallion Tour Offspring Class and the Out of State Class. The Pony Triathlon is
back this year, too. But that's just the beginning. This year, for the first time, we are
hosting a stall decorating contest. Be sure to check out how creative our members are
in all three divisions; youth, stall front, and stall row. For members interested in trying
new disciplines with their fox trotters, there is the Western Dressage Clinic onThursday
and Friday afternoon. We have added a new award this year, the Youth Sportsmanship
Award, which will be presented on Friday evening. The Ladies' Fox Trot Championship
Class has added a traveling trophy in memory of Fran Peyton, a long time fox trotter
supporter, which will be awarded Saturday night. There will be a quilt raffle and a gun
raffle, and don't forget the 2nd annual Kiss the Pig Contest! This year's contestants are
all MFT trainers, so you won't want to miss that! Topping it all off, we will crown the
new Four-Year-Old Maturity and Two-Year-Old Futurity Champions.
We are always excited to see our members and friends and to watch them put on good
performances in the ring. This year, it will be even easier to follow their accomplish-
ments at the show. We are going to keep our Facebook page and Twitter account live
with class announcements, pictures and encouraging words from all those observing,
participating, and following those in the 2015 Grand Slam. Watch Facebook and Twit-
ter for updates.
The Mid-America Board would like to say a big thank you to the many mem-
bers that turned out for the spring kick-off BBQ and Trail Ride. The weather was better
than expected and the food was delicious. Thank you to Karen Graddy for gracious-
ly providing her barn for the event. It was a great way to start show season and we
hope this event becomes a tradition for our organization. Don't forget about the annual
meeting, come join us for dinner and socializing. We'll see you there!
Special thanks to Samantha Connelly, DDS, and the youth supporters that add so much
to the youth classes at our show. Thank you to all of our sponsors and advertisers whose
ads you will find in this book, on our Facebook page and website. Please let them all
know how much they are appreciated.
Respectively,
Your 2015 Mid-America Board