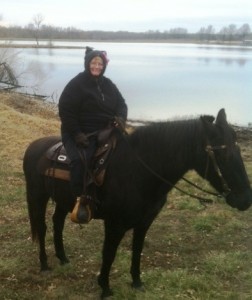 Hope and I were out in the overcast day with the alleged temperature in the 50′s.  I had on nearly 25 lbs of winter wear plus this beautiful cat hat.
The cat hat is a phenom.  We've gone on rides, I speak to oncoming riders and they don't speak back.  We've decided it's the cat hat. I just look too weird.  The cat hat is the warmest hat I own.  I insist on wearing it.  I forget that I look weird and still chat with people when we meet them.
Today a slice of the sun broke out for about 5 minutes.  Not long after that, we met an older male rider on the trail.  I figured that he just might be as old as me.   I said "HI, Did you see that sunlight about 5 minutes ago?"  He said, "Yes, I saw it."  I answered, "We are searching for that sun light!" and we rode on.
About 15 minutes later, we met again. This time we met at an intersection and we were going to end up heading the same direction.  I said, "Well come on!  You might as well join us.  You can't go wrong riding with two beautiful young women like us!"
It was obvious that he wasn't used to being flirted with.  He said, "WHAT?"
Hope answered him, "Susan is very full of herself.  Come and join us.."
That settled him down and we had a good time riding.  He told us about his horse.  He takes part in Extreme Cowboy Challenge competitions.  Sometimes they shoot. Sometimes they do things with cows.
Hope said, that's one thing we have never done, shoot off our horses.  I told her that Sage has experienced firecrackers.  I tried to brag a little bit.  Hope bragged a little bit about Velvet and we had a rollicking time heading back to the trailers.