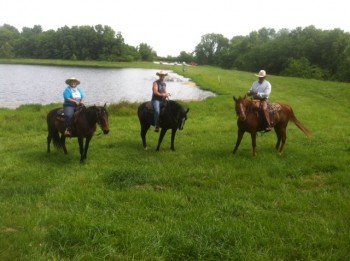 Our first trail ride in over three years was today.  Sue was fabulous, just fabulous.  She has the nicest flat foot walk and goes anywhere.  She went everywhere, except when I told the crowd she would go anywhere. Then she refused.  It's up to the horse to humiliate the rider whenever possible.  No matter, it was down a steep hill into a ravine.  I wouldn't have wanted to go down that hill either, but this was a trail ride.
This was an official Fox Trotter Club ride and Hope and I were the leaders.  Hope took our leadership very seriously.  She wouldn't let me go on the secret trails.  Hope is a stickler for rules.  We went on the mowed trails.
Sue has a nice flat foot walk and then goes into a pace.  It's a pretty nice smooth pace, but I dislike it all the same.  It will be fun to work that out.
Two of our riders were new to the fox trotter club.  Mike and Ken are wonderful riders.  They are safe and very nice to chat with.  I love riding with safe riders, especially on my first trail ride with Sue in our second time around.
Nichole Copple has done a great job with Sue!  She is a fabulous horse to ride on the trail.  You would think that Sue would be huffing and puffing on a six mile ride after three years being a brood mare.  Occasionally, she did breath hard, but we slowed down and she did fine.  I think she has such an efficient gait and it doesn't take a lot of effort for her.  Or she has a huge heart and lungs.
Hope had quite a time getting to the park.  Her truck wouldn't start.  Her perfect husband jump started it and she made it early to the park.  After our perfect trail ride, Hope's truck wouldn't start.  Alan, the perfect husband, came with tools and battery.
While the perfect husband was on route to the park and then working on Hope's truck, I just let Sue stand in the grass with the lead rope on the ground.  I fed her some grain.  It was quite an effort to get her to eat on the ground.  She didn't dive down and eat the grass.  She didn't move. She didn't move for at least 15 minutes.  I wondered if anything was wrong with her.
Finally, I came to the conclusion that she has been trained to ground tie.  You throw the rope on the ground and she doesn't move. This is amazing when you also stop to think that she is a hard-to-catch horse.  In fact, one of the reason that I bought Sue was when people wanting to buy her took her to this park to try her out.  They rode to the far end of the park.  Sue bolted when her rider patted her on the rear. The rider fell off and Sue raced back to the trailers, right in the same place where she was now ground tied.  They had to round up all the people at the park and form a circle to catch her.
The new Sue did not move for about 30 minutes.  I groomed her, rubbed her, fly sprayed her, sprayed healing stuff in her tail where the ticks had bit her.  I walked all around her.  She did not move her feet.  She was tied to the lead rope on the ground.
Amazing!