Summer is when I first realize that the great horse show is coming in September and I really need to practice stuff.
Summer is when it's hot and humid.
Summer is when I don't want to ride after work in the 100+ temperature.
Summer is when I'm glad to be an "office worker".
Summer is when I realize that I should have been practicing for the horse show during the spring.  What was I thinking!
Summer happens every year.  I remember.
Going riding all three days of this weekend, even though it's summer.  Horse Camp at For the Horse Ranch in Fair Play.  THANK GOODNESS for Horse Camp
I told you Lucky Star was moving to left brain extrovert!  Actually, it was Jenny that told me and I passed it along to Lucky Star's fan club.
I took the Horse and Human "ality" match test early this week after listening to Dr. Patrick Handley's lecture about personalities last Saturday.  I really wanted to find out who was living in my body, and thought it would be fun to see where Lucky Star appears on the chart.
Lucky Star is still in the left brain introvert quadrant, but he's so close to being an extrovert, he's been determined to be a cusp horse.  Crossing over into extrovert just entails a few more changed answers. Then he'll be a cusp left brain extrovert…just on the other edge.
Dr. Handley said that your personality is affected by your environment.  Lucky Star might be a left brain extrovert out on a trail ride and a left brain introvert in a boring arena.  It's just up to me to make arena's fun extrovert kind of happenings.
Find out who you are and who your horse is via Horsenality/Humanality.  No matter who you are, you're going to be right proud of yourself and your horse!
Lucky Star and I came roaring into Pine Dell Farm at our customary 3 mph jet speed.  We were late for the Wed nite lesson.  The horses and riders were coming from the great outdoor playground to the arena.  We pulled in and Karen said that Lucky and I might want to warm up in the playground.
We did warm up.  Yesterday's Rocket-Man was gone and the obediant Lucky Star took the spotlight.  Lucky Star is not fully obediant yet, but he was good, darned good.
We strolled down, got the saddle on and went into the arena. The lesson was in progress.  Horses were trotting around the arena.  We made it to mounting block and I got on. Everything was in good shape and I told Lucky Star to join the trotting.  Zip, off we went.  It takes a good calm horse to get right into an ongoing lesson, for sure! I was rightly proud of my boy.
Then came the Musical Barrel Game.  We have barrels in the middle,  Karen puts a handfull of sweet feed on the barrels.  We ride on the rail until the music stops, and we find a barrel.  At this time, we are riding with loose reins and using only the carrot stick to guide the horse.  Lucky Star and I were doing fine.
The problem came on the 2nd time to play the game.  Lucky Star saw Karen go down the barrel row with sweet feed.  Lucky Star's head came up and his total being was focused on "the barrels". The barrel with sweet feed!  Prancing Dancing Rocket Man returned.  PDR-Man and I had a few words and I had given up the loose reins for sure!  When we came close to the barrel he owned for the first round of sweet feed musical barrels, we had a balking argument.  Lucky Star did not want to pass the barrel with food and I did.
I won.  When the music ended, Lucky Star was given the signal to rush to "his barrel".  He rushed to the barrel, got one lick of food and knocked over the barrel. All his sweet feed was thrown on the arena ground.  Lucky Star and I had a chat about barrel technique. I explained the concept of stopping when arriving at the barrel.
The game starts again. We have our argument when Lucky Star sees Karen put the sweet feed on the barrel.  I win the balking contest. The music stops and Lucky rushes to the barrel to eat all his food.  Now we are starting the elimination musical barrel game.  Everything repeats, with one less barrel than horse and rider.  Lucky Star makes it to a barrel.  Four more times, we win a barrel. We are a TEAM!  It's down to Roger and I.  Our horses are nearly the same color and hugely determined to win the barrel.  Music is playing and a dratted tick must have moved up Lucky's leg. We screeched to an unwelcome halt and tried to kill the tick.  Unfortunately, the music ended and Roger won the barrel.  Huh! Was Lucky's reaction. Lucky Star cursed the tick.
Lucky Star, the non-moving horse, peeled another layer off his personality today.   Let's laugh at the original concept of the horse that won't move.
Lucky Star knows his good Arabian friend, aMuir, is at Pine Dell. Lucky Star pulled into Pine Dell in his trailer.  AMuir must remember our trailer. Lucky Star was in the beginning stage of our ride, when we heard a nicker from the pasture horses. I suspect it was aMuir. AMuir lived at our house for a while and he and Lucky became best of friends geldings.  Lucky got really excited on hearing aMuir. We were working thru Lucky's excited nickering about aMuir when a paint horse and owner appeared outside the arena. Lucky went into excitement overload. His emotion and body language sailed up onto the Susan red zone.
"Get Off!" my brain screamed!
I got  off and Lucky Star immediately pretended to be his non-moving calm self. We journeyed out of the arena to get his halter on.
We sauntered back into the arena. I asked him to circle around me. Rocket-Man appeared.  Lucky wanted to turn into a non-bucking rocket jet
I took off his halter and watch in total amazement as he took off and galloped around the arena.   Now I've seen Lucky Star gallop before, but not anything like this.
And he galloped and galloped.  He ran over to the paint horse and owner and terrified them.  He took off again and galloped around the arena several times.  When he slowed down and came to a stop, it was nothing to get him started going again.
After about 4-5 gallops around the large arena, he looked at me and galloped to me. Thankfully, he stopped right in front of me. He's got a good stop on him!  I petted him for a while and he was happy.
Then he got agitated again and took off for another 3-4 galloping trips around the arena.
Never have I seen Lucky Star gallop this fast and this long.
I was really thankfull that I had dismounted.  Lucky Star was not a horse I wanted to ride with his exhuberant galloping self.
Lucky Star galloped to me again.  I put on his halter and we went out to run about the obstacle course at Pine Dell.  He had quite a bit of exercise when we were done for the day.
Wonder what horse will show up on Wednesday when I ride. Remind me to never think of Lucky Star as a no-go horse who needs just a few minutes of warm up.
Lucky Star is owned by Stoneridge Farm /  Stonridge Farm
I'm not saying this for anyone to know. Keep this away from prying ears. No one needs to know I haven't ride Lucky Star in two weeks. Most of last week I was watching Nova and Velvet at the National Spring Fix Trotter show with Tony Vaught and Nichole riding. I did ride Velvet twice. So it's not like my cheek riding calluses got soft.
This week I've been pretending to be exhausted from last week. I perked up by Wednesday. I worked on editing my book instead of riding.
Tonight I took Lucky Star to the park. During our warm up, he voluntarily cantered. Good Gad! Lucky has spirit!
We warmed up until Lucky Star looked like a horse I wanted to ride.
I took him to the loading dock to get on. He thought I wanted him to jump up on the loading dock and he did.
Finally I got mounted and he still was filled with unLucky like spirit. I even heard a soft snort come out of his nose. Never has Lucky Star snorted.
His head was up as we walked beside the corn which has grown 2 feet since we were last there. Yummy!
Lucky Star semi relaxed and do did I. Hope and I were able to tell our stories. A long time had passed and Hope had gone out into the horse world without me and vice versa!
We came to one of the big lakes with a parking lot for hikers and fishers. A little yappy dog in a truck yapped at us. He didn't have anything else to do. Lucky Star's spirit came up again and we were unable to walk by the yappy dog. We froze. Hope turned around and started lecturing the yappy dog. Yappy ignored her. Lucky Star decided he could go way around the other side of the truck. Then a walker guy with a big stick got out of his car, right in front of Lucky. Yappy dog and stick guy, what is a spirited horse to do? Lucky Star froze again, head up, staring.
Hope and Jazz came close to us and provided a security blanket for Lucky. We rolled across the big dam. As we started up the hill, Lucky Star became a prancy dancer. I was certain he was being attacked by unvisible biting nasty flies.
I did think I heard a voice from behind, but was too busy trying calm Lucky down. Finally Hope turned around and exclaimed. There was a bicycle rider right behind us. I turned Lucky Star around to face him. The bike rider kept coming slowly. Lucky Star was prancing backwards and again to a bike rider, I yelled Stop three times before he came to a halt.
Hope and I now think these people must think Im yelling Stop at my horse instead of them.
This was a nice guy. He walked around us and rode off.
Lucky Star and I pranced into a crop field. A huge tire something had been in the field and cut the top off the crop. We had trails to follow in the field. Cool
Lucky Star and I did a marvelous flat foot walk up and down the field. He was calmed down considerably.
We had an episode with deer brush rattle. After Lucky Star leaped forward, and calmed down, he decided to get the entire side of the bit and my rein in his mouth. After I got my rein back, we were one field away from the trailer and we did a marvelous flat foot walk the entire distance! Wowed Me
Tomorrow we go to For The Horse Ranch for a lesson with Jenny and Tony Vaught. We have to
Make Up that lost riding time!
Show started out this morning with Nichole and Velvet carrying the flag.
Pony Triathalon starts today. The first event is the obstacle class. Caitlyn and Ariel are competing.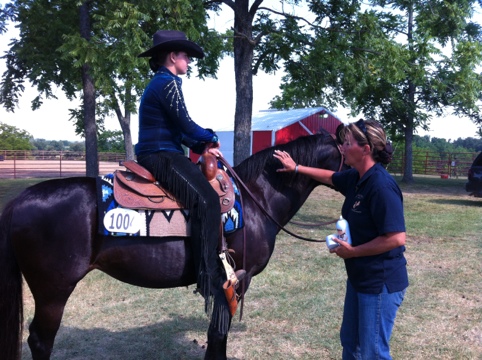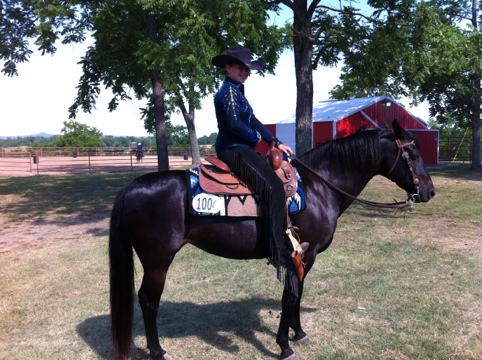 Caitlyn and Ariel win the Pony Triathalon obstacle event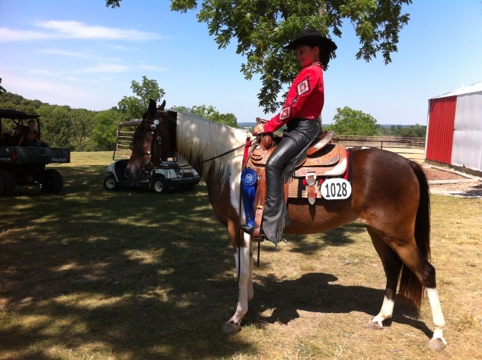 Jenny and Velvet won the Open Trail. Nichole and Velvet win the Youth Trail.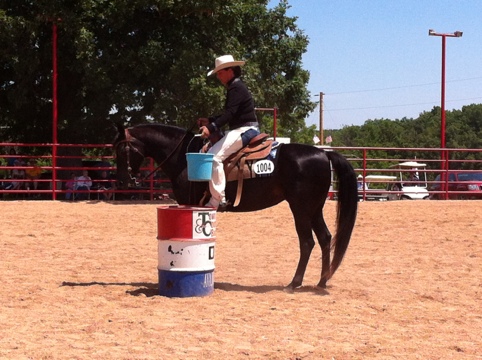 Nichole and Velvet have won both the barrel and pole races.
Nichole and Velvet won blue in every class! Nichole is High Point Youth Versatility Champion and Caitlyn was reserve champion!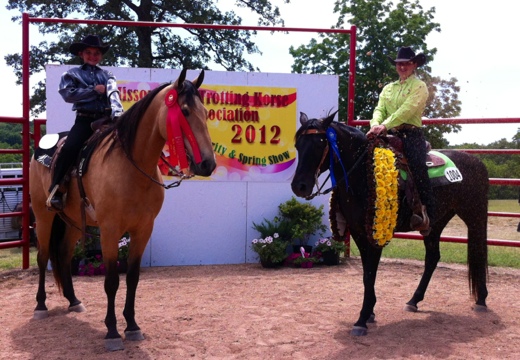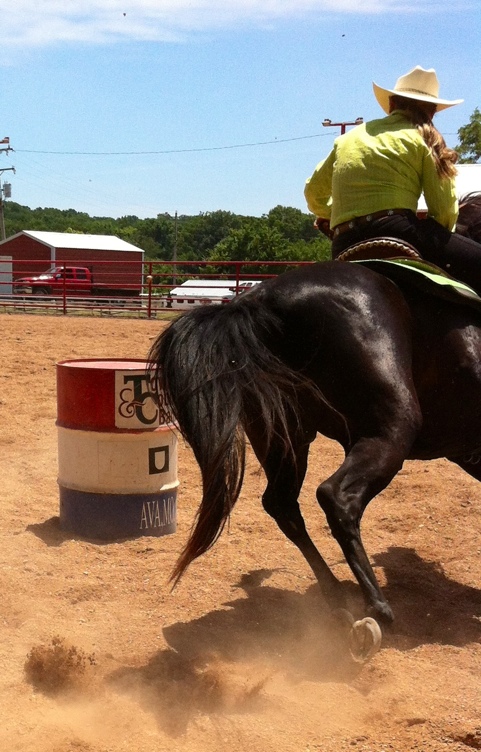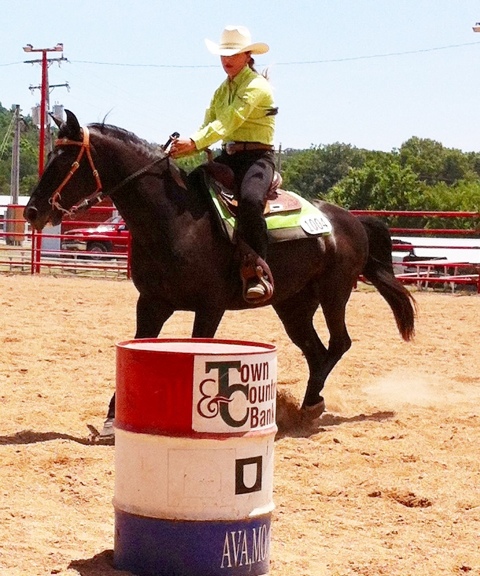 Thursday is Ranch Horse Day! Open, Amateur and Youth all compete together. We are waiting for cutting results.
Our most senior competitor, Sally Scott won. Our youngest competitor, Caitlyn on Atty, got second. Caitlyn has promised to help Tony and Jenny with their cutting horse skills!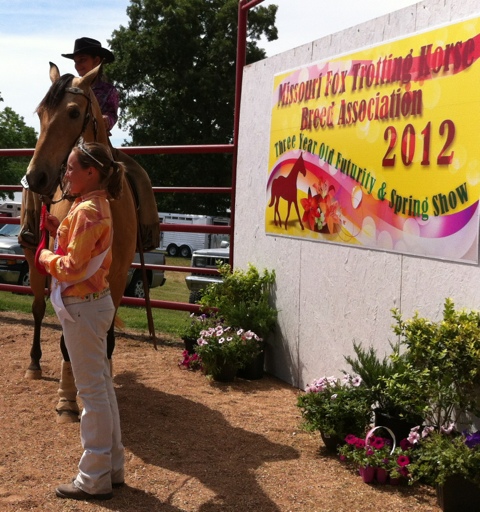 Roping was next and Jenny and Raffle won 1st. Tony and Nova got 2nd!
Working Cow was won by Sally Scott. Tony Vaught and Nova got 2nd!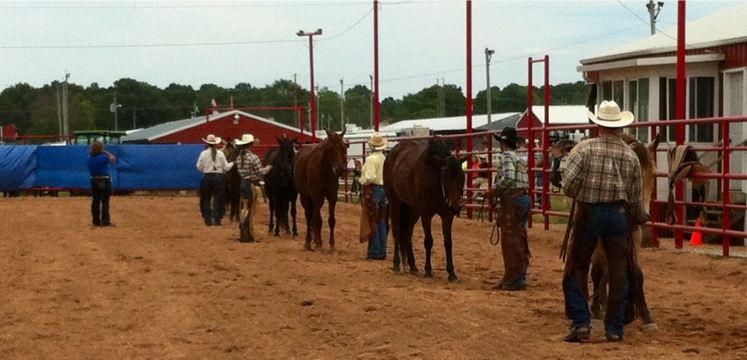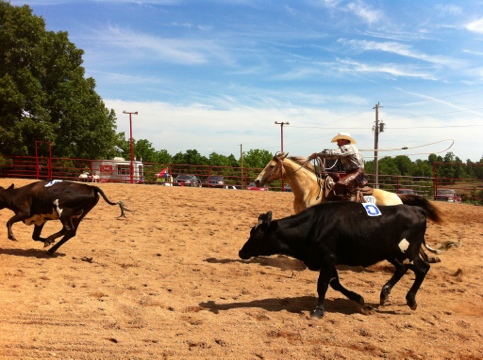 Tony and Nova win the National Ranch Horse Championship! Big Win
Vaught family had a great day. Youth And Open Versatility Championship awarded after trail and speed events on Friday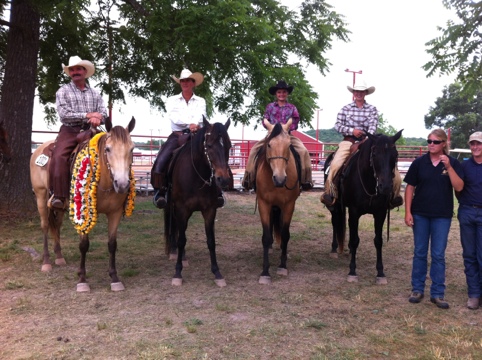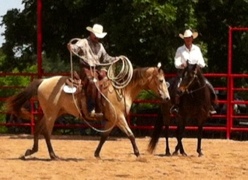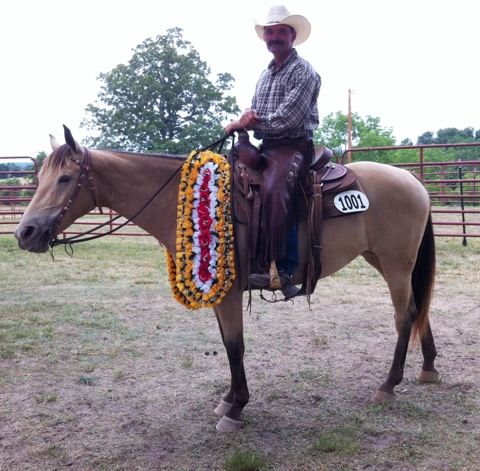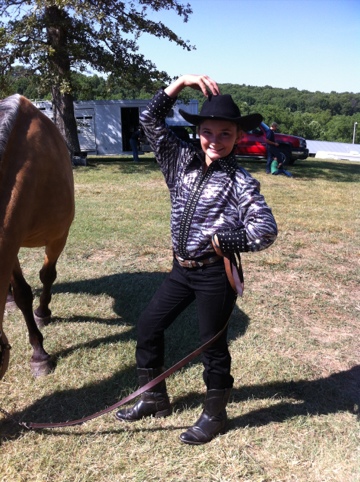 Caitlyn and Attu prepare for Showmanship.
It's Showtime for Nichole and Velvet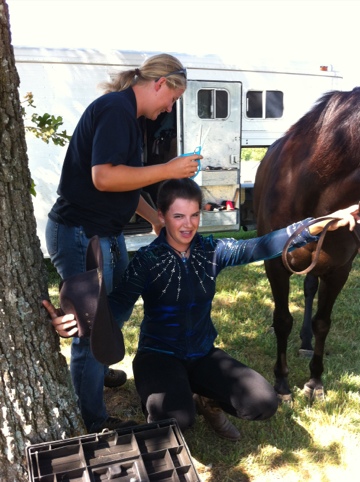 Nichole got second in Youth Showmanship and Caitlyn got 5th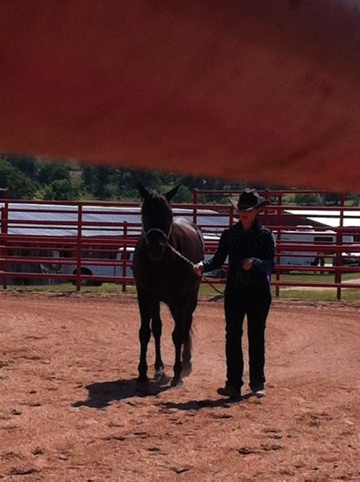 Nichole Copple and Velvet win a big first in Youth Western Pleasure!
Jenny and Raffle won first in Open Western Horsemanship. It was a big class.
Nichole and Velvet won 1st in Youth Western Pleasure. Caitlyn got 3rd! YeeHaw!
Open Reining: Tony and Nova 1st, Jenny and Velvet 3rd, Jenny and Raffle won third. This was a big class and big wins.
Youth Reining. Nichole and Velvet won 1st. Caitlyn and Attu won second.
Hunter Hack- Nichole and Velvet won 1st
Done!!!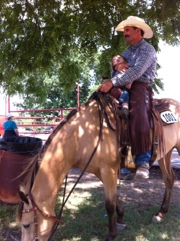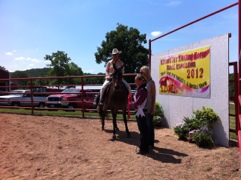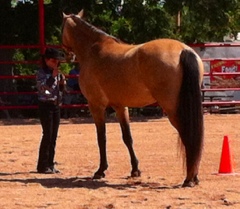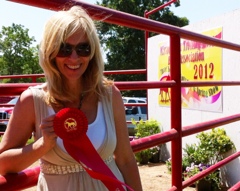 Caitlyn and Attu are only pair with double bridle. She is the youngest rider in Open Hunter Hack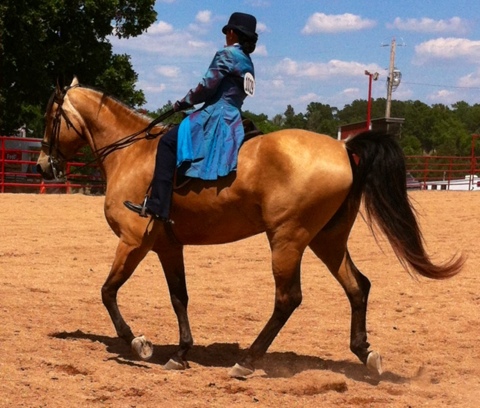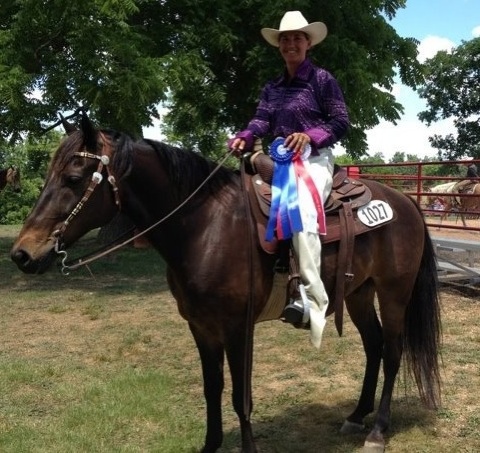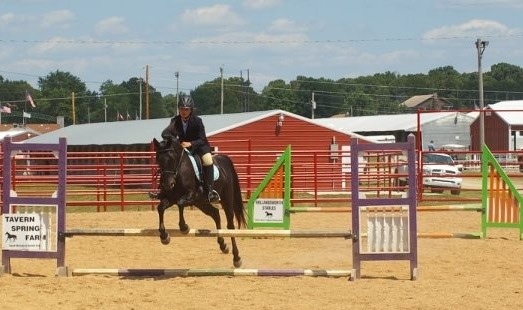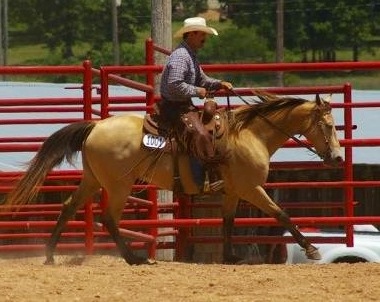 No problem drive from home to Ava. That's what happens when you don't have a horse in the trailer. No breakdown guarantee!
I stopped at Gordon's Feed Store off 60 Hwy east of Springfield. Bob is the new owner of the store. He apologized for not getting the big sign to say Welcome Fox Trotters. Store is very nice and well
managed inside.
When he was loading Nova's feed into the trailer he said, Country Frank, and then apologized for being too presumptive. Country Frank!, I said. I'm riding the last son of Country Frank! Turns out Bob is Country Frank's human uncle! I made him write down this link and promise to read this blog. Bob you need to follow the story of Country Frank's Lucky Star!
I had been at show grounds for only a little while when Craig Dansie came riding up on a daughter of Country Frank. She is five and already 15.2 hands (4″per hand). Lucky Star must have escaped being tall, perhaps because he was a twin for a while.
It took a while for me to get unhitched from my trailer. I was starving, so I checked in at the Lion's Club Food Stand and was greeted by my sparkling senior citizen, been there every year. I can't remember her first name. Later
No food, just soft drinks today. Horse show starts tomorrow. Food starts tomorrow early for biscuits and gravy at Lions Club. Thank goodness I had triscuits and cheese spread.
In the evening, watched youth equine agility competition.
It's just 9:00 and now eating supper. Where did time go
Here's Nova after her show horse clipping. She is so awesome!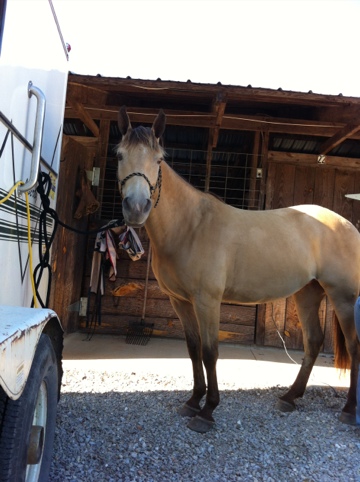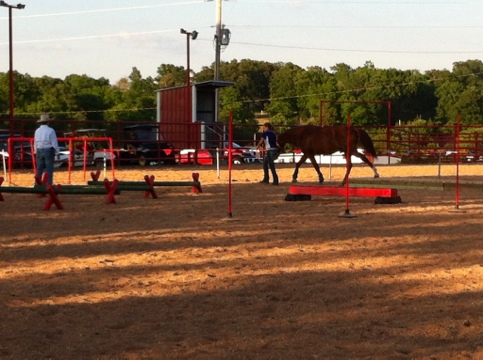 Lots of riders practicing in performance arena. Ride in the cool evening under the lights!