We had a hot time at For the Horse Ranch this past weekend! It was hot fun. We had hot horses and hot people. All these things were true, it was hot in temperature.
We started Friday and Saturday at 8:00am; paused at 12:00am; and resumed our great time at 5:30pm till dark thirty. Jenny calls this our summer schedule. On Sunday, we started early, but went straight thru the day until about 4:30. We did have collapse time out for shade tree picnic table pizza from our favorite eating place, Hannah's Convenience Store.
Jenny rode JR on Friday and Saturday. He had a great time being the instructor horse. He loves being in the arena with all of us.
Tony rode Nova. As she gets in top physical shape, she gets more awesome to look at. Tony said that Nova is 2nd in looks to all the horses that he has ever ridden (in his life!) Wowsa!
My goal for the clinic was cantering and backing.
The first afternoon, Lucky and I were teamed up with Paul and Stefany riding Tenor and Sonny. Tenor and Sunny; Paul and Stefany are all from Florida! I used to own Tenor. I bought him when he was one day old! It's so great to see what that little horse I used to own has turned out to be. I love riding with Paul and Stefany.
As we were in the meadow sorting out what we were going to do, two riders came out of the forest and Lucky Star did an amazing move. He spooked. His feet left the ground. Half my body was thrown out of the saddle to the right. I couldn't believe I was going to start the first day of the clinic with a splat on the ground. Lucky Star decided to get my body lurched back the other way and prevented me from falling. He got my body back into the saddle for a split second. But, he misjudged slightly and half my body lurched out of the saddle to the left. By this time I determined not to fall. I thought if my body could recover from the lurch to the right, surely I could stay with him in the left lurch. And I did! This was the first time that Lucky Star's four feet left the ground at the same time. Lucky Star had his first four legged spook since I started riding him in March!
We played follow the leader around the meadow and the forest trail. We all got to run across the meadow.
Lucky cantered smoothly.
Lucky's legs went into every leg doing something different canter and I moan outloud.
Lucky Star went into an unbelievable slow lope. Oh I was a happy rider that run across the meadow.
Sonny had a few moments of that different canter when I was following Paul. It was fun to Sonny's legs go every which way. Paul calls it the "melt-down" gait.
Lucky Star personality dictates that he just stay in the same gait. His spirit prevents him from being that horse that starts cantering and then wants to speed up into a gallop. I love horses that just maintain the same canter speed, especially out in the wide open.
Occasionally Lucky Star got to be the leader of the group and put in his vote not to lead. So, we backed down the canter hill. You can lead in more ways than to go forward! Other times we turned around and tried to fool Stefany and Paul by walking forward to them. Try to follow a horse walking towards you!
On Saturday morning, Lucky Star and I had a driving and backing ground exercise. I got to learn, again, how to handle 25′ driving reins. We learned how to stop and back. Lucky Star and I will be doing our driving game during our future ground work sessions.
Saturday morning we spent having more fun in the meadow. This time we were to ride side by side. One horse and rider got to choose what to do while the other horse and rider matched. Lucky Star and I were matched with Paul and Sonny. We went zipping across the meadow side by side. Oh we were a sight. Sonny is around 15.3 hands and Lucky Star is around 14.3 hands.
Saturday evening we were matched with Stefany and Sno on Tenor and Gunner. There was one time when we all cantered lengthwise of the big meadow side by side. Oh that was a powerful moment! We had some great rides, all horses side by side. Occasionally Lucky would not want to move forward until Gunner and Tenor led the way and then he couldn't stand being a sticky-foot horse and off we went with our three horse herd.
I got to watch Karen ride Outlaw for the first time on Friday. They were fun to watch as they measured up who was going to be the leader and who wasn't. Karen won on Friday and she won again bigger on Saturday. Outlaw has such a fun personality. He likes to play and he is darned cute. Outlaw is for sale and has been in training with Tony and Jenny since December. Outlaw is a Missouri Fox Trotter.
Sunday morning, Lucky Star and I zipped around the arena stopping here and there, doing hindquarter turns into the rail, backing and then zipping off again. We rested a lot too. During the last part of the Sunday morning ride is when Lucky Star decided to stop all forward progress. We argued quite a bit. Lucky Star had enough zipping around. I managed to quit on a good forward note. I was so hot that I decided to take off the saddle down in the arena and let Lucky Star loose in the large pasture right then. I didn't think I could manage to walk Lucky Star up the hill, take off the saddle, put it in the trailer and then lead Lucky Star to his pasture. That was just too much for me to think about doing. Lucky Star got to go to the pond and get him a drink right then.
While we humans were recovering and eating pizza, the exhausted Lucky Star was seen running up the hill into the forest seeking the other horses. We decided that he wasn't all that tired.
Sunday afternoon, I got to watch meadow play. Tony rode Powder and they were awesome. I drug my chair out to the meadow and found a nice patch of shade. Jenny rode Caitlyn's horse, Attu. When we went back to the arena, Caitlyn had Ariel carry my chair for me. What a nice horse she is.
Karen got to ride her horse Lilly in the arena. They had a great ride. Karen got off and we had Jenny take her for a spin around the arena while we took pictures and movie clips. Lilly is for sale and also has been in training with Tony and Jenny since December. Lilly is a Missouri Fox Trotter.
Call Jenny and ask about coming to see Outlaw and Lilly and making either one of them your partner in fun with horses! 417-399-4146.
Lucky Star took a nap in the meadow starting when we had our pizza lunch. I looked at him now and then while we were eating and he never moved. He continued the nap while we were out in the meadow with him. He didn't move with all the horses zipping around here and there. He continued his nap when we all went back to the arena. He didn't move all Sunday afternoon. There were no horses around him. He was the sole horse in the meadow and it didn't bother him a bit. I went out to visit him late Sunday afternoon. He woke up and followed me back to the viewing stand where he tried to play with all the humans sitting in the stand. He poked his head everywhere and occasionally tried to eat the wood stand. He's a playful horse that loves people!
When we were done on Sunday afternoon around 4:30, I felt like my head had melted into my body. Earlier, Lucky Star had communicated to me in our mind reading mode that it was too hot for him to ride in the trailer back home. Instead, Lucky elected to stay and have a week of impulsion training with the crew at For the Horse Ranch.
We welcome Whitney to our group. She and Rocky made outstanding progress. I believe this is Whitney's first horse and Rocky has some built-in emotional ex barrel horse issues.
We also welcomed Sharon to our group. Sharon learned how to play all the ground games on Friday and Saturday.
It took quite a while for my truck air conditioner to make me feel good again on the Sunday drive home I think by the time I made it to Clinton (about an hour), my body temperature had cooled down.
It stayed in the 90+ temperature every single day and we still had an incredible time at Horse Camp!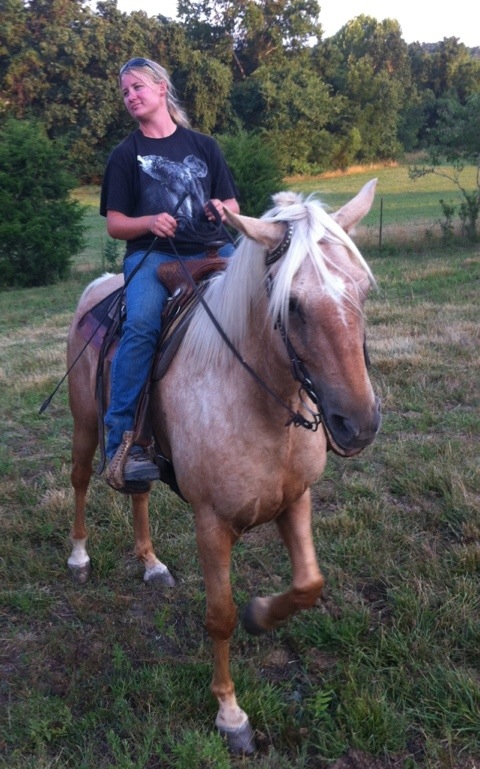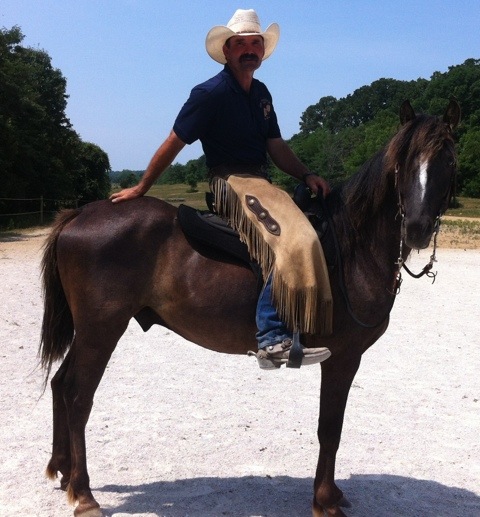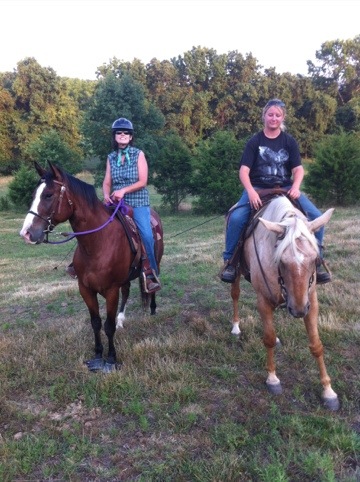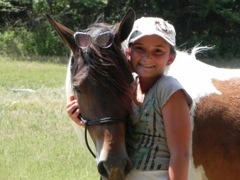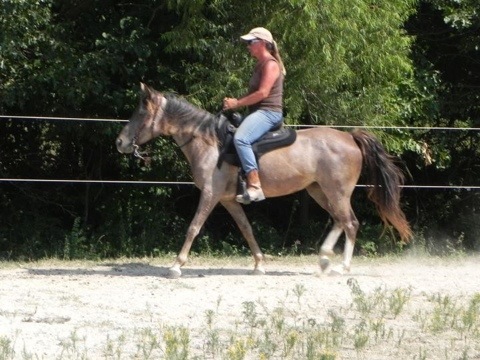 2 Responses to "Hot Time at For the Horse Ranch"