Velvet and Nichole won the garland in the youth Versatility Spring Show.  I clapped and cheered all the way through the blue and one red ribbon!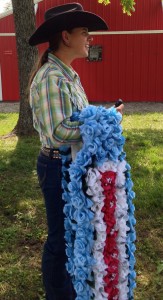 Ranch Horse Day was a surprise.  This year the Ranch Horse classes just had one classification…Open.  Open means professional horse trainers and everyone else can participate.  Nichole is 17.  She was in Ranch horse events competing against her mom, step father, younger sister and a host of other adult riders.Points are accrued based on the placing of the horse/rider and how many riders competed in the class.  The Ranch Horse Events go by quickly and no one was trying to compute points.  The Ranch Horse Conformation class was won by Tony and Powder.  Caitlyn won the Open Roping.  Jenny and Nova won the blue in Working Cow horse.  Nichole and Velvet took second in many ranch classes, not any blue ribbons.
My  earlier prediction was that Nichole and Velvet would win over some of the adults.  And she did, but none of us had any idea of the outcome that happened in real life.
The announcement was made.
The Ranch Horse Champion is Nichole Copple and Toddy's Velvet Perfection.
Tumult!  Screaming, yelling, cheering, clapping!  We learned that Caitlyn and Attu took second.  Oh my!  I got to hold the ribbon.  Velvet got to wear the garland.  We had our picture taken!
Afterwards, we all tried to take responsibility for Nichole and Velvet winning.  I mentioned that I took Velvet through the Parelli levels.  Jenny stated that she had trained Velvet.  Caitlyn didn't say anything, but she could have taken credit for learning how to ride on Velvet.  Tony didn't say anything.
After most everyone tried to take credit, Velvet glared at all of us.  We were hushed by the glare.  Velvet stated that she, herself, was old enough to be in the Open as she is twenty years old.  She further stated that this win was a team effort between herself and Nichole.  Then Velvet snorted on all of us and stomped her foot!
We all hushed up and gave Nichole and Velvet all the credit for being the Open Ranch Horse Champion!
Congratulations Nichole and Velvet!