Long have I and the multi-talented, willing Velvet been doing solo demonstrations.  My demonstrations  are all about showing lot's of WOW Horsemanship along with a little bit of humor.   (judged Free Style entry for your enjoyment)
Velvet and I started doing "demo's"at Equitana in Louisville in 2000 and I've added bits and pieces to the original demonstration since then.  Our 2009 demonstration was for Pat Parelli, Walter Zetl (dressage master) and an adoring crowd of 1000 people.  Velvet and I brought down the house.  The thought of doing a demonstration with another horse is daunting.  I can never top Velvet's performances.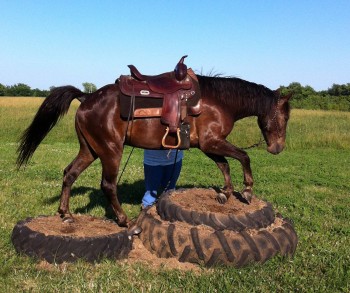 Now I have Lucky Star who is very different from the willing Velvet.  Lucky Star is occasionally, "unwilling".  Picture this:  Audience of nearly 500 people all staring expectantly at Lucky Star and I spotlighted in the arena.  Lucky Star and I have an argument about whether or not he will move forward.  This is my demonstration vision of hell on earth.
We've got a Fox Trotter Fun Horse show coming up in April 2014.  There's a class called Free Style.  It's a judged class of you and your horse doing a "demonstration".  There are no rules, except you can't ride naked.  Multiple riders can ride, duets can perform, any horse and rider or teams can go into the arena for 3 minutes and do something.  You can have your own music, props, props team, script reader etc or nothing.
I've worked out a totally new demonstration idea for Lucky and I.  The idea incorporates his personality!  The routine includes props, barrels and an amazing Lucky Star trick Grand Finale.  We have practiced once and I've formalized the demonstration action sequence.  I've ordered two special toys for Lucky's demo debut.  I need another toy.  Thank goodness for Amazon.com where you can just type what you need and there it is.  In the old days, I had to search through thrift stores to find my props.  I need music that goes along with Lucky Star's Demonstration Theme!
We will continue to practice. Let's hope Lucky Star comes through and shows all his talent and personality!  Pray for me!
I hope everyone who comes to watch the horse show brings a filming device.  Lucky Star's first demonstration must be filmed!  Wish I could give you even a hint of what is going to be happening, but that would just ruin the surprise for those that will be there watching!  It's not only the audience that will be surprised.  I will be too!
April 27th Fox Trotter Fun Horse ShowPXKCRFTHASpringShow2014.pdf