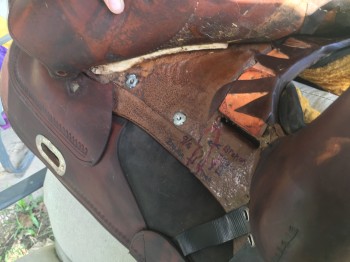 I love Circle Y Flex tree saddles so much that I have three of them. A couple years ago I managed to let go of the ones I don't use to get them checked and cleaned. However. I couldn't let the one that I use daily leave to get cleaned and checked. I had bought this saddle a long long time ago and it was checked out before I bought it.
This summer was a horrid hot and humid one. I stopped riding plus I was going on a week long trip. I decided to let Donna of Yellow Boot Saddlery take my beloved saddle, along with a few broken and filthy bridles to be checked, cleaned and oiled.
The unthinkable happened. Donna called me and I was somewhere in the middle of Kansas on my way to Colorado.
"Susan, I hate to give you this news. Your saddle tree is cracked. It is cracked on both sides."
My world spun to a stop. My beloved saddle was dead. MY BELOVED SADDLE IS DEAD! Donna managed to get a few more sentences in. She mentioned that they had seen a lot more cracked trees than they ever thought. She said many people are riding on saddles with cracked trees. My brain registered these words, but i heard the unsaid words, your saddle is dead. I was gruff with Donna. I think I was mean. She had called and gave me horrible news. Poor Donna was the bearer of bad news. Forgive me Donna. I have apologized since and Donna understands.
I came home from my week of wonderful travel and it was time to visit Yellow Boot Saddelry. Donna showed me my dead beloved saddle. I saw the cracks. Donna told me that the flex lite tree is not the best tree In the tree world for a daily, hard riding rider. My riding is all speeds with slide stops, roll backs. turns, spins, etc.. If I were an easy going recreational rider, the tree wouldn't be so stressed. I had certainly never thought of myself as a "hard rider".
More bad news was coming. My favorite "on the rail dressy bridle was made out of underbelly leather. My bridle had started stretching. It was too long in Cisco's mouth and it was the smallest it could go. This spring I was astride Cisco at a horse show with my class coming up next when the bit fell out of Cisco's mouth. That was exciting. Donna told me the sides of my bridle were made out of the cheapest worst leather part of the cow. It should be against the law to make a bridle out of this cheap leather. What! I have been "taken"! Buying a new bridle is cheaper than fixing this one. Sniffle
I brought my other two Circle Y Flex Lite saddles for Donna to check. They had been cleaned and checked 3 years ago. Both trees passed inspection, but I got to see again how cheaply it was made. My favorite of the two had a piece of leather and when Donna tugged on it, the stitching broke. The stitching material is cheap. Donna kept the saddle and sent me pictures a couple days later showing screws in the wrong place. The screws were ready to come lose and come thru the place where I sit. They were already loose and the saddle seat had bumps where they were about to erupt into my tender places. Good Lordy! Donna said this was an after market deal. Where did these misplaced screws come from. I bought this saddle used also.
Yellow Boot Sadlery just got started this year. Donna told me that they have found one in six saddles have broken or cracked trees. Those are bad odds. I'm keeping my broken saddle in my trailer and will show everyone what a broken tree looks like.