Archive for the 'LIFE BIKING' Category
Sad it is when you start anything new to your body.
My body is just starting anew with the bike.  This might have been our third or fourth real ride.  My feet are used to toes up when riding a horse.  When riding a bike, the toes point down quite a bit.  One of my feet doesn't want to point down, so I have torn or stretched some kind of muscle on top of my foot.  ouch
I bought a camelback water carrier yesterday at the high price Walmart store.  It's a backpack that holds a water vessel.  The "straw" starts at the bottom of the soft plastic water holder and comes up to where you can drink out of the big plastic straw while biking.  Well, it leaked.  The water dripped down my lower back to the unmentionable area.  The unmentionable part of me that sits on the bike seat got wet which made my clothing cling to me in an unmentionable painful way.  So, not only did the bike seat hurt me, it double triple hurt me.  Men have a word that they use to describe this feeling caused by pulling up someone else's underwear in a forceful manner.
And somewhere in the few miles that I rode, I wrenched the top of my shoulder and neck muscle. How I could do that riding a bike on flat ground…oh I bet it was when I went over that curb!
Much of the time, I was speeding along at the same speed that my horse can gait.  That is very sad considering I was on flat land with perhaps the slightest slope.
Old Yeller didn't make me too happy today, but at least I'm still alive to try it again.
After RAGBRAI in July was the MS 150 in Kansas City.  I did it again.  After experiencing RAGBRAI and the fun times in all the towns, MS 150 was, well, dull.  No matter because I had moved to the country.  I visited Roberta in the country with her horse.  I came back home and told my husband we had to move to the country.  Grumpily, he said we could look at country homes.
We drove down the driveway of the only country home advertised in the newspaper on that day.  It was magic.  The house at unattached garage were blue.  Both the spouse and I were overcome by the beauty of the property and the color blue.  We bought it and moved.
Life with the bike became a lot more complex.  I now lived at the end of a mile long gravel road.  Roads in my town were blacktop with no shoulders.  The next summer I bought two horses.  It became tough to ride my bike and play with my horses.  My bike riding times decreased.  I was still out there trying, but not as much.  The passion had to be shared with the living creatures, the horses.
I participated in a bike ride across Missouri.  My hours of getting into shape had decreased and I started getting sick as we were nearing Columbia, Mo.  I had made it from Kansas City to near Columbia. Sadly, the sag wagon was called for me.  I called my husband and about three hours later, I was on my way home. That was the end of the bike riding passion and the flowering of the horse riding passion.  The beginning horse riding passion has been made into a book awaiting some forty eight year old actress and movie maker…  The book, Susan FoxTrotter, is paperback in Amazon and also a Kindle book.
PS:  I'm retired now and have taken old yellow to a bike shop (New Town Bike and Coffee Shop) to be regenerated into a working bike again.  We've got part of the Katy Trail in my town…  This might not be the true end of the bike story!
RAGBRAI XXII
July 24-30, 1994
The 1994 ride began in Council Bluffs for the third time on July 24 and ended in Clinton for the third time on July 30. Overnight stops were Harlan, which had hosted riders in 1976 and 1983; Carroll and Perry, which each put out the welcome mat for the riders for the third time; Marshalltown, which had not seen the riders since RAGBRAI in 1974; Marion, which hosted the riders for the first time; and Maquoketa, the beautiful eastern Iowa town which hosted the riders for the first time since 1978. Nearly everyone agrees that this RAGBRAI enjoyed some of the best weather ever "temperatures of 75-80 degrees each day with low humidity and a tailwind on most days. Riders got to ride through fifty five wonderful Iowa towns on this ride.
BLOG that gives the overall flavor of that which is RAGBRAI.
In preparation for RAGBRAI, I rode 1400 training miles. Did you read that?  One thousand four hundred miles.I rode everywhere, trails and roads.  Busy highway, flat trails, hills  and lonely blacktop highways in Kansas and Missouri were my home.  I rode a couple of hours on weekdays and after work;  Twenty plus miles conditioning rides on the weekends.  I rode by myself and in group rides.  I remember once or twice I had to call my husband to come and rescue me because I became totally exhausted.  I have every  bike gadget possible.  My speedometer shows everything, including altitude.  I like to know when I'm climbing hills.  The speedometer keeps track of my miles, average speed, top speed everything possible that gadgetry could do in the early 90′s.  I have enough bike clothing to wear for at least 6 months…24/7.
During this time, I graduated to click on shoes.  Finally, I was attached to my pedals.  I had force when my foot went down and when it came up.  Oh laugh, Shawnee Mission rangers!
I was ready.  I hooked up with two other women, one of whom worked for SSA and the wife of a SSA employee from Lebanon, Missouri.  We met at the first town and our friendship blossomed and turned deep through the hard fought miles and fun of RAGBRAI.
My mother and father delivered me to Council Bluffs.  We went to the Missouri river and dipped my tires.  RAGBRAI was about to happen!  I had my tent, my sleeping bag, battery fan, clothes, necessary stuff and my bike. They delivered me to the camp ground at Council Bluffs.  When I left work on my  last day, someone said, "Have Fun!"
"Have fun?",  I thought.  I was going to be biking nearly 70 miles every day, one day would be a hundred miles so why would anyone think I was going to have fun?  All I was trying to do was live through the experience.  However, RAGBRAI is as much fun as one human being can stand. RAGBRAI food is the best food on the planet.  Between the pork man, church lady food and small town vendor food, it was a culinary adventure.  Most people lost weight.  I gained weight and it made me happy.  The towns (most of the fifty five towns) all had stuff going on.  They had games, entertainment, and wondrous food…and porta potties!  I had a lot of fun.
The miles between towns had acres and acres of corn fields which served the riders as natural porta poties.  It's just like the movie…you walk into the July Iowa corn fields and disappear in about three rows.  it's a whole separate universe out there in the middle of a field thick with 12′ high green and gold corn stalks.  One of the days, I made it to a town and a porta potty.  When I peeled off my sweaty wet shorts, I discovered a long green corn stalk had attached to my rump during the last stop in the corn field. I was so sweaty, the stalk had melted into a soft wet think and matched perfectly to my skin…which was soft and wet.  ha!.  I never felt anything until I peeled it off my rump.  I should have kept it as a souvenir!
The Des Moines Register newspaper is the sponsor for the ride.  You sign up with them and hope you make the lottery for them to carry your tent, bag and sleeping gear.  I had made it.  Every time I came into the overnight host town, I searched among the big piles for my tent, sleeping bag, pillow, "blankie", blowup mattress and my essentials bag.
There are a lot of fit young riders who burn the RAGBRAI candle at both ends.  They like to have a few drinks during the day at the town bars and a few more after they arrive in the overnight host town.  I was sleeping soundly and happily in my tent one night when an inebriated person was a little too tipsy and fell on my tent.  Good GAD!  I was pinned to my mattress until the person could get up.  My tent was half collapsed.  By the time I struggled out of tent, the tipsy guy was out of sight.  Good thing for him as I was spoiling for a good yell at a drunk.  tsk tsk.
I made the 100 mile day which is a feat of total amazement for someone like me.  Going down hills, I was faster than most because both me and my bike were "heavy".  The bike had the thinnest slickest tires that it could handle for the long roads.  It was a mountain converted to road bike.
Finally, the last day appeared.  It was probably the shortest milage day.  My parents were waiting for me in Clinton.  We went to the river and dipped my tires into the Mississippi River.  We loaded everything into the van and I slept most of the way back home.  Total Awesome Success…a Life Event of Success!
In my work life, occasionally, I get to travel.  Travel involved my great co-worker and best friend Roberta. Trips were monumental adventures.  I've been telling Roberta all about the great fun I'm having on a bike.  She's interested.  She decided that she needed a bike of her own.  She bought a beautiful maroon bike.  Almost the next day, something was mentioned about a trip to Iowa.  Roberta and I were going to be on the road again and we were thrilled. I told Roberta that I wanted to take my bike and go on bike rides after work.  Roberta was thrilled at that.  We chatted about getting two bikes to Iowa.  We chatted about how she would lug her bike around.  The next day, Roberta drove to work in a new maroon mini van.  It matched her bike and was perfect for lugging two bikes, our luggage and training material.  We were excited and set to go.
It was a chilly time of the year.  I'm thinking it was March.  The weather had already warmed up in Kansas City.  I forgot about Iowa winter not being over till April.
Off we went on our great adventure in the  new maroon mini van containing one brand new maroon bike and my used yellow bike.  We got to our desination town and discovered a bike shop.  Turns out it was a lucky bike store as Roberta needed the bike pants, bike shirt, bike coat, bike gloves, bike helmut, bike winter coat. I named Roberta as "Shopper of the Year".  Matching her  maroon bike with a maroon mini van put her over the top!
Our travel overnight stays at that time were Bed and Breakfast rooms.  We shared a room and had some amazing adventures withB&B's.  Enough that I should make another series of blog about Susan and Roberta B&B Adventure  We had found a B & B in the farming country of eastern Iowa and checked in early in the afternoon.  What an amazing wonderland…the country!  This place was beautiful. …beautiful country home, red picturesque barn, grass and view.  Oh it was lovely!  We checked in, looked at our room and left to take a bike ride on a nearby Iowa bike trail.  We returned after dark.  Our hosts were worried about us.  They should have been worried about us!  We would have been smart to tell them exactly where we were going so they could have picked up our frozen dead mangled bodies.  Thankfully, our bodies ended up alive!
Let's think about Roberta.  She just got her bike. She hasn't had the time to develop bike fitness.  Let's think about a bike seat and constant pedeling.  Sadly, I didn't think about that when I led her down the bike trail.  We rode and rode on the beautiful path.  Sadly, we had to turn around and ride back!  There was pretty frozen snow on the ground.  Since it wasn't melting, you can tell that it  was cold outside.  Somehow, the daylight seemed to be fading and it seemed to be getting chilly.  I had been riding my bike for enough time, that I had become accustomed to the cold.  I wasn't bothered by it.  Roberta was on her first ride, in a cold cold place.
Roberta has lots of "go".  She has fortitude.  She has spirit.  We had finally turned back and were on our way back to the parking lot.  We stopped occasionally to rest.  Roberta decided something was wrong with her bike's front wheel.  We stopped and looked at the front wheel, made it move and there was no flaw.  The front wheel was flawless.  The next time we stopped, Roberta said, "I think there is something wrong with the front wheel because I can no longer feel my feet.
"Susan, you go on.  Just leave me here to die!"
OH! Roberta's legs had frozen.  It's tough to ride a bike when you can no longer feel the pedals.  No wonder she thought the front wheel was broken!  She was tired and her legs were frozen.  It's bad enough when your feet freeze.  It's unimaginable when your legs freeze.  There was no complaint in Roberta, just "Leave me here to die".  The "Leave me here to die" people are true champions!  They go until they can no longer go.
Somehow I convinced Roberta that I wasn't going to leave her to die and she had to get back on the bike and ride.  I might have lied and told her we had just a short way to go.  I don't remember, but the Roberta Champion got back on that bike, frozen legs and all…and we made it back to the trail head!  Oh we were happy and exhausted.
We just got the bikes in the car and were starting to get into the maroon mini van when we both saw something on the other side of the road.  It was hurtling towards us.  We both reacted and leaped into the car.  I slammed shut the driver door when BLAM, SCRATCH, TEETH and paws ripped against the door and window.  Good LORD!   BANG FLASH all I saw was a dog-like creature about ten feet tall, blood dripping out of its mouth attacking the side of the car! GOOD GOD!  I started the mini van and we screeched the heck out of that place of hell!  Roberta nearly froze to death and now the both of us had narrowly missed being shredded alive.   What if we had been outside the car when that twenty foot meat eater attacked us with the ten foot long blood dripping fangs?
SCREAM!  Thankfully, the car obeyed and we sped down the road leaving the thirty foot monster with the twenty foot bloody fangs behind.
We returned to our B & B.  They had a hot tub.  They gave us wine and cheese.  The hot tub was outside.  Tough that we were, we got our bathing suit bodies out in the March Iowa winter and leaped into boiling water!  Oh the warmth! Oh, the alcohol!  We soaked our frozen bodies in the hot tub and loved it.  It is dark in the country.  There are no street lights.  We looked up into the sky and saw a million billion stars.  Neither of us had seen a million billion stars in a long long time being city residents!
As we were looking up at the stars, Roberta said these following life-changing-words.  These words changed both our lives…dramatically, physically, emotionally and any other words you can imagine.  Our lives took a big turn.  Roberta's life changed the most.  Her life change also affected many many others in a continually cascading life journey.  Without this Iowa trip to the country, ….well, let me explain.
Roberta said, "I love the country.  Henry has been asking me to marry him and move to the country.  I think I will marry him and move to the country"
Those were the words that started the dramatic life change.
The next day, we both took a pledge to start looking for a place in the country to live.  We love the country!  The idea that I might have horses came into my mind.  We pledged to move to the country and buy a horse.
I went home and told the spouse about wanting to move to the country.  He reminded me that we had only four years yet to pay on our city mortgage.  I agreed that it was a stupid idea.
Roberta told Henry that she would marry him and move to the country.  And she did just that!  Her house in the city sold immediately after they got married and they had to live in a hotel for a couple of months.  Her sons became independent of their mother and established their own residences.  Finally, Roberta found the perfect country home.  Then she searched for a horse and found an older suitable horse.  She also became a "chicken lady."  Roberta has many many stories of her first years in the country.  Country learning years is what I call them!
I visited Roberta when she got her horse and immediately renewed my vow to buy a place in the country and get a horse!  Poor Terry never had a chance after that.  I looked up country homes in the paper.  There was only one.  We drove out to Pleasant Hill and fell in love with our new home to be.  Terry was happy.  No longer did he have to hide and store antique pickup part in the back yard, basement and garage.  He decided to start restoring antique John Deere tractors.  I also got to enjoy country learning experiences!
My horse adventures made it a book.  The book is titled Susan FoxTrotter.  You can find it in Amazon and on Kindle.
Our Iowa country adventure changed our lives!
We are in the early 90′s.  Cell phones are on the verge of being invented at a price a regular person could afford.  They were a little bit bigger than what we are used to now.  In fact, they were a bag phone. They came in a soft bag and you could plug them into the cigarette lighter in your car.  Cell phones came into our lives and nothing was ever the same again.    My husband bought my phone for me as a surprise.  His thought was that I needed a phone when I was out there in the cement jungle.  I was very very pleased and had to come up with something to carry my bag phone.  Sad that I don't have a picture of my bag phone on the front of my bike.  Few were the adults that rode a bike with a bag phone.  I was pretty proud of myself.  Some of you know how I love to advertise myself.  Well, I used to ride the bike trail that followed I-435 in Johnson County. When I was at a place where I was fully visible to the six lanes of traffic, I stopped, opened up my bag and called my husband to report that I was doing fine.  My conversations were just long enough for about a million Interstate commuters to see me.  I could hear them comment, "Look!  There is a woman on that bike and she has a phone!"
Oh, I was the coolest road biker ever…with my mountain bike!
On my road adventures, I was nearly killed twice by a truck and a car who thought bikes should not share the road with motorized vehicles.  I was riding in a busy area in the Olathe area and a truck with a large flatbed passed by me so close I could have gotten splinters from the flatbed wood of the truck.  I had no where to go…no shoulder.  Another time I was headed south on a busy 4 lane road in Johnson County.  I was trying to get out to the country roads.  A car passed me so close, it made me gasp and of course mad.  I saw that car turn into a gas station ahead.  I reved up my leg engine and made it to the gas station before the driver woman could leave. She had a young son in the back seat.  I asked her "WHY DID YOU RIDE SO CLOSE TO ME?"  She replied, "Because you don't belong on the road!"  (Lordy).  I replied, "So you tried to KILL ME? "  I also rolled my eyes in disgust and looked at her young son in the back.  Then I left and proceeded on my ride.  I still hate both of those drivers.  When I see a bike rider on the road, I make certain to give them their full lane when I pass.  It's better than killing them.
I discovered another trail in the Johnson County area. This trail was totally flat.  This trail is north of I-435.
I'm having to take my bike somewhere else to ride. What does that mean?  I have to transport my bike in my vehicle. Vehicles are a little crampy for a bike.  No problem!  Buy and have a bike rack installed!  Another happy bike store and presto, "Have bike will travel!"
Although I've made it sound like I'm nearly as good as the pre-drug Lance Armstrong, that would be a lie.  I was still very not in shape.
I'm happily pedaling away at my new bike trail.  I come upon a runner.  I am catching up to a runner.  I've never passed anyone yet.  I slowly catch up to the runner.  I tell him I'm coming and "You re the very first person I've ever passed".  He says "that's great".  All of a sudden and little dip in the road and a little hill gets in my way. The runner gains more of a lead ahead of me. "DRAT"  The runner turns his head around and Yells at me, "You can do it…Come on!"  The trail flattens out again, I put the pedal to the medal and sail past him.  "Congratualtions!" he yells as I pass him buy and increase my lead.
I'll never forget passing my first runner.  I have bike high!
I had gained a bike rider co-worker friend.  I was not yet up to riding with him, but we chatted about bike stories.  He told me some of his favorite stories.  Number two favorite story was when he swallowed the biggest insect in the world while he was riding, and it got stuck in his throat.  He had to stop his bike and gag for a while to get the bug to go down the throat hatch.  Number one story was the mud ride.  He had the click-in shoes and pedals.  He was pedaling along far from home and there had been a lot of rain which made a lot of squishy ground.  His bike veered off the road to the ditch.  He would have crashed badly, but the ground was so soft, his bike sunk and stopped.  He was thrown forward and couldn't get out of his pedals.  He hung there for a while.  It reminded me of the same thing that happened to me when Sage fell on her knees and propelled me forward.  I couldn't get my feet out of the stirrups and hung down her neck for a while.  Oh the memories and stories we had to tell!
He was aghast at my park police story.  I couldn't wait to tell him about my triumphal ride at the park with my new click-in pedal shoes.  Alas, it was not to be a triumph story.
With my new power shoes, I pedaled to the park.  I went corvette race track speed down the park road hill. The conqueror returns to the park!  I went to the trail and decided to ride up that short vertical trail.  On I went.  I pedaled up the hill.  Wait.  I pedaled up the hill slower and slower until my bike stopped our forward momentum.  When the bike stopped, I was shocked and so were my feet.  There was no signal from brain to feet.  Feet stayed locked into the pedals and the bike crashed to the side. CRASH to blacktop trail.  Sadly a hiking couple were there to watch in horror. Thankfully, nothing broke.  More leg skin was scrapped.  More blood was shed and there were no leaves near my crashed body to stop the blood.  One thing was good…my feet came out of the pedals on the point of impact.  The horrified couple and my horrified self determined that I could stand up.  I apologized for scaring us all so badly.  They went their way.  I walked back down the steep hill to the level ground and hopped back on the bike.  Good Lord….
I managed to ride out of the park without the park police seeing my bloody legs.
My co-worker was quiet when I ended the sad tale.  He took a deep breath and said, "Susan, I think you should take off those pedals until you get more experience on the bike.  You are just not yet ready to handle those pedals."  He said this in just the right way, sad and rational.  I had no choice but to agree.  The inner park police rage continued, but it would be a while yet before i won.
I didn't ride to the park on weekends.  There were plenty of other roads and other trails to find.
RED HOT OUTRAGE!  FLAMING HATRED!  DEATH THOUGHTS to those park police.  I am stunned.  I am a thin and beautiful person in my mind. Those park police laughed at me falling off my bike.  I had blood running down my leg.  They laughed. Maybe they laughed at the thought I couldn't get out of the park on the long side.  Maybe they laughed because a curvy woman fell off her bike.  Good GAD!
I probably peddled home at nearly 50 mph in my rage.  I thought about how I could pedal up the other side of the park road.  By now I had been devouring bike magazine ads.  I have found all the gadgets.  I have even bought some of them at the lucky bike store.  Why is the bike store lucky, you ask?  Because my addiction means I visit the store and spend money!
I have discovered the answer on my rage filled home ride.  I stomp into the house and corner my poor unsuspecting spouse.  I yell the story of the laughing park police at him.  I tell him that I need these special pedals and special shoes.  The bike accessory inventors came up with special shoes that attach themselves to special pedals.  Normal pedals are powered by the down push of one's legs.  If your foot is attached to the pedal, you get 50% more power.  You have pulling force when you bring your leg up to make those bike wheels move.  "That's what I need!" I yelled.  There was no argument in my husband.  He didn't care if I attached my feet to the pedal or not.  He tried to show sympathy about me forgetting to apply to brakes when I stopped.  I can imagine thrill he was experiencing picturing his "crazy wife" story to his guy co-workers.  Oh I know he couldn't wait to go to work the next day.
They know my name at the bike store now.  I appeared and told the owner of my rage and what I needed.  We picked out my special shoes.  He kept my bike to install the special pedals.  "Vengeance would be mine!"
I picked up my vengeance yellow bike the next day.  We came home and practiced.  I learned there is a bit of an art to being attached to one's pedals.
Twist the foot to the side to get loose
Twist the foot to the side before you dismount from the bike
It is possible to free both feet at the same time
Bike riders always put the same foot down on the ground when first dismounting.  Make certain that is the foot that is twisted loose from the pedal
Like I said, there are a few rules to follow when riding with attached pedals.  No problem.  I mastered all of them and no blood was spilled.  I was ready for action!
There I was at  Shawnee Mission Lake luxuriating in the beauty, the speed and the accomplishment of getting here.  I rested.  I continued around the lake and started up the hill on the other side of the lake.   Oh my.  This is awful.  This little hill just keeps on going, up and up and up.  This was in the time before communication other than a phone at home attached to a wall plug in. I was trapped in the park.  I peddled.  I got off and walked.  I peddled.  I got off and walked.  Several lifetimes later, I made it  back to the park entrance.  Lordy!  Thank goodness no more hills were between me and home.  I made it and I was a tired piece of biking software!  I was humbled but not beaten.
Two or so days later, I resumed the quest for bike adventure.  I biked to the park, turned right and sailed down the short steep hill to the lake.  I rested.  This time, I took the same road back.  The other half of the road around the park was longer and one continuous long uphill climb.  My return up the same side road did have a steep part, but it was mercifully short.  In time, I got so I could bike up the short steep hill in gear twenty one.  Why don't those big inventors come up with a thirty one speed bike?  I was complaining about hills to my spouse and his suggestion was to buy a little motor that would make my bike wheels turn forward.  Oh wouldn't that have been fun!  Men and their machines are so predictable…put a motor on it and go faster / further.
I discovered a bike trail at the park.  It started out with a nearly 90% steep hill.  I always had to walk up that short little steep hill and then I was on the beautiful bike trail.  Oh the happiness.  I loved that trail.  I biked to the park.  Went nearly 100 mph corvette speed down that initial hill on the road.  The road took me straight to the trail and off I went to the end and returned and then biked my way out of the park and home.
I had developed a training pattern.  I was developing a few more tight spots (muscles) on my thighs and calves.  In the meantime, I ventured to the lucky bike store time and time again.  I bought a speedometer and a rear view mirror.
Weekends at Shawnee Mission Park were busy.  Many cars came to Shawnee Mission Park on the weekend as did I riding my flashy yellow bike.  I did notice that signs were posted on the weekend to make the park road into a one way road. Cars were to travel around the park.  They couldn't coast down the hill, enjoy the lake and return the same way.  They had to motor around the entire park.  I heard no cars complaining about the steep hill return trip.
One weekend day, I was struggling to get out of the park up the short steep hill.  I hit a flat place and sped up a bit.  I saw a Park Police car coming towards me. Suddenly the car leaped over to my side of the road and put on the siren. Good Lord!  The police car was aimed right at me!  It was screaming "siren" and headed right at me! My brain screamed as I tried to get off the bike. Sadly, I forgot to put on the brakes.  I stepped off the moving bike and crashed to the ground.  I struggled up, looking at blood streaming down my leg.  I grabbed a leaf and tried to staunch the blood.  Both park policement were out of the car.  They were talking to me while I was struggling to stop the tiny spurt of blood.
"This is a one way road and you are going the wrong way!"  I looked at them.  I said, "I can't ride out of the park on the other side of the park.  it's too steep."  There was absolutely no sign of understanding or pity in either park police face.  It did occur to me then that I could walk out of the park on the short side.  I mumbled my apology, picked up my bike and started hiking. The park police car went on its way and I heard the sound of park police laughter behind me.
Oh My GOD!  They laughed at me.  They were laughing at me!
I was living in Johnson County, Kansas in the city of Lenexa.  This was the early 90′s.  My golf obsession had ended and my body was getting thicker, maybe wider would be a better term.
Something about a bike caught my attention.  Something about a weight loss exercise program using a bike!  I need a thinner body.  The answer just  might  be a bike! I have stored in my garage, a stylish three speed English bike from my college days, a mere thirty year old or so bike.  Three speed bikes became the new favorite bike for cycling across large college campuses and I still have mine!
From the 1930′s through the 1960′s, English-made 3-speed bicycles were, in some respects, the ultimate in human-powered transportation. They spawned a vibrantly active club culture that has never been equaled. The bicycle provided unprecedented individual mobility to the British working class.
The bicycle industry, centered in the enormous Raleigh factory in Nottingham, was one of the most important in the country. The workers who built these bicycles rode the same kind of bicycles to work.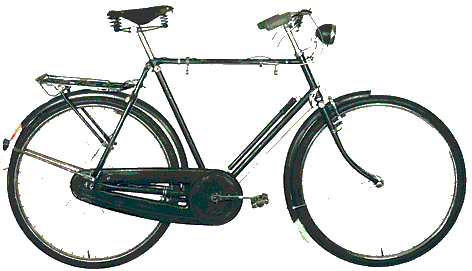 I dug my bike out of the very organized junk pile in the garage.  Imagine a bike that will go three speeds fast.  I took the bike to the bike store to get the gears working.   There were  strange beasts at the bike store.  Drop your pants, they have twenty one speed bikes now!  The bike store bikes were flashy outrageous in their coloring. My English bike is dullard dark green.
I took my dullard green bike home and got on. I was excited to get my working bike back.  It wasn't exciting negotiating the boy's bike bar, but  I was excited about getting on a bike.  How many years has it been?  I rolled down my street on a bike!  In a few moments, my hair was flying in the wind and I laughed out-loud.  I'm young again!  I'm eighteen years old, riding this bike around my college campus.  I'm ten years old and riding my bike around the streets of my small town.  Yee Haw!  The wind is smoothing out the wrinkles on my face.  I have traveled about two blocks…a far ride.  That's when I met, the upward slope.  I can't really call it a hill.  But, my speed stalled out and I experienced this thing called "struggle".  As I was struggling to make the bike wheels turn, my mind went back to the bike store with the flashy pretty things that had twenty one speeds.  I NEED ONE OF THOSE!
The next day, I was back at the bike store and I bought a flashy yellow with green slashes of color TREK bike.  I have no idea why I bought a yellow flashy bike.  It stood there calling my name. The sales person told me it was my size and perfect for me.  I bought a yellow mountain bike!
The bike and I were posed on the driveway for a brief second and off I went.  I rode around the block in style.  I laughed out-loud again.  I figured out how to shift…tricky things are these gears.  That took me about ten minutes.  I was ready to face the slope again.  Up we went and I shifted down down down until I got to speed twenty one.  I made it up the slope.  I sailed home in triumph.The rest of the week, I sailed around my neighborhood.  Lenexa had a big neighborhood and one hill.  After a time, I defeated the hill.  I was able to ride up the hill at speed twenty and arrive at the flat cement alive and undaunted.
I started to become a bike fanatic.  I read about bikes.  I studied my bike.  I decided that my mountain bike tires slowed me down when coming up those hills.  I took my bike back to the happy store owner and traded my barely used tires to new thinner and flatter tires.  I did not need deep knobby tread to ride on cement.  I got nice slightly thinner smoother tires.  Oh that made a difference!  I was able to get up the hill at only speed nineteen. I had two speeds left to burn!
Now I was riding all around downtown Lenexa, my neighborhood and another adjoining neighborhood.  I had conquered Lenexa! Neighborhoods became boring.  I've seen the same yards dozens and dozens of times by now.  Where to go now?
Shawnee Mission Park beckoned.  I took a car ride to the park.  It wasn't too far away.  The hills were few and not very steep.  I am ready!
My water bottle is filled and I head off for Shawnee Mission Park adventure.  I was so thrilled when I made it to the park entrance! Thrilled! The park entrance was good enough for the first visit.  I  rested and made the triumphant return home.  My body started experiencing something called calf and thigh tightening heading to muscle.
The next day, I biked to the park.  This time I entered the park.  The park has a paved road that goes around the entire park.  I turned right and sailed down a longt hill traveling at least 100 mph.  Oh wow, now my hair really did sail, all the short curls were straightened in the wind.  This is wondrous and heady.   I sailed down that hill to the big beautiful lake.  What a thrill! In that moment, I became a road biker with a mountain bike with slick tires.