Archive for the 'Miscellaneous' Category
You will be surprised to learn about Cisco's mind. Cisco is a left brain introvert. That means he thinks through things and isn't a big fan moving. He likes to move. He likes to stop. But what Cisco really is…is a worrier. He worries about things. It can take him a long time to get comfortable in a new place. His worry is very low key as he is thinking while he is worrying. During his worrying phase, he likes to move. That keeps him relaxed. When he moves, I'm usually talking about a walk, a nice comfortable walk. Depending on how much he is worrying, his stopping and standing still can go from fidgeting to hopping up and down with his front legs. Little rears, I call them.
A lot of people probably wouldn't even realize that he is worrying when he fidgets and hops. People might yell at him and in a large commanding emotional voice, might tell him to WHOA…WHOA while pulling back on the reins. What would that do to you if you were worried and then someone tried to force you to stand still and yell at you..with a bit of nervous energy. Usually, that doesn't work so well and when it does work, the human is lucky, very lucky that the horse didn't engage in something called "whoops, my human just fell off and I'm out of here!"
At the April 2015 Spring Show, we went into the arena really well and moved fine. Except for the rope gate held up in the middle of the arena. We couldn't go near the rope gate.
At he 2015 June Spring show in Ava, Cisco got a coughing problem which I now think was caused by a moldy stall. He had several shots from the vet to treat any infection that might be lurking in his lungs. And when we walked around the show grounds, he was fine…until I had him stop and stand still. That just didn't work. He started prancing and dancing. I told him to walk on and he seemed calm and relaxed. We rode in the arena and tried to practice our opening and closing the gate. Oh that did not work at all. He hopped and pranced all over the place when I tried to stop at the panel gate.
At he 2015 September Celebration, we were just a little worried about everything, but we lived through it. The panel gate was a problem. He was nervous and prancy at the gate. It was a left handed gate, but he did finally let me open it up with my right arm and back through the gate. I don't think I even let go of the gate, but he was nervous about it.
Now we come to the April 2016 show. I'm the show manager and have to wait until the show starts before I can go to my horse. Cisco and I can only do a brief session of ground play. Again we were on the obstacle course, ready to open the gate. Once again, he became nervous and prancy. Again I was forced to open the left handed rope gate with my right arm. You would think we had never practiced the gate opening. I've had a year to practice gate opening. Yes, he does appear just a little nervous at the gate, even when he is used to his environment. But another session of hopping and prancing around the gate during a horse show…nope. I never expected that.
We were in the fox trot obstacle course and then the open obstacle course. He was worse about the gate the second time.
I'm back in our home arena now and there is a round pen gate Cisco and I can go through. He is not exactly relaxed as we go through our gate entry. He doesn't like to stand still during our gate opening and closing. So that is what we will work on. We will be opening and shutting a gate with a lot of stopping during our gate activity.
On the ground I have two barrels and an upside down bucket placed around the round pen.  There are treats on top of these buckets.  Horse Treats.  Motivational behavior treats.
I stand with Cisco facing me, about 15 feet away from the horse treat object.  I raise my arm and point at the barrel.  I make various arm movements with both arms to get Cisco to travel to the object.  Eventually, he gets there through a combination of backing, going forward, moving his forequarters and hindquarters (not at the same time).  Finally, he stands with his head over the barrel.  The treat is right under his nose. He has no concept of touch the target game yet.  I come over and rattle the treat on the barrel.  Cisco lowers his head and discovers the treat.  We stand and marvel over how a treat could appear on top of a barrel.
We played the game with the two barrels and bucket about five more times.  He got the idea of following my arm directions.  Arm directions could mean a reward!
Cisco and I ended the session with me trying to run – nope – my pulled muscle objected to that.  We ended our session with Cisco running around and transitioning from trot to canter, trot, walk and stop.  Yee Haw today.
I told Cisco he was my best horse friend.  Lucky Star was waiting by the round pen gate.  He got a treat just for being alive with his bright chipmunk eyes.
I took all three horses into the round pen today.  We (they) got to run around the round pen according to the rules-of-round-pen.  Of course Lucky Star knows the rule of round pen, so when he asked to come into the middle with me three times, I let him.  The girls ran around for a while.  I stopped them and they were about 30′ away from me.  I made the round-pen body language "sign" saying, "Come to me".
One of these horses is a retired mare.  Her life from her training start was not a good one.  She was "driven over the edge" and became a crazy horse. Her distrust of humans was well developed because of her harsh "start".
Her new-to-horses-beginner bought her after an amazing weekend with the mare.  The couple visited the sellers for a weekend. They did everything with the horses.  The new to horses other part of the couple fell in love with an amazing two year old.  The two year old rode like an experienced horse.  They went on trail rides.  Both horses were fabulous and obviously well trained..  Both horses were purchased.  When the mare arrived at her new home, the drug had disappeared and her new owner had a crazy mare.  The other horse became a young green horse that fulfilled the "green on green makes black and blue" saying that us horse people are fond of regaling beginning riders with after they buy the wrong horse.
Thankfully, her new owners had just discovered Parelli and struck up an acquaintance with me.  And what that means is Jenny and Tony Vaught became their helpers. The new green mare owner studied everything Parelli.  The relationship of the crazy mare and the beginning rider was a rocky start.  The couple lived twenty three hours away from the Vaughts.
Three years went by and the mare developed a deep trust and bond with her owner.  They became an amazing team with a great relationship.  But the owner  told me that there were still some things that the mare had done that glorious weekend at the sellers that the mare still couldn't tolerate.
Life was good and then the bug problem started.  The mare became allergic to the bugs of her home state.  She returned to Missouri and started her new life as a retired mare and also got to have a foal.
I took her before the last winter was started as my pastures had grass and she needed grass and my winter supply of hay.  She blossomed with the grass and good hay.  Her personality towards humans  still was "You are human.  I don't trust you. I'm ignoring you unless you want to feed me."  One day when I was out with the horses, the mare came over to me and stood very close.  Her body touched me.  I looked at the mare and her liquid eyes made this statement, "You are a good human and I love you for taking care of me."  That was an awesome moment!
So, I have a new round pen, it is late summer and the story resumes.  I had the horses stopped in the round pen after trotting and cantering around.  When the mare ran around the round pen, her head was pointed to the outside.  She was not interested in anything my body had to say.
Of course she knows the body language that the natural horsemanship people use.  I made the body movement which translates into, "come to me".
She was startled that I used the signal.  I could see her thinking, "Susan knows how to talk to me!  She talks to me like my beloved former owner! Her ears pricked forward and she trotted to me.
Fall on the ground and cry now!
Soccer with 19000 fans. My son sang the National Anthem at Sporting KC and I get to be an honored guest at the game against St Louis. I get to be at field level before the game. Drums are drumming. Gigagiant screen is broadcasting. It is intense here and intensity builds up to fever level as we get nearer to the start of the game. I'm standing where the visiting team is seated. They come into the stadiumas I try to stay out of their way. They are young and very fit…and all good looking!
Color guard marched out into field. Fans are screaming and emotions are high. Nathan and Ben take the field and get ready to sing.
I'm in a totally different world….think Tomorrowlamd combined with Gladiators in The Roman Colosium about to take to the field with Charlton Heston. It is that intense.
I had a blinding flash of the obvious. This must be what a horse goes through when being taken from peaceful pasture and deposited from trailer into the intensity of a big horse show. Aha!
After the fabulous anthem with the entire crowd screaming with anthem happiness, we are escorted to our seats in the stadium. We are seated in the next section from the opposing St. Louis fans. Never, except during the half, did the St Louis fans have a moment of quiet. The three or four drummers and several hundred screaming people kept it up the entire game. One chant was S……T……..L. I believe that stands for ST. Louis
The other chants were too complicated for me to remember. Nathan chanted along with St Louis fans in a slightly negative manner. He changed the words. Near the end, Nathan made a certain number of fans in our section chant the I Believe chant. Things get exciting at soccer games!
I got caught up in the talented Sporting KC players as they made the body moves and feet dribbling skills to keep the ball away from the opposing player. I watched for a while and thought,my goodness, this is just like the tricky cow moves when trying to get back to the herd, past the cutting horse, during cutting.
And then I knew that I have gone over the hill in horse crazyiness. Tony and Jenny Vaught must have made a deep impression on my brain in all the cow clinics and cow herding lessons for me to compare soccor with cow work.
I occasionally glanced at the big clock as time went on. I swear the clock said 60 minutes a while ago and now it sez 68 minutes. Oh wait, I remember that we count up to 90 minutes in a soccer game. I remember that penalties add to the time, but the penalty added times are not reflected anywhere. They are a secret.
We were at 90 minutes and the game went on. I must have been looking at the poor exhausted St Louis drummers when I realized that all the fans were cheering at something. Movement wasn't happening on the field. I was trying to figure out what happened when I saw the teams shaking hands with one another. Oh, the game must have ended. The game ending must be a secret to new fans to the game. Everyone else seemed to be aware that the game ended. I stood up and cheered too, so everyone would know that I knew that the game was over and we won. YAY!
What crazy person invented such a game that ends and the new fans have no idea…and the clock is still at 90 minutes.
Soccer is weird…and so are horse events for those that don't know the rules.
My  yellow raincoat has been missing around a year.  It was on a hanger in a store when we first met.  It started out life as a very expensive name brand wondrous water proof  soft raincoat.  You didn't meet many like this in the early 90′s.  I met it before I had horses and when I used to shop for fun.  I can't imagine going to shopping centers as having fun since moving to the country and having horses.
No matter.  I met "the yellow" on a sale hanger.  I was shocked that the size might fit me.  I tried it on.  It's a full length raincoat and a little too long for my short legs, but we fell in love.  I bought it.  People have seen me and my yellow raincoat forever.  We are constant companions at all the national horse shows in Ava and before that at all the Parelli events in Colorado.  My yellow raincoat and I lived thru the aftermath of hurricane rains at a show in Ava, Missouri.  That was in 2007 or 2008!
Last year my rain coat was missing when the spring national show occurred in June.  It was still missing at the national show in September.  During the year during the infrequent rainstorms I wondered where my yellow friend was hiding in my house or trailers.  Missing Missing Missing
This is the second horse show at Lone Wolf riding center that I designed the trail class.  Today, I went to Cleveland, Missouri to survey the arena and to look at the stuff piled around wanting to be used as obstacles in the trail class.  I took a close look at the mail box and there was a yellow flash of something in the mail box.  I went closer to look and there was my yellow raincoat.  Last year I used the sweet yellow in the trail class.  The riders were to take the raincoat out of the mailbox and put at least one arm in the sleeve.  I remember being alarmed at that decision.  It took too long and someone might tear the precious yellow.  So the rider just took it out and layer it on their horse and put it back into the mail box.
My raincoat has been used as a trail obstacle for a year!  Used by unknown hordes of riders.  No one has washed precious yellow and it has lived in arena drifting dirt for an entire year.  My brain forgot that precious yellow was a trail obstacle in Cleveland, Mo!
I tugged my yellow out of the mailbox and it was fully and wonderfully intact!
Good Lordy!
It's going to rain this weekend.  Precious yellow has been washed and will be ready to go tomorrow back in partnership with it's beloved human.
Precious Yellow and I have been reunited!
I still remember the difficult stuff when first starting a horse on the trails.  Lucky Star discovered that he hated muddy gullies , so he tried to walk on the sides of the steep gully, or climb the gulley and get stuck in the trees on the top.  Then I remember the stopping at the water crossing and the eventual jumping of the water crossing.  I remember Lucky casting back and forth on the trail trying to find the right grove.  I remember running down the steep rocky hills, screeching to a stop at the water crossing…jumping and then trying to walk sideways up the other side. And let's not forget the tree knee banging as the horse walks on the narrow winding tree filled trail. Lucky has become an excellent trail horse now, but taking a new trail horse out until they gain the experience, it's the stuff of memories.
The above didn't happen today with Cisco.  So, I'm going to take this opportunity to pass my joy along.
We rode with Chas and Louie.  Louie is a young horse with a lot of experience on the trail.  I asked Chas to lead and off we went.  Cisco relaxed and followed calmly.  He didn't try to ride on Louie's tail.  He kept a decent distance behind with me asking him to keep his distance with the lightest of pressure on the bit.  We moved along with loose reins.  No charging up, just going along at the speed I requested.  Oh the joy #1.
A scary spot came up not too far along the trail.  It was still fairly open meadow at this point, but the trail narrowed by some trees that had ventured into the meadow.  Louie didn't like the look of the narrow spot, so I asked Cisco to lead the way.  Cisco walked around Louie and led the way through the narrow spot.  This happened again a couple more times, once when Louie decided he wanted to stop and urinate, except we were headed on the down side of a short steep incline.  Neither Chas nor I thought this was a suitable place to stretch out, so Cisco led the way again.  Oh the Joy #2.
Now we are in the  narrow trails of the forest.  The trail winds around the trees.  The trees want badly to bang the rider's knees.  Cisco passed the trees wide enough…without me asking…to spare my knees.  He knew to go around the trees wide enough to keep my knees safe!  Oh the Joy #3
There are other tree parts that want very badly to either decapitate you or scrap you off your horse. These are called low hanging branches.  Occasionally, you need to stop your horse and ask to side pass or move over to avoid the deceptive killer branches.  Cisco stopped and moved sideways as I asked.  On particularly low hanging branch growled in frustration when Cisco neatly stepped sideways and let me drop my upper body down to the saddle horn at the same time!  Oh the Joy #4
Louie and Chaz lead the way through most of the forest.  I do have one complaint.  There was this cobweb with the spider in the middle of it right in the middle of the trail.  Chas screamed at the cobweb, but failed to take it down.  Cisco and I went through the cobweb with the spider.  I made a violent gesture to kill the cobweb and smack the spider away.  I did a girl scream too!  Cisco just plodded right along. Oh the Joy #4
Cisco walked steadily though a rock filled dry water crossing.  We did come to a real water crossing.  He walked through the water.  He looked at the water and went right through it.  Oh the Joy #5
Louie led the way through a mud sucking spot.  Cisco saw the mud and heard the sucking noise of Louie's feet.  We then jumped the mud spot.  It was a nice smooth jump that anyone would have been able to stay on.  I'm not going to include the jumping the mud bog as part of the joy, but the jump was smooth and low.  I made a note to be aware of mud bog spots in future trail rides.  Oh the partial Joy #6
Chas' dog. Sanford,  came with us on the trail ride.  Nothing Sanford did made any difference to Cisco. Sandord followed.  He went to the side of us, He got in front of us.  He passed the horses.  Cisco was fine with everything Sanford did on the trail.  Chas asked me before we started if Sanford would bother Cisco on the ride.  Since this was my first trail ride with Cisco, I had to reply…"Don't Know"! Now I know that dogs rustling about in the forest is fine with Cisco.  I bet deer rustling about in the forrest will be equally a non-event.  Oh the full Joy #7
Out of the forest into an area near houses.  Nothing was going on with the houses, but Cisco didn't need an adjustment to the scenery change.  Oh the Joy #8
We left the houses area and went into the wide open 100 mile view.  We crossed a long dam.  A boater was in the water.  Cisco and Louie now were gaiting along at a smooth very fast flat foot walk.  Oh the Joy #9
We came to a small block toilet that looked a little strange in the wide open landscape.  We did slow down to look at the outhouse.  We needed a break too, from the effort.  The horses were really sweating now.  We had a good breather and proceeded along.  Oh the Joy #10
We arrived at the trailers.  Cisco was a little excited now, but he stood still while I got off.  My legs and knees were in shock that I had gone for such a long ride and refused to hold my weight.  I had to hang onto the saddle for more than a few moments before the shock wore off and my lower body decided to be self supporting.  Oh the Joy #11 for standing still when I needed it.
Oh the Joy #12 when Cisco loaded right into the trailer.  I wanted to end on an even number Joy…
I had twelve huge Cisco joys today.  I also had much joy to be riding with Chas.  I had much joy when watching Louie on the trail.  Chas has told us in an earlier Facebook post that Louie was gaiting wonderfully on the trail.  I looked over when Louie as doing a flat foot walk side by side with Cisco and almost had a heart stoppage…Louie has an amazing gait.  He is a beautiful gold champagne with beautiful curly white mane and tail and the cutest head ever.  I might have to take along a pacemaker the next time I ride with Chas and Louie!
Samantha (Sam) Cowick, age 7, told her mother, Summer, that she wanted to help children who needed help.  After some research, she told Samantha about some places where children could use some help.  When Sam heard about SAFEHOME, a shelter for battered women and children, she stated, "this is the one".
Sam's idea is to decorate birdhouses with the goal of making them suitable for fairies to live in the houses.  Summer, Sam and others in the family go find birdhouses that meet Sam's approval.  They buy material that Sam determines will make a great house for fairies.  Under Sam's supervision, the birdhouses are changed into Fairy Houses and put up for sale.
So far, Sam has spent $100 of the profits and made 50 Welcome Bags filled with small toys, snacks and coloring books and crayons to fill the bags.  Sam got to personally deliver bags to four young children who were thrilled to receive such an awesome gift.  That has intensified Sam's desire to help the children at SAFEHOME.
Sam and her mother drove up to SAFEHOME just recently.  There were ten cars in the parking lot.  In a sad voice, Sam informed her mother that ten cars meant ten children who needed help.
I asked Sam to be a ribbon girl at our Kansas City Missouri Fox Trotter Spring Horse show.  She is so excited!  She loves to groom horses.  She has new boots and a very cute outfit to wear.   Sam is bringing her stock of Fairy Houses for sale.  Sam and her mother are new members of the KC Regional Fox Trotter club!  Please look in the lounge and pick out your favorite Fairy House to help Sam.  Summer, Sam's mom, will be the one to pay. Summer will also be helping at the horse show…. especially with setting up Susan's Free Style Objects!  Summer is my Personal Trainer at Anytime Fitness in Pleasant Hill.  If you notice that I'm cuter, it's Summer's training that is making the cuter changes.
The Kansas City Star has recently interviewed Sam about her Fairy Houses and donations to the shelter.  An article will be published in the KC Star this coming week with the news that Sam's Fairy houses will be on sale at our horse show!  Sam's Fairy Houses can be seen on Facebook at Sam's Fairytastic Fairyhouses (https://www.facebook.com/SamsFairytasticFairyhouses).  Her houses range in price from $10-$20.
Here is my Fairy House made by Sam!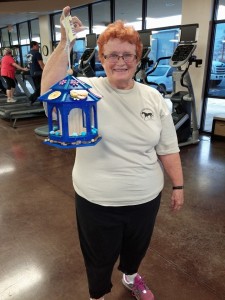 "I'll take you to dinner tonight at Sam's," I said.  "OK, Let's go.  Let me get my heavier coat on," spouse responded.  That's how we start out a romantic date night.  Sam's has the best BBQ brisket I've ever eaten.  I have become a fan of brisket because of this restaurant.  It's the type of restaurant I grew up in…meat and potatoes with vegetable options.  Good cooking.
We entered Sam's and found "our booth" was free.  We sat down and fought over the placement of the table.  The plush booths are just a little too far from the table.  I have short arms.  My arms could be called three quarter length arms.  Tables have to be close enough so I can rest most of my lower arm on the table to eat and to post on Facebook comfortably.  Evidentially, spouse's arms and a little short for this booth too.  Spouse whined that he never gets a say in how close the table is for his body. But I have the shorter arms, I said.  I juggled the table closer toward him about half an inch.  I asked if he was OK with the table placement.  He agreed.  It just took a concession from me and he gave in.  Date night was up and running again.
Our meal arrived and we were busy with the shoveling the food from the plate to our mouth.  Yum!  I marvled over how much tender  brisket I had…enough for another good meal.  We both marvled and continued to eat.
BANG…CLATTER…CRASH and a verbal really really loud "DAMMITT!" came from my booth.  I stared at spouse and there was no plate on his side of the table.  Amazing, his plate had taken a flying leap, bounced into his lap and crashed on the floor with half of his hamburger steak and sweet potato fries.  Thank goodness there was only one other table of people in the restaurant and the shocked faces of those diners …along with my own, froze in the restaurant air.
"What Happened?" I said.  He said, "The table was too far away."
Sweet potato fries and half the hamburger on the floor.  He managed to pick up the plate and spear the hamburger.  Dogs enjoyed our date night.  Tip was increased
Next time we go to Sam's, we are not sitting in a booth.  Our seat of preference will  be a table with chairs.  Sam's has cushioned chairs and they scoot close enough to the table so that your dinner plate won't go flying through the air.
Have you ever had a dinner plate that went flying through the air?  Lordy!!!
I awoke at the crack of post dawn about two hours before my normal awakening time of 9:30am…or sometimes 10:00am.  I gave up two hours of beauty sleep to start cooking.  Cooking!?  It's a word not usually associated with the person you know as me.
My senior fitness class at Anytime Fitness in Pleasant Hill is having a pot luck Christmas Lunch today.  I had signed up to bring a food.  I struggled out of bed and into razor sharp consciousness.  Undertaking a cooking experience is fraught with danger for me.  I loaded myself up with power and opened up the demonic fridge.  Just two days ago, the fridge demon threw a heavy glass container from the top shelf to land on one of my precious toes, breaking one or more bones in the precious toe.  I glared strongly at the 32 oz glass container filled with blueberry juice and willed it to stay on it's new shelf in mid range fridge.  It stayed.
I pulled the cooking stuff from the fridge.  I had much work ahead of me.
With my semi long serrated knife, I opened the bags and poured them all into the shiny ceramic crock pot inside.  After I got all the veggies in the pot, I prayed that the lid and the crock pot outside would be found in the truck, the last location.  I put on my outside clothing and went outside to feed and water the horses.  They were grateful to see that food and water come their way.  I checked the truck and discovered the crockpot outside and the lid right where I had left them last month! Happiness abounds.
Inside the house, I masterfully fitted all the parts of the crockpot together and went out the door.  I dropped off and plugged in the crockpot at Anytime Fitness and headed on to Nourish for my favorite Vanilla Almond Protein Shake and Raspberry ice tea.  YUM!  I drove to Lee's Summit to cash a check and visited the library.  I checked my email and all the Facebook happenings. Finally, it was time to return to Anytime Fitness and not do the Senior Exercise class (because of my broken toe).  Instead, I worked out on the machines while my friends sweated and groaned with the glee of senior class exercise.
My crockpot was working!  Food was getting hot.  Class was over and now I had an hour to kill before lunch starts at noon.  I decided to visit New Town Bike and Coffee Shop.  By now, I needed coffee!  Instead I had a latte with almond milk and carmel flavoring.  I told Alan I was cooking for the senior class lunch.  He asked me if I was planning on going to college.  Sadly, I missed the humor.  Finally, I connected the words, "senior" and college.  Remember when you were a senior in high school and planned on going to college? Good Gad, for me that was around 40+ years ago.  I owe Alan a fun uncompliment!  I explained to Alan that I hardly remember high school.  He apologized.  humph!
Finished my wonderful coffee and went to have lunch with my senior class…at the Fitness Center.  Yum Yum Yum..  Us old people can certainly make great stuff!  Great googabs of my stuff was taken which made me pleased.  Whew…all that cooking and physical fitness had tired me out.
Home for a change of clothes.  Out to the barn and Lucky Star volunteered to travel with me to the indoor arena and have a little ride.  Oh he was so good.  We had a great time.  Our communication is coming along strong.  We've come a long way on this, the start of our third year.  We are planning to be a show horse and rider in 2014!
Home again with Lucky getting to graze in the front yard to let him know he is special.  The front yard still has green grass.  What a happy horse he is to eat green grass!  Inside for a 30 minute rest.  This was not to be a nap day.  It's going to be tough to recover from the post dawn early awakening plus no nap.  Probably take me the rest of the week.
I got dressed up in my Kauffman Center usher outfit…white shirt, black pants and black shoes.  Outside I went.  Lucky had to become a normal horse in the pasture and I took off to usher Canadian Brass Concert.  What a great evening performance.  Helzburg Hall was full.  We found everyone's ticketed seats and life was good.
Home before midnight…a full day of great times!