Archive for the 'Missouri Fox Trotter' Category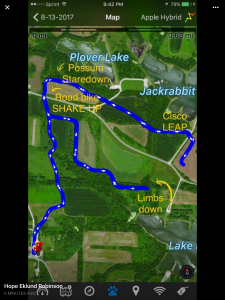 Our ride began on a lovely tree lined, shady trail until we encountered LIMBS DOWN. Ugh. No way to get through. We guffawed at the thought of getting OFF our horses to lead them through the branches. Get OFF? Then, remount FROM THE GROUND? Seriously? Nope.
Susan and I are loath to back track, but that was our only option. At the fork in the trail, we turned north. Low ground that had turned to ribbons of algae slop caused Cisco to LEAP across to save himself and Susan with him. It was SPECTACULAR! Cisco put much more effort into his launch than he or Susan needed. They lived.
Then, we followed a mowed trail into a sunflower field. Sunflowers weeks beyond their prime. We watched as herds of deer, hiding in the tall flowers, leapt to their feet to flee the field as we rode deep into their resting area. We retreated the way we had come.
"Run little possum!" Nope, he stared us down from the side of the trail. Did not budge. It could have been all over if he'd chosen to chase us!
Susan and I continued riding towards the road. Trees lining both sides of our trail, opening onto the road ahead. ZOOM! No sound. ZOOM! For a blink we see a bicycle/rider cross from left to right at sonic bicycle speed several strides ahead. Both horses saw the bicycle missile, thought to save themselves, and us with them! Good Susan Engle trained horses, reacted big, but mostly in place. After we assessed ourselves, we asked, "Are you OK?" Then, laughed. WE LIVED!
A week of extreme temperatures coming up has defeated me. I decided to bring the handsome geldings home from the boarding stable. Everyone will be pleased…the handsome geldings and the fulsome mares.
I pulled up and Cisco saw me immediately. I got out of the truck and Cisco whinnied loudly. Ahhhhh, I thought, "he really loves me". I walked up to his pasture and he whinnied again. But he wasn't looking at me. He was looking at the trailer. I walked past him and Cisco whinnied at the trailer. Did he think his mares were in there? Was he telling the trailer to open the gate so he could load up? Cisco loves the trailer more than me. Sigh
I got both geldings in hand and we loaded into the trailer and went home. I decided to rinse them off before letting them into the pasture. I decided to lead both of them into the barn and stall. Of course Lucky went first and Cisco was just barely able to avoid crushing me in his desire to be home. Lucky tried to take off before I got the halter off. He pulled the rope out of my hand. I stepped on the rope. He was stronger and pulled the rope away. Lucky went directly to the round bale, got on one knee and rubbed his neck. I had a time controlling Cisco to get his halter off. He took off. I followed intending to get the halter off Lucky. But the impulsive geldings decided to gallop off. Zoom they went with Lucky's rope floating in his jet stream.
The mares? They stayed in the barn. No way did they have the energy in the 90+ weather to gallop anywhere. Soon the speed machine geldings came racing back to the barn and I was able to get Lucky's halter off.
I'm drying off my sweat in the house now and saw the herd run across the dam. Evidentially Lucky and Cisco gently motived the mares to move out! Don't believe the gentle word.
How the Horse of No Saved My Life
I took Lucky and Cisco to one of our our outdoor arena summer home. It is perfect for Cisco's rehab. I was going to ride the "horse of no" and lead Cisco over the log obstacle, the low jump and the small wooden bridge. That was my intent and if Lucky would have let that happen, I might be in the hospital or funeral home now.
Lucky decided he wanted to play at liberty before I rode. He double dared me to make him a happy horse while trotting circles around me. I took out my top of the line horsemanship leader role and proceeded to fail at making him a happy horse.
Firstly, I failed at circles. Instead Lucky ran straight and did his best performance of a bucking horse. It takes a lot of energy to get that high flying air suspension bucking horse. Lucky just braces his front legs and puts his head down as he trots off.
This bracing the front legs with his head down always makes the saddle move forward. This saddle is much better that my former saddle. It managed to stay on his back, not on his neck. However, it still goes too far forward. I loosen the girth and move the saddle back in place and tighten it up again.
The knowledgeable horse trainer returns and fails again as Lucky performed his exciting version of a slow, low flying bronc.
Repeat with the saddle adjustment.
We are now completed the fourth bucking episode. I'm thinking of getting him in the round pen, remove the saddle and make him fly around. I'm getting irritated at my horsemanship failure.
Once again, I loosen the saddle and move it back. I tighten it again and BOOM! The girth strap pulls apart. It looked like a piece of beef jerky as it pulled apart.
Good Lordy! I could have been riding Lucky Star or even Cisco when the break occurred. I could have been cantering around the corner of the arena when the break occurred. I would have flown off with the saddle. That is a physics thing. The rider's body follows the saddle where ever it goes.
Lucky Star, "The Horse of No", saved my life! Thank goodness he was in his arguing mode.
The saddle is my new used saddle. I didn't like the leather strap. I had a feeling about it. However, it looked perfectly good to me. I was eventually going to replace it with my favorite nylon cinch strap. Whoops, instincts should always be followed!
When you buy a new used saddle, put on a new girth strap. You might not have a "Horse of No" to save your life!
Sunday Clinic Day with Jennifer Vaught
It was a most amazing time riding Cisco. Firstly, I asked for a bit of speed and he hollowed out his back and paced. We worked on that. Then he would go nicely until the corners where he paced. The first exercise Jenny had us do in the clinic today, involved a lot of walking and leg yielding. We were walking the long way down the middle of the arena when Cisco suddenly began walking faster with a huge long stride. Then he got excited and we jigged around. He wanted to dart and go fast. We got that under control. The last exercise of the day was everyone went to the rail, one at a time. We were to do transitions, all the gaits and canter. We did an awesome flat foot walk. We did an amazing soft fox trot! Cisco and I have not cantered all winter because he couldn't. So today, I asked him to canter. We went on wrong lead. But, it wasn't a "lameness" canter attempt. We stopped and tried for the correct lead again. Zowie! We cantered one beautiful lap around the arena. Cisco has recovered!
Here is Cisco's translation. "It is going to hurt when I go faster. I dread it so much that I'm going to hollow out my back to help stop the pain. Hmmm. Nothing hurts. My shoulder can move underneath this saddle! My goodness! I'm going to walk fast and see what that feels like! Wow! That felt good. OMG. My body feels great under this saddle! I want to run! I want to dash around! Yee Haw! Wait! You want me to fox trot? OK. Doesn't that feel good! Now canter? I can't wait! Isn't this fun! Thanks for getting off. I'm a little tired with all this exercise. We haven't done this in a long time!
Now get those ticks out of my mane! Let me eat some grass! Take me home!"
Lucky has a new saddle and suddenly he is one of two riding horses. Half the pressure is off! Next is to give Lucky the chance at the new saddle. I told him tonight when Cisco returned to his pasture. Lucky said, "A different saddle? I'll really like how it feels? Well, that is s p e c i a l. I volunteer to let Cisco use it all the time. I'll just stay here and run things at home. Sweetie and Delta need me full time to run the pasture process." The Lucky SNORT was directed to my face.
Cisco and Lucky own a Parelli Natural Performer saddle. The gullet is extra wide. It is 16.5 inch and was made in Germany in 2010. It is a good thing we got the extra wide. The standard would have been too narrow.
Parelli saddle
The bucking rolls are gone. Thanks Yellow Boot Saddelry for making the fenders short enough for me and removing the bucking rolls. The bucking rolls made the seat too small for me.
Cisco's lameness was stifle and something else. I guessed the saddle was causing problems. My beloved Circle Y Flex Lote saddle was discovered to have a broken tree last year. I'd been using my original
Circle Y Flex lite saddle. It occasionally caused me to get sore. It was probably too narrow for Cisco. I no longer endorse the Circle Y Flex tree saddle.
The stifle and mystery lameness got better and got worse. Stifle injection made Cisco worse. Cisco got better with each shoeing by Healthy Stride Farrier, Tony Vaught. But we couldn't keep the plus progression of zero lameness strides. Cisco got a month of freedom to heal.
Saddle search was on and I made a big commitment to the Parelli brand. I know if I ever sell this saddle, there will be buyers out there in the world looking.
The round bale had been consumed leaving only a cushion of hay on the ground. The horses deserted the round bale to the green grass. It appears that the green grass has been eaten down to the dirt.
Lucky Star has been telling me that he is starving. I retort and tell him both of us need to lose our roundness. He snorts on me and is actively looking for a smart phone that is nicker activated.
Lucky Star hates Siri. She never responds to his nicker activating attempts to contact the Too-much-Horse-Exercise Hot line.
Today I put out a brand new round bale to stop the horse starvation. All the horses ignored the round bale. They all went into their stalls and waited for the horse feed.
I kept telling them that the hay was their special treat today. After they gave up waiting for their horse feed, I saw Cisco use the round bale as a scratching post. Delta laid down and used it as a scratching post.
The starving horses have been eating the starvation dirt grass all the rest of the day.
Did Lucky Star lie to me about starving!
I go now to feed them their sweet horse feed.

Once upon a time the favored horse became replaced by the new guy.
Lucky Star, the "Horse of No" was a difficult horse for the human. He was dominate over the world, had little to no work ethic and didn't react to pain stimulus. Horses that are reluctant to move won't win many fans in the human and horse world. It takes a ton of horsemanship knowledge to work with these kind of horses. Lucky wasn't the most difficult ever horse. There exist "horses of no" that lie down when their human rider requests movement. Thank goodness Lucky didn't figure out that trick!
One day the raffle horse came into the human's world. Cisco was eager, willing, friendly and strived to do more than asked. The human's long years with Lucky made her very appreciative of a willing horse. Lucky Star became a pasture ornament. The fun of dealing with Cisco took the human's insane desire for forward movement away from the "horse of no".
At first Lucky Star was grateful to Cisco. Being a pasture ornament allowed Lucky a lot of time spent pretending to be a wild mustang running free with his herd of two mares and Cisco. Gradually, Lucky became a little bored in his 15 acre wild horse experience. One fall day when his grass was starting to die. Lucky decided to to expand his mustang roaming area. He jumped the fence, trying to get into the hay pasture. He made it, but in doing so, got a back foot caught in the fence. He tried to become a three-legged horse.
Lucky laid down for 12 hours at a time. He would not get up. The pain killer drugs produced colic. Colic kills horses. The vet started coming every day and giving a pain injection and avoided the colic causing medication. This allowed Lucky enough pain reduction that he started standing up at least part of the day. The colic went away. Along with the pain of recovery, his human spent a lot of time hanging out with him. Horse and human spent a lot of time together. Human worried and horse suffered. The treats he missed when the human started to spend all her time with Cisco resumed. Lucky Star will do almost anything for treats. Trying to cut off his foot was an accident. But the treats were wonderful.
There were some sticky recovery times when vet and human wondered if Lucky would live. This experience was the third time in his life when death was knocking on the door. Each time Lucky had a dedicated human taking care of him.
Lucky survived and his foot started the healing process. Again, Lucky became a pasture ornament while Cisco got all the treats, rubs and human time. A small resentment started building while his leg healed. Lucky wondered how he could get his human back again. How could he become the favored horse, not work and get all the treats?
Lucky made certain he was first in line with anything his human did. However, his argumentative brain would not give up his love for domination and his hatred of anything that resembled work on his part. He wanted his human back again, but just couldn't change the "No" that lurked in his personality. The human tried last summer to get through the domineering Lucky Star. There was no fun in the trying and again, Cisco won through.
Lucky Star got older and less extravagant in his need to be the ruler of the free world. Three people came forward with the need and desire to have a horse named Lucky Star. The human owner was thrilled! Lucky Had to be ridden so that he would be ridable success. Hmmmm, thought the owner, Lucky Star might work out. Oh wait, the human owner had just the slightest bit of fun riding Lucky.
Then the unthinkable happened. Cisco came up lame and the healing process is not an overnight process. Lucky's human started giving him treats and spending time riding and playing with him. The human took Lucky back into her heart.
Lucky Star did suffer through this process. The human employed "thunks" using a riding crop. The thunking was done on his shoulder, not the rear end which might buck. The thunking was done rhythmicaly every one, two and thunk. One day, he decided that arguing was not working. The "thunks" were very irritating.
Lucky decided to become a partner with his human. He decided it was easier to do what the human wanted, Immense rewards were experienced. Lucky Star got those beloved treats and he got rest time where he was rubbed and stoked. His mane and tail were combed and the itchy dandruff went away. Oh what a wonderful world enjoyed by a partnered groomed horse,
Lucky decided to fully participate in life with the human. Gradually, he got rid of almost all argumentative actions. On this past weekend during a two day clinic with Tony and Jennifer Vaught , he changed. Lucky Star got impulsion! He moved at the human requested speed, for as long as the human wanted! Miracle!
His new nickname is…..ROCKET MAN!
His human is having fun. Rocket Man is having fun and treats!
This romantic drama of the horse wanting his human in this story is called anthropomorphic. Horses do not think like this. Horses live in the moment. What really happened is the human used love, language and leadership. The human finally became physically effective. It took years!
Here are many articles to help all humans deal with the overwhelming number of horse and human problems. Go wild! Go Crazy! Read all these articles! learn Horsemanship!
I set up the arena for fun! I had two upright barrels standing close together and two large plastic jump boxes standing together. I had the arena alone today so we played at liberty on the ground.
Firstly, I needed to do my exercising so Cisco and I walked at a goodly speed twice around the arena. I broke out into a near run while Cisco sped his long legs up ever so little. He stayed with me the entire time. I like to put my hand on his neck just behind his head, so that as his goal. He passed!
I've had a problem keeping him going around me in a very close circle. He takes advantage of his freedom and moves further away from me. Today, I layed the carrot stick on his back and proceeded to walk forward. He stayed right with me and then I turned it into me standing in place and he circled me! Aha!
Next was our barrel and block squeezes. I had a heck of a time getting Cisco to walk between these obstacles at liberty. First it was tough to get him to follow me thru the obstacles. He preferred to go around the obstacles rather than thru them. That took a while. He also got a treat. Next I tried to stand near the obstacles and "send him through". That didn't work at all! We had a lot of discussion about where his body should be. I wanted his body lined up ready to walk thru the obstacles. He wanted his body completely on the other side of the obstacle from where I was standing. In all our discussion, he never left me to go running around the arena. For that I was quite pleased. I never did direct him thru the obstacles. It ended up with me begging him to come thru them to join up with me.
I was amazed at his level of distrust at something that he should have had confidence with. We will do more of this to raise his confidence!
I got on Cisco and off we went at a loose fast walk. This is his rehab gait. We did not experience any limping or shortened strides. I was so happy at that. Next our task was to ride thru the obstacles. We did extremely well. Next, we sped up a little and went between them at a just a bit faster than a walk speed. I also set up the barrels with a cone to hold my stick and string. We pretended the string was a gate and we opened and then shut the gait as we went between the barrels.
We did some backing around the obstacles as well as backed between. We need much more practice to get his confidence raised at backing thru.
What a fun arena time we had. We did get a nice flat foot walk going and a few steps of the fox trot.
Note: on the next day's arena fun time, Cisco is perfectly fine with going between the obastacles at all kinds of requests from me!
We also did some great ground play sideways. From about 15′ away from me, he sidepassed over four comes about 20′ apart. I was standing almost in front of him. That meant I tapped my carrot stick on the ground, holding it out at my side. Even I was amazed that he understood that cue!
At the end of our fun day, I stood 22′ away from Cisco and asked him to sidepass down the wall from 22′ away.
Ground play is so much fun with an amazing horse!
I tell people that a new book is not possible because the humor of a person new to horses is gone.  Maybe that theory is flawed.  I might have had two humbling experiences just today and the last time I rode.  I might have dramatic, pathetic and humorous stories, even now.  You be the judge.
Friday
I decided to change bits today on Cisco's bridle. Cisco made certain that he was involved in the exchange. He had his head mostly in my lap while I was trying to do this. Figuring out how to get the bit on the bridle and then the reins on this Wonder bit is complicated for me. I think they must call it a Wonder Bit because it makes people like me wonder how to install it correctly.
Finally, I got done and put the bridle on Cisco. Whoops, the bit must not have gone into his mouth. No, the bridle was too long and the bit just fell out of his mouth. I made the bridle shorter and put it on again. Hmmmm, the bridle still appears too long and the curb strap came no where near Cisco's chin. I said, "The heck with this! I'll just ride him bridleless today".
I haven't rode bridleless for quite a while. It appears that I have been assuming Cisco has been following my leg and body position (rather than the reins) quite well, but when you ride bridleless, you find the truth. I hate the truth. But the truth defines the journey!
Cisco and I were still impressive without the bridle but there is a lot of room for amazing "betterness"! (Yes, I just invented that word!)
I need to put more balance in my riding. I'll be balancing my time with and without the bridle from now on.
Saturday:
Cisco had a nice weekend with this home herd.  He and I went back to play today.  Over the weekend, I had some alone time with four of my bridles.  One of them had another bit all perfectly hitched up to the bridle.  I was able to see how my bit should have been put on the bridle.  With my old dirty used bridle with the reins that are slowly rotting, but with the correct installation of the  Wonder bit, we are ready to ride!
I have rules for proper saddling and mounting a horse.  The saddle rules are as follows:  The horse must canter or jump over something along with tightening the girth at least three times.  I followed the rules.  Cisco cantered both ways in a round pen.  I tightened the saddle gradually at least three times.  The saddle was secure when I mounted.  If the girth would have been loose, the saddle and I would have fallen off the horse during mounting.
Cisco and I spent a long while practicing skills in the arena.  Near the end of our session, I asked him to canter.  I had this strange feeling that my body couldn't keep straight in the saddle.  I stopped and scootched the saddle back straight on his back.  We cantered off.  Hmmm, I still had a wee problem with keeping my body balanced in the saddle.  We stopped and walked for a moment when I heard banging.  My saddle was making a banging noise.  My saddle is normally a nice and quiet saddle.  It has  never made a banging noise.  I checked those little straps that hang off the saddle.  Nope, they were not causing a banging noise.  I looked at my cinch.  Good Lordy!  My cinch wasn't secured on the ring correctly.  I had Cisco creep toward the round pen and I got off on the round pen panel.  I climbed down the round pen to solid earth.  I went to the other side of Cisco and looked at my girth.  Good Lordy!  My girth was not secure.  It was not tight.  It was barely even touching Cisco.  I had been riding purely balanced on Cisco's back with no anchor for the saddle.  If he would have spooked sideways, the saddle and I would have left his back.  If I had asked him to jump over something, I might have had quite an experience!  I followed all the rules of tightening my girth.  I broke the rule of securely fastening the strap to the saddle.  I didn't twist it around the ring at all.  Good grief, protect me against brain loss!
What will happen the next time I ride Cisco?  I am taking applications for guardian angel!
Every day I agonize over how I can let Cisco know what a wondrous horse he is to give me so much try and affection.
Should I just go into his pasture and feed him treats non stop all day long?
How about me brushing him daily for 3 hours?
Can I feed him a bag of horse feed every day?
Let me rub behind his ears, rub his withers, rub his head, rub his nose, scratch his belly, scratch other itchy places etc for three hours every day.  Would that work?
Should I give him a warm bath every day?  Should he be squeaky clean, oil and germ free clean every day?
I could stand in front of him and tell him, "Good Boy" one hundred times a day.
He would love me taking him out to find the greenest clover patches and letting him graze for four – six hours every day.
Instead of all the above,I take him out of his pasture, put a saddle on him and play with him on-line, at liberty and riding most every day.  I try to rub him when he does something I've asked for him to do.  I try to give him stops, rubbing and resting moments when he has put effort into a task.  I give him a treat when his "try" is special.  I do try to tell him, "Good Boy" when he gives me a great try.  I do occasionally take him out to graze at wondrous clover patches after our playtime.
His feed program is healthy.  His weight and body composition is perfect.  His teeth are "adjusted" yearly.  He gets veterinarian exam and yearly inoculations.  His feet are trimmed by the best farrier on the planet.
I need to get an animal communicator so I can ask Cisco what more I can do for him!
I've wrapped up enough examples to know that Cicso is darn certain that a gate will kill him, We were so scared of the gate at the April 2015 Spring Horse show that we just zipped around it.
Cisco was terrifie of the gate at the 2015 versatility arena at Ava shows both June and September. We have yet to make an entrance through a strange gate using my right hand. Cisco can barely tolerate me using my left hand to open and shut a gate. Usually gates are set up to go thru with the rider's right hand. We have to back through the gate when using the left hand, much more difficult.
Or is it something else? Cisco is a deep horse, one that thinks things through. He was very well trained when I got him.
While Cisco has been my horse, we found that he worries. He doesn't get comfortable quickly in different places. He worries. It takes him a while to relax in strange places. This is not immediately apparent to anyone. He hides it well. Underneath that perfectly calm outer exterior can be a worried horse in an environment new to him.
I worry that ulcers can form. Therefore, I've taken to feeding him alfalfa pellets. Alfalfa produces digestive juices that flood the entire gut, lower and higher of the horse. Ulcers are found in the upper level of the horse's system. When worry hits, the ulcers start hurting and the horse reacts. So, I'm trying to prevent ulcers from forming by getting that alfalfa to do the job of massaging the inside of the horse.
I've found that Cisco likes to move when he is worried. Standing still is not an option when he is highly worried. But yet, I let him walk out and he appears to be calm.
Standing still at a location new to him is not good. He moves his body around, trying to move forward while I'm telling him to stand still.
The rope gate at the latest horse show, Spring 2016, was a frightening thing. He had to hold still while I grabbed the rope loop off the fence. Oh that was difficult. He might have been worried that it was an electric fence kind of a rope. However, he has been just as scared of a regular metal gate. I finally was able to grab the rope with my right hand.
Cisco hopped up and down with his front feet. He was very upset. I felt no fear. I didn't fear that Cisco was going to buck or bolt, so I hung on to the rope. I had a 22′ rope to hang on to and maneuver around with. In not too long, I got Cisco to back into the arena and I was able to hang the rope back on the post. It was incredible how upset he was. We went thru the trail obstacles fairly successful. He was very worried.
Next I had also signed up for the Open Trail Obstacle class. Our fearful rope gate adventure was repeated. On the 4th obstacle, the back thru L, Cisco lost it. We scratched that obstacle and went on to the next.
While the rest of the riders where going through their trail course, Cisco and I took advantage of being able to ride in the covered arena where the rest of the horse show was to be held. We moved and he was fine.
When it came time for Western Pleasure, Cisco did great. Cisco did great on all the remaining rail classes. He never stood still for too long while we waited to ride in the remaining five classes in which we were entered. The last class was Open Fox Trotter, Will Canter. Cisco's canter was not exactly like a rocket. We didn't go fast enough to orbit into outer space. I could tell that he was not yet relaxed and used to his surroundings. Oh my what a day it was!
We will be practicing a rope gate, and comparing, remembering and thinking about Cisco and his worries.
Fast forward to late 2016. We now have assessed Cisco to be a right brain extrovert . Read about the right brain extrovert In this article.
What personality is your horse?