Archive for the 'NOVA' Category
Sage was the first horse.  I learned a lot from her. We came from negative 7 to passing the Parelli original level 2 test. The original level 2 task list was so difficult and complex, I had no idea what the tasks were…after I read them.  I put the test away and just continued my lessons with Jenny Vaught.  Years later, we passed all the tasks.
During the long years it took to get my horses to do four consecutive flying lead changes, I switched over to doing the L2 tasks with Velvet.  I thought she might be better than Sage.  But after about a year of trying, we decided to switch back to Sage. Sage started doing flying lead changes.  A gaited horse doing flying lead changes is super amazing.
After Sage and I passed L2, I thought long and hard about taking Sage into L3. The riding bridleless part had me a bit nervous.  I thought Velvet was a bit more agreeable, so I switched over to Velvet. That was a long journey and Sage got left behind.  We decided Sage would make a great lesson horse at Pine Dell Farm and so she did.  I bet over a period of 5-8 years, Sage must have given thousands of lessons to beginner beginners in an arena. Can you imagine how bored she might have gotten?
Later I took her down to live with Jenny and Tony Vaught at For the Horse Ranch.  We thought perhaps Caitlyn and Sage would bond, but it didn't work out. Sage became a lesson horse again. This time she got to ride a little bit outside as well as in the indoor arena.  She had a good time with this and continued her string of teaching people how to understand and ride horses.
By this time I had moved beyond Velvet to JR.  I rode JR for around 3-4 years and finally it was Sage's daughter who was to become my next mount.
Nova had a year with Jenny and competed as a 4 year old at the World Show.  She became my riding horse in October and we've been competing at the World Celebration every since…three years.
Tony Vaught has really like Nova.  He liked her really well when I rode her last year in the reining class.  He told me I did great on Nova and had the best lead changes of anyone and my spins and rollbacks were really good.  He said he was Jealous and Wanted Nova for himself.
Tony got to ride Nova a couple times before the 2011 World Celebration.  He remembered again how much he likes how Nova moves.
The story is that I'm back to riding Sage now. Tony and Nova are going to contend for the Open Versatility and Ranch Horse events in 2012!
It's a long way around to tell you that Sage and I have started riding the trails again!
These are all the stories I posted in the Missouri Fox Trotter World Celebration 2011:  They will stay on the web site until we are ready to hit the 2012 World Celebration and then I lose them.  Here they are from:
http://www.mfthba.com/blog/category/susan-engle/
Reflections and Stories
September 14th, 2011 | Author:
Susan
Nova has improved quite a bit over last year. This year I caught on to the need for slow and steady, quiet hands, the head position that has her gaiting the best and my communication between her and I.  Poor Jenny, my trainer, has been trying to get me to understand my role for two years.  I think it's sunk in now.
 Tony Vaught tried to get me to understand my body's role in the reining horse spin and the slide stop this year.  I did fairly good in the spins because Nova is so awesome.  Maybe next year I will understand my role in the slide stop.
Here's Tony and Jenny talking about their favorite student, me!
Just when ARE we going to get Susan to play with Cows?
 Speaking of an awesome slide stop. This is Jennifer Vaught and Big Barn's Slinger, as perfect as any horse can get in a slide stop:
STICK THIS!
 I was glad to discover that my brain had a fine time remember the versatility patterns. They were crystal clear in my brain.  No dementia for me this year!
 I was thinking about all my fellow competitors.  Everyone who got a higher placed ribbon that me, deserved it. Well Mostly!  ha!
Here's the three great amateur riders that "dusted me" and Nova all week. They are all terrific people and I love them greatly:
 51 Tequila's Montana Sunrise, Robert Womack, for Robert Womack, Missoula MT
10 Jake's Elvis J., Robynn Gabel, for Robynn Gabel, Lander WY, Jaquelynn Dahlstedt, Lander WY
11 City Girls Bud, Ricka Mathews, for Ricka Mathews, Humansville MO, Bill Mathews, Humansville MO.
 I asked Jane Zubia why she came all the way from Wyoming to the Celebration.  It was after a big long day of amatuer and open classes. She paused and quietly said, "Someone has to!"  That was a deep thought with few words.
 Our youth from Utah were heavy into it.  I had two days of writing these winning names.
42 Cloud's Eldorado, Abbirose Buckley, for Abbirose Buckley, Mapleton UT
43 Sunrises Gold Patriot, Stephanie Harper, for Stephen's Fox-Trotters LLC, Wallsburg UT.
Every amateur and open competitor is glad that the Youth have their own classes. Otherwise they probably would just beat the socks off  us.  I know they would beat my socks off!
 Our Open riders showed how it's supposed to be done. The rest of us just look on in amazement when they ride
 My extended Vaught family daughters, Caitlyn Vaught won Ranch Horse Reserve World Grand Champion and Nichole Copple won the Ranch Horse and Versatility Youth World Grand Championships.  We went home a happy extended family!
 I realized that Nova is not a Showmanship kind of girl.  She's supposed to stand still and let people gaze at her perfectly lined up, saddleless body.  Her idea of a good time is to take a forward step..or a sidestep. She's an outgoing extrovert and she wants to move. sigh  I'll just say this once…if you're going to have a horse, you're supposed to ride. Sorry, that just slipped out.  
Then I have two stories to tell. 
Robynn Gabel told me this story about Elvis, her grand horse. Back when Robynn was a beginning adult rider, she bought the wrong horse.  Many of us adult riders buy the wrong horse when we start out. …
Battles occurred and it was a nightmare. Robynn ended up having a wreck with that horse and getting badly injured. Time passed and the injury healed.  Her special husband told her he wanted her to go look at a horse.  The bitter Robynn said,"Why would I want to look at a horse?  I'm not going to ride a horse ever again.  I've had it!"  But, that curiosity must have peaked and she thought it amazing that her husband would do this. So she went to see the horse.  The owners did everything with that horse to show how tame he was.  They probably rode him, slipped underneath him and stood on him.  "Well fine!" Robynn said, but I'm never going to ride another horse and she stalked out.  She heard horse footsteps behind her. She turned in alarm because her own horse would have followed her and bit her.  Robynn turned. Elvis walked up to her, put his head over her shoulder and hugged her.
I'm glad to have met Elvis in the arena.  Elvis went into the Costume class too, dressed as… ELVIS!
 Elvis is retired as of the end of the Celebration.  A grateful family awarded Elvis a special plaque for his role in making children's lives better.
 Robert Womack, my best friend Bob, is from far away Montanna also.  (The Montana stories are just piling up this Celebration.)  You remember Bob was voted the most fun rider in the versatility arena when he purposely knocked all the poles down…just to show us it could be done.
 So, I asked Bob why he was here.  He said that his son was supposed to come  to the Celebration and he was a smokin' rider.  But the son was just called up for duty in Afghanistan and couldn't come and ride in the Celebration.  So, Bob decided he would come and try to fill his son's shoes.  Bob came and won about everything. Bob is the Versatility Amateur World Grand Champion!  He did his son proud! Tequilla's Montana Sunrise did the Womack family proud!
 I just might be done now with the Versatility Blog.  It was an awesome week.  We had a great turn out in all the classes.  I'll just close with a prayer of happiness for the great time I had watching my grand horse, Velvet, and Jennifer Vaught in the open Ranch Horse classes.  Oh my stars! Thank you Jenny for all the great performances at the Celebration…for they were performances.
This is Missouri Fox Trotter ROPING!
Rope Floats to the Cow!
Let's Get that little doggie to run a Figure 8!
BANNERS
September 11th, 2011 | Author:
Susan
Dawn Young of Free Rein Design made Banners to post around the grounds and at the Versatility Arena.  Not everyone that visits the Headquarters Show Ground comes down to visit the Versatility Arena, so those people that hung their banners in the versatility home did so knowing that the audience would be limited.  They put their banner in the versatility arena because of their belief in our versatility part of the fox trotter "pie".  Part of the  cost of the banner raised money for the versatility events.
The 4 P's Ranch and Boss man Saddles
Big Barn Ranch-Versatility and Competitive Trail Horses
A most amazing wonderful Champion horse for sale-Does It All
Vote Fox Trotter on America's Favorite Trail Horse!
 OK, this wasn't a banner, but it's time to talk about America's Favorite Trail horse.  We have more than one Missouri Fox Trotter that made it to the finals!  This is huge.  One vote per email address is allowed. We want everyone to vote for one of the Missouri Fox Trotters!  Here's what I'm going to do.  I've got an "AOL",  "Yahoo"  and (Google) "gmail" email adress.  I'm going to get a "ymail" address.  I'll be looking around for other free email accounts and then I'm going to use all those accounts and vote!  I urge you to do the same.  I met J.W. Hendrix at the Versatility arena.  He is a wonderful person.
Boss Man Saddles – Harry rides his saddles in the events and the saddles are great!
 Posted in Susan Engle | Tags: Missouri Fox Trotter |
No Comments »
FRIDAY-Can't Believe It's the LAST DAY
September 10th, 2011 | Author:
Susan
Let's see…Friday was a big day!  Velvet and Jennifer Vaught won Reserve World Champion. Susan (that's me) and Nova won two Reserve World Championships.
 Nova and Velvet gave the crowd their best ever performance in the Ranch Horse Pleasure and Ranch Horse Versatility classes.  That was awesome.
Nova and I defeated the tire in 2011.  We pulled the darn heavy thing! We pulled it at a fox trot.  The tire defeated us in 2010. We got Nova's feet messed up in the out of control long rope.  This year, I dallied the entire loose end of the rope around the saddle horse and took off fox trotting!
 Nova jumped the log in the Versatility Ranch class and I stayed in the saddle.  We were clipping along at a nice fast canter and sailed over the log.  I think everyone in the crowd was amazed that I was still on the top side of my horse after that jump.  And then we had to immediately slow down into a fox trot and trot over some sand embedded poles.  Nova was sort of strong on continuing our strong canter, but she obeyed at the last moment before we stepped over the first pole.
 We had to do all that and then do a mini reining pattern!  Nova and went so fast, she blew my hat off.  Luckily, I have a stampeded string.  I've never learned how to keep a hat on my head at any gait other than a walk.
 The Budweiser Horses in their three semi trucks pulled into the headquarters of the Missouri Fox Trotters and gave an earth pounding demonstration of eight beautiful horses pulling a wagon. Boy Howdy!
 Our great Versatility committee planned a great award ceremony where Velvet and Nova won 4th in the world in their respective events.  High Point Fourth in the world for both my great horses. Thanks to Jennifer Vaught for making this a special story to add to the journal of Velvet's amazing life.  How that horse has enriched so many thousands of people is a whole separate story.  I don't exaggerate.
 We ended our great time with a catered BBQ dinner. The versatility competitors, workers, volunteers and friends all sat around and ate some darned good food. We had a raffle. We poked fun at each other.  we told lies and stories. What an amazing group of people gathered together on Friday early evening to end a great time.
 Posted in Susan Engle |
No Comments »
THURSDAY – RANCH HORSE DAY!
September 8th, 2011 | Author:
Susan
Cutting, Roping and Working Cow horse is the most exciting events in the Versatility Arena and it lived up to it's name. We got the top horses, the top riders and the best youth in the World.  It's a World Show and we have the best.
 I got to sit on the sidelines and cheer on the riders.  Our cutters controlled the cows.  We had some lively cows and a few that weren't crazy about going anywhere.  It's the luck of the draw in ranch horse events with cows. They have their own agenda and usually it's not the same agenda as the rider.
 The winners are all announced on Twitter at MOfoxtrotter.
 Lynne Burger and Jodie Styron decided to make a food event happen.  A whole bunch of amazing food was cooked to feed horse back riders at a horse show (and the watchers).  They brought the food out, the hungry people hovered around while pictures were taken. Finally, pictures were done and thecrowd descended on the food making it disappear.  Look for the food article in the journal!  I'm excited about that.  They might try for other horse magazines and there will be fox trotters in the pictures.
 The Ava 2nd grade came to visit today and they got to see the amateur and youth cutters.  As they filed along the side of the arena, the crazy cow decided not to go along with them.  That rider g0t another ride as it was thought that the string of kids might have affected the cow's desire to run into the pen. 
Some cows in the cutting class understand about the pen and they go down the side of the arena, maybe too easy if the rider has a great horse.  If the horse and rider are inexperienced, having a cow that understands about going to the pen is lucky.  That's what you have in Ranch Horse Event…luck and skill.
 Tony Vaught, open rider, has won the roping class three years in a row.  That's outstanding.  Sally Scott won the Working Cow Horse event and I bet the score sheet was close.  Suzanne Nebeker, Janet Johnson et all were great.  That's what the crowd pays for to watch this event.  I heard one woman sitting beside me say, "I forget how much I love it down here in the Versatility Arena.  I love to sit here and watch these horses and riders.
 Lisa Petty started showing today.  I've watched her horse improve year after year into a formidable competitor in every event from jumping, racing and cow events.  Her horse is a fabulous cow horse.   Lisa has this horse for sale.
 The youth were great in all three events.  I don't believe any youth roped their cow, but it wasn't for the lack of trying.  Nichole Copple and her horse Dusty were going about a hundred miles an hour in the working cow event, trying to beat turn the cow on the run down the fence. The cow tripped at the end of the arena and fell. Dusty tripped over the cow and fell against the gate.  Nichole held on even though her leg was slammed into the gate.  Dusty got up and kept on trucking and Nichole jumped off and checked him out.  Ended up that neither Dusty nor Nichole were hurt.  Where this all happened is where a bunch of us were sitting.  SCREAM
 Waland Burger won the amateur roping and that was fun to watch.
 Jennifer Vaught rode my horse, Velvet, in the Ranch Horse events today. Velvet and Jenny were awesome and both looked like they were the horse and rider on the best professional Horse Magazine.  If any of you are reading this and want a beautiful picture, I highly recommend contacting Jenny Vaught and Velvet!  But then I'm a tad prejudiced.  
Yesterday, Harry Patterson told me that I was the most improved rider in the classes.  I immediately pronounced him to be my #1 Boyfriend.  Today was a sad day as Harry was disappointed to find I wasn't a real cowgirl participating in the cow events.  I hate to disappoint my new #1 Boyfriend, so this coming year will be one of Susan and Nova meets the cows.  Maybe next year Harry will find out I'm a real cowgirl. 
Harry rode in each event and did good.  He wasn't up there in the winner's circle, but it wasn't for lack of a good try!  
Friday, I have three events!  Come and watch the Versatility Arena at 9:00am
 Posted in Susan Engle |
No Comments »
Day 4!
September 7th, 2011 | Author:
Susan
Today was another fun day in the Versatility Arena.  We gpt to see our new and furture champions. We got to watch our three year olds and four year olds perform everything!    Today we had the 3 Year Old Boss Man Versatility Futurity and the Boss Man Versatility Derby (4 year olds).
 Our future is assured by all these wonderful young horses.  The results of today were posted on the official Missouri Fox Trotter Twitter account which is MOfoxtrotter.  Find that Twitter and read the results of the classes almost before they are announced.  HA!
 Janet Johnson won the Boss Man Versatlity Derby and Brent Ratlif won the 3 Year Old Boss Man Versatility Futurity.  Congrats to both and all the riders that participated.
 This day was a day of rest and emotional balance for me after the full day of showing in everything yesterday.  Thank Goodness.  Have I mentioned that every day of this horse show is like a month of living.  It's that huge.  You never forget the experience and it makes you come back year after year.
 The Versatility area was filled with cars and golf carts today.  The stands had cheering people.  Horses and riders stood around waiting their turn.  Other horses and riders from all over the show grounds occasionally come down to visit.  We even had cows today. They all performed nicely.  
Overall it was a good good day and perfect weather continues.
Posted in Susan Engle |
Day Three
September 6th, 2011 | Author:
Susan
The Versatility blogger is a tired puppy. Up at 6:30 after a fairly sleepless night, the day stampeded on.
We had such a good turnout of amateur and open horses! Everyone is fun and pleasant to be around.
After a rocky Showmanship start with Nova (who can't stand still)  in the morning, we did wonderful in all the riding classes.
Nova and I nailed the reining class. I had fun out there on the pattern. Some said that Nova and I looked sexy!  I surely felt sexy out there with that slow smooth canter. Boy Howdy, you have to experience something like this just once in your life!  When we came out of the arena, we got cheered.  Harry Patterson (one of my new #1 Boyfriends (in training) yelled, "That's the Way It's DONE!"
 Here's Nova and I entering the "double"  box in the trail class. We had to go thru it, come back into it, turn a 270 to the right in one box and then a 360 in the other side of the box and exit.
Double Box – Don't touch the Poles!
 I'll leave you with this picture-judges, great volunteers, DQP, helpers, judge and riders and horses all working together to make this a wonderful experience! 
Then Nichole and Velvet transformed themselves into a zebra and an African woman and wowed the crowd in the evening show Costume Class!!!
 Posted in Susan Engle |
No Comments »
Day Two- Youth & Novice and More
September 5th, 2011 | Author:
Susan
we were treated just about everything today. The Novice classes are done. The Youth have all the Ranch Horse events on Thursday.
More open events were today. Well, just one but it was the English class with all the fancy braiding and little pieces of leather minus a horn pretending to be a saddle.
The Youth Reining pattern was much more difficult to remember than the amateur pattern that we are riding tomorrow. I'm all in favor of young brains having to memorize more than us old folks!
 Tomorrow is the amateur and open versatility classes. I'm always glad that the open class is before mine. It helps me finally memorize the patterns!
I met Ray Wilson today and we got caught up. I didn't recognize him because he looks younger. We couldn't figure out why. Maybe riding horses just makes us younger every day!  Ray is riding a beautiful palomino gelding that is for sale. Ray takes his horses everywhere and they have the correct gaits. Which leads me to a little speech on buying horses at the Celebration. You see people that you like, riding the smooth gaits. Ask those people if they have a horse for sale. There are several sales during the Celebration. There are dome been there done that horses that can put you in the show ring next Spring and the young pre-champions with proven bloodlines. Find one for yourself!
Tomorrow night-Tuesday- is costume class. My horse Velvet will be in it with Nichole. Her sister Caitlyn is in it too. I can't spoil the secret of the costumes!
 Posted in Susan Engle |
No Comments »
Day One!!!
September 4th, 2011 | Author:
Susan
I haven't yet been able to leave the Versatility Arena today. We live it down here. Thus year we have the Youth Association B-B-Q to feed us. Yum
The first day of Versatility has Janet Thompson and Kayley Watson winning multiple speed events.
 We have our very favorite rider now. He's a crowd pleaser. Robert Womack is the crowd favorite. Robert was running the barrels as fast as lightning and knocked over the first couple of poles. Then he proceeded to knock over every pole, just to prove a point. And he did. The crowd cheered! Robert came right back in the Stake Race and he is the amateur World Champion!
 Karen Grady, our versatility show chair came out for the stake race. She demonstrated the pattern for us. She got a big cheer from the crowd!  
The winners from each class today are posted in Twitter MOfoxtrotter
 It was around a 100 degrees here yesterday with Missouri humidity. About 3:00, the cold front marched in. It started spitting little rain while we were having our show. Most of us got cold and we had to get jackets. It's been so long since I've had a jacket on, I can barely spell the word.
 More from today later. Gotta run and watch the weanling model class. My stallion has a baby in the class! And he is cute!
Posted in Susan Engle |
No Comments »
Made It!
September 3rd, 2011 | Author:
Susan
I'm here! No Problems getting here! Old truck and ugly ttailer made it fine! I pre entered and slick and efficient office staff got me set up in seconds!
Everyone is here! Stalls are filled with horses. Trucks and trailers pulling it every minute. Golf carts are all here too! It's a busy place! It feels like I never left last year.
All people were out tonight riding. It was just a little too hot this afternoon.
 Thank you Craig Dansie for letting Velvet and Nova stay in your stalls
Thank you Mary Nunnley for letting me hook up to your stalls electricity. Mary's stalls are for sale in barn 17. She has 3 stalls for sale and they are wonderful.  It's a quiet place, the view is wonderful and the people that live in the adjoining stalls are wonderful.
 KFC is closing. I got in right before they closed. It's difficult to blog when eating chicken!
 Youth and Open Speed events tomorrow!!
Yee Haw!!!  
My re-learning lesson from today is that when you go to take your shower at night…after a sticky hot day…be certain to take clean clothes with you!  Putting your dirty, sweaty clothes back on after a shower is not a pleasant experience. 
 Posted in Susan Engle |
No Comments »
Pre-Ava minus Friday
September 1st, 2011 | Author:
Susan
I use my 3 horse trailer once a year..maybe twice.  I use it at Ava because it's a goose-neck and has a me-sized sleeping and dressing area.  It has air conditioning.  It used to be a nice looking steel trailer, but now it's probably one of the worst looking trailers that will be at Ava.
 I'm pretty proud of it. The rust is art-work is naturally beautiful.  The drop down windows in the horse compartment won't stay closed, so I duct-taped them shut. The 3 slide windows still work, so the lucky horse can get plenty of air.  It's a good thing my horse doesn't understand how horrid her trailer looks.
 I take that back. She knows.
 I drove it down to a clinic this past spring when I needed to haul three horses.  Now, I've been used to hauling my nice two horse bumper pull trailer around.  It's perfect and it still looks nice.  
When I pulled into my destination with the longer trailer, I sort of forgot that this three horse trailer was longer. The side of my trailer ran into this big steel post and sort of crushed / collapsed the front of the fender. Hay, it didn't rip into the tire, so no fixing needed.  That post also ripped part of that rubber strip thing that goes down the side of the trailer.
 I folded up the rubber strip thing and wrapped it with a bungy cord so it wouldn't attack cars on the road.  My husband promised that he would cut off that rubber strip, but he has forgotten.  It's sort of ornamental. 
Nova really has never forgiven me for me running into that post.  She and I have words when I ask her to get into this trailer.  You see, she was in the trailer when we drove into the post. You can imagine the words she has for me when I asked her to get into that evil thing.
 The last thing I check before heading to Ava is the air conditioning.  I pulled the trailer up to an electrical outlet tonight and my air conditioner still works.  YAY! 
Velvet and I used to own a trailer without Rust!
 It rumbles and vibrates, so I'm thinking that there must be mud dobbers on the fan.  The weather forecast is for me to desperately need that air conditioning until Monday.
 Come on down and see my beautiful trailer.  Judge for yourself if it's the worst looking trailer on the grounds! Vote for me! Find me on the south side of barn 18!  You will instantly know it's my trailer.
 Posted in Susan Engle | Tags: Missouri Fox Trotter, Velvet |
No Comments
I didn't want it to end. Really!  What a marvelous time.  What marvelous weather!  Nova and I were beautiful…the stuff of little girl dreams in a big ole aged woman body!
Yee Haw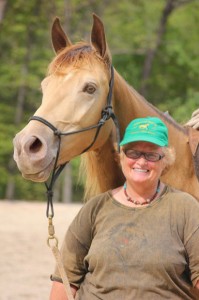 I'm leaving Saturday morning to enter into the huge headquarters of the Missouri Fox Trotter world.  It's like a World Fair of Fox Trotters, adults, kids, teenagers, horses, golf carts, mobile shopping center, food courts, trailer shopping, and the wonderful people in the office that are the glue that binds all this stuff together.
And next Friday, the Budweiser horses will be on the showgrounds! They will make their appearance in the historic arena early Friday evening.  They will come, hang out for a while, make an exciting appearance, hang out and then leave.  BOY HOWDY!
It's around a 5 hour drive.  I have most everything packed and ready to make it there.
I plugged in my air conditioner last night and it worked, but vibrated pretty bad.  Yep, I had the husband take the truck and trailer to an air conditioning place today and mud dobbers had made a big heavy mud pie on the air conditioning fan…the little beastly creatures!  So here's hoping my air conditioner will make it thru the week long event.
I show in the Versatility World…everything is a pattern.  Every step my horse, Nova, takes is OK'd by the big boss on top..me! Also in the Versatility Arena is the Ranch Horse events…the real thing…cutting, roping, cow working. That's what Jenny Vaught and my horse, Velvet, are going to be doing. Velvet is in fine fine shape.  She loves to cut cows.  It's like the shows you see of the horse doing all the work keeping the cow away from its herd and the cowgirl just sitting up there.  Velvet is doing that.  Plus she run as fast as the wind chasing and passing the cow to stop and turn the cow.  In addition, she make the cow circle in a figure 8.  Jenny has a lot to do with all that happening.  Plus it's Jenny's job to rope the cow when Velvet gets her in the perfect position. It's a partnership kind of thing.
I've got my iPhone set up to do live recording.  You'll get to see all this happening.  I've got my phone charger in my truck and another one to plug into near- by electricity, so you might get to see some of this exciting stuff happen!
Friend me on Facebook…that's where the live streaming will be happening!
Here's the blog where I'll be living tomorrow thru next Saturday!
Visit me there with my beloved Missouri Fox Trotters!
Came home from work early today, of course I got to work a little late, so it all balances out.  I was determined to ride tonight and get a little practice in before the horse show tomorrow.
Since it's pre-show time, my saddles and bridles have to be shined up. Can't have dust and dirt showing in the show ring ya know.  So last night, after I rode, I drug two saddles into the house.  I got one and a half saddles cleaned up and one bridle.  Yee Haw
When I got home, I got my favorite stirrups off the saddle that is currently in the trailer and switched stirrups to my favorite saddle which happens to be the one with bright shiny turquoise beads. Those beads on my saddle match my necklace!  But I digress.  I cleaned up my favorite saddle and decided to get Nova into the trailer, drive to the house and pick up my saddle and bridle.  It's senseless to drag a saddle and bridle to the barn if the truck is going to be driving past the house.
So, I got Nova and went to Pine Dell.
As I got out of the truck, I realized that I had no saddle and my favorite bridle is missing too.
Oh, by the way, as I drove to Pine Dell, my truck was missing.  Actually, I could see and feel my truck the entire time, but the motor was missing. The last time this happened far from home, the truck spark plug exploded out of the engine. Did I tell you that story?  The trip to Ava..300 miles is coming up soon and my heart starts accelerating at the thought of an exploding engine on a two lane highway with no shoulders.
I digress.
I decided to ride Nova bareback.  Even though it's a hot day and my black pants will melt into her body, I was going to do that.  I got my spare bridle. Something bothered me about that bridle, but it looked fine.
Nova and I played at liberty in the round pend and in the arena.  I decided she wasn't going to shoot off and leave my body in the dirt behind.  I went to put the bridle on and noticed the bit is in backwards. That's what I noticed the last time I was going to use that bit and haven't yet fixed it.
I went home in disgust.  I have lot's of pre show stuff to do anyway.  Nova was thankful.
Pray that I get the saddles and bridles into the trailer before I go to the horse show. Pray that I don't forget Nova and Velvet.
Missouri Fox Trotters came out in droves today to help people learn the smooth signature gaits of the breed.  We had two beginners ride two World Grand Champion horses to really find out how to get the horses to do the flat foot walk and fox trot.  Nichole Copple has taken Velvet and Dusty through the World Celebration Fox Trotter Horse show and won the two youth World Grand Championships in Versatility and Ranch Horse. So Dusty and Velvet got to help people new to the breed learn to see and feel what the gaits are.
That's pretty darn cool.  In addition, I had Nova, Tony had Diva and Jenny had Slinger there. We all got to whip around the arena while the students watched.  We had a little contest with the students trying to name that gait! That was fun and Nova and I got to show off quite a bit.  Later we got to show off our canter too.
We had a Rocky Mountain horse in the clinic.  His and his rider cantered in an arena for the very first time. That was cool to watch the process. Turns out, he has a really really nice canter.  The rider to remain nameless is my riding buddy, so we'll be trying to canter in the arena in the future!
Additionally, we had an Andalusian horse, half and full Arabians and a paint horse.  Gaited and non-gaited horses had a great time.
After our arena time, we went up to the 40 acres and played with the obstacles on the playground. We ended the day with a simple trail pattern that involved figure 8′s, going thru a "car wash", backing the "L" and going thru a gate.
You really get your money's worth in a clinic with Tony and Jenny Vaught! We were scheduled to have a three hour clinic starting at 8:00am.  When I got off Nova and managed to walk again, the time was 1:30. Since I have been off riding for more than a month of horrid heat days, this was a long day of riding!
Nova and I had the best time.  She did everything I asked and mostly she was looking quite sexy!
I found "the magic button" this past Saturday during a group lesson with Jenny Vaught.  It's just not every day that you find a magic button on a horse that you've been riding for four years!
Nova is a gaited horse.  She's a Missouri Fox Trotter. Finding the right speed in the right gear is like owning a corvette with 6 forward gear-shifting speeds. There is one place for the flat foot walk and one place for the fox trot where everything is perfect. It's one of those 6 forward gears on a Corvette.  We want to find that speed where her head nods in rhythm with her body…where her tail waves like a flag and where there is smoothness.  We try to find that speed where I can drink some of that Ozark fabled moonshine while I'm speeding along the trail.  It's a very happy place to be.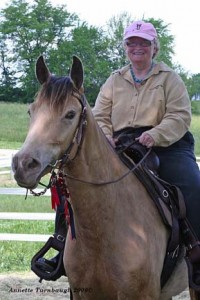 Not that I would ever drink while I'm riding and Ozark moonshine has never been anything I've ever wanted to drink.  I just mentioned it because these great fox trotting horses were first fully assembled in the Missouri Ozarks.  Missouri is still producing these smooth riding, great minded horses.  OK, this is just a commercial. Let's get back to the magic button.
Nova and I are far enough along now that I can recognize the perfect spot in both gaited gears.  Nova is a slow-down kind of horse.  I get her going in a perfect speed (in the zone) and in the next 3-5 seconds, she slows down. She might slow down just a tiny fraction of a mile-per-hour, but then we drop out of the perfect rhythm.  She's still doing the required gait, but it's not perfect.  We have dropped "out of the zone".This happens about a 50 times in one spin around the arena. We are constantly adjusting her speed.  Not many can see the slightest bit of speeding up and slowing down.  Not many can feel the difference in the slightest of gait speed change.  It takes a good eye to spot this on the ground and an educated seat to feel it in the saddle.
Permit me to explain that I have short legs and horses wear a girth to keep the saddle on.  It just so happens, Jenny has explained to me for years, that my communication heels press against the girth.  My slightest bit of heel pressure goes into the girth and fails to fully come out the other side-to Nova's body.  My communication is muffled.  Muffled!
Jenny experimented last Saturday. She told me to bend my legs just a bit and move my feet back when I wanted to tell Nova to speed up just the slightest amount.
I did so, and Nova immediately sped up and stayed in the perfect "zone".  Instead of a Chevy Corsair, I have my 6 gears of Corvette underneath me now.  It worked!  I yelled in exultation at Jenny, "Wow where did that come from?"  Jenny responded, "It's a magic button!"
With the magic button concept, my heels are now pressing on a spot about an inch from where they naturally hang.  An inch makes a huge difference in communication!  This is finesse!
Jenny Vaught is a great horse-master and a great teacher!
I've been dissatisfied with my glasses ever since they started slightly blurring my long distance vision.  And although they did match the turquoise that I'm fond of wearing, my glasses didn't match my horse.
Have I mentioned lately that I love my horse so much that I buy clothes to match, jewelery to match, most anything I wear matches my horse.  Lately, my hair has been matching my horse too.  Yes, it's obsession and I'm just fine with it.  It doesn't affect anyone in a negative way and I can still hold down my job with this horse match obsession.
Nova has a way of getting things done.  We went for a ride in a field.  We have to walk next to a tree and shrubbery line with a dog pen where the dog used to bark at us.  No matter how many times I rode Velvet or Sage next to this scary place, we all tense up a little bit.  Now Nova has never experienced the barking dog, so she doesn't know the exact spot to get nervous like Sage, Velvet and I do.  But nature has it's way and Nova will be scared of the exact same place for the rest of her life tool
There's this turkey.  On this particular day, the turkey was hiding in the shrubbery right where the dog pen is.  We disturbed her mightily and she exploded out of the shrubbery.
Then she did the deed which got me new glasses.  I might add that I now have glasses to match Nova.
What did she do? Nova leaped up and sideways.  Fox Trotters are really nice about not having suspension. That's what makes them smooth.  Nova has spooked sideways once before with me on her. She's eight years old and has spooked once.  But she spooked sideways with no suspension. There's a great deal of difference to the rider. Scooting sideways is what I call it.  They scoot sideways and your body follows-automatic pilot.
Sadly, Nova did a suspension leap sideways and my body doesn't follow.
I was in the middle of a word.  I was talking to "she who wont be named".  Suddenly I was sitting in the air, just like Wile Coyote does. And a second later I was crashed on the ground.  Usually I twist in mid air and land on my side. This was too sudden and I landed on my bumper tailbone body part.
She who won't be named was right behind me. Her horse went sideways, but she stayed on and was able to dismount.
Nova stayed with her herd, just a couple of yards away eating grass.  Turkeys abound in her pasture. When she figured out it was a turkey and not a small black leopard, she relaxed.
We were able to lead the horses to a nearby mounting block – bleachers and got on.  It was then that she who won't be named noticed that my glasses were missing.  I didn't even go back to look for them…tall grass-no way.
I now have gold filigree side pieces with black and tan coloring.  We look totally matched now!
During the winter, especially last winter, it was horrid cold.  We suffered terribly.  Everyone and I mean everyone in Missouri vowed never to complain about the Missouri heat.  I vowed to never complain about the heat.  You felt the cold horrid damp wet air go clear thru to your bones in winter Missouri.  I was snowed in for a total of 2 days and then the next time three days.  Snowed in and I live an inch from the city line.  The snow plows finally made it to my property line, but that didn't mean I could make it out of the long driveway to the plowed road.  My truck was hitched up to the trailer and the tractor broke down.  Nothing to make the snow get out of the way of the car.
Now it's July in Missouri and it is horrid hot.  I'm not complaining about the heat, because I took that vow.  I'm complaining about the humidity!  This humidity makes my body wilt and whine. There's so much humidity in the air that it makes me feel about 50 lbs heavier.  I hate this weather humidity!
We had a clinic last Saturday and there was no breeze, bright sunshine and humidity that was sweltering.  I sweltered.  My horse sweltered.  I was so hot, I thought surely my body can't take this.  Well, surprisingly my body did take it, but it was mad!
We spent the morning from 9:00 to about noon outside in glaring sun.  In the afternoon we were in an arena filled with fans.  I thought just being out of the sun would help, but it didn't.  It was sweltering.  Amazingly, I went outside and rode in the arena again.  It was a different arena, close to the road.  I thought maybe when the cars went by, they would send some breeze into the arena.  There is one shade tree next to the arena. In the afternoon, that shade is exactly the size of two horses if they stood right!
Nova and I quit around 3:00.  There were four riders still on their horse at 4:30.  The clinic was over, horses were trailered home and recovery started.  It's Thursday now and I'm recovered!
Thanks to Jenny and Tony Vaught and Karen Moulis who gave the clinic last Saturday!  We had a sweltering great time at Pine Dell Farm
I took Nova and Velvet to For the Horse Ranch. Velvet gets to stay there the rest of the riding year and be Jenny's Ranch Horse. 
I rode Nova the first day and Velvet stayed in the pen by herself when Nova was out.  Velvet looked a little anxious and upset, so I rode Nova in the morning and Velvet in the afternoons after that.
Velvet put on quite a ground work display of athletic talent the first afternoon.  You can tell when Velvet feels really good by her change of direction in the circle.  She's trotting or cantering online and I asked her to change directions.  As she turns, she goes straight up in the air, all four of  her feet about two to four feet off the ground.  It's something to see!
Most of the other riders in the clinic got to see this athletic talent. The ones who don't know Velvet were wondering if I would really be riding this wild horse.
Wednesday and Thursday we practiced a lot of simple and flying lead changes in the arena. Flying lead changes are difficult for fox trotters as they stay close to the ground.  A horse needs a bit of suspension to do a flying lead change.  To test this out, skip along the ground and then change your feet. Skipping is sort of like cantering with one foot in the lead.  Changing to the other foot requires a bit of hang time.
Velvet and I did a couple of beautiful flying lead changes. That was pretty darn cool after all these years. For me to get flying lead changes on Velvet is fall to the ground and give everyone a huge thank you!  I could only get them going to the right as my body signals didn't work very good to the left.
Nova and I need more practice. We need flying lead change consistent practice too which I don't get when I'm out trail riding her. That's a lie.  I can do a lot of simple lead changes on the trail. That helps too.
We did a bunch of stuff on the five day clinic.  The flying lead changes are only one highlight of the clinic.