Archive for the 'Sue – How Do You Do!' Category
Today was another miracle day in the life of Sue.  She has her own little kids now.  It's very evident that Sue loves little kids.  Little Kole was petting Sue and there was not even a muscle twitch on Sue's body. She made certain her body was rock solid still so little Kole could do anything he wanted.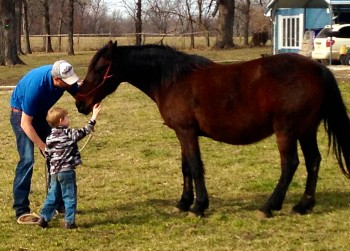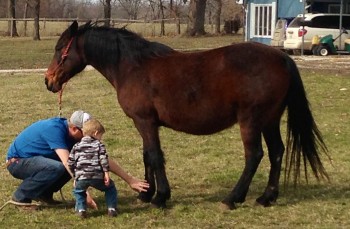 Kole learned natural horsemanship today with his Dad and Sue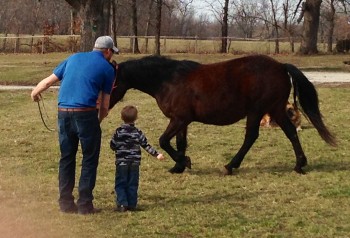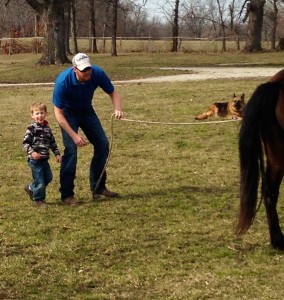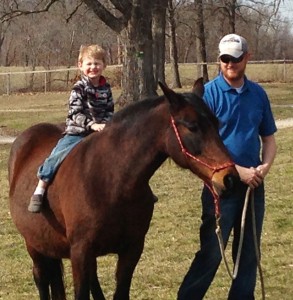 That's the biggest smile I've seen in a long time!  Riding a horse is FUN!!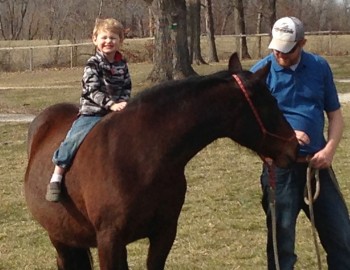 Sue talks to Rob, "How am I doing, Dad?"  Rob replies, "You are wonderful, Sue.  I'm so glad you came into my life."
This is what Rob Ballard said to me one evening when we were sitting around, advertising his new company, Shelter Defense:  "Horses were my baby sitter when I was growing up. My parents leased a horse for me and dropped me off at Leawood Stables every day during the summer. We would coax our horses to go far out in the pasture and gallop back to the barn. That's all we knew what to do. I wish I could ride a horse now and get out there on the trails with you and Hope."
Rob is Hope Robinson's son-in-law. Hope and I ride together.
Earlier in the year, I got Sue back. Her job as brood mare had been priced out because of the economy. "Hmmm." Sue is sitting in my pasture making a beautiful pasture ornament.
I asked our knowledgeable trainer,  Jennifer Vaught what she thought about Rob riding Sue. "Good," she said. "If it doesn't work out, we'll know right away."
Here is the "Sue How Do You Do" story from when I got her the first time. http://mofoxtrot.com/viewpoint/2006/04/sue-how-do-you-do-your-first-day-with-me/
Sue is a well-trained, great on trails, wonderful, right-brained, claustrophobic, introvert and sensitive horse. She has been pushed over the edge in the past and slowly brought back into the "nice people" world.
When a stranger comes to her, she usually gets a little nervous until the human proves nice. In my world, all humans are nice. I don't let those other kind in. Rob is an ultra-nice human.
I offered Rob the chance to ride Sue and told him we could make this a full time occupation if he got along with Sue. He said "YES" and the magic started.
Thursday, I took Sue and Lucky Star over to Hope's house. I tied Sue up to the trailer. Rob arrived and walked up to Sue. No muscle twitch, no lifting of her head. No questions about what he would do to her.  She stayed calm. I marveled.
Rob untied her and took her to the arena. She followed him like a lamb. They played some ground games. Sue was completely calm. I marveled. "What is happening here?"
Rob got on and we commenced having a lesson. Sue was completely relaxed. Rob got introduced to some nervous too fast pacing bumpy gait. Rob's ask for a sensitive horse was a little too much. Riding "Sensitive Sue" takes a little practice and experience before the "ask" could be a light feel. But no matter that. Sue stayed calm and when the lesson was done, her head was even lower. I marveled again. That was three marvels for me so far.
I told Rob a couple of times that the ground lesson and the riding lesson had gone quite a bit better than I expected. I really couldn't believe how well Rob did with Sue. I marveled out loud a couple of times about this miracle. That's three silent and two verbal marvels in one evening!
Rob and Sue were ready for lesson Saturday!
We had a group lesson on Friday night and again on Saturday morning with Jennifer Vaught t. I had just started taking Sue and Lucky over to Pine Dell Farm to get Sue a little "legged up" (in shape). Rob couldn't make it Friday nite, but he was ready to meet Sue and ride on Saturday morning.
I played with Sue during the Friday nite lesson. She was a little nervous with me and calmed down about 20 minutes of playing on the ground.
Saturday morning arrived. Rob made it to Andi's house earlier than I did. He walked out in the small pasture to get Sue. Whoops! I forgot to put in the instruction manual about Sue being a hard-to-catch horse. She eluded him. I arrived, got out of the truck and Rob informed me I had forgot tell tell him some of the instruction manual, the catching part! I got the grain bucket and Sue allowed me to catch her. I could feel Rob's determination to get her over the "hard-to-catch category.
Rob saddled Sue and went into the arena to play ground games. Sue was relaxed and did everything he wanted to the best of her ability with a great amount of calmness. My friends yelled at me after a while of watching Sue and Rob. They yelled, "Rob does better with Sue than you do!" I don't have shy friends and they know horses!
We all marveled. I know that I'm using the marveled word often, but I can't think of another word to fit. The Sue that I played with on Friday night wasn't present on Saturday morning. We had a calm Sue.
How did she make the decision to love Rob right from the beginning? We need an animal communicator!
Rob rode Sue. She met other horses, she passed other horses, other horses passed her and there was no claustrophobia. She let other horses get close to her! Once we were standing in a group circle and another horse cantered about three inches from her rear. She startled three steps forward and stopped. That was a little close with  a lot of commotion to her sensitive hind.
Rob and Sue had a great time together. Except for the cantering horse behind her, Sue's head remained relaxed and in a relaxed position. They looked great.
Jenny told Rob how good he did and the group lesson was over. I told Rob how wonderful he did with Sue.
That evening, we had a horse show. Rob had a vendor booth for Shelter Defense and we all got chairs and sat around. Jenny came to the show. About half way through the show I asked Jenny if she would tell Rob again how well he did with Sue. Jenny got up and came over to Rob. She explained to him that Sue was happy when Rob played with and rode her. "Sue loves you!!  You and Sue are found a perfect match . She explained to Rob that he had done really well with Sue and repeated the perfect match. Someone mentioned that Sue had chosen Rob. I reflected that I had never seen Sue "happy" before when with a person.
Nichole Copple had taken Sue for 30 days before I took her home. I bet she was happy with Nichole too.  Sue has been relaxed with me, occasionally.  I would never say "happy with me".
Rob was extremely pleased with Jenny's compliments and about his bonding with Sue. A little later during the show, Rob whipped a dollar bill out of his pocket and gave it to me with a big flourish.  "I know it takes $10 to become a member of the Kansas City Fox Trotter Club, but I heard you get a free membership if you buy a fox trotter from a member. I want to buy Sue so I can be a member of the club and this is my payment!"
Wow! Did my ears hear these words?
I took the dollar bill and put it in my purse. We talked how Rob had just saved $9 and got himself a horse. Hope thought it he was kidding. I took the dollar out of my purse and put it in my bra. No way he can not own Sue now. That dollar is not returnable.
That's how Rob ended up owning Sue – How Do You Do Rob!
When you meet Rob and Sue out on the trail, be sure to marvel at the horse who chose her human!
When I first started with Sage, I developed a wine rating system based on adrenalin and or pain.
I don't know how it happened, but as time passed, the wine rating system was dropped.
I think I started counting points instead. On a certain day, Sage might have racked up 500 or 700 points to my 5 points. Gradually, my points started to increase as I started to win "the games" with Sage.
I don't remember the point system with Velvet and my rating system was dropped.
Besides, how exciting or tasty are points anyway?
Today, I had success playing with Lucky. He completed several circles without stopping!
We went out in the yard. There is still green grass around the lake. He got to run around and then was surprised when he was allowed to stop and eat grass! That was a big exciting reward in these days of crisp brown dead grass.
I did battle with giant horse flies too!
We had a great evening. I played with Sue in the yard too!
I'm reinstating the wine rating system mentioned in the first chapters when Sage started training me on what horses are really like.
This time, my rating will be based on pleasure and accomplishment.
Tonight was a one glass red wine night!
It was this picture taken by a longtime friend …sitting around camp after a trail ride in Colorado! Thank you Stacy!!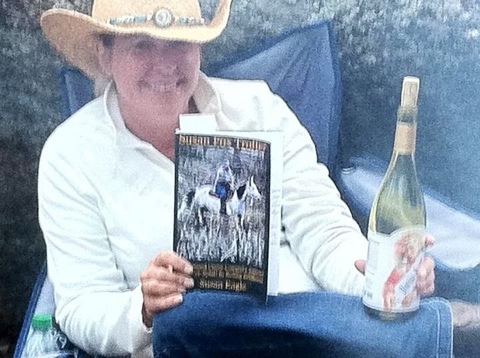 I remember these tasks as being hard. That was a long time ago.  I looked in the Susan FoxTrotter book to see what these tasks are.  Heck, they are simple.
They might be simple, but with Lucky, they are not easy.  Let's talk about the circle game.  I'll have to look again to see how many laps on the 22′ line Lucky Star has to maintain. At the moment, we are happy if he maintains one lap at a gait other than stop.
He has to be on the end of the 22′ rope and sidepass a certain distance.  I'll have to check again to see if we can use the rail or fence to stop him from going forward.  It took a lot of energy yesterday to get him to sidepass 22′ away from me, much less go on from there.
ah…these Parelli old levels tasks are so deceptive.
I think I get the key now to the arguing.  If I can spend time to get him to stop arguing about going forward online and at liberty, maybe this will carry over to not arguing about going forward when I ride him.  It's the Big Ben Bell going off in my head again.  We call them a blinding  flash of the obvious.
 I'm having fun with Lucky. 
Sue is getting exercise too. Sue's eye's are the opening of a soul to heaven.  I think a person could fall into Sue's eyes and find God.
PS: Search Amazon for Susan FoxTrotter
I had my husband take a signed copy of the book to the Pleasant Hill vet's office. I thanked them all for the care of my animals over the years and signed the book.
That night, the "young" vet came to the house to dig a fishing lure out of poor Sue's lips. Sue was carrying around a three prong fishing lure stuck in her bottom lip and tongue. I believe the fishing lure has been in the lake a long time and now that the water has receeded so much with the drought, stuff is visible and accessible. Stuff like a long-lost fishing lure. Sue was not bleeding and didn't act like she was in much distress. She couldn't eat her grain. I thought an alien creature was stuck in her mouth. I can see now why fish believe these lures are something yummy to eat. I thought it was a monster stuck in my horse's mouth. I went to get gloves because I thought it was slimy. I came back out, put the gloves on, prepared to grab the stuck slimy monster and see if I could tug it out of Sue's mouth. I touched it and immediately let go. It was a hard object. That's when I was able to see the hooks inside her lip. oh yeccha. Call the vet!
 Sue was given a 'happy shot" and feeling left her mouth. She stood right next to the side of the stall. Right where Lucky Star was standing hoping Sue would push more of her grain over to his stall.  The hero vet dug the fishing lure out of her mouth. Lucky Star stuck his head thru the stall and tried to help the vet pull the hooks out. Yes, with his nibble teeth.  It became my job to stop Lucky Star from "helping" the vet.
After that was over, the vet showed me how her mobile Amazon application scanned the barcode on a book and then pops it up to buy.
I was stunned. That's how the vet found the link to buy the book. The vet has emailed all her friends and told them to buy the book. I bet the older vets don't know how to use their Amazon iPhone app to scan a book. I'm going to ask them the next time I see one of them.
Get mobile Amazon app, find the scan link, the scanner comes up on your phone and you show it the book's bar code. Amazon will pop open to that book and let you buy it. It's shocking.
Search for Susan FoxTrotter in Amazon. There's a paperback and Kindle. If you want a signed copy, email me (susanfxtrt@aol.com) ! Signed copies thru the mail are $20.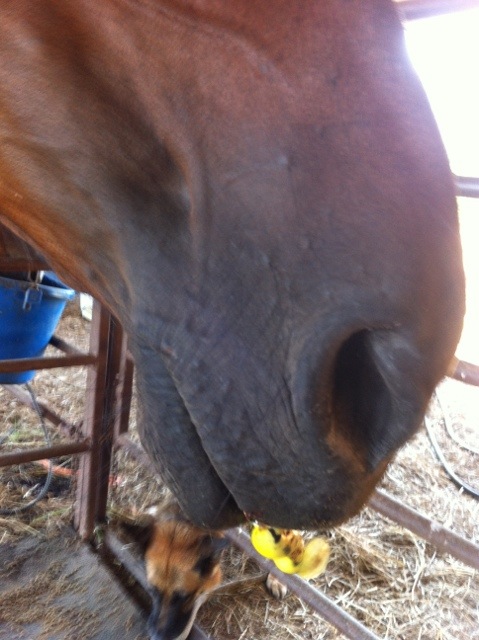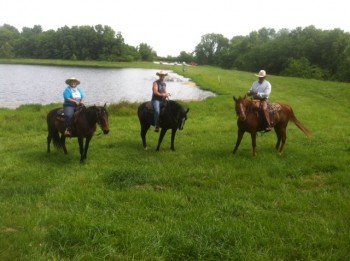 Our first trail ride in over three years was today.  Sue was fabulous, just fabulous.  She has the nicest flat foot walk and goes anywhere.  She went everywhere, except when I told the crowd she would go anywhere. Then she refused.  It's up to the horse to humiliate the rider whenever possible.  No matter, it was down a steep hill into a ravine.  I wouldn't have wanted to go down that hill either, but this was a trail ride.
This was an official Fox Trotter Club ride and Hope and I were the leaders.  Hope took our leadership very seriously.  She wouldn't let me go on the secret trails.  Hope is a stickler for rules.  We went on the mowed trails.
Sue has a nice flat foot walk and then goes into a pace.  It's a pretty nice smooth pace, but I dislike it all the same.  It will be fun to work that out.
Two of our riders were new to the fox trotter club.  Mike and Ken are wonderful riders.  They are safe and very nice to chat with.  I love riding with safe riders, especially on my first trail ride with Sue in our second time around.
Nichole Copple has done a great job with Sue!  She is a fabulous horse to ride on the trail.  You would think that Sue would be huffing and puffing on a six mile ride after three years being a brood mare.  Occasionally, she did breath hard, but we slowed down and she did fine.  I think she has such an efficient gait and it doesn't take a lot of effort for her.  Or she has a huge heart and lungs.
Hope had quite a time getting to the park.  Her truck wouldn't start.  Her perfect husband jump started it and she made it early to the park.  After our perfect trail ride, Hope's truck wouldn't start.  Alan, the perfect husband, came with tools and battery.
While the perfect husband was on route to the park and then working on Hope's truck, I just let Sue stand in the grass with the lead rope on the ground.  I fed her some grain.  It was quite an effort to get her to eat on the ground.  She didn't dive down and eat the grass.  She didn't move. She didn't move for at least 15 minutes.  I wondered if anything was wrong with her.
Finally, I came to the conclusion that she has been trained to ground tie.  You throw the rope on the ground and she doesn't move. This is amazing when you also stop to think that she is a hard-to-catch horse.  In fact, one of the reason that I bought Sue was when people wanting to buy her took her to this park to try her out.  They rode to the far end of the park.  Sue bolted when her rider patted her on the rear. The rider fell off and Sue raced back to the trailers, right in the same place where she was now ground tied.  They had to round up all the people at the park and form a circle to catch her.
The new Sue did not move for about 30 minutes.  I groomed her, rubbed her, fly sprayed her, sprayed healing stuff in her tail where the ticks had bit her.  I walked all around her.  She did not move her feet.  She was tied to the lead rope on the ground.
Amazing!
Sue returned home yesterday. I left Lucky Star with Tony and Jenny for a 5 day Lucky upgrade. This gives me no one to ride but Sue.
I took Sue for a walk today around the neighbors turf farm. It's fun to take a horse for a walk if they don't try to run over you, eat grass, balk etc. Sue is a perfect horse to walk with. She is an exercise horse! I even ran with her. She stays about 6″ behind my shoulder. I can run for about 30 steps prior to getting a heart attack. Both dogs enjoyed the walk and I enjoyed leading Sue around to help me with my exercise program.
In the afternoon, I rode at the house. It was horrid windy. Sue told me how much she didn't want to leave the barn. Her head was pointed to the gate, but her body was trying to return to the barn. I asked Sue to ride in circles and figure 8′s. We compromised and made it to the end of our property where we did more circles and figure 8′s.
A woman fishing at our pond today asked me if she was pregnant. No, I replied, just a little rubenesque. The woman said, "Well, at least she's getting some exercise.
Me Too!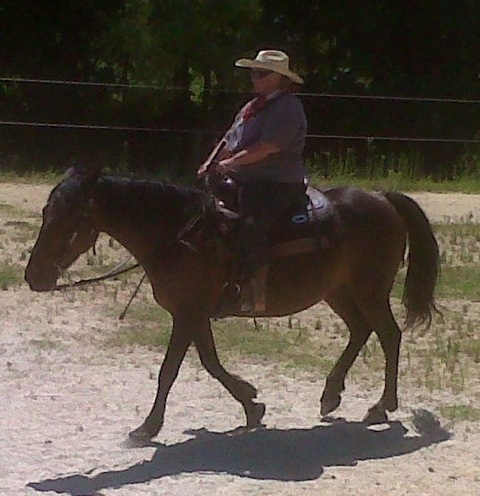 I disaprove of this time of the year.  Daylight savings has been ripped away.  I come home in the dark.  I come home in the cold.  It's just not fun to think about taking one of my sweet darlings over to Pine Dell to ride just yet.
So, I'm just feeding the herd.  Sue is getting more comfortable in her skin. She's getting more dominant.
For the first time ever, she laid her ears back at me and stuck out her head.  I was walking in the pasture with my feed bucket.  Sue, being brave enough to try to dominate me? Good Gosh!
Of course all it took was a faint wave of my arm and she backed right down.
I couldn't believe it.
Round pen canter success!  It took poles in the round pen.  I had them about 2″ off the ground.  We clattered thru the poles at a pace and that undefined gait, we gaited horse people just love…the anti-rythym gait. We had some actual canter steps and we stopped before she broke out of the canter. I fed her a big Winnie's cookie crumb every time she cantered. Then I decided perhaps we could go for half a circle at the canter.  It took a while for us to canter at all…and then she cantered an entire half the circle.  I immediately got off and gave her a Winnie's cookie.  Do you think she'll remember that it was the canter that got me off her back and a Cookie?  You be the judge!
We left the round pen.  After a short time of eating grass, I climbed back on again and we went up "canter hill".  We went up "canter hill" several times without cantering. Oh well!
We were on our way to a wide open flat grassy 40 acre riding area! Yee haw!
 Then we spent about 2 hours in the 40 acre field.  Her emotions rise like a huge orchestrated creshendo!  She was nervous almost all the time…she got more nervous as time went on.  But we were always able to stop and eat. She was able to back up about 1-2 steps whenever we stopped.  Her body was so tense that she locked up every time we tried to back.  She tried really hard to head in the direction of the barn-worse when she got more nervous.  I did everything in the book of lateral flexion while we were going.
We probably looked like a dapple bay round ping pong ball as we zipped  up and down the field…and across the field…to the stable and away from the stable.
This is the first time that this hasn't made me nervous.  I actually had a good time dealing with this.  In the past when Sue and I have rode in the 40 acres, I could take it for a while and then my fear would creshendo up.  The first time I rode her in the 40 acres by myself…well I thought I was lucky to make it back alive!
During the last and worst of our journey up and down the 40 acres, I felt like she could run away with me.  Then I thought…why not!  This horse doesn't CANTER!! How bad could running away with me get?  I let her go really fast several times without asking her to stop and back too soon.  Of course she was emotional and was doing a flying pace.  She would have made any Icelandic horse proud!
Sue was ringing wet all over. She had foam on her head where the bridle goes.  Some of the wetness was emotional and some of it was exhertion. It was an 80 degree day in the Kansas City area…without humidity. We love days like this!
We did calm down enough to make it into the big ourdoor arena where I got off.  If I rode this horse everyday like this, she would be Whippet-Thin!
I'm thinking Sue is related to an onion.  You peel something off and there's still more to puzzle about underneath.
At least she's smooth. And she loves me.