Archive for the 'Velvet' Category
Show started out this morning with Nichole and Velvet carrying the flag.
Pony Triathalon starts today. The first event is the obstacle class. Caitlyn and Ariel are competing.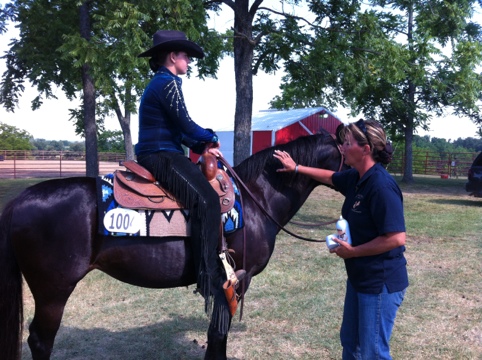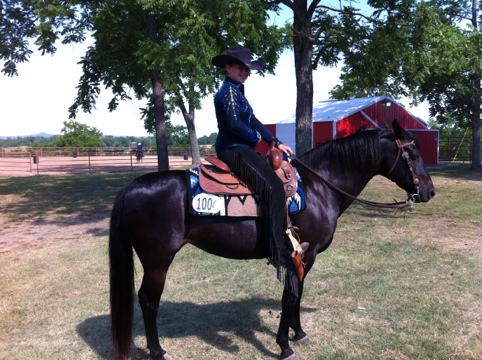 Caitlyn and Ariel win the Pony Triathalon obstacle event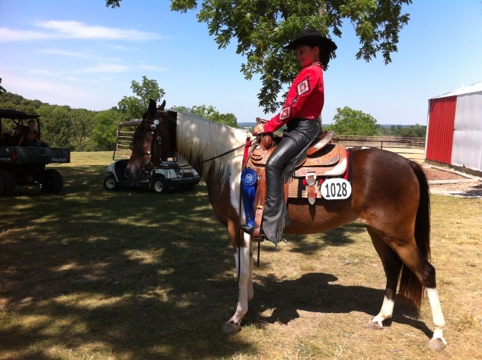 Jenny and Velvet won the Open Trail. Nichole and Velvet win the Youth Trail.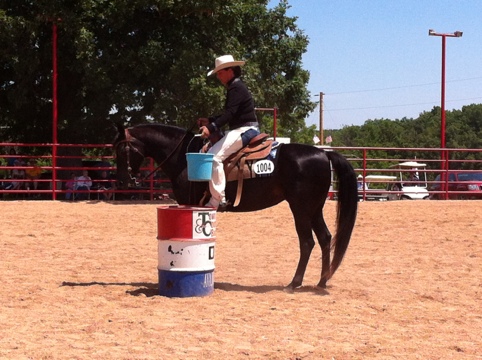 Nichole and Velvet have won both the barrel and pole races.
Nichole and Velvet won blue in every class! Nichole is High Point Youth Versatility Champion and Caitlyn was reserve champion!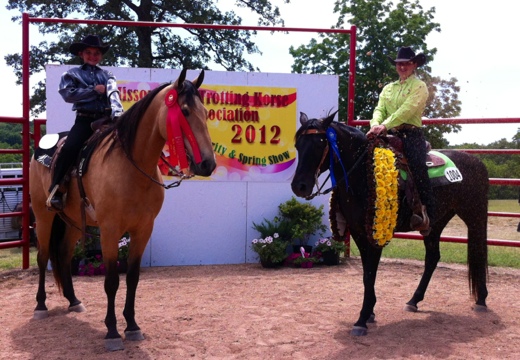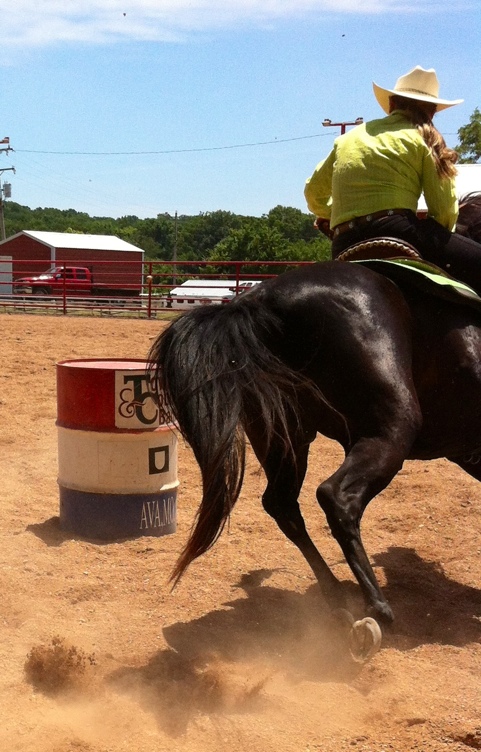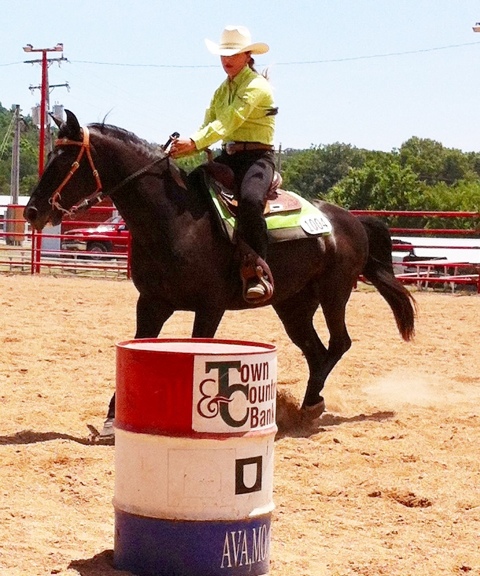 Thursday is Ranch Horse Day! Open, Amateur and Youth all compete together. We are waiting for cutting results.
Our most senior competitor, Sally Scott won. Our youngest competitor, Caitlyn on Atty, got second. Caitlyn has promised to help Tony and Jenny with their cutting horse skills!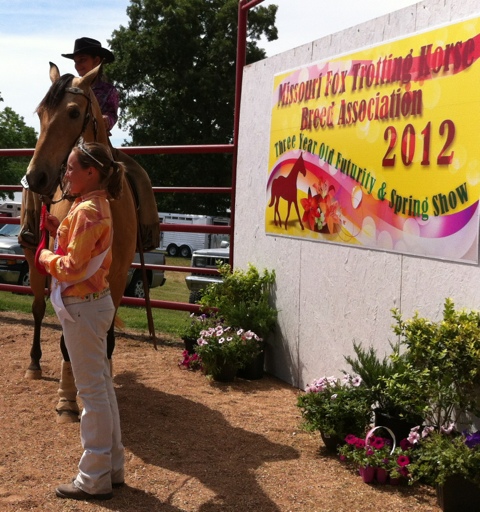 Roping was next and Jenny and Raffle won 1st. Tony and Nova got 2nd!
Working Cow was won by Sally Scott. Tony Vaught and Nova got 2nd!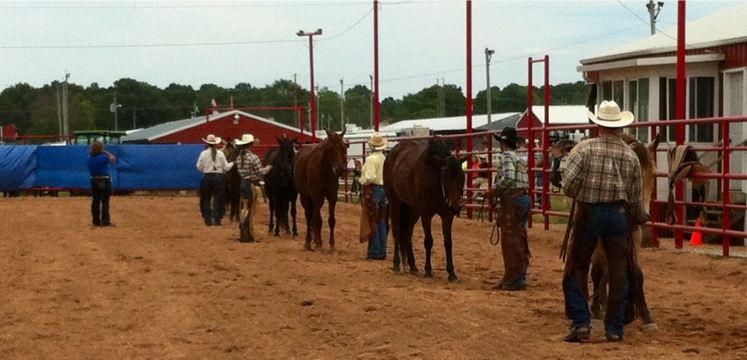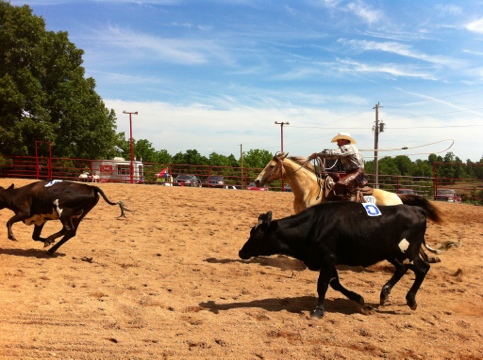 Tony and Nova win the National Ranch Horse Championship! Big Win
Vaught family had a great day. Youth And Open Versatility Championship awarded after trail and speed events on Friday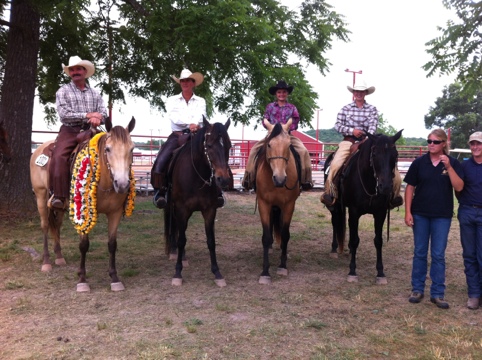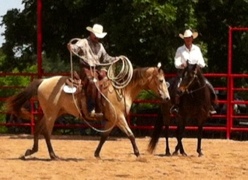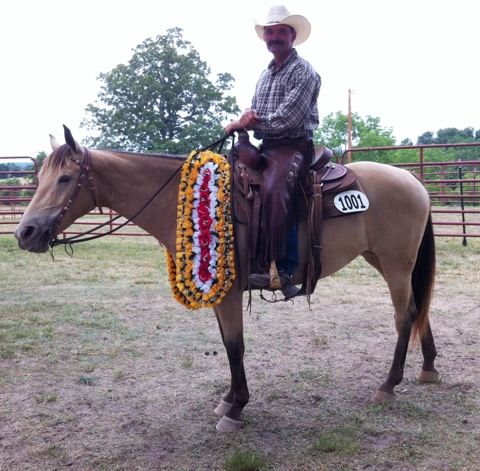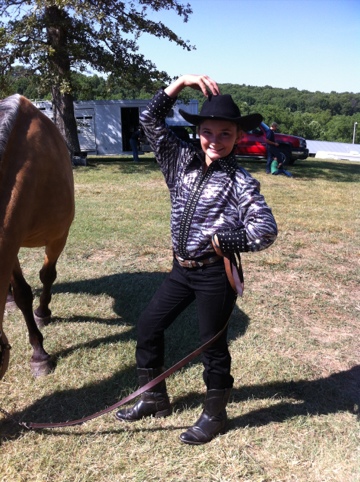 Caitlyn and Attu prepare for Showmanship.
It's Showtime for Nichole and Velvet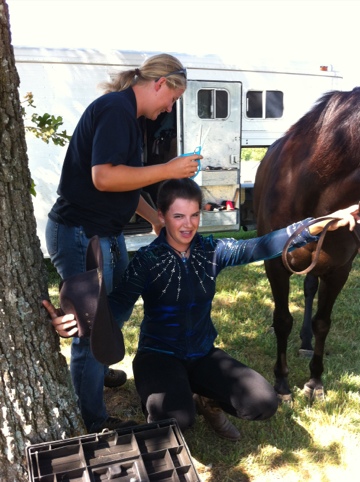 Nichole got second in Youth Showmanship and Caitlyn got 5th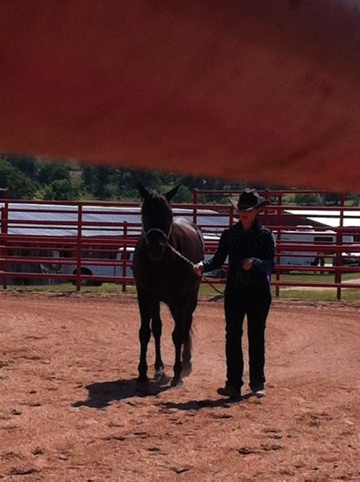 Nichole Copple and Velvet win a big first in Youth Western Pleasure!
Jenny and Raffle won first in Open Western Horsemanship. It was a big class.
Nichole and Velvet won 1st in Youth Western Pleasure. Caitlyn got 3rd! YeeHaw!
Open Reining: Tony and Nova 1st, Jenny and Velvet 3rd, Jenny and Raffle won third. This was a big class and big wins.
Youth Reining. Nichole and Velvet won 1st. Caitlyn and Attu won second.
Hunter Hack- Nichole and Velvet won 1st
Done!!!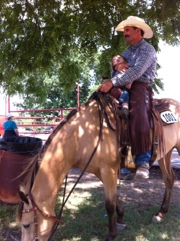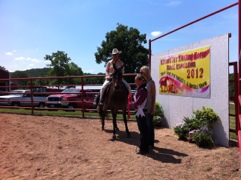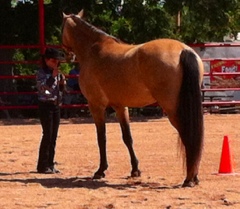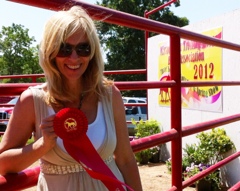 Caitlyn and Attu are only pair with double bridle. She is the youngest rider in Open Hunter Hack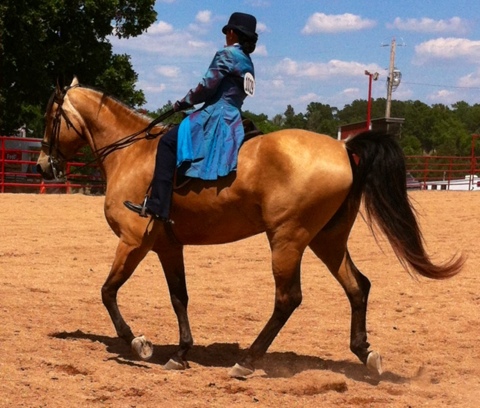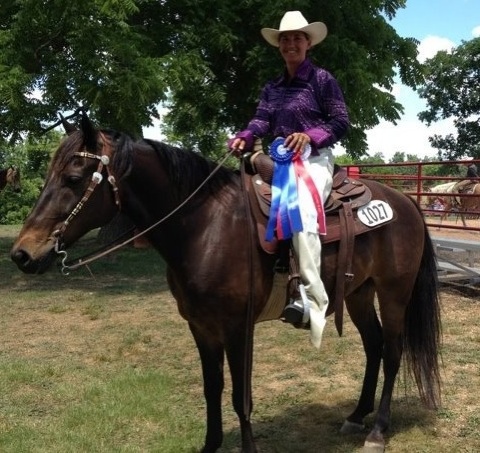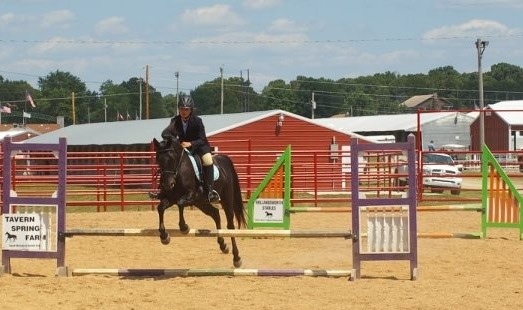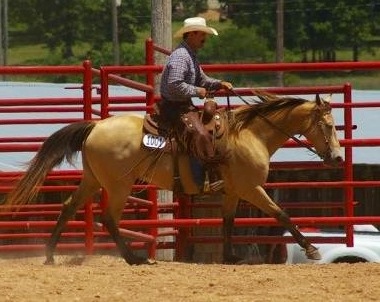 No problem drive from home to Ava. That's what happens when you don't have a horse in the trailer. No breakdown guarantee!
I stopped at Gordon's Feed Store off 60 Hwy east of Springfield. Bob is the new owner of the store. He apologized for not getting the big sign to say Welcome Fox Trotters. Store is very nice and well
managed inside.
When he was loading Nova's feed into the trailer he said, Country Frank, and then apologized for being too presumptive. Country Frank!, I said. I'm riding the last son of Country Frank! Turns out Bob is Country Frank's human uncle! I made him write down this link and promise to read this blog. Bob you need to follow the story of Country Frank's Lucky Star!
I had been at show grounds for only a little while when Craig Dansie came riding up on a daughter of Country Frank. She is five and already 15.2 hands (4″per hand). Lucky Star must have escaped being tall, perhaps because he was a twin for a while.
It took a while for me to get unhitched from my trailer. I was starving, so I checked in at the Lion's Club Food Stand and was greeted by my sparkling senior citizen, been there every year. I can't remember her first name. Later
No food, just soft drinks today. Horse show starts tomorrow. Food starts tomorrow early for biscuits and gravy at Lions Club. Thank goodness I had triscuits and cheese spread.
In the evening, watched youth equine agility competition.
It's just 9:00 and now eating supper. Where did time go
Here's Nova after her show horse clipping. She is so awesome!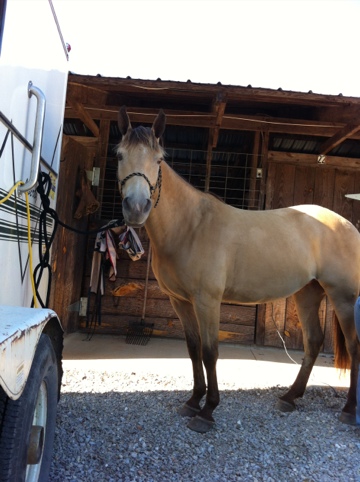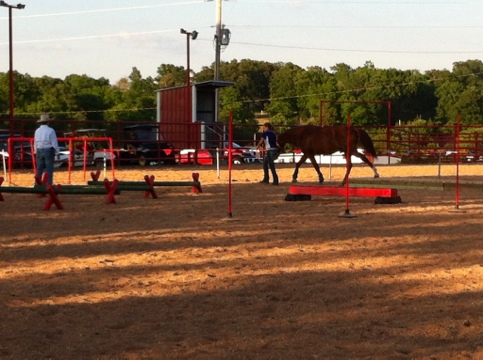 Lots of riders practicing in performance arena. Ride in the cool evening under the lights!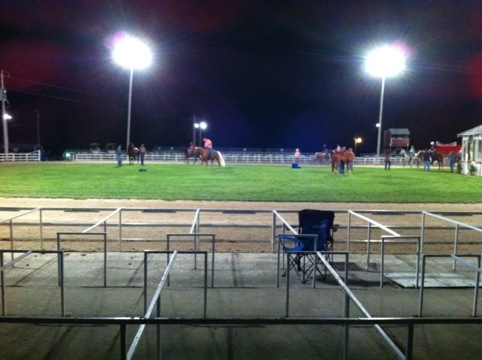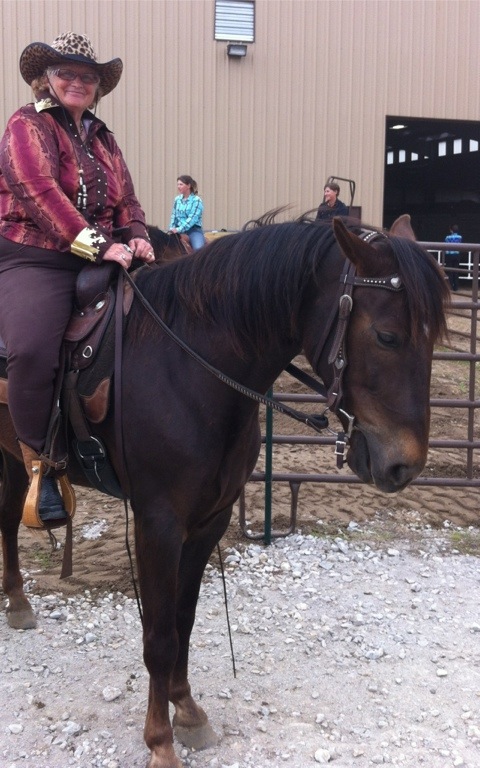 What did Lucky Star think about the clinic and horse show?  Lucky Star recounts his first Horse Show  Story:
 "It was an adventure!
My good friend Sheyna came to stay with me in the barn the might before the clinic and rode in the trailer with me to the clinic. That was fun.  I like Sheyna.
When I got there, I got to eat green grass.  That trailer parking lot was plush grass.  I liked that a lot too. After a while who shows up and parks right behind me?  My friends, Nova and Velvet showed up.  I tried to boss them around from where I was standing, but they ignored me. Tony and Jenny were there too and said hi to me. That was nice.   I continued to eat great green grass.  Yum!
After a while my mom came back and saddled me up.  We got to go into a big building and there were a lot of other horses in there. Sheyna got to come too.  Nova came by me every now and then, but she didn't try to boss me around.
I was a little bit concerned about stange looking ground on the outside of the arena dirt.  I tried not to get close to it.  My mom seemed to be concerned with me going along the rail.  I didn't want to get close to the rail and that strange looking stuff. There were humans perched on top of this stuff too.  (Susan translation:  cement)
My mom wanted me to back thru a lot of things.  Well, I'm just OK with that.  I'm not excited about backing thru stuff, but my mom was asking me politly and I decided to comply.  She wanted me to sidepass over a pole too.  I decided to comply with that request too.  I didn't eagerly move over the pole, but I did move. She seemed grateful for my generosity of movement.
I got to meet a mailbox. What a strange thing that is.  In fact, she petted the mailbox for a while, just like she rubs me.  I decided the mailbox wasn't going to eat me.  Then I discovered that it opened up.  I was OK with that too.  Then I found out there was something inside of the mailbox.  It was yellow.  Mom took it easy with me.  I was a little leary about the yellow thing, but decided my mom was trustworthy, so I just stayed still but a little tense when she rubbed me with the yellow thing.  It didn't hurt or try to eat me either.  Finally, I decided that mailboxes could be trusted.
We zipped around the arena at times and when I got a little out of breath, we played with the obstacles.  Oh I forgot. There were three poles sticking out of the ground in a triangle shape.  My mom wanted me to back thru the poles.  I had to turn around and back at the same time to back thru the other side of the triangle. What a wierd sensation that was.  I tried to back over the poles with my rear end, but my mom was insistent that I back thru, not over. humph.
I had a pretty good time in the arena and we left.  I got to be tied up again.  I had eaten all the grass, so I got to have my hay bag filled with delicious hay.  My mom loosened my girth and I got to eat.  People were buzzing around.
All of a sudden I looked up and there was a gorgeous human being that looked a lot like my mom. But she had on an outfit that blew me away.  Lordy, the cowboy hat was fabulous.  I liked everything a lot because her outside was the same colors as I am. Wowsa!
Mom looked ready to ride.  She got Kelley to hold the saddle while she mounted from the trailer living quarter.  Guess I'm short enough that she can get on from the door.  I wasn't able to tell mom, but she didn't tighten back up my saddle.  I decided to keep her balanced so she wouldn't fall off.  I like her.
We stood around for a while and took pictures of all the other dressed up people.  It's amazing how people can change their skin like that.
Mom decided to go check on the arena. She discovered that "my class" was next.  I wondered what a "my class" was.
All of sudden someone decided I was the first to go into the big place insomething they called Trail Class.  I zipped into the arena at a fine fox trot to find that it had totally changed.  I was headed right for a row of poles. They stuck straight out of the ground. I was going at my fastest fox trot.  WHOA…Whoa! What are those things!?  I slowed down to get a look at them.  I decided the poles weren't going to eat me when mom decided to make a course change and we ended up weaving thru the poles.  That was above my pay grade and I argued about the direction changing on such a rapid gait.
We came out of the poles and mom charged me up into my flat foot walk.  After a while I let her think she had talked me into going at that speed when we came to some poles on the ground.  No problem here. We had practiced backing thru the "L".  I did that pretty darn good and only touched the poles when my mom was celebrating me doing so well at the end. 
Now we turned  and went slowly to a pole laying on the ground. Mom told me she wanted me to sidepass over the pole and I did that pretty darn good. Good enough that she had me sidepass back over it again the other way.  I told my hind feet that they could bang into the pole right when she was thinking how perfect I had done.  I am only a beginner horse.  I don't want mom to think that I'm perfect and stop practicing.  How dull that would be?
We turned to the back of the arena and there was the  mailbox in a new corner.  The mailbox was near that different colored ground (cement) and there was a dog sleeping on the ground. Good GAD! she wanted me to sidepass so she could touch the mailbox in this scary place.  I didn't move for a while, but thought about it.  I decided that no one was going to eat me and decided to sidepass over to it.  I could tell this made mom really happy.  She took the yellow thing out and put it right back. That dog never moved.  We were done with mailbox!
Mom made me walk over some poles on the way to freedom out the door. Whew.  You know I was the only horse in that entire arena.  Why was that?
I stood there for a while with all the other horses and everything was nice and relaxed.  Mom was chatting chatting chatting and I got to flick my ears at all the other horses.
Later all the horses and riders went into the arena.  There was a bunch of noise from the riders and the people standing and sitting inside the arena.  Mom called it clapping. She clapped a lot too.  No one handed me a ribbon or clapped for me.  I was OK with that because the judge came over to tell me I was "coming along".   He smiled and mom smiled so "coming along" must be a good thing!
We got to rest outside the arena again. Someone said Western Pleasure horses into the arena.  All the horses and riders single filed into the arena again. We zipped in. All that obstacle stuff was gone and the arena was wide open.  As we went down the side with the strange ground (cement), it looked more threatening and I veered to the inside.  The judge spoke to me about that as he might have been only about 6 feet from where I zipped.
I was pretty concerned about that different ground the entire time I was in the arena.  I tried really hard to keep myself as far to the inside as I could.
We lined up again and people clapped again.  My mom was happy and we left.
This is all that happened to me on this strange day called Horse Show. This is totally a different life from being a former pature ornament.  I like the excitement of this life!"
Rain was predicted starting around 4:00. Weather predictions on iPhone apps showed rain& lightning symbol every hour from 4:00 on
Wind was blowing hard around 4:00
I said "Do we wanna ride tonight, really?". Carol looked at radar and said "Yes"
It was a special ride. I loaned Velvet to Mary Francis. Her horse is in training with Tony and Jenny Vaught. Turns out Mary Francis has not been able to ride since last November. Her first ride was Velvet. They did great together. We clipped along at a medium speed and occasionally got into a beautiful faster clip. They were a beautiful pair.
We owned the park. Everyone else listened to the weather forecaster!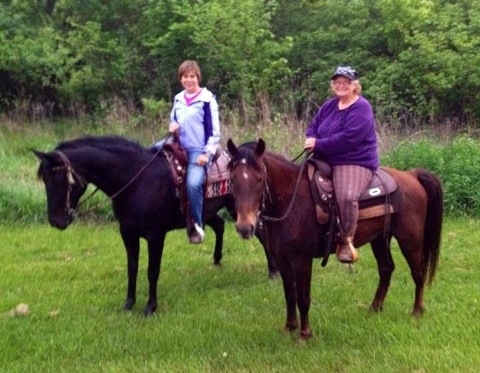 As we were driving out of the park, the rain started!
Does this horse look like Sage?  I've been struck many times on how Sheyna looks like Sage. But, I thought it was a grey mare kind of thing.
I got a look at her registration papers today.  Her real name is Rich Daisy Mae.  Her grandfather is Sage's sire!  She came from R.L. Lewis of Butler, Mo. That's where Sage and Velvet came from.  I'll have to look at Sage's papers to see what else they have in common.  And, here's something else.  On her dam's mother's side comes the blood line that Velvet has.  I'm riding Sage and Velvet in one horse!
Isn't that fascinating!
This is Daisy Mae!
Velvet was a been-there-done-that snorty horse today.  You know that long rumble snort that could mean, "I'm getting ready to take the saddle and sky rocket to another universe" snort.
I don't remember Velvet snort-rumbling in a long time.  Then she became a show horse and arched her neck.  Oh, I bet she and I were a gorgeous sight.
The cause – two adorable mini horses running in a pasture. Velvet and I were out alone at Pine Dell and we decided to take a stroll off the property.  What cute horses they were!
I decided to become patient and let Velvet stare at the mini ponies as long as she wanted.  It took her a long while to stare at them.  Of course that drove one of them wild.  He wanted Velvet.  Velvet wasn't certain just what he was.  We stood and watched for a long time. We were even standing on a patch of grass and Velvet didn't offer to eat any grass. She wasn't about to lower that head!
Who needs a young green horse when you can experience nearly the same on the been there done that horse.  Except, I know that Velvet would never bolt, buck, kick out or rear.
There's a difference!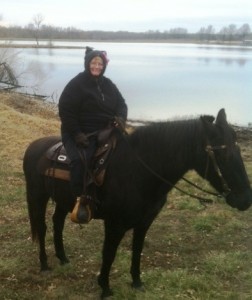 Hope and I were out in the overcast day with the alleged temperature in the 50′s.  I had on nearly 25 lbs of winter wear plus this beautiful cat hat.
The cat hat is a phenom.  We've gone on rides, I speak to oncoming riders and they don't speak back.  We've decided it's the cat hat. I just look too weird.  The cat hat is the warmest hat I own.  I insist on wearing it.  I forget that I look weird and still chat with people when we meet them.
Today a slice of the sun broke out for about 5 minutes.  Not long after that, we met an older male rider on the trail.  I figured that he just might be as old as me.   I said "HI, Did you see that sunlight about 5 minutes ago?"  He said, "Yes, I saw it."  I answered, "We are searching for that sun light!" and we rode on.
About 15 minutes later, we met again. This time we met at an intersection and we were going to end up heading the same direction.  I said, "Well come on!  You might as well join us.  You can't go wrong riding with two beautiful young women like us!"
It was obvious that he wasn't used to being flirted with.  He said, "WHAT?"
Hope answered him, "Susan is very full of herself.  Come and join us.."
That settled him down and we had a good time riding.  He told us about his horse.  He takes part in Extreme Cowboy Challenge competitions.  Sometimes they shoot. Sometimes they do things with cows.
Hope said, that's one thing we have never done, shoot off our horses.  I told her that Sage has experienced firecrackers.  I tried to brag a little bit.  Hope bragged a little bit about Velvet and we had a rollicking time heading back to the trailers.