Sunday Clinic Day with Jennifer Vaught
It was a most amazing time riding Cisco. Firstly, I asked for a bit of speed and he hollowed out his back and paced. We worked on that. Then he would go nicely until the corners where he paced. The first exercise Jenny had us do in the clinic today, involved a lot of walking and leg yielding. We were walking the long way down the middle of the arena when Cisco suddenly began walking faster with a huge long stride. Then he got excited and we jigged around. He wanted to dart and go fast. We got that under control. The last exercise of the day was everyone went to the rail, one at a time. We were to do transitions, all the gaits and canter. We did an awesome flat foot walk. We did an amazing soft fox trot! Cisco and I have not cantered all winter because he couldn't. So today, I asked him to canter. We went on wrong lead. But, it wasn't a "lameness" canter attempt. We stopped and tried for the correct lead again. Zowie! We cantered one beautiful lap around the arena. Cisco has recovered!
Here is Cisco's translation. "It is going to hurt when I go faster. I dread it so much that I'm going to hollow out my back to help stop the pain. Hmmm. Nothing hurts. My shoulder can move underneath this saddle! My goodness! I'm going to walk fast and see what that feels like! Wow! That felt good. OMG. My body feels great under this saddle! I want to run! I want to dash around! Yee Haw! Wait! You want me to fox trot? OK. Doesn't that feel good! Now canter? I can't wait! Isn't this fun! Thanks for getting off. I'm a little tired with all this exercise. We haven't done this in a long time!
Now get those ticks out of my mane! Let me eat some grass! Take me home!"
Lucky has a new saddle and suddenly he is one of two riding horses. Half the pressure is off! Next is to give Lucky the chance at the new saddle. I told him tonight when Cisco returned to his pasture. Lucky said, "A different saddle? I'll really like how it feels? Well, that is s p e c i a l. I volunteer to let Cisco use it all the time. I'll just stay here and run things at home. Sweetie and Delta need me full time to run the pasture process." The Lucky SNORT was directed to my face.
Cisco and Lucky own a Parelli Natural Performer saddle. The gullet is extra wide. It is 16.5 inch and was made in Germany in 2010. It is a good thing we got the extra wide. The standard would have been too narrow.
Parelli saddle
The bucking rolls are gone. Thanks Yellow Boot Saddelry for making the fenders short enough for me and removing the bucking rolls. The bucking rolls made the seat too small for me.
Cisco's lameness was stifle and something else. I guessed the saddle was causing problems. My beloved Circle Y Flex Lote saddle was discovered to have a broken tree last year. I'd been using my original
Circle Y Flex lite saddle. It occasionally caused me to get sore. It was probably too narrow for Cisco. I no longer endorse the Circle Y Flex tree saddle.
The stifle and mystery lameness got better and got worse. Stifle injection made Cisco worse. Cisco got better with each shoeing by Healthy Stride Farrier, Tony Vaught. But we couldn't keep the plus progression of zero lameness strides. Cisco got a month of freedom to heal.
Saddle search was on and I made a big commitment to the Parelli brand. I know if I ever sell this saddle, there will be buyers out there in the world looking.
Can it be that Cisco and I rode once on a trailride in the fall of 2016 and nothing since? The best thing to bring Cisco's legs back to health is good straight line riding. Amazing that the Rock Island hiking, biking and equestrian trail near my house was just completed. I haven't rode him in a month or so and we are going on a very short trail ride with 3 other riders.
The equestrian parking is right next to an outdoor tree covered hoarder 1/2 acre like you see on The Pickers tv show. It even looks a little scary to us humans.
Cisco always is nervous in new places, but he manages it well. He manages it by moving. Getting on Cisco atop the trailer wheelwell took a minute or so. He finally stopped long enough to make it safe for me to climb on. We walked around the parking area and got calm enough to stop and wait for the other riders to get ready. Then off went the group!
Oh, we discovered the hoarder has a barking dog that was coming at us. Most of us relaxed when we saw the dog had a chain. Then a man's voice called the dog's name and told us that we were not bothering the dog. "The dog is OK with horses," the voice yelled. There is no house in the hoarder lot, but there is a funeral home tent.
After we got past the hoarder and we were all able to breathe again, we discussed that experience. We were not worried about us bothering the dog. We were worried about the dog bothering our horses. Our leading rider thought that the chain was not attached to anything. She did not relax when she saw the chain. We also thought maybe the hoarder lives in the funeral home tent.
Cisco was OK behind the lead horse. He likes to get calm by walking faster and faster, but I managed to keep him out of the lead horse position because we would have been out of sight of our group in minutes.
After about a mile, Cisco snorted about six times. That was his tension leaving his body. I loved hearing those snorts.
We turned around to return to the parking lot. On the way back, Cisco snorted again several times, but the snorts were much softer. He still had tension to get rid of, but it was much less. We had to pass an large object that was wrapped on light weight plastic. It billowed in the wind. The horses all checked it out and continued to walk on.
Cisco had walked for about 45 minutes without a misstep. I did ask him to speed up into a gait when we got to the parking lot and he immediately started pacing. I shut that down quick. We were done. The group picked up another rider and were going to continue the ride in the other direction.
I loaded Cisco into the trailer and headed home.
On my dead end road were two little doggies. They had no humans with them. One of them stood in the middle of the road.
I stopped the truck and got out. They took off running.
Sigh
I went around to the back of horse trailer and called the dogs. One of them decided I might be a nice human. They circled back to me.
This is when Cisco joined our conversation. Cisco did not like being in the trailer. He started yelling and stomping his feet. If I were little dogs, it would scared me too. Off they ran.
Finally the mini boarder collie looking dog, came back and allowed me to pet and lift her into the truck. The other dog came close, but was too scared to let me touch him. I decided to go home, get Cisco out, get the doggie passenger in my car and return to the lost dog area.
I discovered my passenger had tags with name and phone number! I had to wait at the lost dog area only a little while before the rescue posse showed up. Nikki was on my leash and Charlie hovered nearby.
Job done and nap time for me!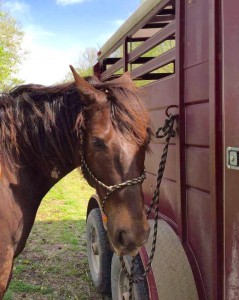 Me – "But Lucky, it was a very short trail ride."
Lucky – "How often have you walked 4 miles mom? Four miles carrying you is not a short trail ride. Take me home! Feed me!"
Me – "Yes Lucky". (I wonder what the weather will be like tomorrow for riding. Heh. Heh)
Lucky Star – "A four mile trail ride is NOT a short ride! And why those other horses cantered around in the field at the end of the trail ride is just ridiculous. I could see the trailer when you asked me to exhort senseless energy to canter in circles when I was exhausted! Snort! Take me home! Feed me!" "Ride Cisco!"
Next time I rave on and on about how Lucky Star has changed into the horse of yes, just smile and shake your head. Susan never learns.
I played with Cisco first. We are learning driving skills. Yes, I bought light weight long ropes. I attached them to my Parelli Bridle. At the end, Cisco was trotting around me in the pasture. His back legs look good. I took off the bridle and he walked with me back to the barn. I said, "Cisco, I love you the most. You are my favorite horse.". I might have repeated that three times. I can't believe that Lucky Star might have heard me.
Lucky became the horse of no again when I started riding. We were riding very near the herd who were all locked in their stalls. We were about 1/4 of a football field away from the other horses at the furthest. We tried zipping in a large dressage 20 meter circle, passing by the stalls.
Oh we had maybe two circles out of all I tried where we maintained a gait faster than a stall. I used all my strategies to stomp out the "no". Lucky started nickering to his friends. This meant his attention was not focused on me. I increased my domination. We backed, we turned on the hindquarters many different times. Then something different happened. Lucky squealed. He stalled. I noted that my temper had escaped from deep within.
When the horse makes you mad, he wins. You cannot loose your temper when riding. Luckily, I was able to have a discussion with myself. "Get off! Continue this with Lucky on the ground. You have a lot more power over his impulsion on the ground".
Lucky was astounded. He probably thought he was the top dog. We went to the trailer and took off the saddle. Lucky was chortling. We put the halter on and went to the round pen. Oh what a shame. Lucky had to canter and gallop around the pen. He used his body language a lot to express his displeasure. When that was over, I decided to have him canter in circles around me very close to his friends in the stalls. Shoot, I need a longer rope. I cleverly tied one of the thin driving ropes to my regular rope.
Your horsemanship is determined by the tools you use. I learned why a skinny rope is not a good idea. Lucky was engaged in another war with me. He was stopping when he was behind me. I tagged him good with the string on the end of my stick. He pulled away. O U C H! He got away and I got a rope burn. Oh, the thin rope doesn't work well! I caught Lucky and we continued our discussion. He thought it was really cool how he escaped me. He tried it three more times. Cleverly, I had taken off that rope burning little rope. I was somewhat handicapped as the regular rope was only twelve feet long, but I managed. Now let me mention that my twenty two foot rope was a short distance away. I should have made the effort to use the suitable rope. This was a lapse of intelligence on my part. Lucky and I managed to end our discussion soon after that. I took off the halter and my 49% partner walked right beside me back to the barn. I truly was shocked. Lucky was telling me that I was the leader. He wanted to be with me.
I staggered into the house and got food in me. I had run out of energy during the monumental battle. I'm anxious to see what happens the next time I ride Lucky Star at home. Will he be the horse of no or the horse of yes!
Stay tuned!
The round bale had been consumed leaving only a cushion of hay on the ground. The horses deserted the round bale to the green grass. It appears that the green grass has been eaten down to the dirt.
Lucky Star has been telling me that he is starving. I retort and tell him both of us need to lose our roundness. He snorts on me and is actively looking for a smart phone that is nicker activated.
Lucky Star hates Siri. She never responds to his nicker activating attempts to contact the Too-much-Horse-Exercise Hot line.
Today I put out a brand new round bale to stop the horse starvation. All the horses ignored the round bale. They all went into their stalls and waited for the horse feed.
I kept telling them that the hay was their special treat today. After they gave up waiting for their horse feed, I saw Cisco use the round bale as a scratching post. Delta laid down and used it as a scratching post.
The starving horses have been eating the starvation dirt grass all the rest of the day.
Did Lucky Star lie to me about starving!
I go now to feed them their sweet horse feed.

Once upon a time the favored horse became replaced by the new guy.
Lucky Star, the "Horse of No" was a difficult horse for the human. He was dominate over the world, had little to no work ethic and didn't react to pain stimulus. Horses that are reluctant to move won't win many fans in the human and horse world. It takes a ton of horsemanship knowledge to work with these kind of horses. Lucky wasn't the most difficult ever horse. There exist "horses of no" that lie down when their human rider requests movement. Thank goodness Lucky didn't figure out that trick!
One day the raffle horse came into the human's world. Cisco was eager, willing, friendly and strived to do more than asked. The human's long years with Lucky made her very appreciative of a willing horse. Lucky Star became a pasture ornament. The fun of dealing with Cisco took the human's insane desire for forward movement away from the "horse of no".
At first Lucky Star was grateful to Cisco. Being a pasture ornament allowed Lucky a lot of time spent pretending to be a wild mustang running free with his herd of two mares and Cisco. Gradually, Lucky became a little bored in his 15 acre wild horse experience. One fall day when his grass was starting to die. Lucky decided to to expand his mustang roaming area. He jumped the fence, trying to get into the hay pasture. He made it, but in doing so, got a back foot caught in the fence. He tried to become a three-legged horse.
Lucky laid down for 12 hours at a time. He would not get up. The pain killer drugs produced colic. Colic kills horses. The vet started coming every day and giving a pain injection and avoided the colic causing medication. This allowed Lucky enough pain reduction that he started standing up at least part of the day. The colic went away. Along with the pain of recovery, his human spent a lot of time hanging out with him. Horse and human spent a lot of time together. Human worried and horse suffered. The treats he missed when the human started to spend all her time with Cisco resumed. Lucky Star will do almost anything for treats. Trying to cut off his foot was an accident. But the treats were wonderful.
There were some sticky recovery times when vet and human wondered if Lucky would live. This experience was the third time in his life when death was knocking on the door. Each time Lucky had a dedicated human taking care of him.
Lucky survived and his foot started the healing process. Again, Lucky became a pasture ornament while Cisco got all the treats, rubs and human time. A small resentment started building while his leg healed. Lucky wondered how he could get his human back again. How could he become the favored horse, not work and get all the treats?
Lucky made certain he was first in line with anything his human did. However, his argumentative brain would not give up his love for domination and his hatred of anything that resembled work on his part. He wanted his human back again, but just couldn't change the "No" that lurked in his personality. The human tried last summer to get through the domineering Lucky Star. There was no fun in the trying and again, Cisco won through.
Lucky Star got older and less extravagant in his need to be the ruler of the free world. Three people came forward with the need and desire to have a horse named Lucky Star. The human owner was thrilled! Lucky Had to be ridden so that he would be ridable success. Hmmmm, thought the owner, Lucky Star might work out. Oh wait, the human owner had just the slightest bit of fun riding Lucky.
Then the unthinkable happened. Cisco came up lame and the healing process is not an overnight process. Lucky's human started giving him treats and spending time riding and playing with him. The human took Lucky back into her heart.
Lucky Star did suffer through this process. The human employed "thunks" using a riding crop. The thunking was done on his shoulder, not the rear end which might buck. The thunking was done rhythmicaly every one, two and thunk. One day, he decided that arguing was not working. The "thunks" were very irritating.
Lucky decided to become a partner with his human. He decided it was easier to do what the human wanted, Immense rewards were experienced. Lucky Star got those beloved treats and he got rest time where he was rubbed and stoked. His mane and tail were combed and the itchy dandruff went away. Oh what a wonderful world enjoyed by a partnered groomed horse,
Lucky decided to fully participate in life with the human. Gradually, he got rid of almost all argumentative actions. On this past weekend during a two day clinic with Tony and Jennifer Vaught , he changed. Lucky Star got impulsion! He moved at the human requested speed, for as long as the human wanted! Miracle!
His new nickname is…..ROCKET MAN!
His human is having fun. Rocket Man is having fun and treats!
This romantic drama of the horse wanting his human in this story is called anthropomorphic. Horses do not think like this. Horses live in the moment. What really happened is the human used love, language and leadership. The human finally became physically effective. It took years!
Here are many articles to help all humans deal with the overwhelming number of horse and human problems. Go wild! Go Crazy! Read all these articles! learn Horsemanship!
It was announced that Rain- a Tribute to the Beatles, would be playing at The Kauffman Center for Performing Arts. Dang I missed this when signing up for the usher shifts. Of course, the usher spots were filled now. Hmmmm, thought I. I would like to hear the Beatles music again, so I vowed to get a ticket. Oooops forgot until the day before when attending usher training at The Kauffman Center. Life was good as the box office was open. I asked when the Beatles would be appearing and my answer was tomorrow. Ok! I'd like a balcony seat on the aisle and I could afford the $45 fee.
I got to the Kauffman Center early and got my favorite parking spot in the garage. I was dressed in my favorite leopard outfit and I was in the building! I went up to the sixth floor to get a cocktail and order another one to be ready for me at intermission. Hey! This is a rock concert and drinking is mandatory. I asked for something with a cherry and I got something with three cherries and vodka. Oh yum, it was good. It so happens that the balcony level has a few tables and chairs to sit on while waiting so I had chatted with my usher friend until she had to go and work her door. I was sitting there enjoying my cocktail when someone walked up to my table.
She walked up to me and started talking to me. I assumed she was going to ask to sit at an empty chair at my table, but she said something about upgrade a ticket. Huh! She told me that she had two tickets, but the other person didn't come and would I be interested in watching the concert in an upgraded seat. I managed to understand those words. She then showed me the ticket and the seat was in the section just behind the orchestra seats. This was a seat in the second best seat section on the theater! Oh Wow! I was thrilled to take the ticket. Fifteen minutes before show time! I ran down to the box office and donated my balcony ticket back to the Kauffmam Center.
I ran up a flight of stairs to find my seat. Door 4 row CC was my destination. The couple behind me were chatting and said row CC. I turned and told them that was where I was going too and they followed me. My goodness. The seat was in the middle of the theater right behind the sound engineers. Here was my gifted and turns out the couple had seats on the other side of me. Oh we were a happy row of people.
It is time! We had the announcement about turning off our phones and suddenly, we had the curtain pulled.
1. Words came across the screen. "Beatles came to the United States in 1964″. My brain barely had time to register that I was a senior in high school when the world changed. I marveled.
A bunch of fake TV sets were on the stage.
2. I heard and saw Ed Sullivan announce the Beatles. Video clips of that night were show. On stage. Everyone in America watched the Ed Sullivan show that night and the world changed. We all met the Beatle for the first time, at the same time. We saw and heard the audience of girls start screaming. I became emotional.
3. Lights came on the stage and Beatles started their music. An invisible knife came out of nowhere and went into my body. The knife stabbed my soul. My body suddenly wanted to SOB out loud. My body wanted to throw its self out of the seat and writh on the ground. Tears started. The knife continued to stab my souls throughout the first song. I was in agony. I did moan out loud. The woman my age sitting next to me made a few hand gestures to her face. I figured she was crying too.
4. Song ended, I tried to breath and recover from the knife wound. Much Appluae and screaming from the audience. The knife withdrew from my soul. Suddenly, without warning, they played song #2. Once again the knife returned and stabbed my heart again. I wondered if my body could physically throw its self on the floor and writh. No. My body will not fit on the floor. Seats in front of me are too close. My throats closed again. Tears started and I was wrecked as the song continued. I moaned in agony.
5. Song ended. Applause. The knife receded again. I clapped and manage to cheer in agony. Song number three started. The knife stabbed again. I remembered how to open my mouth and put my tongue on the roof of my mouth to stop the verbal crying. I wondered if I could live through the concert. I can't take two hours of this knife stabbing my soul.
6. We moved to 1965 to the Beatles concert on Shea Stadium. The performers on the stage played the songs as we watched the videos of people at that concert. Oh my! However, the knife did not return to stab my soul.
Beatles at Shea Stadium.
All those young people were my age in 1965.
7. Our performers took an off stage break while the audience was treated to commercials of the time. Remember Dippity Do? We saw the commercial. Remember the Flinstones? We watched Fred and Barney lazing around while Wilma was mowing the lawn using a small dinosaur. Fred and Barney were saying it was difficult to watch Wilma working so hard. So they got up and moved around the back of the house so they wouldn't have to watch Wilma. Then they lit up Winston cigarettes. Oh my! We saw the ad for cornflakes. Someone was eating cornflakes. How plain they were and the box said, "mixed with rice". We saw a woman with long hair having her hair ironed. Every commercial was amazing glimpse of our past life!
Our performers came back and played more Beatles songs. Now I started to not recognize some of the songs. By this time in my life, I hadgone to college. I had to study in college. I bet I didn't listen to the radio near as much. I remember that I had a record player and used it. But my emotionalism hell had gone.
I enjoyed the richness of the music.
At intermission I learned that my seat benefactor had watched the Ed Sullivan show for the Beatles show when she was ten! Oh my, the Beatles crossed all ages!
After the intermission, we enjoyed Sgt Pepper's Lonely Heart era songs. We watched video clips of beatnicks and soldiers in Vietnam Nam. I was still in college and remembered only the top songs.
Sgt Pepper's Lonely Heart Club.
The concert ended with Hey Jude. Cameras were mounted in the concert hall to record the audience! So while we all were standing and singing Hey Jude, the stage was scanning us, the audience! We saw the entire 4th floor and fifth floor with some of the sixth and possibly the 7th floor seats. The video was tinged like a Kodak imatagram color. We saw ourselves in the 60′s singing with The Beatles.
When the emotional experience ended, I profusely thanked my seat benefactor. She said it was meant to be. She searched for a lone attendee with worse seats than she had for a long while. She finally figured that coming up to the 7th floor to find me would work.
I managed to drive home. The next morning I awoke so tired, I felt like I had worked a hard day's night. I barely made it through lunch. Coffee let me make it through the aftermath of a gigantic emotional experience!
If you discover that this concert is coming anywhere within 200 miles of you, get tickets!
https://en.m.wikipedia.org/wiki/Rain:_A_Tribute_to_the_Beatles
http://www.raintribute.com/band#
I set up the arena for fun! I had two upright barrels standing close together and two large plastic jump boxes standing together. I had the arena alone today so we played at liberty on the ground.
Firstly, I needed to do my exercising so Cisco and I walked at a goodly speed twice around the arena. I broke out into a near run while Cisco sped his long legs up ever so little. He stayed with me the entire time. I like to put my hand on his neck just behind his head, so that as his goal. He passed!
I've had a problem keeping him going around me in a very close circle. He takes advantage of his freedom and moves further away from me. Today, I layed the carrot stick on his back and proceeded to walk forward. He stayed right with me and then I turned it into me standing in place and he circled me! Aha!
Next was our barrel and block squeezes. I had a heck of a time getting Cisco to walk between these obstacles at liberty. First it was tough to get him to follow me thru the obstacles. He preferred to go around the obstacles rather than thru them. That took a while. He also got a treat. Next I tried to stand near the obstacles and "send him through". That didn't work at all! We had a lot of discussion about where his body should be. I wanted his body lined up ready to walk thru the obstacles. He wanted his body completely on the other side of the obstacle from where I was standing. In all our discussion, he never left me to go running around the arena. For that I was quite pleased. I never did direct him thru the obstacles. It ended up with me begging him to come thru them to join up with me.
I was amazed at his level of distrust at something that he should have had confidence with. We will do more of this to raise his confidence!
I got on Cisco and off we went at a loose fast walk. This is his rehab gait. We did not experience any limping or shortened strides. I was so happy at that. Next our task was to ride thru the obstacles. We did extremely well. Next, we sped up a little and went between them at a just a bit faster than a walk speed. I also set up the barrels with a cone to hold my stick and string. We pretended the string was a gate and we opened and then shut the gait as we went between the barrels.
We did some backing around the obstacles as well as backed between. We need much more practice to get his confidence raised at backing thru.
What a fun arena time we had. We did get a nice flat foot walk going and a few steps of the fox trot.
Note: on the next day's arena fun time, Cisco is perfectly fine with going between the obastacles at all kinds of requests from me!
We also did some great ground play sideways. From about 15′ away from me, he sidepassed over four comes about 20′ apart. I was standing almost in front of him. That meant I tapped my carrot stick on the ground, holding it out at my side. Even I was amazed that he understood that cue!
At the end of our fun day, I stood 22′ away from Cisco and asked him to sidepass down the wall from 22′ away.
Ground play is so much fun with an amazing horse!
I believe that Cisco is a Million Dollar Horse (MDH). He just hasn't had the opportunity to prove it yet.
What? You want to know what a million dollar horse (MDH)is? No, it isn't a Kentucky Deby winner or an Olympic horse champion.
Have you seen pictures of three to six year old children riding a horse without a nearby adult? The children's legs don't reach below the saddle pad. The horse walks slowly along. Or if the child is somewhat familiar with a horse, the horse will reluctantly go slightly faster if asked and asked again. A MDH is aso a lesson horse that you can put beginning adult riders on. The beginning adult rider might scream bloody murderer in fear and the horse ignores it. The beginning rider might lock up their body in nervous tension and the MDH ignores the fear and plods along. A MDH does not spook. All four feet stay sanely on the ground. Folks, I have described a Million Dollar Horse.
Following is the story of how Cisco earned his half million dollar title.
"She Who Will Not Be Named" (SWWNBN) asked an amazing professional trainer to ride Cisco today to evaluate his lameness recovery. The amazing trainer needed to ride Cisco using her own saddle. SWWNBN walked Cisco down the barn aisle to where the saddle and pad were waiting. Always helpful, SWWNBN planned to saddle up Cisco while the amazing trainer put up a horse and moved another horse around the horse lots. SWWNBN Had plenty of time to saddle Cisco.
SWWNBN put the saddle pad on Cisco and then picked up the saddle, rather tried to pick up the saddle. Darn, that saddle is heavy! Cisco is calmly standing in the aisle with a very loose lead rope dangling on SWWNBN's arm. There was a mighty struggle going on with the saddle and the weak human. Finally, the human was able to lift the saddle and walk over to Cisco's side. SWWNBN swung the saddle up on Cisco's back. Sadly, the flung up saddle only reached Cisco's side, not his top. The saddle hit Cisco's side and bounced back into SWWNBN's body. SWWNBN might have been a little off-balance by then. While stepping backwards to get her balance back, SWWNBN tripped. The saddle was dropped and fell in a crash right beside Cisco. The human fell backward and crashed into a stall wall. The human fell into a heap beside Cisco's steel shod hooves.
Cisco did not move during this entire 20 second disaster. The rope attached to Cisco's halter was also dropped. Cisco had been completely unrestained during the entire event. A heavy saddle was flung against his side, crashed to the ground and the human crashed against a stall and was knocked to the ground about a foot from his feet.
That is a half million dollar horse! Oh, by the way, Cisco is expected to make a full recovery! His leg did well in the assessment. "She WhoWill Not Be Named" will never be named.
I ushered the opera Marriage of Figaro the day after the Trump / Clinton presidential election.  Facebook was burning up.  I felt horrible on that morning as I was planning on celebrating our first woman president…not!  I decided that I couldn't even ride Cisco as I might take my sadness and grumpiness out on him.  But I did go to Cisco and was lucky enough to have multi world champion trainer, Erin Patterson, ride  him.  When I went to the pasture to get Cisco, I forgot about the election.  After I watched Erin ride Cisco she gave me a few pointers on more finesse.
After Cisco was done, I watched an old friend take a lesson with Erin.  You could feel her happiness to be back involved with horses pouring out of her pores.  It has been a long long time since she got to ride because life got in the way.
I went home and watched bits of Ellen and Steve Harvey while part of me tried to nap.
It wasn't long before it was time to get cleaned up and get my usher outfit on.
The Marriage of Figaro is a long opera.  The first act is an hour and a half.  Then there is a thirty minute intermission.  The second act is over an hour.  At intermission I was asking the patrons if they loved this opera.  One woman stopped and exclaimed, "This opera is great and just what we need on a day like today!"  I have to confess.  It took me a full thirty seconds or so to remember the nation's anger, my anger and sadness and fear of facing a brand new scary world.
So, if you are feeling hatred, sadness, anger etc, The Marriage of Figaro is in it's last week.  I recommend that you get tickets and soak up the magic of the amazing opera voices, the clever and tricky plot and laugh at all the humor included in the opera.  Also, since it is a long opera, you probably won't get home till the next day, so that takes nearly an entire day of not being sad, scared or mad at the USA political system.  Go to the Opera!
https://www.kcopera.org/performances/the-marriage-of-figaro-16/