Posts Tagged 'canter departs'
Just singing my happiness living my life with horses.
Friday was wonderful.  Powder came home from her 30 days of training with Tony and Jennifer Vaught.  It was good to have her back in the pasture again.  Powder and Velvet had never met.  Powder didn't move fast enough to suit Velvet, so Powder lost some hair. She's very aware of Velvet now.
Friday was lesson night.  I have my winter goals for  with Nova. 
We are to trail walk with head down until she is really relaxed.  You remember that picture of the Indian sitting on his paint horse. The horse has his head down and it's titled The End of the Trail.  That's the general idea except we are to do it at a slow walk.
We are to always work on flying lead changes and just regular lead changes
We are to work on our reining horse spins
We are to do a real trot where I have to post.  Nova's fox trot is now so developed that I have a difficult time getting her to do a square two beat trot
We are to do collected canter departs which is the opposite of strung out canter departs.
I was going to talk about riding both Velvet and Nova out on the trail on Sunday.  That was heaven!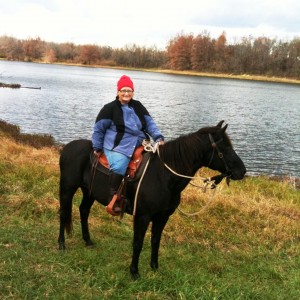 I was going to talk about taking Powder to Pine Dell this Monday night and playing with her.  I was blown away by her liberty trotting task and how she maintains the gait. There was no squirty speeding up, no tails up snorting. She just trotted around the round pen.  We went places in the dark, thru a narrow barn door, crossing a bridge while looking for the round pen light.  We started out in the big arena with two horses cantering around us.
Powder was as calm as could be.  I love this horse!
I love them all!!
I was going to go on and on, but Pawn Shop Stars is ready to start.  I must watch that show!