Posts Tagged 'Hope Robinson'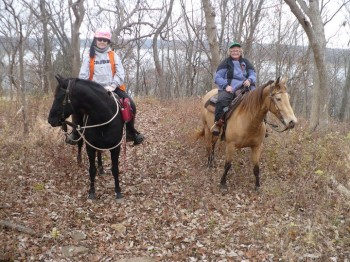 Ken, Hope and I rode a small portion of Lake Perry. Kansas, trails today.  I gave Ken my rules about trail riding. 
It's gotta be 2 hours,
It's got to be in the high 40′s and
There's gotta be flat land on which to go fast.
He had great success with rules one and two.  We didn't have much flat land upon which to go fast.
Oh well.  Other than the last part where we couldn't find a trail back to our trailers and we were lost for seemingly, hours – It was a great day.
We found the trail head and it had been exactly two hours! 
Ken's rule is that you have to ride for at least as long as the pickup/trailer drive to and from the trail. We met his rule too!
Nova's rule is that she gets to mess with the other horses on the ride.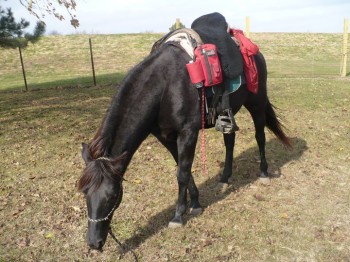 Velvet's rule is that she must eat and boss everyone around.  She was forced to bring up the rear on this trail ride and there wasn't very much green stuff in the forest.
Hope has a wish-rule about flush toilets.  The park didn't meet her rule and even lacked pit toilets at the trailhead. But Hope had a great time too.