Posts Tagged 'Susan Engle'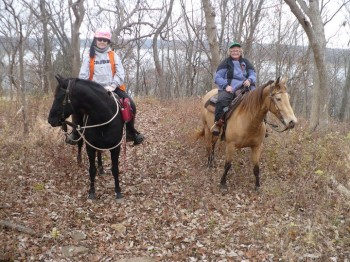 Ken, Hope and I rode a small portion of Lake Perry. Kansas, trails today.  I gave Ken my rules about trail riding. 
It's gotta be 2 hours,
It's got to be in the high 40′s and
There's gotta be flat land on which to go fast.
He had great success with rules one and two.  We didn't have much flat land upon which to go fast.
Oh well.  Other than the last part where we couldn't find a trail back to our trailers and we were lost for seemingly, hours – It was a great day.
We found the trail head and it had been exactly two hours! 
Ken's rule is that you have to ride for at least as long as the pickup/trailer drive to and from the trail. We met his rule too!
Nova's rule is that she gets to mess with the other horses on the ride.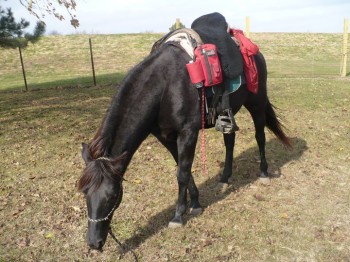 Velvet's rule is that she must eat and boss everyone around.  She was forced to bring up the rear on this trail ride and there wasn't very much green stuff in the forest.
Hope has a wish-rule about flush toilets.  The park didn't meet her rule and even lacked pit toilets at the trailhead. But Hope had a great time too.
She was born two years ago.  Her birthday is today!  But hold on! She's going to be two again in 2011…for showing purposes!  Powder is two, she'll have two birthdays.   Isn't that two cool!
Powder was born in October and the rule is…Oct. thru December babies are deemed to attain their age in the following year.
In this past few weeks, I'm determined that Powder will have the best horse development ever.  I've been playing with her at home and taking her to Pine Dell.
Taking Powder to Pine Dell is totally cool. We have to get into the trailer.  At Pine Dell, we have two indoor arenas and two outdoor arenas in which to play. We also have a covered round pen.  Life is good for us.
A couple of days ago, I decided that we would play in the small outdoor arena by the road. We don't have a busy road at home.  But next to the smaller outdoor arena, cars and trucks and bigger trucks zip up and down that road.  We even had a motorcycle zip by and put on the big ZZZZZZZooom for us.  You know that big load snort horses have for big danger warning?   I'd forgotten about that snort until it went off in my ear.  Powder did the Big Exhale Snort right into my ear.  It made me yell.  Ouch
Tonight we played in the small arena.  There were little sounds in the rafters…like little feet pattering above Powder's body. SNORT!!!  Whoo WEE!
Later we had another horse come into the arena.  He was having some fun on his lunge line..bucking and carrying on.  Then we had the rumble snorting from Powder.  I got to see Powder with her tail straight up running around for a while.  But when she hit the end of the rope, she softened and came right back into softness.  Love that horse!
After we get done with all these new experiences…maybe this could be called seasoning, we have to get back into the trailer.  This isn't our favorite thing in the world. Tonight we had horses all over the place and a tractor.  Powder got in the trailer and ran out several times.  We waited until she was semi calm in the trailer before I threw the lead rope over her back and let her stay in.
It's a short ride home..perfect for trailer "seasoning".  She was really upset when we got home.  I opened the door. She came out with her front feet and started eating grass.  Her back feet were forgotten as they stayed in the trailer for a time.  Yep, the trailer is a big deal!
Powder- October 2010
12′ lead rope around her neck
22′ rope is how we play!
Pat Parelli has done various studies of their students and why they enter the program.  Some of them have specific problems and when these problems are overcome, the students move out of the program. Many stay a long long time. Others drop out for various reasons.
The category I'm in is "Want to Always Learn More – Can't Ever Get Enough"
Lessons are my favorite horse back riding activity.  Lessons with the right people.  My right people are Jennifer and Tony Vaught.
Tonight was the first time I've rode Nova since the week long  Missouri Fox Trotter World Celebration ended.  Nova has had nearly a week off.  I started recoving from the week of the Celebration about two days ago. 
This year Nova and I are going to trot.  It will help build up her muscles for the fox trot.  We started tonight. I posted to the trot.  Jenny mentioned the word diagonals..bringing back the diagonals.  I thought she was talking about leg yeilding diagonally across the arena. whoops! No!  One has to rise when a specific front leg goes up at the trot.  I remember now. So, I had my body rise with the inside leg.  Every now and then Jenny would tell me to change my diagonal.  huh.  After that round of trotting was done and we were resting in the middle, Jenny asked me which leg I was supposed to rise with.  Me, "Inside!"  Jenny, "Rise with the leg on the Wall"  OH YES!  I haven't posted seriously since I passed my original Level 3 Parelli test.  I must have thought I was cantering with the lead on the inside leg!
Another round and we posted correctly!
Then we fox trotted and seriously, Nova was awesome!
What fun it is to be back in lessonville with a great instructor and great friends at Pine Dell Farm.
The reining demonstration is pretty cool. At the end when we run down the arena preparing to do a slide stop, I open the umbrella and it turns inside out!
Our Dressage demonstration is highlighted by a "dressage hat" I found at a toy store and really cool dressage moves. We do leg yields at flat foot walk and canter – that means we travel diagonally across the arena. Velvet also does her rocking chair canter-naturally. If we have time, we do drop to a trot lead changes. It's all bridleless!
It's all pretty darn fun to watch too…and Velvet just blows everyone away!
When the 2nd song ended, Pat Parelli said, "Susan Engle, If I didn't have boots on, you would have blown my socks off! You got 10 in all four categories. Your ribbon is the top ribbon – Level 5 in performance. And for selling 100 tickets, you get a free two week course!"
Velvet and I got two (or more) standing ovations from the crowd including all Pat's Master Students and Certified Instructors.
That afternoon, Nichle Copple took Velvet back into another Spotlight performance. Nichole and Velvet performed with Nichole's sister riding Sasha. At one point, they both stood up on their horses and rode around at a trot…STANDING! They rocked the house! Nichole and Caitlyn were also awarded the top ribbon. This top ribbon was given to three people or groups over the weekend out of all the performances. It's just simply outstanding that Velvet got two of the three Level 5 performance ribbons!
Needless to say, I was shocked beyond belief. Later in the week, Velvet and I were mentioned in the Parelli eNewsletter than goes to 10′s of thousands of people all over the world.
Velvet and Susan – Versatility Challenge!
"Women and Horses Expo" in Sedalia is what I heard from another horse person. I found the web side and Whoa…a three day Versatility Challenge event! Versatility is my middle name, so I clicked on the link. and it seemed to have Susan and Velvet written all over it. The third day event was particularly interesting…free style! We each had 4 minutes to do our own thing on Sunday. Entertainment, costumes, and your own music was highly encouraged. That is what Velvet and I do best – Entertain! Some people might call it showing off!
Velvet and I had three weeks to practice. I've rode her less than 5 times this past year. Velvet has most recently been in the Versatility Events at the World Celebration with Jennifer Vaught and Nichole Copple. When I started practicing on Velvet, she was a fine tuned versatility machine. We got our signals clear again. It took all of three minutes. We practiced riding bridleless, once, doing all our WoW stuff.
The event started. I met the "Paint Women" sisters and their horses. They were stalled next to me. We were chatting and one of them casually mentioned that they had won Paint World 1st thru 5th placings in dressage, jumping, rail work etc. with both their horses. I was bug-eyed at that. Then she went on to explain that they stopped showing and now are into the Extreme Challenge contests. Their horses will swim, jump up or down on anything, go anywhere and they had also done mounted shooting off them. GAD!
This conversation killed all the desire I had to brag about how good Velvet and I were. Right then and there, I gave up the idea that we might have a chance to win first or second. Hay! I'm older now and understand sometimes when to keep my mouth shut! I wondered what other talent would show up.
That surprise was soon to come. Velvet and I were practicing in the coliseum. It was dark inside but sunshine-bright outside. The gate opened and a backlit silhouetted horse and rider came in the gate. I recognized the silhouette and gasped.
Here is the famous multiple many year Versatility World Grand Champion, Hall of Famer, Sally Scott. She is a true goddess. Most of you know that, but I have seen her framed in the LIGHT! Later I met another cometitor…a dressage women riding a Friesian.
Good GAD! I am but a peon. From that moment on, I knew that I would just have great fun with this competition because I had no hope of winning.
The event had 21 participants…two on Friesians. We had the dressage woman; We had a Mustang trick rider; We had a rodeo eventer and more. We had 8 different breeds including Gypsy Vanner, Mustang, Friesian, Spotted Saddle Horse, Paint, QH, TWH, and Paso Fino! Most of the participants were from Missouri and Kansas. Our rodeo eventer came from Conway, Arkansas!
In the versatility world, we do patterns. We did patterns on Friday and Saturday. Compared to the Fox Trotter Celebration versatility patterns, they were simple.
Patterns might be simple, but they are never easy. When you are in the arena every step taken (or not taken) is under close scrutiny. When everyone had taken their turn, the day's event was over. We didn't get placings or judges' score cards. No one had any idea of how they were doing. My new Paint Horse friend told me confidentially after we were done on the first day that Sally and I had "blew away the competition" and that she had never thought she would ever lose to a gaited horse! I was pretty stunned to hear her say that. I thought she did a fine job in her pattern on that day.
I lost 50 points the 2nd day partially because I didn't understand that being on the left side of a barrel is different than picking something off the barrel with my left hand. However, the crowd was fooled. Velvet and I "were looking good"! Looking good is what really counts! It took me a long while to learn that fact about life too.
Sunday was freestyle day.
We had Marilyn Monroe ride her Friesian draped with diamonds riding to Diamonds are a Girls Best Friend.
We had a Friesian knight complete with warriors on the ground whom she slayed…and then she jousted an opposing horse with a lance. Our knight slew the opposition who fell off her horse and died on the arena floor. Good GAD!
We had a trick rider on a mustang stallion.
We had a rodeo competitor. She set up the barrels, poles, fake cow and staked a tame goat in the=2 0arena. She flew around the arena with the poles and barrels, roped the fake cow twice (two different ropes) and drug the cow. Her grand finale was to leap off her horse, topple the goat and tie up its feet.
We had a "Queen from Merry Old England" costumed rider on a big Spotted Saddle horse. She zipped around the arena in a reining pattern, occasionally doing flying lead changes.
Wowsa
Sally did a reining demonstration-bridleless on Thrill-A-Minute. They looked wonderful…a true team.
Velvet and I did our bridleless comedy WOW routine. I had the crowd laughing at my first joke. That's when I know that "the crowd is with us" and Velvet and I always perform at a higher level. Velvet and I come in pulling a ball on the end of an elastic string. We flat foot walked, fox trotd and cantered. Then I ask people what I'm doing pulling that ball. My response, "I just want to show you that I have a BALL riding Velvet!" If there is laughter, the rest of the program goes great! Velvet and I sidepass over a barrel, we jump over a barrel (after I pray that I might not fall off.) Then we do a little reining demonstration. I have an umbrella. Velvet and I canter fast down the middle of the arena and I open the umbrella. It turns inside out. Now that's a raining demonstration! Then we turn into a snooty "dressage queen". I don my black cardboard top hat and exude an attitude of dressage queenliness. That got a lot of laughs. We flat foot walk and canter diagonally (leg yield). Shoot, the barrel got in the way and I decided we needed to jump over it again. I was about to do more of our wow stuff when I noticed that the music had stopped. I asked my "routine" coordinator, Hope, if I was done. She told me yes. Drat! Four minutes went by in seconds. I always use the wonderful opera songs that my son, tenor Nathan Granner, has recorded. His voice accompanied by a classical guitar soared through the arena. We got a huge ovation!
It took three people to help me on the third day. Patricia Berning, Susan Bean and Hope Robinson made it possible for Velvet and I to perform to music, get my props in order and boost my courage. All the rest of that last day, we heard great compliments on the Wow and humor of our performance. Later, I learned that I had scored 198 out of 200 points for the free style performance. You don't get much better than that!
Sunday afternoon the participants lined up to get the final placings. We started with 7th place and went on up. One of the Paint sisters got third (the one who told me she never thought she would be beaten by a gaited horse) and the other got 5th.
My name and Velvet was called for second! Sally and Thrill-A-Minute's name was called for Number One!
Missouri Fox Trotters won first and second in an all breed event with many talented participants. WOWEE!
Sally won a saddle! We expanded our FAME! Velvet and Thrill-A-Minute have put the WOW into Missouri Fox Trotters! We got many new friends over the three day event.
Sally got 636 points out of 700 and I got 630 points. It was CLOSE!
What a good time I had tonight.  I rode two horses at Pine Dell tonight.  That means I got up early enough that I could work 8 hours and still have time to trailer my horses to Pine Dell and ride. That's a big day for me.
Good times with good people!
I came home so happy, whipped up my gormet peanut butter sandwich..after tearing the moldy corner off the bread.  I mixed the dog's fasttrak supplement in my water bottle and had a great meal.  But enough of my great cooking discriptions to make everyone salivate with jealousy.
I was done riding tonight at Pine Dell.  I led Nova and Sue out of the arena.  I was helping another rider.  She was having a difficult time with her horse.  My favorite everyday cowboy hat in all the world was hanging on the fence. 
Then I heard the big R I P!
Nova grabbed my favorite cowboy hat in all the world off the fence.  She put it delicately on the ground, stepped on the brim and ripped the top off!  this took place in a nanosecond!
I can still wear it.  It will still keep the sun off my face and neck. I thought my favorite cowboy hat in all the world was pretty distinctive before…now there isn't one like it in the world!  
Above is the before picture of my wonderful hat keeping me dry.  It won't be doing that anymore! Hat eater, Nova!
The round pen has fairly deep sandy footing.  That's why Sue canters in there so well.
Sue doesn't canter in the arena with me riding.  Oh maybe a step or two now and then when I have a pole for her to lift up her front end.
When I ride her, she is still nervous when I put pressure on her to go faster.  If we are trotting and I put pressure on her to go faster, we disintegrate.  (Sue does a lot of disintegrating.) Occasionally I'll get a couple of canter steps and then we disintegrate into every foot doing something different.
I"ll have to take a mounting stool and go into the round pen.  We must canter.
Today she was cantering in the round pen with the three beat canter.  From my middle point, I raised up my stick in front of her and she did a sliding stop.
Yes, really.  I couldn't believe it either.  We tried the other direction and she has a nice stop.  It's only to the left that she has a sliding stop.
I am still marveling.  It must mean she is putting that weight back on her rear end and cantering.
Ok, that's it.  I must ride in the round pen. I hate the mounting stool.  I hate having the mounting stool being in the round pen when I'm running around.  It diverts my attention.  I do have my little peculiar oddities.  I'm not perfect.
Sue and I went on a trail ride at James A. Reed Park.
It took us 14 months to get here. This park is the precipitating event of why she became my horse.
When she spooked at this park and her rider (who was trying her out as a trail horse) fell off, Sue set herself up to come to me. Neither of us knew it at the time.
She had no where to go after that. The no-where horse became my horse.
After 14 months of slow fear recovery, we made it back and rode the entire park with a nice low key friend…both horse and human.
Sue and I have now entered another phase of our relationship. Instead of Traumatized Horse, she has become:
Sue-"Studying for Level 3 in the Parelli program".
There's much difference in the two labels for both me and her.
My personal life got in the way again of riding and time has passed.
I also haven't reported on the great rides Sue and I've had in the Monday nite lessons…She knows the other horses now and is very relaxed.
So, I've taken off work and riding during the day all this week (except, I got interupted again by my personal life).
Anyway. There are three horses being rode in the arena. One of them is standing still. The other one is zipping around.
I decide today is the new day of the carrot stick. We've done our friendly game on the ground. I've thrown the carrot stick up in the air over Sue and kept at it until she stopped flinching. OK, once I didn't catch it and it clattered on the saddle…but she was used to it by then.
Back to riding. I've picked up my carrot stick from the ground several times. The first time she shuddered. I put it down and picked it back up…No reaction.
I tap on the fence with the carrot stick…no reaction from the brave Sue.
I'm riding with the carrot stick having a fine time. Sue is fairly relaxed.
But the other horse is doing something and we do our half-bolt. I can think when she does a half-bolt. She's not stopping and I decide that it's the carrot stick that is now causing her to stay right-brained.
NOTE: For years I've heard Jenny tell stories of people who pick up things that scare their horse. The horse spooks or leaps around and the person's grip on the scary thing gets tighter and tighter. It's a chain reaction and it goes Western. Jenny sez, let go of the scary thing -DROP IT! I've vowed over the years that when this happens to me, that I will be able to drop the scary thing.
back to the story…
My brain hears Jenny tell the story, "just drop the scary thing."
I drop the carrot stick.
Unfortunately, I didn't hold the carrot stick out to the side. I am holding it so it rests on my shoulder.
I raise my hand somewhat and let go of the carrot stick.
I dropped the carrot stick on Sue's rear end!!!! It bounced off her rear end behind her.
Now what is the worst POSSIBLE THING that I could have done with a horse that is afraid to have anything touch her rear end (especially when she is in semi-bolt right brain) and is afraid of objects moving behind her.
Yep…exactly what I did…the worst possible thing.
I got Sue stopped in about 10 more steps. If this had happened a couple of months ago, they would probably still be picking up pieces of me in the rafters, the sand, the walls etc….
Monday nite lesson. Here was another riding experience when I was more scared than Sue!
Of course you know that Sue doesn't like other horses too close to her and certainly not Behind Her!At the Monday nite lesson, someone rode too close behind her. Sue tightened up. I tried to zip around the arena, cut through the middle etc and lose the horse, BUT NO! The horse stayed right on Sue's tail.
I asked the rider not to ride that close to us, but nothing happened. I was pretty desparate when Jenny asked that rider to go ride on the rail and not leave it. Whew! We escaped.
Sue was tight, but not yet ready to bolt out from under me. Perhaps we could have stuck it out and just kept the horse close on our tail and managed just fine.
But, again, I was reduced to a low "yelling" at the other rider to Stay Back.
Once again, I broke my vow of No Yelling!  At least it was low yelling.
My confidence plummeted about riding on a trail ride.
Good GAD! We might meet other horses or be passed by other horses! That was a concept I had not thought of. I cancelled Sue's "coming out" trail ride …it was going to be too hot anyway!