I'm getting old enough now to really appreciate being alive and being able to ride.
Here's Velvet and I riding in front of Jazz and Hope.  I heard Hope talking and knew she was filming!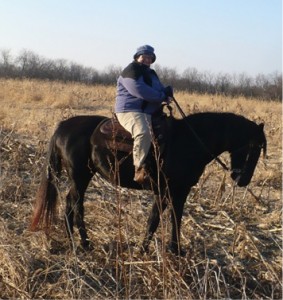 Velvet and facing into a freezing gusty wind today, Boy Howdy…full alert life up on that one! 
Having my body parts freeze today was a good reminder of being alive.  I suppose my feet froze last year, but I don't remember that feeling.  I suppose my thighs froze last year, but I don't remember that feeling either.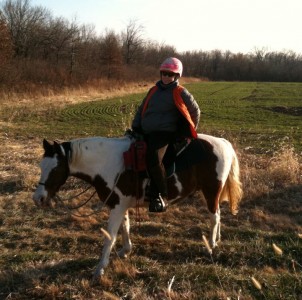 Hope androde Jazz.  How many layers of clothes does she have on?  Even her hunter vest is padded against the cold.
Hope asked me if I wanted to wear one of her hunter vests.  I replied it would be better if one of them just shot me and got me out of my cold misery.  She yelled at me for being grumpy.
We broke the rules today. 
(Rule Number 1 – Ride Outdoors when it's in the high 40′s and above.)
It was Hope's fault. She wanted to ride.  I whined to no avail.  I grumped and was shut down. At the end of the ride, I moaned.  Moaning was allowed.
We met a big tractor-combine combination on the trail today.  The tractor tires were bigger than we were.  We had no where to get out of the way. We just stood on the side of the trail and let the big beast go by.  Velvet is used to stuff like that.  I've got to admit that I was just the slightest bit worried. The tractor combine guy waved when he went by.  Neither Hope or I waved back.  I wanted both  my hands on the reins!  Then the semi passed by us too.   I did manage to wave at the truck guy!  We were out in the middle of the park-on the trails.
We see big vehicle tracks now and then when we ride at the park.  In fact, we saw some today and commented on how big of a monster made those tracks.  And then we met it!
Just think if I had got my way and rode in an indoor arena, I might not have got to experience going one-on-one with a huge combine-tractor.
whoooo
PS:
Where are my Muck Boots? Where are my insole heat inserts. Gotta find those.  I live in Muck Boots all winter long.  Where are they!
My friend Ken loves to rode.  He is a rider. That's the highest compliment I can bestow on a person.
Hope on Velvet and I on Nova decided to double grace Ken's life and let him ride with us at Lake Perry again.  My last post was a statement of the rules. 
Let me repeat my rules:
Two hours
Flat places for going fast
This ride Ken followed the rules.  He found long stretches of flat land for us to go fast.  Ah…sigh…
Then he lead us into the forest where we had to go up and down those steep steep trails strewn with loose rocks.  I don't mind going up.  I don't feel like I'm going to die when we are climbing steep rock-strewn trails.  But going down those trails leads me to think about death…my death…dashed on the rocks.
So we went down one horrid long steep declince and I yelled at Ken…"That's my last steep hill!"  I meant it too.
Luckily we were soon to come out right by the beautiful lake and Ken promised us a picnic table not far.  A picnic table might be a vision you have for those affairs with food.  Not me.  A picnic table is a mounting block.  I can get on and off my horse from a picnic table.
As promised we came to the picnic table area of heaven.  I got off and disappeared into the woods.  We chatted for a while and then got back on.  It was the best half way point I could have ever asked for.  I could have even rode more than 2 hours, but I didn't tell Ken that.  Velvet and Nova were pretty tired.
The picnic table was next to a road with wide grassy shoulders.  We rode back following the road.  We found our field and road thru several fields and then we were back at the trailers.  I got to go as fast as I wanted for as far as I wanted.  Oh a lovely ride.
Hope and Velvet were much better acquainted on their second ride.  Hope got some nice stretches of gaited heaven in. She really enjoys riding Velvet. (Hope is a rider!)
When we got back, and I mentioned again how I hate steep rock strewn downhill stretches, Ken complained just a little.  He told me that when people go trail riding, they follow a trail. 
HUMPH!
I've been pondering this philosophy for a couple days now.  It sounds like a solid reasonable rule. 
But I still love flat land where you can go as fast as you want when you want to.
What is a trail anyway?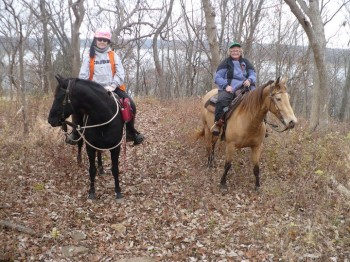 Ken, Hope and I rode a small portion of Lake Perry. Kansas, trails today.  I gave Ken my rules about trail riding. 
It's gotta be 2 hours,
It's got to be in the high 40′s and
There's gotta be flat land on which to go fast.
He had great success with rules one and two.  We didn't have much flat land upon which to go fast.
Oh well.  Other than the last part where we couldn't find a trail back to our trailers and we were lost for seemingly, hours – It was a great day.
We found the trail head and it had been exactly two hours! 
Ken's rule is that you have to ride for at least as long as the pickup/trailer drive to and from the trail. We met his rule too!
Nova's rule is that she gets to mess with the other horses on the ride.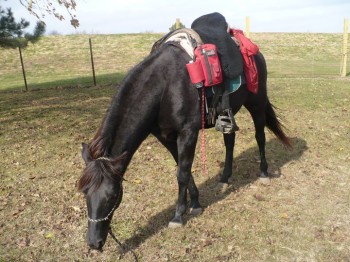 Velvet's rule is that she must eat and boss everyone around.  She was forced to bring up the rear on this trail ride and there wasn't very much green stuff in the forest.
Hope has a wish-rule about flush toilets.  The park didn't meet her rule and even lacked pit toilets at the trailhead. But Hope had a great time too.
Just singing my happiness living my life with horses.
Friday was wonderful.  Powder came home from her 30 days of training with Tony and Jennifer Vaught.  It was good to have her back in the pasture again.  Powder and Velvet had never met.  Powder didn't move fast enough to suit Velvet, so Powder lost some hair. She's very aware of Velvet now.
Friday was lesson night.  I have my winter goals for  with Nova. 
We are to trail walk with head down until she is really relaxed.  You remember that picture of the Indian sitting on his paint horse. The horse has his head down and it's titled The End of the Trail.  That's the general idea except we are to do it at a slow walk.
We are to always work on flying lead changes and just regular lead changes
We are to work on our reining horse spins
We are to do a real trot where I have to post.  Nova's fox trot is now so developed that I have a difficult time getting her to do a square two beat trot
We are to do collected canter departs which is the opposite of strung out canter departs.
I was going to talk about riding both Velvet and Nova out on the trail on Sunday.  That was heaven!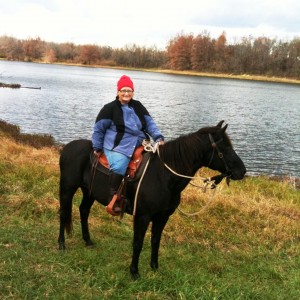 I was going to talk about taking Powder to Pine Dell this Monday night and playing with her.  I was blown away by her liberty trotting task and how she maintains the gait. There was no squirty speeding up, no tails up snorting. She just trotted around the round pen.  We went places in the dark, thru a narrow barn door, crossing a bridge while looking for the round pen light.  We started out in the big arena with two horses cantering around us.
Powder was as calm as could be.  I love this horse!
I love them all!!
I was going to go on and on, but Pawn Shop Stars is ready to start.  I must watch that show!
It's not often that I get to go trail riding with my son.  For a long long time early in my beginning adult riderhood, I realized that I didn't have a safe horse for a beginner to ride.  I now think I underestimated Nathan's riding ability, but you just never know.
So, I have been-there-done -that horses now and safe for my son to ride!Nathan came out to James A Reed and rode with Hope and I. Velvet and Nathan led the way around the park.  Occasionally Velvet and Nathan would decide life was boring unless you were cantering and off they went.
On our trail ride, we came around a corner and ahead was a pile of sticks tipi style about 2 feet in height with a plastic bag on top blowing in the wind. We think that's how the deer hunter marked where to go into the woods to their deer stand. It took the mighty been-there-done-that horse, Velvet, to determine it was safe to go around. Scary object for an obstacle course!!!!
Nathan spotted someone's cell phone on the trail.  He got off to get it and here it is an iPhone!  A horse had stepped on the back of it, whew! Later we heard from the park ranger that the grateful owner gave Nathan lots of THANKS!
Nova has been trained by Velvet to know that she is not the #1 horse. Velvet is the #1 horse in the herd.  For a long time, I could get Nova's head to get even with Velvet rear, but she would never ride along beside Velvet.
Finally on the home stretch, Nova and I did something tricky and passed Velvet.  We started cantering.  Velvet harumphed in disdain and started cantering too. My son and I, Nova and Velvet cantered side by side on the trail for a goodly stretch.
It doesn't get much better than that!
A group of us showed at the Missouri Fox Trotter World Show this past week. We are all students of Parelli and study with Tony and Jenny Vaught of
"For the Horse" Ranch.
We are Hope Kahout, Mindy B.(I have forgotten how to spell her last name),
Nichole Vaught, Caitlyn Vaught.  We won 19 World Champion Ribbons!
Nichole and Velvet won 13 World Champion competitions and were awarded World Grand Champion Youth Ranch Horse and World Grand Champion Youth Versatility.
That's Jenny holding the sign. Tony was missing when we got together for this picture.
Nova and I won two world champion competitions and some other places. Nova and I were awarded World Grand Champion Novice Versatility.
Mindy and Caitlyn won the Amatuer and Youth World Grand Champion awards.
We were awarded our reserve and World Grand Champion presentations on Saturday night in front of the crowd that came to see the World Grand Champion performance   horse competitions. They got to see a lot of us Versatility people too!
Nichole and Velvet were presented with TWO GARLANDS! Nichole got to ride Velvet around the arena twice – with each garland.  Nichole got two belt buckles and two horse head statues -gorgeous. They didn't have a buckle for Novice World Grand Champion, so Nichole gave me one of her belt buckles. Blue ribbon winners also got a nice statue of a fox trotter horse. Nichole could not carry all her 13 boxes at the same time. She needs a trophy room.
Here's Nichole and Velvet?during an event during the Ranch Horse competition.
http://s160.photobucket.com/albums/t199/storminthenight/MFT%20Show/?action=view&\
current=P1010392.jpg
I'd like to point out that my horses, Velvet and Nova,?won a total of 15 World
Championships and three World Grand Champion awards. I follow the way of natural
horsemanship via the Pat Parelli methods!? Look at how it can turn out!!!
Here's Nova and I practicing.
http://i160.photobucket.com/albums/t199/storminthenight/MFT%20Show/Nova8.jpg
Here's Jenny on the horse that I wrote many stories about in the 8 years I owned him (JR). Jenny got 5th in Open Ranch Horse and 3rd in Open Versatility http://s160.photobucket.com/albums/t199/storminthenight/MFT%20Show/?action=view&\
current=P1010324.jpg
Here's Tony on Diva – I gave him Diva to start for me and he fell in love with
her.? She has been sold and Tony is her trainer.
http://i160.photobucket.com/albums/t199/storminthenight/MFT%20Show/P1010180.jpg?\
t=1252980455
YEE HAW!!!
September 2009 Missouri Fox Trotter World Celebration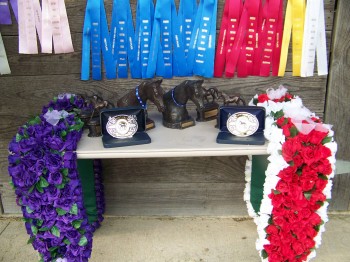 Youth Showmanship World Champion -4th in the World
Youth Western Pleasure World Champion
Youth Western Horsemanship World Champion
Youth Reining World Champion
Youth Versatility Ranch Cutting World Champion
Youth Versatility Ranch Roping World Champion
Youth Versatility Working Ranch Horse World Champion
Youth Versatility Ranch Versatility World Champion
Youth Versatility Ranch Pleasure World Champion
Youth Versatility Ranch Confirmation World Champion
Youth Hunter Over Fences World Champion
Youth English Pleasure World Champion
Youth Hunter Hack – Reserve World Champion
Youth Trail World Champion
Youth Barrel Race-3rd in the World
Youth Pole Bending – Reserve World Champion
Youth Stake Race World Champion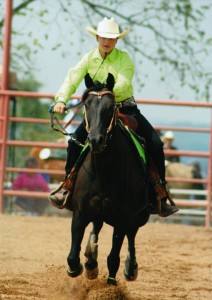 Nichole and Velvet were awarded the following high point awards:
YOUTH VERSATILITY WORLD GRAND CHAMPION
YOUTH RANCH HORSE WORLD GRAND CHAMPION
The reining demonstration is pretty cool. At the end when we run down the arena preparing to do a slide stop, I open the umbrella and it turns inside out!
Our Dressage demonstration is highlighted by a "dressage hat" I found at a toy store and really cool dressage moves. We do leg yields at flat foot walk and canter – that means we travel diagonally across the arena. Velvet also does her rocking chair canter-naturally. If we have time, we do drop to a trot lead changes. It's all bridleless!
It's all pretty darn fun to watch too…and Velvet just blows everyone away!
When the 2nd song ended, Pat Parelli said, "Susan Engle, If I didn't have boots on, you would have blown my socks off! You got 10 in all four categories. Your ribbon is the top ribbon – Level 5 in performance. And for selling 100 tickets, you get a free two week course!"
Velvet and I got two (or more) standing ovations from the crowd including all Pat's Master Students and Certified Instructors.
That afternoon, Nichle Copple took Velvet back into another Spotlight performance. Nichole and Velvet performed with Nichole's sister riding Sasha. At one point, they both stood up on their horses and rode around at a trot…STANDING! They rocked the house! Nichole and Caitlyn were also awarded the top ribbon. This top ribbon was given to three people or groups over the weekend out of all the performances. It's just simply outstanding that Velvet got two of the three Level 5 performance ribbons!
Needless to say, I was shocked beyond belief. Later in the week, Velvet and I were mentioned in the Parelli eNewsletter than goes to 10′s of thousands of people all over the world.
Velvet and Susan – Versatility Challenge!
"Women and Horses Expo" in Sedalia is what I heard from another horse person. I found the web side and Whoa…a three day Versatility Challenge event! Versatility is my middle name, so I clicked on the link. and it seemed to have Susan and Velvet written all over it. The third day event was particularly interesting…free style! We each had 4 minutes to do our own thing on Sunday. Entertainment, costumes, and your own music was highly encouraged. That is what Velvet and I do best – Entertain! Some people might call it showing off!
Velvet and I had three weeks to practice. I've rode her less than 5 times this past year. Velvet has most recently been in the Versatility Events at the World Celebration with Jennifer Vaught and Nichole Copple. When I started practicing on Velvet, she was a fine tuned versatility machine. We got our signals clear again. It took all of three minutes. We practiced riding bridleless, once, doing all our WoW stuff.
The event started. I met the "Paint Women" sisters and their horses. They were stalled next to me. We were chatting and one of them casually mentioned that they had won Paint World 1st thru 5th placings in dressage, jumping, rail work etc. with both their horses. I was bug-eyed at that. Then she went on to explain that they stopped showing and now are into the Extreme Challenge contests. Their horses will swim, jump up or down on anything, go anywhere and they had also done mounted shooting off them. GAD!
This conversation killed all the desire I had to brag about how good Velvet and I were. Right then and there, I gave up the idea that we might have a chance to win first or second. Hay! I'm older now and understand sometimes when to keep my mouth shut! I wondered what other talent would show up.
That surprise was soon to come. Velvet and I were practicing in the coliseum. It was dark inside but sunshine-bright outside. The gate opened and a backlit silhouetted horse and rider came in the gate. I recognized the silhouette and gasped.
Here is the famous multiple many year Versatility World Grand Champion, Hall of Famer, Sally Scott. She is a true goddess. Most of you know that, but I have seen her framed in the LIGHT! Later I met another cometitor…a dressage women riding a Friesian.
Good GAD! I am but a peon. From that moment on, I knew that I would just have great fun with this competition because I had no hope of winning.
The event had 21 participants…two on Friesians. We had the dressage woman; We had a Mustang trick rider; We had a rodeo eventer and more. We had 8 different breeds including Gypsy Vanner, Mustang, Friesian, Spotted Saddle Horse, Paint, QH, TWH, and Paso Fino! Most of the participants were from Missouri and Kansas. Our rodeo eventer came from Conway, Arkansas!
In the versatility world, we do patterns. We did patterns on Friday and Saturday. Compared to the Fox Trotter Celebration versatility patterns, they were simple.
Patterns might be simple, but they are never easy. When you are in the arena every step taken (or not taken) is under close scrutiny. When everyone had taken their turn, the day's event was over. We didn't get placings or judges' score cards. No one had any idea of how they were doing. My new Paint Horse friend told me confidentially after we were done on the first day that Sally and I had "blew away the competition" and that she had never thought she would ever lose to a gaited horse! I was pretty stunned to hear her say that. I thought she did a fine job in her pattern on that day.
I lost 50 points the 2nd day partially because I didn't understand that being on the left side of a barrel is different than picking something off the barrel with my left hand. However, the crowd was fooled. Velvet and I "were looking good"! Looking good is what really counts! It took me a long while to learn that fact about life too.
Sunday was freestyle day.
We had Marilyn Monroe ride her Friesian draped with diamonds riding to Diamonds are a Girls Best Friend.
We had a Friesian knight complete with warriors on the ground whom she slayed…and then she jousted an opposing horse with a lance. Our knight slew the opposition who fell off her horse and died on the arena floor. Good GAD!
We had a trick rider on a mustang stallion.
We had a rodeo competitor. She set up the barrels, poles, fake cow and staked a tame goat in the=2 0arena. She flew around the arena with the poles and barrels, roped the fake cow twice (two different ropes) and drug the cow. Her grand finale was to leap off her horse, topple the goat and tie up its feet.
We had a "Queen from Merry Old England" costumed rider on a big Spotted Saddle horse. She zipped around the arena in a reining pattern, occasionally doing flying lead changes.
Wowsa
Sally did a reining demonstration-bridleless on Thrill-A-Minute. They looked wonderful…a true team.
Velvet and I did our bridleless comedy WOW routine. I had the crowd laughing at my first joke. That's when I know that "the crowd is with us" and Velvet and I always perform at a higher level. Velvet and I come in pulling a ball on the end of an elastic string. We flat foot walked, fox trotd and cantered. Then I ask people what I'm doing pulling that ball. My response, "I just want to show you that I have a BALL riding Velvet!" If there is laughter, the rest of the program goes great! Velvet and I sidepass over a barrel, we jump over a barrel (after I pray that I might not fall off.) Then we do a little reining demonstration. I have an umbrella. Velvet and I canter fast down the middle of the arena and I open the umbrella. It turns inside out. Now that's a raining demonstration! Then we turn into a snooty "dressage queen". I don my black cardboard top hat and exude an attitude of dressage queenliness. That got a lot of laughs. We flat foot walk and canter diagonally (leg yield). Shoot, the barrel got in the way and I decided we needed to jump over it again. I was about to do more of our wow stuff when I noticed that the music had stopped. I asked my "routine" coordinator, Hope, if I was done. She told me yes. Drat! Four minutes went by in seconds. I always use the wonderful opera songs that my son, tenor Nathan Granner, has recorded. His voice accompanied by a classical guitar soared through the arena. We got a huge ovation!
It took three people to help me on the third day. Patricia Berning, Susan Bean and Hope Robinson made it possible for Velvet and I to perform to music, get my props in order and boost my courage. All the rest of that last day, we heard great compliments on the Wow and humor of our performance. Later, I learned that I had scored 198 out of 200 points for the free style performance. You don't get much better than that!
Sunday afternoon the participants lined up to get the final placings. We started with 7th place and went on up. One of the Paint sisters got third (the one who told me she never thought she would be beaten by a gaited horse) and the other got 5th.
My name and Velvet was called for second! Sally and Thrill-A-Minute's name was called for Number One!
Missouri Fox Trotters won first and second in an all breed event with many talented participants. WOWEE!
Sally won a saddle! We expanded our FAME! Velvet and Thrill-A-Minute have put the WOW into Missouri Fox Trotters! We got many new friends over the three day event.
Sally got 636 points out of 700 and I got 630 points. It was CLOSE!
FIRST MISSOURI FOX TROTTER ATTAINS ADVANCED STATUS
IN PARELLI PROGRAM 
The Parelli program is modeled after Martial Arts program (Judo) with the different colored belts to signify the status. Velvet and Susan will be wearing a green 6' rope, which is the mark of their status. Each level has from 20 up to 53 tasks that must be assessed by a certified Parelli instructor in person or via videotape. Velvet and Susan had to be assessed on 53 tasks in Level 3.
 Most of the tasks seem simple, but none of them are easy. For instance, Susan had to load Velvet into a trailer on the end a 45' rope. Velvet had to trot or canter into the trailer. The farther away you get from your horse, the easier it is for the horse to do the opposite of what the human wants! Forty five feet is a long way. Velvet also had to side pass and back 45' away from Susan.
For Susan, this was an eight year undertaking to pass all three levels. Velvet and Susan started on Level 3 tasks in 2000. It took three years to pass all the tasks. Each task was video taped at least once and sent away to a four or five star instructor in the program. Many tasks were taped more than once when the video was returned and the task not passed. It took a lot of focus and dedication to realize this goal.
The Parelli levels' tasks take the horse and human through supreme versatility. Many of the tasks in Level 3 are dressage related. Velvet had to canter diagonally, change leads and then canter diagonally the other direction.
She had to counter canter once around the arena in a refined manner. (That was very difficult for her.) She also had to perform "haunches in" for a distance. Her head & forequarters traveled straight and her hindquarters traveled in a separate track to the inside of the arena.
Velvet had to show a collected walk, trot and canter with a kite string in her mouth. Susan also had to canter Velvet bareback and bridleless three times in a circle and, still at the canter, turn into the center, stop and perform a forequarter turn. It took Susan 2 years to be able to ride that well bareback!
 Velvet also had to drag a barrel both going forwards and then turning around backwards to face the barrel. She had to gallop a barrel pattern with four barrels. She had to canter around each barrel without breaking down to a trot and then gallop off to the next barrel.
At liberty in a round pen, she had to do  flying lead changes when she reversed direction. She had to canter around the round pen and come down to a trot, a walk and then stop at a signal from Susan who was standing in the middle. She then had to trot into the middle and join up with Susan…this was all at liberty. These are just a few of the tasks that Susan remembers best on this journey!
Pat Parelli honored Susan and presented her with the coveted green rope signifying the graduation as a Level 3 Student. This occurred at a Parelli event in Springfield in front of a large crowd. Many of Susan's friends from Kansas City and southern Missouri were in attendance. They gave her a standing ovation!
Velvet has been a tremendous public relations versatility horse for the Missouri Fox Trotter Breed. There were nearly 2000 people in attendance who saw Jennifer Vaught, a certified Parelli instructor and Jennifer's four year old daughter both ride Velvet during Parelli events at Springfield, Tulsa and Council Bluffs this year. These appearances plus Velvet's past appearances at Kentucky Horse Park for the 2003 Missouri Fox Trotter breed weekend, Equitana, the MidAmerica horse show half time demonstration and Kansas City Fox Trotter club all breed half time horse show demonstration shows add up to about 18,000 people.
The videotape of Velvet's and Susan's halftime performance at the MidAmerica Missouri Fox Trotter breed show has been circulated all over the United States, Canada and Germany among hundreds of Parelli students!
What's next for Velvet? Velvet is semi retired- NOT! She plans to have one foal and perhaps do some demonstrations. Susan plans to stay busy bringing up young horses and following the path that Velvet has set!
Velvet, a ten year old mare nicknamed "The Princess of the Pasture", has carried Susan Engle through the three (original) Parelli Natural Horsemanship Levels Program: Novice (Level 1), Harmony (Level 2) and Refinement Level 3). Velvet is the first Missouri Fox Trotter in the Universe to pass Level 3. It is estimated that more than 2000 gaited horses are in the Parelli program, but Velvet is the third gaited horse to pass this level and the first fox trotter!