Archive for September, 1999
1999 World Celebration with Sage and Velvet
There's Someone Sleeping in my Bed and It's Not Goldilocks!
I missed the first Saturday trial ride. By the time I got through dismantling my house and barn, packing for two horses  and sticking all that stuff into my horse trailer, I arrived at the grounds on Saturday afternoon. I had preregistered for two temporary stalls.  I drove up to barn 2, stall 15 and tried to back my trailer smartly; and then raggedly; and then not at all– into the space in front of my 1st Ava stall. I gave up as I couldn't back the trailer closer than 2 stalls away. I took Velvet and Sage out and tied them to the trailer. With pitchfork in hand, I went to look at their home away from home. Opened the door and, "EGAD! There was a horse napping in my rented stall!" There wasn't one human being around. The office was closed.  Later, I learned that a mistake had been made when I was given the stall location. It was really stall 16!  This was the year of temporary stalls and they were great.  They were stall pens with canvas side, roof and back.  There were back to back pens so the horses had a neighbor horse on all three sides that they couldn't see or touch.
Hoover and Me
I walked Sage and Velvet to the temporary stalls and we picked out two empty, unreserved stalls side by side. I drove the pickup over and parked, and we were home. Not long after that while I was making the stalls homey, a man drove up and stared at me. He seemed to want something, so I said, "YES?" He beckoned to me and tried to talk and just a whisper came out. I walked over to the car and found out this was Hoover Case, MFTHBA Manager, on the job. He was worried about parking and  how the temporary stalls were going to work. I was put in charge of telling people where to park along side the temporary stalls. Hoover and I managed the show grounds quite well, I thought.
All I Want for Xmas is a Generator
It was hot (90-100 degrees) and humid and I sweated a bundle. When I got the girls all settled in, I drove into Ava to eat lunch at the Sonic. I sat in the pickup air conditioning and rested. On the way back to the show grounds, I impulsively stopped at the True Value Harware store with a rental business. Their sign said…"Just ask if we have it." I asked if they had generators. I drove away from the store with my shiny new rental generator perched in the truck bed. It was to go everywhere I went, from then on. I went back to my trailer, turned it on, hooked it up the horse trailer and turned on my new roof air conditioner. I'd never used it, and it worked great. I settled down for a wonderful nap. Thank goodness for electricity and air conditioning made possible through generators (and thank GOD for porta potties. When I sit down to eat and bless my food, I always include porta potties).
Standing in Line Till the 12th of Never
On Monday, I went into sign up for my showing events. The line was minimal. I got up to the woman taking the information and sat down. She looked at my papers and then said, "excuse me for a minute" and left. I waited. I took a brief nap. I waited. I smelled under my arms thinking I had an odor problem. The other people made fun of me waiting for the 12th of Never. Finally, I shoved my way into the other line. I explained I had been waiting a long time for my woman to get back and this woman said, oh, she's in the office counting money. You must have misunderstood her. (Now we all preregister weeks before the show starts. No lines! Plus get a $5 discount. Every penny saved at Ava is money spent elsewhere at Ava!)
My first classes were on Tuesday afternoon; Amateur Ladies M and Western Pleasure. I slept in late. I decided that there was no time for breakfast.
The Amateur Ladies M class is a performance class.  Ribbons are needed for performance horses.  Western Pleasure Classes are not performance. Ribbons are banned.  Bridles for performance and Western Pleasure are also different.
There were about 3 classes in-between and I had to change bridles and get the ribbons out of Velvet's mane. I thought I could do that. Tuesday morning came and Velvet had her bath and got jazzed up. Putting the ribbons in the mane drives me crazy, but I got them in. I got jazzed up. We rode triumphantly to the main arena.
There was not another woman in show clothes dressed up to ride. Instead there were a bunch of women leading mares. Hmmmmm. I looked at the show bill and thought, I bet that"M" stands for MODEL. "GOSH DARN".
Fortunately, I have invested in a Model Halter and lead which are still waiting their first outing. Since Velvet is the most beautiful mare on the grounds, we'll just enter in Model. It's meant to be.
Velvet ran back to the trailer and I pulled off her saddle. Then I realized that I couldn't get to the model class in time. I couldn't put the tack back on in time for Western Pleasure, including changing a bit. Being a mature woman, I gave up. I took the ribbons out. I put the saddle back on. I changed bits and put the western bridle on and away we went just in time to go through the DQP station. Then I discovered that I had to get off. Since getting on isn't easy for me, I was upset. Someone said that there was a stool that I could use. Whew…more stress.
I was also about dead from no fuel for the engine (my poor foodless body). Nice and wonderful Ken Ragsdale carried a large paper cup of milk from the cook shack to near the DQP stand for me. Thank you Ken for saving my life!  I think Ken intended on drinking the milk himself, but he selfishly gave it to me when I explained that I was dying.
We made it through the DQP. I used the metal fence to get back on. Soon our class was called and away we went into the show ring for the very first time at AVA. It wasn't very fun for us. We were lapped. We were dead slow.
What 360?
The announcer said "STOP". We did and I had Velvet back a step or two. I heard the announcer say "Turn Around". We turned and went the other way. After the class was over, a woman asked me excitedly why I didn't do the 360. "The 360?", I said. I didn't hear the announcer say that; nor did I see anyone else turn a 360. Aliens must have stolen my vision and my hearing or I was in a waking coma. I still don't believe it. I want to see a tape of that class!!!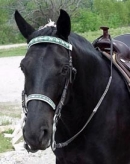 Flashes of Brilliance
Wednesday afternoon was the Ladies Novice. Velvet and I loved that class. Somehow, in-between Tues and Wednesday, Velvet learned a faster fox trot. She got some "shake" in her get-a-long. During the class we got in a multiple horse clump going down the straightaway. We were jammed between about 4 other horses. It turned into a speed fox trotter race. We were all fox trotting as fast as we could, and Velvet was right in the middle of the pack. They all got spread out when we went around the turn. I challenged them all to another straight a-way race, but was ignored. We had flashes of brilliance during that class. Velvet couldn't maintain the smooth fox trot going around the corners so finally figured out just let her do her "extended fox trot' (trot) around the corners. When we got to the straight-away, off we went in a speedy beautiful fox trot. I wanted to do that class again! We didn't place, but we had lots of fun!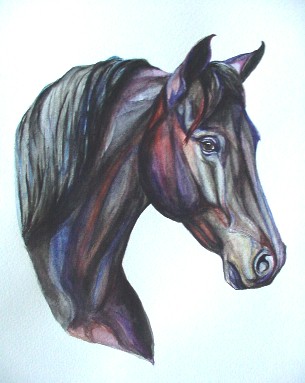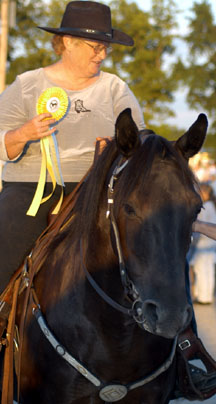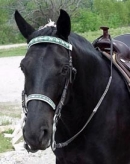 Flawless and Fractured Trail Class
Thursday was the trail classes. At the last minute, I thought…Sage! Why don't I enter Sage in the 2nd trail class. There are two classes and I have two horses that are trail experts! I had previously entered Velvet in the amateur trail class. We were last and in we went for a flawless performance. We got a mighty ovation as we ended. There were three of us that gave flawless performance and I came in third.
Sage got to go into the more difficult open trail. The back-through poles were set almost as wide as the horse. We had to be really really careful not to knock any poles over. Instead of fox trotting between the obstacles, we hard trotted in the trotting parts. The sidepass through the poles was Sage's undoing. She was to keep either her front or back feet inside a 10″ space bordered by poles. We did good going left and keeping her front feet between the two poles When it was time go the other way with her feet inside the poles, she was reluctant to sidepass. I thought I would have to quit trying when finally she sidepassed back. I thought she did good, but my friends told me that she never put a foot inside the two poles. Hmmm, Ray Hunt, I'm going to have to "feel the feet" a lot better! There were just enough horses entered for me to have eighth place.
The poles were in the practice arena all week. However they were set up in an "L-shape". I naturally thought the "L-shape" would be included in the trail class. Next year…get the pattern early in the week so there will be no surprises!
There were lots more entries in the amateur class and therefore more competition. It will be a good idea to think about entering the Open Trail class next year.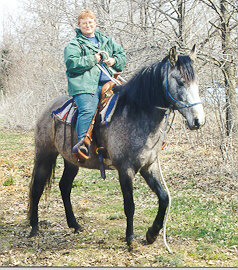 Versatility Crowd Favorite AKA Versatility Entertainer
In all the speed events, Sage elected to do Half Gallop Halts as we went away from the crowd of horses at the head of the arena. It felt like riding a horse with 3 legs dipped in glue. However, when we turned around and headed "Home", we did run at a fast gallop. In the Stake and Pole Bending classes, we actually beat other horses' times. The stake race was unremarkable except the crowd was surprised to see that Sage could gallop fast after we "half-halt" galloped away from the head of the arena.
The poles were next. We sauntered down to the last pole and then by heavens, we cantered back through the poles, doing flying lead changes! Sage has been in training with me and finally with my professional trainer a total of 3 years to be able to do consistent flying lead changes. When I realized what Sage was doing, I screamed at every lead change. Loud screams…piercing screams. We trotted back through the poles (away from the other horses); rounded the last pole and galloped home. Fast. I screamed all the way! It was exhilerating. It was the same scream that comes out of me on roller coasters.
When I appeared for the barrels, the crowd perked up. What would I do this time? Well, right when the barrel racing started, one of my Internet friends found me and we were chatting excitedly. There was no competitive focus on my strategy for running the barrels. My number was called. I was deep in thought as to what lead we needed to start out on…and away we went. We rounded that barrel and headed for the next barrel that I saw…at a gallop. Crowd Noise…lots of crowd noise. Finally the deaf ears heard the words…WRONG BARREL! Whoops! I forgot the 2nd barrel! I yelled at the crowd, "I knew that!" and turned to swoop around the 2nd barrel. We then made up a lot of that lost time by going into our half gallop halt on the way to the third barrel. After about an hour, we rounded the third barrel and then galloped home. Really galloped! It was fast and I screamed again. Thank goodness there were only 10 horses so I got 10th place!
The barrels were not in the arena all during the week, so we didn't get to practice on the barrels. Next year..make waves if it occurs again. I need to practice before running!
People told me the rest of the Celebration that they didn't realize that old people could ride fast and have that much fun. They were motivated to try the versatility events next year.
Costume Class- Hippy Chick on 60′s Peace Fox Trotter
Thanks to the suggestion from a list server Internet person from Germany, I got the idea to paint peace signs and flowers on Velvet with washable kids' paint. I partially burned a bra and mounted it to the top of my peace flag. I played Aquarius via my battery operated CD player and LOUD speakers mounted in a saddle horn bag, and it was lovely music. Velvet had Salvation Army plastic flowers everywhere, but I lost a lot of them that were tied to her mane. She also wore the bib part of size 50 coveralls decorated with fabric paint with the words Peace and Love prominately displayed. Unfortunately, I put the speakers on the saddle face down and the on/off button kept hitting the saddle and turning the speakers off. But all in all, I made a complete circle (in parts) so everyone got to hear Aquarius (except for people sitting near the organ).My outfit was a tie-dyed shirt, sparkly bell-bottom pants, a pair of crazy salvation army shoes, a tie-dyed hat and a CHER wig. I looked sort of flower-girl like, but the word I used to describe myself is creatively hideous.  I carried a flag with a big peace sign.  Years later, I realized that the peace sign was upside down.  Oh well, not too many people in southern Missouri in 1999 must have marched under the peace sign in the 60′s like I did.
The Costume Class was moved to Saturday night, and we rode in front of stands full of people. Wowee. We placed 5th and the competition was rough. We had to ride against Elvis in his solid gold Cadillac,Tweety Bird and Sylvester, Knights in Shining Armor, Zorro, a Holstein Cow and some beautiful women…one on side saddle..another looking like a princess, a Hawaiian horse complete with grass skirts and leis. I heard a report that the Hawaiian rider tried to influence the judges…she had a lei for every judge. She was lucky not to be thrown out of the class for judge bribery.
The crowd got their money's worth on Saturday!!!
P

E

A

C

E

!