Big Day at the Spring Missouri Fox Trotter Show!
The family was there…Velvet, JR and Diva.  Nova came to town on Friday afternoon and we all got to practice in the  Versatility Arena.  What fun was that to see everyone.
Saturday was the grand show.  Nova and I entered into four events. We entered in the Open Versatility Events so the points we won would count to High Point Versatility Pleasure.  Of course that meant that Tony, Jenny and even Nichole in one class was our competitor!  How fun was that.  I'm glad to say that although Tony and Jenny were scared of the Nova competition, they did place higher.
Nova placed in every class we entered. She did some magnificent things. When Nova and I get everything straight and Nova understands that I'm supposed to determine the gait and which lead to be on, we will be awesome competitors.  I am hugely proud of her.
I had two little boys talk to me from the stands – "That's a Beautiful Horse".  I had two people come over to ask me what color is Nova.  I had a woman ask if I would sell Nova.
JR, Velvet and Diva did great in their versatility events.  It really was an awesome all around fantastic experience.
JR and Jenny won 3rd in High Point Open Versatility. Tony won 4th.  Velvet and Nichole were awarded Reserve Youth High Point Versatility.  Nichole got to be presented with her ribbon at the evening show at the main arena. She got to take a lap around the famous arena.
I tell you what…this was a horse show I'll never forget!
What an amazing clinic we had today. We had a lot of fun.  All the horses calmly handled all the things presented to them
Powder took on every obstacle immediately when asked.  She was asked to pose for the auditors and decided to wear a hat. The original hat picture had the red eye and I tried to fix her eyes.  Her eyes right now are blue distilled by green.
The Tower of Doom is in the background of one picture.  I led her right thru it with no hesitation on her part. Then I sent her thru it by herself, again she walked right thru it.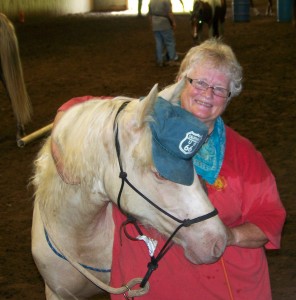 She wore a tarp for a while today, but it covered up most of her "Farrah
Fawcett" hair.
She easily handled a big bouncing ball…she wanted to follow it while Karen was bouncing it around the group.  She wanted to eat it when it came her turn. She handled me wallking around opening and closing an umbrella. She smelled the balloon and the streamer ribbon anchored around the arena. She also handled the plastic bag on the end of the carrot stick when I was shaking it and making noise.
Powder?had a great day.  It was a three hour clinic and she did great!  Melissa
was helping with the clinic and exclaimed over her. "I want to ride her when
she old enough! She is calm and laid back with all these obstacles and she's
beautiful!"?
I had to agree!