Archive for October, 2010
It's not often that I get to go trail riding with my son.  For a long long time early in my beginning adult riderhood, I realized that I didn't have a safe horse for a beginner to ride.  I now think I underestimated Nathan's riding ability, but you just never know.
So, I have been-there-done -that horses now and safe for my son to ride!Nathan came out to James A Reed and rode with Hope and I. Velvet and Nathan led the way around the park.  Occasionally Velvet and Nathan would decide life was boring unless you were cantering and off they went.
On our trail ride, we came around a corner and ahead was a pile of sticks tipi style about 2 feet in height with a plastic bag on top blowing in the wind. We think that's how the deer hunter marked where to go into the woods to their deer stand. It took the mighty been-there-done-that horse, Velvet, to determine it was safe to go around. Scary object for an obstacle course!!!!
Nathan spotted someone's cell phone on the trail.  He got off to get it and here it is an iPhone!  A horse had stepped on the back of it, whew! Later we heard from the park ranger that the grateful owner gave Nathan lots of THANKS!
Nova has been trained by Velvet to know that she is not the #1 horse. Velvet is the #1 horse in the herd.  For a long time, I could get Nova's head to get even with Velvet rear, but she would never ride along beside Velvet.
Finally on the home stretch, Nova and I did something tricky and passed Velvet.  We started cantering.  Velvet harumphed in disdain and started cantering too. My son and I, Nova and Velvet cantered side by side on the trail for a goodly stretch.
It doesn't get much better than that!
Pine Dell Farm 2010 Versatility Challenges
Grand Champion and Reserve Grand Champion awards in the foreground donated by Pat Harris of No-Frills Embroidery
left to right:  Karen Moulins, Pine Dell Farm owner and Challenge committee; Susan Engle, judge and Challenge committee; Belle;  Roger Emile, Grand Champion; Hope Robinson, challenge committe;  Jewel;  Patty Miller, Reserve Grand Champion
I had a grand idea in 2009 and that was to have Versatility Challenges at Pine Dell Farm.  This is our second year and we added a High Point Championand Reserve Champion to the mix.
Boy, we had fun. I was especially pleased that no one grumbled at the judge.  Karen, Hope and I would meet before each challenge and come up with our contest.  Karen brought 20 years experience teaching natural horsemanship (including me as a beginner), I brought actual versatility competition experience and my original Parelli level 3 experience, Hope brought planning, publicity and years of exerience with natural horsemanship to the table. We would come up with our plan and Karen tested it out on real life students. Some of our ideas didn't work in real life and had to be modified. You don't get much better than this!
Today was our last Versatility Challenge along with our year end Halloween costume class.
Boy, we had fun!  My memories are going to be of some of the horses at the beginning of these events and how much they improved.  I'll remember Roger and how smooth a rider and the partnership he has with Belle.  Roger rode most of the classes bareback.  I'll remember Patty and Jewel as Patty and Jewel were in group lessons with Jenny that started back in the mid-90′s.  Patty and I lived thru some experiences during our group lessons and I am thrilled that she and Jewel are still going strong. 
We had some amazing moments of advanced horsemanship during these events.  We the audience kept being amazed at what we were seeing.  It's natural horsemanship- principles to purpose!
Next year we are going to have two Fun Shows with a "real judge" and have stuff like Western Pleasure and lo's of fun classes for kids and adults.  I'll get to participate in those.  We are going to have two Versatility Challenges and I still get to be the judge!
Stay Tuned for next year's agenda at Pine Dell Farm!
Powder and I took part in the first day of a Colt Start clinic today. She is in colt start training with Jenny, but this is a Colt Start clinic with Tony Vaught.  I love Colt Start Clinics.  You can learn just about everything you should know about horses when you participate in or watch a Colt Start Clinic with Tony Vaught.
Tony was in the Pat Parelli professional program for many a year and he took two Young Horse Development courses from Pat Parelli and Pat's mentor, Ronnie Willus.  You can't get much better education than that.
Well, back to Powder.  Our big excitement today was Powder getting to be ponied with JR.  It was so wonderful to watch my former wonderful horse, perform the critical task of pony horse.
What does that mean…  The pony horse has to be a finished horse. The pony horse has to go at any speed the rider dictates, stop on a dime, sidepass, and turn on the hindquarters…immediately!
The young horse is attached to the pony horse. The young horse has to learn where the best deal is. The best deal is to go alongside the pony horse exactly where the foal positions itself with the mom. The young horse's head should stay about even with the pony horse's shoulder.
(I tried to pony Velvet once with Sage.  I ended up with Velvet snubbed on the wrong side of Sage, with the lead rope under the saddle.  The rider of a pony horse needs to be skilled at this too.)
Being ponied is a big part of the development of the young horse.   The young horse gets used to a rider without being rode. The young horse has to maintain gait and learn that it's better to do what the lead rope sez. The young horse develops confidence when being ponied.  It's a must do young horse development task!
I'm so glad that Powder got this experience today!
He's four months old.  Sampson is Velvet's baby and JJ's baby.  He's a gold champagn Missouri Fox Trotter.  His personality is extreme left brain.
Jenny is getting the foals together today for the vet to give him their coggins test and to get their health certificates for the big winter move to Florida.  Jenny's orders were that the foals were to be in the round pen.  Upon arriving home, the foals and mares were all out running around, having a blast. Finally Jenny gets the foals into the round pen.  During her call to yell at Tony for not shutting the gate to the round pen, Sampson walks over to the gate, picks up the pin and then opens the door with his head.
Jenny stopped yelling at Tony and got all the colts back into the round pen.  She was talking to me after that while Samson was trying to untie the rope that she used to keep the gate shut.
He's only 4 months old and has discovered the secret to gaits!
Samson was a gift to Nichole  from Susan and Velvet after Nichole won the two multiple world championships for 2009 Youth Versatility and Youth Ranch Horse Versatility World Grand Championships
Written by Jennifer Vaught
Powder arrived at Pine Dell early Sun. morning Oct. the 17th.  She was going to go home with Nichole and I.  I had brought my two horse straight load trailer with a ramp, which she hadn't seen since she was a yearling, so I wasn't sure how thrilled she would be to load in that.  At a trailer loading clinic she had played with it, but she had never been shut in.  Nichole went to catch her for me and I went to talk to my Mom.  When I  came back a couple minutes later, Nichole had her loaded and had the trailer shut up.  Powder was quietly munching on some hay and ready to go.  What a pro, Powder and Nichole! 
We wen to pick up another horse, and then were on our way to Fair Play.  It was a beatiful day in the Ozarks, and she settled in nicely.  She got to stay in a large pen with a shelter with her trailer companion, Isabella.
The first week of development for Powder I decided to keep things pretty simple.  We needed to get to know each other again, so we started in the round pen.  She was very interested in her new home, so we started with some circling.  Not real fast, just wanted her to keep her feet moving while she looked around.  After a few laps, I checked to see if she would come in when I asked.  It took her a minute, but not too bad.  Once I was sure she would disengage when I asked, we started on gait transitions.  I like to do a lot of these on the ground and make sure they are really smooth so that I can have the same under saddle.  I'll slowly go from walk to trot and then canter and then slowely work my way back down.  I don't want my horse in the habit of going from a canter to a halt too much, because it doesn't always feel so great when you're first riding them and they decide to throw on the brakes.  Young horses usually learn to stop from our seats very quickly, so I know we won't have a problem with that when we need it.
We also did changes of direction at liberty while maintaining  a walk or trot.  We played pretty much all the games including sideways.  I think the only one we didn't do at liberty was the squeeze game.  We even did one or two little spins on the fence.  Susan has done such a great job with Powder, that we were able to do a few pieces of some level threee and four tasks.  What fun!
All in all, Powder did great her first week.  Her biggest weakness is probably her tendency to want to crowd me.  Both on line and at liberty she trys to push me around a bit.  She's just a touch sassy.  That's no surprise either.  I let her know immediately that that's not a good idea.  She wouldn't be any fun it she wasn't a little sassy!
My idea of fun is taking a new young horse and bringing them thru to finished saddle horse. Sage was my first.  I was a 50 year old beginning adult rider when I got Sage. She was the story of my unwritten book, From SPLAT to BRIDELESS!
I thought I could ride after a 35 year gap and an old adult body.  I got two year old Sage and proved that theory wrong.  With a lot of help, Sage and I made it thru the Parelli levels and we passed the the original L 1 and L2.  It was a lot different back then. We had to ride bareback in one of the tasks for L1!  We had to do flying lead changes for one of the tasks in L2 and ride farther and faster bareback…amid a zillion other things.
Sage took on the title of Sage the Brave during the course of our times together. We went on a zillion trail rides, crossed water, deep muddy gulches, traveled to Colorado and had a million adventures.
When I graduated L2, I started and finished another horse and another etc.  Right now I'm riding Sage's daugher and she is a finished saddle horse, with a little further to go.
During the times when I was riding other horses, I always had a job for Sage.  For many years, she became a natural horsemanship lesson horse at Pine Dell Farm. Ridden in halter and lead rope by untold number of beginning and experienced children and adults, she provided a smooth safe ride. She was partially leased occasionally by wonderful people who paid special attention to her. All these people studied the ways of natural horsemanship.
Sage was taken on trail rides and kept everyone safe as could be. She's fun to ride. She has a smooth flat foot walk, running walk and a smooth rocking horse canter. She is to die for.
In the last two years, Sage changed her job. She moved to the Big Barn Ranch in Stockton and started giving people lessons there. She was to have had a foal, but this didn't work out.
Sage will sail anyone anywhere.  You can ride her bridleless, with a carrot stick, with a bridle and with rope halter.  You can ride her bareback or with saddle.  You'll stick on her because she is smooth.
She is classified as a beginner beginner's horse up to advanced.  You can put kids as well as a husband on her and they will be safe.  There's nothing in Sage's body that will cause fear in an unconfident rider. Sage is the perfect horse for the phrase:  Riders Teach Horses,  Horses Teach riders (she's the "Horses Teach Riders" part.
 I need Sage to have the best of a new home with a job.
Sage is a registered Missouri Fox Trotter. She is for sale for $1750. 
She is ready for her perfect partner to discover her.
Sage the Brave ready to be saddled for a trail ride.  She's a sturdy girl. My son will ride her on this day.
Here's Rachel's favorite horse, Sage. Rachel leased Sage during the summers at Pine Dell.  They both had a great great time!
Sage takes care of all the young horses and the horses that need a friend. She is the dominant horse who takes in those in need.  She's a great friend and protector to many many a horse. She's a great mommy.
 Sage the Brave is what she earned as a nickname.  Sage and I passed the original Level 2 in the Parelli Levels Program.  It had many many difficult tasks in liberty, online, freestyle and refinement.  The most difficult task for us was four flying lead changes…two each direction.  Sage did it and we passed!  She was the first fox trotter to pass the original level 2 test.
We studied with Linda Parelli in the early years at Pagosa Springs, Colorado. We took a level 2 course with Linda Parelli as our instructor. Wowsa on this!
This is what Sage looked like as a three year old. We went to Pagosa Springs to study with Linda Parelli. We took a level 2 course with Linda Parelli.  What times we had!  I'm thinking this is the ISC in 1996.  It's changed a lot since then. Sparkles is in the pen next to us.  Sparkles is forever owned by our dear friend, Lanie who has now graduated to horseman's heaven.
I have more pictures of Sage and our times on an old web page. SusanFxtrt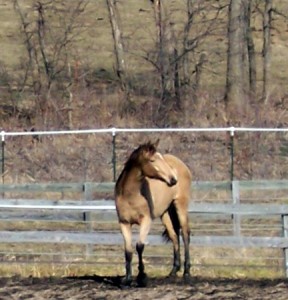 Nova's best friend and half sister left in the trailer last Saturday.  It's now Wednesday and again Nova is still yelling in the pasture for Powder.
POWDER! WHERE ARE YOU???
Nova and Goldie are pastured together right  now. But because Goldie has a bad leg and is crippled, she doesn't run around like Nova likes.  I believe Powder and Nova went all over the pasture and Goldie was able to keep them in sight.  Goldie must have been a herd of one in Nova's opinion.
Nova misses her half sister.
It was called "Follow the Leader". We couldn't believe it. An obstacle course at liberty.  I was fairly confident that Nova and I would do well.  Were we going to start, run around a barrel and come home? That's all I could imagine.
Imagine my surprise when the facility put up a real obstacle course, including a tipping bridge. 
1.  Deer head mounted on one long arena rail and you needed to go close to it.
2. Scary stack of haybales with a scary Scarecrow stuck in the top of the bales with decorative gourds and stuff around it.
3. Tipping bridge
4.  3 Barrels to weave thru
5. pole on the ground
6. Tarp
7.  Car Wash stand with scary things hanging down.  The horse was to go thru the hangy down things..one of which was a cardboard black cat.
GOOD GAD!  NO WAY! Where would I lose her?
This was a timed event.  You got seconds added to your score if you didn't complete the obstacle.  Most of the horses wouldn't get on the tipping bridge.
Nova and I ran through all the obstacles except the what?  Did she actually cross the tipping bridge at liberty?  Yes she did…without hesitation. Was she scared of the deer head.  Nope, she didn't even notice it. What about the carwash scary obstacle.  Piece of cake to go thru that!
We got second place because she wanted to eat the hay at the scary haybale scarecrow obstacle.  I had to drive her away from all that food with my carrot stick…with a lot of effort! Then she ran right with me over the bride, thru the barrels, crossed the pole, over the tarp and thru the car wash.
WHEW!!! Breathing Hard.
I never imagined she would do it all! 
Nova and I are partners!