Nathan Granner, operatic tenor, who sang the anthem the last two weekends at Longview Horse Park. He lives in KC and hires out to sing for special events, including weddings. www.nathangranner.com
Here is YouTube of Nathan singing at Longview Horse Park while Kansas City Mounted Patrol carry the flag.
http://www.youtube.com/watch?v=w0mCVQMgFhs&feature=youtube_gdata_player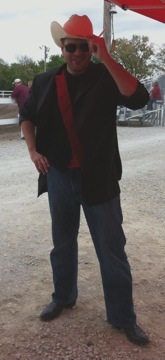 When I first started with Sage, I developed a wine rating system based on adrenalin and or pain.
I don't know how it happened, but as time passed, the wine rating system was dropped.
I think I started counting points instead. On a certain day, Sage might have racked up 500 or 700 points to my 5 points. Gradually, my points started to increase as I started to win "the games" with Sage.
I don't remember the point system with Velvet and my rating system was dropped.
Besides, how exciting or tasty are points anyway?
Today, I had success playing with Lucky. He completed several circles without stopping!
We went out in the yard. There is still green grass around the lake. He got to run around and then was surprised when he was allowed to stop and eat grass! That was a big exciting reward in these days of crisp brown dead grass.
I did battle with giant horse flies too!
We had a great evening. I played with Sue in the yard too!
I'm reinstating the wine rating system mentioned in the first chapters when Sage started training me on what horses are really like.
This time, my rating will be based on pleasure and accomplishment.
Tonight was a one glass red wine night!
It was this picture taken by a longtime friend …sitting around camp after a trail ride in Colorado! Thank you Stacy!!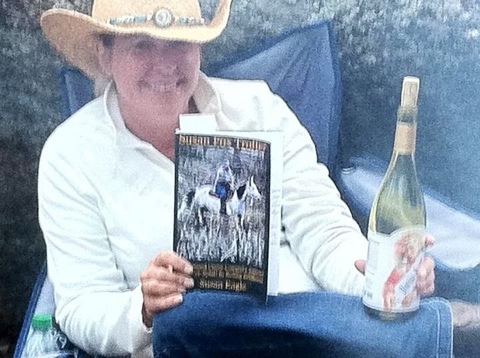 I remember these tasks as being hard. That was a long time ago.  I looked in the Susan FoxTrotter book to see what these tasks are.  Heck, they are simple.
They might be simple, but with Lucky, they are not easy.  Let's talk about the circle game.  I'll have to look again to see how many laps on the 22′ line Lucky Star has to maintain. At the moment, we are happy if he maintains one lap at a gait other than stop.
He has to be on the end of the 22′ rope and sidepass a certain distance.  I'll have to check again to see if we can use the rail or fence to stop him from going forward.  It took a lot of energy yesterday to get him to sidepass 22′ away from me, much less go on from there.
ah…these Parelli old levels tasks are so deceptive.
I think I get the key now to the arguing.  If I can spend time to get him to stop arguing about going forward online and at liberty, maybe this will carry over to not arguing about going forward when I ride him.  It's the Big Ben Bell going off in my head again.  We call them a blinding  flash of the obvious.
 I'm having fun with Lucky. 
Sue is getting exercise too. Sue's eye's are the opening of a soul to heaven.  I think a person could fall into Sue's eyes and find God.
PS: Search Amazon for Susan FoxTrotter
I'm enjoying reading Apryl's journey with JR. JR is such a happy horse. He has quickly learned that Apryl is a most wonderful horsewoman. He loves being with her.
Oh we are going to have teading about JR and Apryl
This is a great story!
http://jimslastrequest.blogspot.com/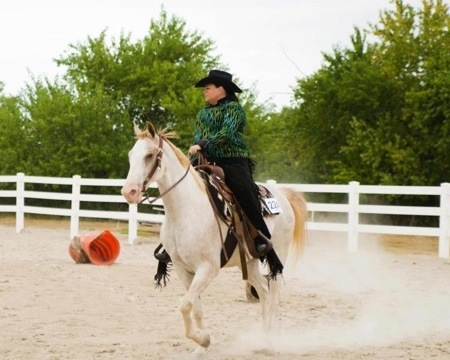 It happened tonight.  It was downtown small town America. Everyone was there.  It was Cruise Night in Pleasant Hill. After the blistering months of heat, it was nice. Rock band squalling in the empty lot.  Lawn chairs, people chatting, groups walking, old cars every where you could see.  Oh it was nice.
Spouse and I found our car friends and that's when it happened.
The lead singer was a woman. The song came out of the band. She started screaming Bobby McGee.  Oh Lord.  My body twitched to the raucous music.  Lead singer screamed Bobby McGee.  My body started rock and rolling to the music.  Shocked stares and smiles from the spouse's car guys friends.  Smile at this personality in the throes of Bobby McGee and it goes out of control!
I was dancing in the street.  I was smoking a tote for Janice Joplin and Bobby McGee.  I went out of control. My body with this weigh loss feels totally cool.
And then I started singing.
When I didn't know the words, I tried to apologize to the spouse's friends, but they could tell I didn't mean it.  I felt like I was dashed and crammed back into the late 60′s night club fun nights.
I tired of standing in place and started dancing down the street.  Luckily I know no one in the town and I didn't care anyway.  I had my dark glasses on so they had no idea who I was.
The song finally stopped.  The lead singer stopped singing and Janice Joplin went away.
I slid over to the raffle drawing stand and bought some tickets to a drawing. I told the woman I had no idea what had come over me. The wise woman behind the counter told me that I acted like that because I felt good, was old and didn't care what people thought. I bought a Cruise Night T Shirt – XL and wore it the rest of my time at Cruise Night.
The wise woman hit it just right!  I gave her a business card for my book and she was stunned that I was an author.  I left her like that.
Lucky Star and I are in the middle of the forty acre field at Pine Dell Farm. Lucky gets to ride with his girlfriend, Lady. Lucky has been in the outdoor arena and the playground, but we 've never rode out into the field.
Lucky took the lead to the east. In fact, he wanted to run for the far-away horizon. His girlfriend was content to stay behind him. I decided making an S shape pattern was sufficient to slow him down. Horses are supposed to want to run to the unknown.   We made it to the end of the field and turned around to come back. There was girlfriend , Lady in the lead. Lady has the rules right. She wanted to run back. She and Kelley had to make a few circles at a canter, before she could be persuaded to meander along at a trot or walk.
Lucky is supposed to want to keep up with Lady and he should have wanted to return. But the wrong way horse protested the return.   I thought I felt him kick out in protest. It was just a slight protest. I couldn't imagine that he wouldn't want to reverse and turn back.
We made it back to mid field and made another trip to the east. Same story. This time he was under better control and we got to gait straight down the field. Again, protest when we turned back.  Safely back to the middle, Kelley and I decide to visIt tw west end of the fiezip we travel to the far horizon again. Sunset is coming. I ask Lucky to turn around and return. Lady has already made it back to mid point. Lucky breaks the horse rules again. He doesn't want to joinUp with Lady. Lady and Kelley return to the west end of the field. Lucky is kicking out now in protest. He diesnt want to head home.
I've ever before been stuck at the end of the field. All my other horses try to run back home at this point. Many times to avoid runing home, I've had to circle or head back to the horizon. Not Lucky. He wants to head on West!   He doesn't want to join up with his girlfriend. This is totally breaking all the horse rules!  Lucky kicks up a bit and finally is persuaded to head back toid point as the sun accelerates the slide into the ground
What a confident little hunk of horse this is!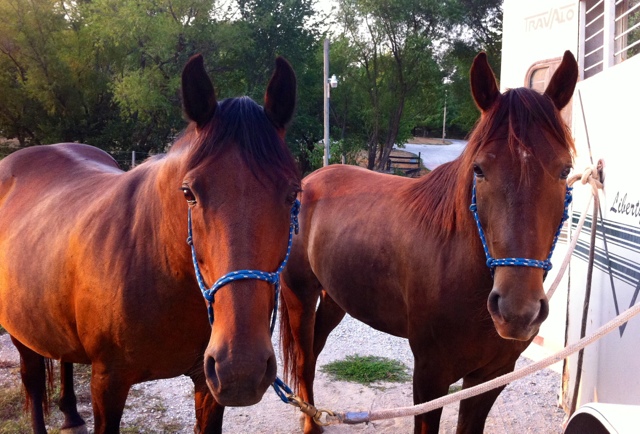 My new goal is to do the old level 2 online and liberty with Lucky Star. Heck, thought I. I'll just do these two variety tasks with both Lucky and Sue at the same time. Hence we all went to Pine Dell!  My it's fun to play with two different horses in the round pen!
I've let Sue get horribly fat. She gains weight by looking at grass. She doesn't have to eat it. Sue is a bay. She has chocolate black legs. Lucky looks a lot like Sue except he isn't a bay.  He doesn't have chocolate black legs.  He is liver chestnut in color.
Sue's mother and Lucky's grandfather are one and the same. Sue is a right brained introvert that has led a hard life with some of her owners. Lucky is a left brain introvert/almost extrovert that has had a perfect life with the best humans on the planet.
Life makes a big difference in how one looks at the Universe!
Lucky couldn't believe it when he got out of the trailer at Pine Dell and his Lady Love and his bestest friend aMuir walked up to meet him.
Wonder of Wonders- he got into the trailer and both Lady an aMuir got him with him!
Melissa, Kelley and I went to the park.
Tonight the excited Go-Forward with great enthusiasm showed up. AMuir led, Lady was next and Lucky behind.
Immediately, we saw our first deer twice. He bounded out of the corn field and appeared later when we turned a corner. Shooi. Shooi we yelled. Our horses were solid.
Melissa pointed out some thing in the trail that spook an Arabian. Lucky laughed and snorted at such innocent items. He stated, "a Missouri Fox Trotter wouldn't be scared of such things!". AMuir wasn't scared of them either, but he reserved his Arabian spirit for later.
Lucky was in high gear during the ride with head up, back hollowed out and legs going everywhere.
During parts if the ride, we tried to get beside Lady. Amazingly, Lady would speed up and prevent this. During the last half of the ride we attempted to advance and she cleverly blocked us with her body. She was darn clever about this.
Once we snuck up even with her when Lucky gave his ears back make war signal, probably in response to her demand he stay back!
We gave up and dropped back to our bringing up the rear position. Lucky got even with Lady and aMuir. Lucky ripped a sun flower plant out of the ground and made both Lady and AMuir flinch. They thought Lucky's noise was a mountain lion.
Oh what a perfecto ride we had!
I had my husband take a signed copy of the book to the Pleasant Hill vet's office. I thanked them all for the care of my animals over the years and signed the book.
That night, the "young" vet came to the house to dig a fishing lure out of poor Sue's lips. Sue was carrying around a three prong fishing lure stuck in her bottom lip and tongue. I believe the fishing lure has been in the lake a long time and now that the water has receeded so much with the drought, stuff is visible and accessible. Stuff like a long-lost fishing lure. Sue was not bleeding and didn't act like she was in much distress. She couldn't eat her grain. I thought an alien creature was stuck in her mouth. I can see now why fish believe these lures are something yummy to eat. I thought it was a monster stuck in my horse's mouth. I went to get gloves because I thought it was slimy. I came back out, put the gloves on, prepared to grab the stuck slimy monster and see if I could tug it out of Sue's mouth. I touched it and immediately let go. It was a hard object. That's when I was able to see the hooks inside her lip. oh yeccha. Call the vet!
 Sue was given a 'happy shot" and feeling left her mouth. She stood right next to the side of the stall. Right where Lucky Star was standing hoping Sue would push more of her grain over to his stall.  The hero vet dug the fishing lure out of her mouth. Lucky Star stuck his head thru the stall and tried to help the vet pull the hooks out. Yes, with his nibble teeth.  It became my job to stop Lucky Star from "helping" the vet.
After that was over, the vet showed me how her mobile Amazon application scanned the barcode on a book and then pops it up to buy.
I was stunned. That's how the vet found the link to buy the book. The vet has emailed all her friends and told them to buy the book. I bet the older vets don't know how to use their Amazon iPhone app to scan a book. I'm going to ask them the next time I see one of them.
Get mobile Amazon app, find the scan link, the scanner comes up on your phone and you show it the book's bar code. Amazon will pop open to that book and let you buy it. It's shocking.
Search for Susan FoxTrotter in Amazon. There's a paperback and Kindle. If you want a signed copy, email me (susanfxtrt@aol.com) ! Signed copies thru the mail are $20.