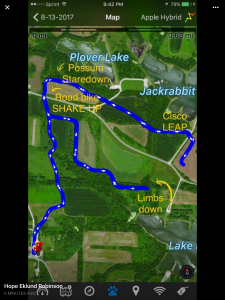 Our ride began on a lovely tree lined, shady trail until we encountered LIMBS DOWN. Ugh. No way to get through. We guffawed at the thought of getting OFF our horses to lead them through the branches. Get OFF? Then, remount FROM THE GROUND? Seriously? Nope.
Susan and I are loath to back track, but that was our only option. At the fork in the trail, we turned north. Low ground that had turned to ribbons of algae slop caused Cisco to LEAP across to save himself and Susan with him. It was SPECTACULAR! Cisco put much more effort into his launch than he or Susan needed. They lived.
Then, we followed a mowed trail into a sunflower field. Sunflowers weeks beyond their prime. We watched as herds of deer, hiding in the tall flowers, leapt to their feet to flee the field as we rode deep into their resting area. We retreated the way we had come.
"Run little possum!" Nope, he stared us down from the side of the trail. Did not budge. It could have been all over if he'd chosen to chase us!
Susan and I continued riding towards the road. Trees lining both sides of our trail, opening onto the road ahead. ZOOM! No sound. ZOOM! For a blink we see a bicycle/rider cross from left to right at sonic bicycle speed several strides ahead. Both horses saw the bicycle missile, thought to save themselves, and us with them! Good Susan Engle trained horses, reacted big, but mostly in place. After we assessed ourselves, we asked, "Are you OK?" Then, laughed. WE LIVED!