May 4, 1971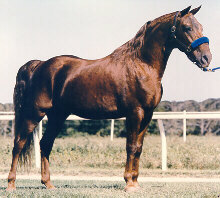 January 1, 1997
Photo by: Terex Images
It was the year of 1975 when I had my first encounter with Missouri Traveler E. at the fairgrounds where the MFTHBA held their fall show before they acquired the present grounds. My family was very recent to the Missouri Fox Trotting Horse Breed so we were attending this show to see great horses, and see them we did, for this was the year that Pride of Princess S, Zane's Charming Lad and Missouri Traveler were battling for top honors and the garland.

As it happened, Rex Barham of Bolivar, MO was showing Missouri for Dean Esther, who was the breeder and owner of the stallion. Rex was exercising Missouri by riding him up and down the road on what was a beautiful sunny, fall day. As Rex and Missouri Traveler fox trotted by, it is difficult to truly describe the beauty I saw. Missouri was what I call a chestnut sorrel. Some might say he was dark sorrel or even chestnut. Beneath his sorrel coat, he had copper like dapples that were highlighted by the sun. Added to the glistening and striking color of his coat was his proud head carriage and the set of his tail which many called 'a rooster tail.'

When fox trotting, words fail to describe the rhythm that flowed through the stallion's body from his head to his tail. Those who were never fortunate enough to see Missouri himself under saddle, if they will but recall seeing his get performing, they should have had at least a glimpse of their sire's rhythm and outstandingly natural fox trot. His natural fox trot, his rhythm, his color, his Missouri Traveler' hip and 'rooster tail carriage' are the characteristics he repeatedly passed on to his foals.
The year Pride of Princess S won his garland, it was no easy task. Competition was very high. Interestingly enough, these three great stallions were all sired by the another great stallion, Zane Grey. Pride of Princess S and Zane's Charming Lad were full brothers having as their dam Princess S while Missouri Traveler E was a half brother having as his dam Lady Anne E. In the qualifying stud and gelding class, Zane's Charming Lad took first while Pride of Princess S took reserve and Missouri Traveler took third. BUT, each of the stallions received a first from the three judge panel. When stake night came a lot depended on the draw and rank of the judges. In the qualifying class Missouri had drawn the referee, the last in rank. Luck was not with Rex and Missouri for again the judge that had placed them first drew the referee position. Pride of Princess S wore the garland, Zane's Charming Lad was reserve and Missouri again came in third. Many who saw this historical class would say that any one of the three could have carried the garland.
Missouri was honored only once to carry a garland and that was the 1975 Mid-America Fall Show, Springfield, MO when he was four years old. Garlands or not, Missouri Traveler has proven himself over and over again in his offspring. He has sired six World Grand Champion horses; Travelin Suzi, 1982; Missouri's Red Wing, 1988; Missouri's Bobbie Sue, 1989; Missouri's Charming April M, 1993; Missouri's Charming Princess M, 1994; Traveler's Red Alert, 1995. He is also the grand sire of Bo's April Charm, World Grand Champion, 1984; and great grand sire of Lady's Red Ruby J., World Grand Champion, 1986.
In the show arena his offspring have often been pitted against one another. To mention one, the years that Travelin Suzi was being shown, she was against Missouri Raider E., Missouri's Rambler E and Missouri's Outlaw, Missouri's Anne Rue, are three other descendants that have been ridden to Reserve Grand Champion. Many of his mares, stallions, and geldings have been crowned world champions. And the show record is not complete yet, for there are several of his offspring in the show arena now and foals still to come that have not begun their ride to glory. In his last year of breeding, Missouri serviced twenty mares with confirmed pregnancies in eighteen mares. It is to be hoped all the foals will survive.
On January 1, 1997, Jerry Middleton who has been Missouri's manager and handler, reports that he had a call about 10:00 a. m. from his son, Splinter, saying that Traveler was not doing well. Jerry called the vet and headed straight away for the stables where Missouri was stalled. When he arrived, he found Missouri standing totally saturated with sweat. Jerry put a blanket on him and then a lead so that he could walk him some to see how alert he was. When he reached the barn door, Jerry stopped him and he said that Traveler tried to urinate. He passed a very dark, coffee colored fluid.
Jerry stated that when the vet came, he felt the horse's kidneys were failing. His treatment included three bags of fluid given intravenously after which, Missouri seemed better. The vet gave him a third shot and as they were standing there talking Missouri dropped to the ground - passing into eternity and legend.
Missouri's life time spanned a little less than twenty-six years. He would have been twenty-six on May 4th this year. Missouri was foaled in 1971 on the Dean Esther farm in Bolivar, MO and later moved to a farm Dean bought in Pleasant Hope, MO. Dean sold Missouri to Lee Hodge and Donald Cunningham, Ava, MO in 1979. Lee and Don about two years later sold him to Curtice Williams and Jerry Middleton (in 1981) who bought the stallion with the plan to syndicate him. Missouri was syndicated in 1981 for a total of forty-four shares which sold for $2,000 each making the stallion worth $88,000,
Upon being contacted by Jerry, the MFTHBA Board consented to Missouri Traveler E being buried on the association show grounds in Ava, MO which seems quite right. Many have commented, "No other horse has done as much for our breed as Missouri Traveler." Whatever anyone may think, to me, it seems proper to have this burial place of honor for him for he not only represents his own greatness, but the greatness of many stallions and mares before him. In his bloodlines were such greats as Sterling Merry Boy, Zane Grey, Old Fox, Ozark Golden King, Golden Governor, Cadmus Dare, Old Ted, his grand dam, Nancy Ann and his dam Lady Anne E.
I have shared with a few how my love for Missouri Traveler began many years ago. It isn't often in ones life that they have an opportunity to share in the life of a great one. I, for one, and I feel I speak for many, am greatly saddened by the death of this great stallion.
My heartfelt tribute to you Missouri Traveler E. Thank you for the legacy that you leave behind. You are and truly will be missed. The hope of many is that you, somewhere, have reproduced yourself so that your legend of greatness will continue.


copyright by Nadine Moeller