Horses for Sale
Herd reduction of top quality Foxtrotters, from weanlings to broke and trained as show and trail horses.
Selling several broodmares, many with foundation bloodlines that are hard to find.
Excellent bloodlines!
Geldings for sale 'as is'; NO futher training provided.
Mares
We have a brood mare band that is strong in old bloodlines with big lick and lots of gait. Tall horses with strength and beauty. Heads are our big thing, they all look like Arabs. We have more mares and some will never leave us but due to circumstances we must part with some that we had no intention of doing until we were able to bred them and give them a chance to produce the type of foals they are capable of. All have mostly grey and black genes and go back to world champion walking horses. The out cross we did with Warrior's Gentleman Gem was a great thing and combined the trot of one side with the the big lick walk of the other. Please call and come and visit.
Sugar Delight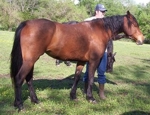 Born: 07/13/1999
Color: Bay
Sex: Mare
Jubilee's Sweet Santana x John's Delight
15.1 hand, beautiful bay with star, snip. Very, very talented. Huge front end with a natural trot with a sweet personality. Shame to see this mare not producing great foals, never has been bred. Was broke as a 3 year old.
Price: $1500
Diamond Jubilee

Born: 1998
Color:
Sex:
Warrior's Gentleman Gem x Diamond In the Rough
She is about 15.3 hands and has been green broke. Rode some after she was broke but not a lot. Well bred and has not had a foal. Good bloodlines and lots of talent. Big front end with a natural trot. Don't think it would take much to get her going again. She would also be a great broodmare. Perfection and Toddy on the bottom.
Price: $
Pedigree
Jubilee's Crystal Keepsake
Born: 1998
Color:
Sex:
Baron's Jubilee x Gem's Fine Crystal
Grey mare, standing at 15 hands, full sister to Crystalline and Crystal Ice. Very nice mare, never bred. Really pretty! Broke as a 3 year old.
Price: $
Pedigree
Jubilee's Crystalline
Born: 1998
Color: Grey
Sex: Mare
Baron's Jubilee x Gem's Fine Crystal
Grey, 15 hand mare. Was shown as a 4 year old. Won a couple of open classes at 3 year futurity show. Super trot and big walk. Beautiful and fancy. Never bred. Full sister to Jubilee's Crystal Ice.
Price: $
Pedigree
Geldings
Lucky Jubilee
Born: May 2013
Color: Sorrel with star
Sex: Gelding

Starting under saddle now - very gaited - Under 14 hands now, may stay there. Not in Pony Registry, but may qualify. Super personality.
Price: $1500.