Archive for the 'JR' Category
JR'S CLINIC JOURNEY
At official yearling status…exactly one year of age, JR attended his first clinic at Pine Dell. It was his first time to ride in a trailer by himself, to be in a barn, and to be in an indoor arena. He was just a LITTLE upset when we arrived at Pine Dell. I heard a lot of yearling whinny during the first part of the day…most of it right in my ear.
BUT, he did just great! He had the least problems of any horse in the clinic. Of course he hasn't had the time to develop many opposition reflex habits. We played all the games. I discovered he knows how to follow the feel of the rope and he moves when he feels pressure. At the end of the day, we had many barrel and pole obstacles to walk, trot and canter across, over or go between. We finished all the tasks before anyone else and we were in our stall eating our late lunch. The bigger horses got to stay and be rode for another hour.
About a month later, we went to another beginning clinic. He did even better this time. He certainly didn't whinny like he did the first clinic. He grew up a lot that first clinic and bonded with me. After the second clinic was over, I felt like JR and I shared the same skin. His general inclination is to stay close, no matter how many times I shoo him back.
So why am I paying to take JR to a clinic when he is too young to ride? Easy Answer! These two clinics got him in an arena with nine other horse…all running around with their humans. He certainly got used to being in a crowd. He hasn't had a chance to develop opposition reflex yet, so I was easily able to do all the tasks assigned. He is easy to convince to do what I ask of him. I feel that I'm developing a much better horse by taking him to these clinics. At a delicate time in the building of his personality, I'm in an arena with an expert trainer…my safety net.
Besides, we had a good time!!!
I'm enjoying reading Apryl's journey with JR. JR is such a happy horse. He has quickly learned that Apryl is a most wonderful horsewoman. He loves being with her.
Oh we are going to have teading about JR and Apryl
This is a great story!
http://jimslastrequest.blogspot.com/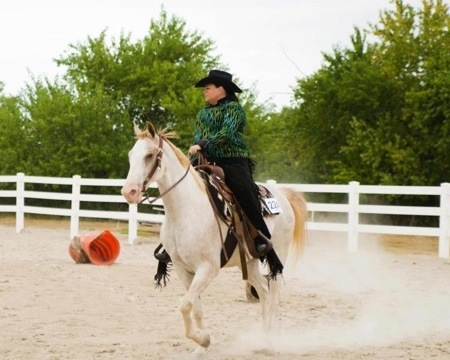 A group of us showed at the Missouri Fox Trotter World Show this past week. We are all students of Parelli and study with Tony and Jenny Vaught of
"For the Horse" Ranch.
We are Hope Kahout, Mindy B.(I have forgotten how to spell her last name),
Nichole Vaught, Caitlyn Vaught.  We won 19 World Champion Ribbons!
Nichole and Velvet won 13 World Champion competitions and were awarded World Grand Champion Youth Ranch Horse and World Grand Champion Youth Versatility.
That's Jenny holding the sign. Tony was missing when we got together for this picture.
Nova and I won two world champion competitions and some other places. Nova and I were awarded World Grand Champion Novice Versatility.
Mindy and Caitlyn won the Amatuer and Youth World Grand Champion awards.
We were awarded our reserve and World Grand Champion presentations on Saturday night in front of the crowd that came to see the World Grand Champion performance   horse competitions. They got to see a lot of us Versatility people too!
Nichole and Velvet were presented with TWO GARLANDS! Nichole got to ride Velvet around the arena twice – with each garland.  Nichole got two belt buckles and two horse head statues -gorgeous. They didn't have a buckle for Novice World Grand Champion, so Nichole gave me one of her belt buckles. Blue ribbon winners also got a nice statue of a fox trotter horse. Nichole could not carry all her 13 boxes at the same time. She needs a trophy room.
Here's Nichole and Velvet?during an event during the Ranch Horse competition.
http://s160.photobucket.com/albums/t199/storminthenight/MFT%20Show/?action=view&\
current=P1010392.jpg
I'd like to point out that my horses, Velvet and Nova,?won a total of 15 World
Championships and three World Grand Champion awards. I follow the way of natural
horsemanship via the Pat Parelli methods!? Look at how it can turn out!!!
Here's Nova and I practicing.
http://i160.photobucket.com/albums/t199/storminthenight/MFT%20Show/Nova8.jpg
Here's Jenny on the horse that I wrote many stories about in the 8 years I owned him (JR). Jenny got 5th in Open Ranch Horse and 3rd in Open Versatility http://s160.photobucket.com/albums/t199/storminthenight/MFT%20Show/?action=view&\
current=P1010324.jpg
Here's Tony on Diva – I gave him Diva to start for me and he fell in love with
her.? She has been sold and Tony is her trainer.
http://i160.photobucket.com/albums/t199/storminthenight/MFT%20Show/P1010180.jpg?\
t=1252980455
YEE HAW!!!
Chris has Down's syndrome.  He also has a connection with animals. Chris and JR performed in Pat Parelli's Kansas City Celebration Spotlight events. They did "online".  JR was in tune with Chris.  JR was using everything he had to do what Chris wanted him to do.  Now and then Chris moved out of position which made it difficult for JR to do what Chris wanted.  He tried.  The audience held our breath…and then JR did it!  The audience erupted.
Chris and JR performed like clouds on a dreamy day. They drifted around the arena in harmony.
Everyone was very moved.  Pat was really moved and awarded Chris his level 2 string-on the spot…in the arena.
Chris became a Level 1 graduate and tears were in everyone's eyes.
Note:  JR was sold to Lynne and Walan Burger in 2008. Chris is Lynne's nephew.
Ah, a 70+ degree in March. The sun is shining. A gentle breeze playes with the dead leaves. It's in the afternoon and everyone at Pine Dell has already been out riding. I've been to a 4H tack sale. I've eaten lunch and I'm ready to ride.
It's the first trail ride and we are alone. I decide on James A. Reed. If I fall off, someone is bound to see JR and come and find me. Yep, James A. Reed Park is the destination
We arrive. We warm up. I get on and my horse, JR, turns into the Energizer Bunny Horse with an imaginary hot prod stuck in him. Yee Haw!
Right before the trail starts, there is a big field. We zip around the field for a while doing nifty stuff like sidepassing, stopping and backing, sidepassing some more, trotting in circles. All this is to get his reactionary right brain to switch over to the thinking semi calm, left brain. Cars slow down and come to a stop. JR is breathtaking when he is this way. He tail is out and his self carriage would win the Saddleseat competition at the American Royal Saddlebred show. Yee haw again! I'm wondering if we are even going to make it to the trail.
Another horse comes back from trail riding…a nice calm horse. We follow along about a half field away. When we turn back toward the trail, JR has slowed way down, because he wants to go with that horse. An opportunity to hit the trail. We get on the trail at a semi walk. Things are good. I do feel like I'm riding a space shuttle before take-off. The energizer bunny returns and we stop and back until he semi settles down again…and again etc
I'm so proud of him. We come to big mud holes filled with water. He goes straight through and doesn't even think about jumping them (THANK GOODNESS!). We have a nice stretch of open trail and JR is doing great. I let him know he can go faster. Wowsa! This is the BEST EVER. We have worked on not pacing this year. We are not pacing. We are smooth. What fun this is! JR no longer feels like the space shuttle. We are more like a controlled Locomotive Freight train now. We have stretches of gaiting. We have stops. We have fast walking.
At the half way point, we were way cool. We did get pretty uptight when we came to a parking lot and got our first glimpse of the man seated in a lawn chair stretching himself out in the sun. JR knew he'd never seen anything like that before, so he knew it was something that was going to kill and eat him. I asked the man if he would stay still while JR and I sidepassed around him in a half circle. We got to the other side of the man and felt good about it. We were off at an energetic walk again.
This was the best gaited ride I've ever had on JR. He paced a total of 5 steps in two hours. It was heaven. When we pulled into the parking lot, JR was wet through and through. The bridle bit keeper was covered in foam.
Arriving at the trailer, I was stunned to see the living quarter door open…just like I left it. That was after I hid my purse and the truck keys in the living quarters…and then left the door open as an invitation to a treasure hunt. Luckily only honest people had passed thru parking lot and turned down the chance to steal something.
It's a good thing that a gaited horse goes fast. I was sore enough when the fast ride finished. My legs were nearly crippled by that time. I have a new 4-Beat Saddle by Brenda Ismus. She didn't have the Amish people bend the fender around enough. It tries to point my legs into the side of my horse. My legs try to hang down straight. I'm having to bend it with my protesting knees. I managed to get off and keep standing upright.
After a few moments of gaining back my ground equilibrium, I took off the saddle and the sweat pattern was great. They haven't got the hose out yet at the park. JR reminded me that he was supposed to be washed off, and I just couldn't make him understand that his bath was back at Pine Dell. Finally, he decided that I was too stupid for words and got into the trailer.
Rosa wanted to attend a Level 3 clinic with Linda Parelli and Rosa doesn't have a horse.  I let her borrow JR.  That means that JR got to be in a L3 clinic with Linda and I didn't. sigh…
Rosa came up to Pine Dell to bring JR home and she came up again this weekend to ride with Jenny.
She told me that JR did great in the level 3 clinic with Linda Parelli.  She said that Linda Parelli yelled at her several times across the way to say, "Rosa, You're Doing Great with that Horse!"
Another time, the exercise was haunches in.  They were to walk around with haunches more to the inside and the front end going straight.  JR can do that with his eyes closed.  So Rosa decided to do half pass.  She walked his front end on the gravel road and his back end in the grass.  Linda told her that she was doing too much.  Rosa told Linda that she was doing a half pass.  Linda said, OH!  Then he is PERFECT!
He was the only gaited horse in the class!  He was the only fox trotter in the class.
On the way down and the way back, JR stayed in the trailer one night.  They parked the trailer right outside their motel window.  JR didn't make a sound.  (Velvet would have woke up the entire motel with banging if it had been her in the trailer!)  They did sleep late the one night on the way home.  Rosa was exhausted and couldn't get out of bed early.  JR started banging on the trailer at 7:00am…his meal time.  They shot out of bed and got him his food and started on the way home.
JR whinnied as he came into our driveway.  He was Very Happy to get home to his own herd.
JR is out of Jack's Sensation and Bob Blackwoods demonstration mare…Yankee bloodlines.  I bought him when he was three days old.  I saw him fox trot. The Yankee side of him is very athletic and can do flying lead changes.  I needed a very athletic horse.  I doubted Velvet would make it through the lead change tasks of level 3 and JR was to be the backup L3 horse.
JR was supposed to be about a 15H horse, but he turned into a 15.3 hand horse.  Jenny started him and he fox trotted / flat foot walked right from the time when she first started.  He is breathtaking.
Eight rides after I started riding him, he could do nothing but pace.  After some time asking the big horse god in the sky, "WHY ME!", I decided to take the blame.  I decided my body must have been stiff with fear, off balance and this put JR into a position to stiffen up his whole body and VIOLA…pace.
Right before I started riding JR, Velvet and I had a crash.  Velvet did a hard fall coming down from a canter…her shoulders were locked up and she couldn't stop.  She fell.  My Australian Saddle didn't allow me to fly over her head.  It held me right in place and I crashed right beside her.  She rolled on me and broke my leg.
After I recovered, I had these fears about cantering.  I was only about halfway recovered when I started riding JR.  JR's gait is BIG.  When that long legged thing canters, there's a lot of sky.  I couldn't stay in the saddle as my body went rigid with fear.  He started cross firing and I had to give him back to Tony and Jenny to learn how to canter again.
So, JR and I have had to make a lot of adjustments.  I had to teach him not to pace while he was wearing a rope halter.  I had to learn to relax when he cantered.
Just this year, I am able to canter him without thinking about fear. I no longer make embarrassing seat-flopping noises when we canter around the arena. We are having a good time trying to get flying lead changes on the straight.  Just this year, we tried to get the fox trot on a consistent basis. He no longer paces, he hard trots instead.  He prefers the running walk and I've decided to let him.  He does a beautiful fox trot going down hill
JR's personality is People-Loving.  If you hurt his feelings, he hangs his head and looks like a whipped Australian Shepherd.
He's six years old this summer.  He might actually stop growing this year.  Riding him and developing him is exciting and challenging.
 

 September 18,  2004

JR and I are going to participate in our first Level 3 clinic with premier PNH 5 Star Instructor, Dave Ellis. I decided to practice a few things that Dave had us do last year. I was riding the immortal Velvet in that clinic.Here's what we had to do. In the 40 acre hay field, we had to do drop to a walk lead changes around the perimeter of the field. This is a flat field. When you are in the middle of this tract of land, you can't see where the grass ends and the bordering road starts. It's not a square, it's a rectangle. It's L O N G, but plenty wide too.I had no trouble with Velvet last year. We just went around the perimeter for short canters. We stoppped and walked a bit and then cantered on the other lead. I did notice when we all lined up after the first run that some of the people were glassy-eyed. (I found out why they were glassy-eyed after I rode Jr around that field.)

We rested for a goodly amount of time and then we went out again. We did this SEVEN TIMES! We counted each lead change to see if we improved. Velvet did 75 lead changes on the 7th round.

This is what I decided that JR and I should practice. All alone, we went up to the hay field. I headed him easterly and told him to get a left lead canter.

This is the Wil E Coyote part: JR saw that huge expanse of grass. He was the only horse. He was fresh.

Wil E Coyote leaps up into the air, hangs there a minute and takes off so fast you can just see some dust. That's exactly what JR did. I thought he bucked, but no…HE LEAPED into the air and took off at nearly 100mph. Yep. I had a stiff brimmed hat on and it bent the brim back. It looked like I was in a hurricane.

Here's what my body did. My shoulders came up and touched my ear lobes. I went rigid. I hung onto the reins for balance. I rode two point. I've never rode two point before and only had the slightest idea of what it meant. What it means for the western rider is that your knees are locked, every muscle of body is rigid and you are sort of standing up and leaning forward! All of this is very illegal in my world. You need an independent seat. It is considered a hanging offense when you hang onto the reins for balance. You do not brace any part of your body.

I pulled JR back down to the walk and did it again. JR alternated between being Wil E Coyote and the RoadRunner all around the field. He slowed down a little on the far side of the field when we went in a westerly direction and passed the turn off to the barns.

We rested. We did it again. Attempt #2 was better. Only half our departures looked like the RoadRunner..beep beep! We rested.

Attempt #3 was way better. We had a few Wil E Coyote departures but mostly we had a soft canter where I could relax for almost the entire distance before we dropped to a walk.

The only way I managed to continue the RoadRunner trip around the hay field is the great Parelli air pad which does not let your saddle slip around and my practice in the push passenger lessons invented by Linda Parelli. This has helped me get brave enough to endure this kind of adventure. I'm not proud of the way that I rode, but as JR and I do this again and again, he will turn into a light fluffy cantering cloud instead of Wil E Coyote or the RoadRunner.

The day after, I developed knife-like pains in my shoulders and upper back by noon These are knife pains of fear and rigidity!

Good GAD! Do you know how old I am to be doing this kind of stuff!!!

 
 
 If you have any desire to win a trail class, always practice the gate before the horse show starts. Yep, that's one of the answers to life. Everything else about life I learned in Kindergarten.I had qualms about taking JR to his first horse show. I felt like crying. That's the signal to stop whatever it is that is making me stressed out. I decided not to go. Whew, that felt better.

Jenny asked me if I was going to take Velvet. I said "NO. I know what Velvet can do at a horse show." "Velvet is so darn pretty," she said. Jenny told me it was good to take a horse to the horse show and know that they aren't going to act up. Then Jenny told me that she was going to the horse show all alone and she needed my help. I told her no.

Dear reader: Is this totally unlike the person you have come to know in these stories? You betcha. I have decided that I'm really comfortable with Velvet. I'm old and don't like change. I wasn't worried about JR acting up at the show, I was just stressed about what kind of gaits he would do in the arena. We might look really pitiful. I hate pitiful.

On the way home, I decided heed what Jenny had said. I got my trailer and tossed Velvet into it. She was all trimmed up from her Parelli demonstration. We set out for the horse show.

On the way to the horse show, I decided to stop and get JR. He was in a stall at Pine Dell. I would just tie him up; ride him around some after he relaxed; and get him used to the horse show.

Well, the trail class(es) started at 4:00. I got there at 3:30. I begged a wonderful person to enter JR and Velvet in the fox trot and open trail classes. I tacked up JR and away we went to the arena. JR was very nervous. My wonderful person found me and pinned my number to my vest. The trail class route and expectations were explained and we were the 2nd horse in the arena.

JR's first horse show: He entered all alone in an arena, whinnying for any of his friends to rescue him from all the predators watching him. We came to the gate. We got into position to open it and he backed far away from the gate. Of course, I had touched the gate.

The big No No in the gate world is that you can't let go once you touch it. Oh dear. We kept a smile on my face and managed to get through the gate. However, before I could get it shut, he backed away again and I lost contact. We returned and managed to shut the gate. Five points were subtracted right there. We did all the other obstacles fine, except we probably didn't fox trot through the poles. He was a little bit scared of the mailbox. We didn't impress the judge with our handling of the mailbox. But, I'm certain that she thought we were looked very good!

JR placed 2nd in the Fox Trotter Trail Class. I won't make any comments about the number of horses in the class… that would lower JR's dignity!

I had a friend tack up Velvet and we participated in the next class, the open trail class. You would think a horse of Velvet's experience would not be nervous about the gate. Nope…Velvet blew the gate too!

JR was a most insecure horse throughout the evening. He whinnied throughout the trail class. (We whinnied every 5-10 minutes from 3:30 until about 10:00pm.) However, at no time did I feel like he was going to explode or leap around. He was a perfectly behaved insecure horse.
I took him into two other classes where we demonstrated every gait that a fox trotter could perform to an appreciative audience. My philosophy for JR and I was to look sexy while in the show ring. Looking sexy is very important. Looking sexy really means to look really good even though you are making a mistake or doing something incorrectly. (In fact, looking sexy for horse people is "showing a flair" while something terrible is going wrong.
Occasionally, we would round the corner and slide into a fox trot. JR headed down the straight-away…on the judge's side, fox trotting his heart out until he got even with the judge. I bet she was staring at us, thinking how cool we were. Then JR would get anxious and slide into the running walk. Near the end of the far corner, we were reduced to a few pacing steps. He recovered and went into a hard trot. Yep, the audience could have learned a lot about fox trotter gaits by watching JR that night. He did do a fantastic job with the flat foot walk. If there was a class that just called for a flat foot walk, we would have been a contender!
Velvet did great in her first performance class. She won third in Western Pleasure. My Pine Dell friends came over after the class and just fell over themselves to tell Velvet how amazing she was. I was all smiles when riding Velvet.
In the next class, Velvet told me that it was past her bedtime and she didn't want to hit the track hard. I think that I was in a class that had two world grand champions and numerous other horses who placed in the top 5 in classes at past Celebrations. Kansas City has a fine share of super top-notch horses. It's a pleasure to be in the arena with them.
Velvet and I were in several more classes and we looked great! Looking Great is very important, almost as important as winning.
For some reason, I thought it would be neat to show in class 31, which was Open- Will Canter. That was about 11:00pm. I must have been pretty sleepy. I woke up during the class in the arena and discovered that I was telling Velvet to canter sideways into the center of the arena. We were heading directly to the wonderful judge. What was I doing? We managed to recover and head down the rail.
Velvet broke her canter several times. She picked up the wrong lead, so I had to stop and get her back into the correct lead. I believe that we did this so quickly, that we still looked very cool. It was a pleasure when that class was over. I should have paid attention when Velvet told me she was tired, scratched class 31 and went home.. Oh wait, I couldn't have gone home until about 11:30 anyway as I was trapped in the parking lot.
To sum it up, I have managed to get JR to a horse show and ride him. JR got somewhat used to being at a horse show. Maybe I won't cry the next time I think about taking him to a show! Velvet was beautiful and great. It was fun to ride her. The entire day was fun!
The Fox Trotter Horse Show Staring Velvet and JR!
Gaited horses need to be able to relax.  This is way more important in a gaited horse than a non gaited horse.  A non gaited horse can pretty much trot even though they are nervous and upset.
Most of the horses were very pacy.  One of the horses was very nervous and upset all the time.  She had a pretty green rider who was nervous and upset too.  He rode with a bridle the first day and he hung on to the reins.  The 2nd day, he rode in the halter and they practiced him letting the reins go loose and him relaxing.  After that happened, the gait came out.  This was a Rocky Mtn horse.
The other pacey horses got to work over poles.  The riders became aware of how many steps it took before the horse started to pace again.  They stopped at that point and went back over the poles.  One woman couldln't tell when her horse started to pace, so she took a lot longer to get her horse to go into a fox trot.  Another one got a  nice fox trot for about half the length of the arena after dealing with the poles.
JR is now a trotty horse.  He was the only "trotty" horse in the clinic.  The secret to stopping that is to do a manuever found in dressage.  We trot along the wall and when he starts hard trotting, I asked his hindquarters to step into the center of the arena, but kept his forequarter on the rail.  They call this, hindquarters in.  The key to this is that you have to keep going the same speed.  It works like a charm.  Now he has become so smooth that I am doubting my ability to figure out whether or not it's a fox trot as opposed to a running walk.  I feel the little fox trotter bumps back there…just barely.
We also worked on a cue to make them lower their head.  Lowering their head makes them calm.  Now when the horse gets upset, we can cue them to lower that head which should help keep them relaxed and able to gait.