Archive for the 'Country Frank's Lucky Star' Category
Everyone calls this Buddy sour, but that is so negative for a dependence problem. Cisco has a personality that lends him to be dependent on others…usually a horse. Cisco and Lucky were boarded together this summer. I've been trailering Cisco and Lucky lately to a park where my friend got to ride Lucky.
At no time was Cisco able to let Lucky out of his direct sight. If Lucky walked behind a trailer, Cisco went hysterical. I had to saddle Cisco where he could see Lucky. If not, Cisco became immediately a basket case of nerves. Saddling him was nearly impossible as I didn't exist as he swung his body around trying to see Lucky. I would have been stepped on or squished or the unsecured saddle would have been launched into space.

I just went with it. I also made darn certain that Lucky was in clear view when I mounted Cisco. I need a horse to stand still like a statue when I get on.

One day I delivered Lucky Star to Hope. When the truck and trailer came home an anxious Cisco was waiting for Lucky. I told Cisco he now owned two mares. Delta spoke up and contradicted that. She said Lucky Star was her boyfriend and if Cisco thought he could boss her around he would feel her teeth!

Trail ride date was upon us. Cisco and I got there first. Cisco had never seen Hope's trailer. When she came lumbering into the parking lot, Cisco screamed and screamed and screamed. Finally the trailer came toma stop and we could see Lucky Star. Cisco relaxed. Life was good.

Until the end of the trail ride

We tricked Cisco. Lucky stood by our trailer when Cisco went in. The door shut and Lucky walked away. Cisco became frantic. I had to jump into the truck and move. Horses have to brace themselves when the trailer moves. That stops the frantic movement.

Yesterday was our next meeting. Hope and Lucky got there first. Before we came into sight of the parking lot, Cisco started screaming. He knew where he was and thinks Lucky lives at the park. We screamed until I got parked, let Cisco out and we saw Lucky.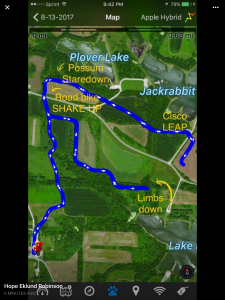 Our ride began on a lovely tree lined, shady trail until we encountered LIMBS DOWN. Ugh. No way to get through. We guffawed at the thought of getting OFF our horses to lead them through the branches. Get OFF? Then, remount FROM THE GROUND? Seriously? Nope.
Susan and I are loath to back track, but that was our only option. At the fork in the trail, we turned north. Low ground that had turned to ribbons of algae slop caused Cisco to LEAP across to save himself and Susan with him. It was SPECTACULAR! Cisco put much more effort into his launch than he or Susan needed. They lived.
Then, we followed a mowed trail into a sunflower field. Sunflowers weeks beyond their prime. We watched as herds of deer, hiding in the tall flowers, leapt to their feet to flee the field as we rode deep into their resting area. We retreated the way we had come.
"Run little possum!" Nope, he stared us down from the side of the trail. Did not budge. It could have been all over if he'd chosen to chase us!
Susan and I continued riding towards the road. Trees lining both sides of our trail, opening onto the road ahead. ZOOM! No sound. ZOOM! For a blink we see a bicycle/rider cross from left to right at sonic bicycle speed several strides ahead. Both horses saw the bicycle missile, thought to save themselves, and us with them! Good Susan Engle trained horses, reacted big, but mostly in place. After we assessed ourselves, we asked, "Are you OK?" Then, laughed. WE LIVED!
The weather changed to "have fun with horses" instead of "try not to die".
I arrived at the barn determined to do everything.  Firstly, I decided it was Cisco who was to be the first ride.  I piled my backpack, 22′ rope and halter, and bridle around the saddle horn.  I decided to put on his driving bridle and drive him up to the arena – a half a football field away.  Lucky is in the pasture.  Cisco is a right brain extrovert.  He worries and gets anxious.  He has been really happy to be stabled with Lucky and gets upset when he separates from Lucky.  So, I'm trying to drive him away from Lucky.  Our driving is in the beginning stage.  He has not learned the value of a straight line, especially when he is traveling AWAY from Lucky.  So we had quite a time leaving the barn.  He kept trying to turn back and I kept turning him towards the arena.  Finally, he was convinced to go forward in a weave pattern and away we went.  That took a while.
When we got to the arena, I took off the driving bridle and his halter.  He was anxious.  I knew a liberty game would turn into something exciting and it did.  He ran about a 45 foot circle around me at a canter.  He was still anxious about Lucky not being with him.  I just enjoyed it.  Cisco was warming himself up.  He looks stunning. He is using his hind end. There is no trace of him dragging his toes which is part of the lameness issue. I examined his canter.  He is short-strided, but looks solid.  I asked him to change directions and he spun and kicked.  Whooowee.  I did worry about his stifle tendon, but he still was solid on his canter.  He came into me a couple of times and went back out anxious at a canter.  Finally, he walked a circle around me.  Success!  Then I left him.  He became anxious again.  I asked him if he was going to jump the arena fence and he screamed at me, "No way I'm jumping!  Just hurry and bring Lucky up here!"
I had Lucky working on his cantering at liberty in the round pen.  We worked on my draw too, which is coming to me when I lean over a bit and look at his hindquarters.  I was ignored for a while, but after cantering a good deal, he suddenly understood the signal to come to me.  I looked at the sun.  Good Golly, I didn't have a whole lot of sun left!  I only had time to ride Cisco!
Oh what a great time i had.  Better and better he gets.  The driving helps his "rooting and chewing the bit". Soon we had a quiet mouth. We worked on flexing the head while going straight. We were working on transitions and gaiting around the short ends of the arena.
We were at the potentially scary end of the arena when we saw something moving far away. It was a human. Cisco immediately went on head straight up alert. I tried moving us backwards and forwards and doing some sidepassing. The human kept moving. We went to the other side of the arena where he leaped up about 2″ and came down bracing his front legs. What the Heck? We weren't even facing the scary human thing. Turns out, Cisco is leary of a strange shape in the sand. It is the shape of the bottom of a barrel. What! "You are afraid of a barrel impression in the sand"? Cisco replies, "I'm nervous about that human thing and anything strange just sets me off! I think an alien ship landed here and the aliens want to eat a horse!" I replied, "Oh Good Lordy", as I had him walk over the alien space ship impression. He erased it and his worry went away.
We turned back to see if the scary human had disappeared yet, but it appeared the human was headed our way. A little doggie was on a leash. Awwww. The human came close enough that she could hear me yelling "Hi"! She said "Hi" back. I explained that my horse was afraid of her. She said her doggie was afraid of us. She held up a beagle puppy. Oh how cute. I yelled at the puppy in puppy language while I was rubbing Cisco's neck. Cisco was still on alert, but the bolting tension had gone away. Human beagle owner and I chatted a while and she left. Soon she had disappeared and Cisco was back to calm
I thought I might try for a canter. On the second ask for a canter, it happened. I asked and he cantered. We cantered a very short distance to the short scary end of the arena and broke gait. I praised and praised him. The sun was ready to set and it was time to head back to the barn. Lucky was on the scary far side of the arena. I decided to get the stick and string to help Cisco drive Lucky to the barn side of the arena. Dang! It worked great! I had the string swirling thru the air with a calm Cisco and we got to drive the dominate horse. Cisco herded Lucky! What a night!
Where would we be without another Lucky Star story. It has been too hot to ride or too hot to ride two horses, so Lucky has been coasting. What does that mean multiple choice test:
A. Lucky becomes more willing since he's had a vacation
B. Lucky didn't want to move. Remember, he wants to be a statue.
C. I wanted him to circle around me at a walk and instead he took off and did his imitation bucking routine.
D. He gave me a squeal and his middle finger.
There for a while tonight Lucky Star could been bought for a dollar!
The answer is surprising. It was C and D.
I had to take the saddle off as it was moving forward to resting on his neck. It was then that he could have been purchased for a dollar. It was still hot out there. The saddle is heavy and I was looking forward to riding Cisco after Lucky. Daylight was on a timer.
Cisco was in the round pen with Lucky. He managed to stay in the middle with me during much of the ensuing Lucky Star explosion. When Cisco got upset and went out running on the rail, I made Lucky change direction and ignored Cisco. When Lucky changed direction, he exploded up and gave me some mighty back end kicks. Those back end kicks are just like an upset human giving you the bird. That is what we used to call the middle finger gesture!
Lucky Star lost his Horse of No title tonight. He has become The Bird Horse. Lord help me. Lucky and I did have a fairly nice ride after his temper tantrum explosion.
I did get to ride Cisco and it was wonderful.
A week of extreme temperatures coming up has defeated me. I decided to bring the handsome geldings home from the boarding stable. Everyone will be pleased…the handsome geldings and the fulsome mares.
I pulled up and Cisco saw me immediately. I got out of the truck and Cisco whinnied loudly. Ahhhhh, I thought, "he really loves me". I walked up to his pasture and he whinnied again. But he wasn't looking at me. He was looking at the trailer. I walked past him and Cisco whinnied at the trailer. Did he think his mares were in there? Was he telling the trailer to open the gate so he could load up? Cisco loves the trailer more than me. Sigh
I got both geldings in hand and we loaded into the trailer and went home. I decided to rinse them off before letting them into the pasture. I decided to lead both of them into the barn and stall. Of course Lucky went first and Cisco was just barely able to avoid crushing me in his desire to be home. Lucky tried to take off before I got the halter off. He pulled the rope out of my hand. I stepped on the rope. He was stronger and pulled the rope away. Lucky went directly to the round bale, got on one knee and rubbed his neck. I had a time controlling Cisco to get his halter off. He took off. I followed intending to get the halter off Lucky. But the impulsive geldings decided to gallop off. Zoom they went with Lucky's rope floating in his jet stream.
The mares? They stayed in the barn. No way did they have the energy in the 90+ weather to gallop anywhere. Soon the speed machine geldings came racing back to the barn and I was able to get Lucky's halter off.
I'm drying off my sweat in the house now and saw the herd run across the dam. Evidentially Lucky and Cisco gently motived the mares to move out! Don't believe the gentle word.
Many horse people buy bags of treats. These treat bags are picked up, carried in trailers, tossed, crushed by saddles etc.. When the treats get low in the bag, the bottom of the bag has crumbled grit of mangled treats.
My treat bag has about 5 treats left. There is about a half inch of treat crumble grit in the bottom of the bag. I take the treat bag out to the outdoor horse shower area and try to hide it from Lucky eyes. It's in the upper 80′s and horrid humid hot. My hose leaks, so when Lucky's outdoor bath is finished, my shirt, face, neck, glasses, and sun glasses hanging from my shirt are wet from both sweat and real water from the hose.
Oh No! Lucky has spotted the hidden treat bag. He swoops up the plastic bag in his mouth. I grab the plastic bag by the bottom. Lucky has about half of the bag in his mouth. A mighty battle starts. A plastic bag tugging war is ongoing with neither of horse nor human giving up one inch of the bag.
I managed to hold on with one hand while the other hand tries to tickle Lucky's mouth open. He ignores the tickle hand and tries to get his tongue into the bag and get the treat. Oh Ha! I win!
He lets go of the bag. The force of my hold whips the bag back to me and propels all the gritty crumbs out of the bag onto my hair, face, both sunglasses and real glasses, neck and wet shirt. I am covered in peppermint crumbles. I am blind. I try to shake the grit off my body and glasses, but grit loves sticky wet things.
I managed to wipe the grit off my real glasses so I can see again. I put Lucky back in his stall and give Cisco his bath. Now I'm even wetter and still covered with peppermint grit.
I go home to my house in the country. Luckily it is dark and there are no visitors. I shed my shirt and shook the grit off. I discovered my sun glasses only had one ear piece…the one that kept it hanging on my shirt. The other one had flown away when the treat bag exploded. When I took my shower, peppermint body grit washed down the drain.
Lucky Star didn't get the treats in the bag, but he won the grit war!
FYI- Lucky Star strives to be dominate over me. I tried to explain to him yesterday that he made his life so much harder as he tried to nibble me….
7/11/17
Misery in Missouri July.
Still in upper 80 or low 90 at 7:00 pm.
I manage to get Cisco and Lucky haltered, fly sprayed, fly masks off, eyes and face rubbed and off we go a half football field to the arena. I had decided that I didn't have enough strength to saddle a horse in the heat. Ha! I suffered much worse than that.
At the arena, I decided it would be so easy to play with both horses at liberty. (see Ha above.). We practiced both horses backing and coming to me. Coming to me is called "the draw".
I then asked both horses to go out and circle around me.
Lucky Star, the dominate one (over both me and Cisco), decided to show his total disregard of his human and took off running for the other end of the arena. He did not set a very good example for Cisco. I had to walk a goodly distance in the heat to persuade him to join-up with me again. We did this twice so i decided we all needed to go into the round pen. We got our halters on.
We all got inside the round pen and chatted a bit. I took off both halters and asked both horses to leave at a fast gait and they did. Both horses kicked up speed which invoked a sand and grit storm. The hot weather has dried out the arena. Sand and grit flew into all our eyes. We left the round pen after our eyes cleared up. I rubbed my eyes and their eyes.
I decided to play with Lucky on the 22′ rope and Cisco at liberty. Cisco ran through the rope, making it essential that I drop the rope or die of rope burn.
I ended up playing with Lucky on the 22′ rope. He gave me horse signs of disrespect (head down and some nasty salutesmwith amback leg). This disrespect was a reason he got to canter several times at both directions and gave him a good workout in the horrid heat..
I did get to play with Cisco a short time before I felt the heat death approach.
We all headed back to their pasture and stall home. I managed to get fly masks adjusted, their faces rubbed and treats fed. I managed to get back to the car into air conditioner before death got me.
On the way home, one eye erupted into sand pain hell. Sand had coated the inside of my eye. By the time I was halfway home, I prayed that a policeman would not stop me. One look into that eye and suspicion of being drugged would happen. My eye burned! Three hours later, I think my eye will not burn out of my head.
What a night! The 22′ rope is my best friend.
How the Horse of No Saved My Life
I took Lucky and Cisco to one of our our outdoor arena summer home. It is perfect for Cisco's rehab. I was going to ride the "horse of no" and lead Cisco over the log obstacle, the low jump and the small wooden bridge. That was my intent and if Lucky would have let that happen, I might be in the hospital or funeral home now.
Lucky decided he wanted to play at liberty before I rode. He double dared me to make him a happy horse while trotting circles around me. I took out my top of the line horsemanship leader role and proceeded to fail at making him a happy horse.
Firstly, I failed at circles. Instead Lucky ran straight and did his best performance of a bucking horse. It takes a lot of energy to get that high flying air suspension bucking horse. Lucky just braces his front legs and puts his head down as he trots off.
This bracing the front legs with his head down always makes the saddle move forward. This saddle is much better that my former saddle. It managed to stay on his back, not on his neck. However, it still goes too far forward. I loosen the girth and move the saddle back in place and tighten it up again.
The knowledgeable horse trainer returns and fails again as Lucky performed his exciting version of a slow, low flying bronc.
Repeat with the saddle adjustment.
We are now completed the fourth bucking episode. I'm thinking of getting him in the round pen, remove the saddle and make him fly around. I'm getting irritated at my horsemanship failure.
Once again, I loosen the saddle and move it back. I tighten it again and BOOM! The girth strap pulls apart. It looked like a piece of beef jerky as it pulled apart.
Good Lordy! I could have been riding Lucky Star or even Cisco when the break occurred. I could have been cantering around the corner of the arena when the break occurred. I would have flown off with the saddle. That is a physics thing. The rider's body follows the saddle where ever it goes.
Lucky Star, "The Horse of No", saved my life! Thank goodness he was in his arguing mode.
The saddle is my new used saddle. I didn't like the leather strap. I had a feeling about it. However, it looked perfectly good to me. I was eventually going to replace it with my favorite nylon cinch strap. Whoops, instincts should always be followed!
When you buy a new used saddle, put on a new girth strap. You might not have a "Horse of No" to save your life!
Lucky Star became a country music song today.
"I met the black mare today. Something about her made my inner stallion come alive. I danced on the trail beside her. I whispered love to her. I turned into a hunk of liver chestnut stallion with my arched neck and prancing feet. I watched her gorgeous body swing to the heavenly trail rhythm. I forgot about the bay mare, the bay mare waiting on me at home. I could think nothing about my duties, only about the black mare beside me.
The black mare left me behind. Left me at the trailer. I freed myself and ran after her. I left skid marks in that black mare's heart. I left skid marks of love on the pavement where the black mare left me."
Looking for country songwriter and lyricist to make "Skidmarks in my Heart" into a Blake Shelton song.
The skid marks are the white markings on the pavement. He has front shoes on, so only his front feet made the marks.
I bought a used 16 1/2″ super wide Parelli Natural Performer via eBay. Last Sunday it passed the Cisco test. Today it passed the Lucky Star test.
I tried to cinch it up tight enough so the saddle would stay on Lucky. When I mounted, it tipped a little,letting me know it might not be fully secure. But when I got balanced in the saddle and shifted my weight to each side, it felt secure. Off we went at a nice "trail walk" speed. I could feel those back legs reaching far underneath. Hmmm, have I ever felt that back leg reach before? I don't think so.
As we were walking around the arena, the seat felt really "roomy" to me. I am used to being squished in the saddle and this was a new feel for me. My body worried a bit. There was nothing that braced against my legs to hold me in the saddle. I do feel like the saddle is deep and holds me almost inside Lucky. I don't remember that roomy feeling while riding Cisco.
Lucky and I spent more time in the arena. We did all the gaits both directions. I decided it was time to get off. The saddle tipped a bit when I dismounted, but it stayed on top of Lucky.
I ran my hand underneath the saddle blanket and could not find any tight spots. Lucky's shoulders have impressive freedom to move. I checked the tightness of the girth. There was no tightness. The girth was touching Lucky's body, but not really enough to have kept me secure. Well! The saddle fit Lucky extremely well. It might have stayed on top of him even if we had been barrel racing (or not).
I now will happily make my PayPal payments to pay off this saddle. Yay!
Parelli Natural Performance saddle with bucking rolls removed and fenders with enough holes to let my legs fit. Picture coming next time!