Archive for the 'Powder' Category
Pat Parelli invited the Vaught family to come and ride with him for an entire month this summer in Colorado.  All the extended family are thrilled that the Vaughts have this great opportunity.  This is just thrilling.
The 2013 Spring went by and the great adventure was thought about.  Finally, real plans were in the working and finally, the making!  They left near the end of July and the first day of riding with Pat started July 24th.  I am very blessed that Jenny and Tony decided to take Powder and Nova with them along with four other horses.  They have to compete in the Missouri Fox Trotter 2013 Celebration.  They have to be ridden.  Working with Pat Parelli coaching them on cow work is my version of an a staggering opportunity for my horses.
The six horses get to stay in a small pasture that contains meadow and mountain.  It's a long way from the Vaught RV.  The whole family is going to get a 30 day high altititude  workout in their riding and fetching horses to and fro.  Pat is a workaholic and so are the Vaughts. When they return from Colordao, they will be so physically fit and able to jog a full marathon everyday, but why would they want to?
On the morning of  their second day, the Vaughts were headed out on a conditioning trail ride in the mountains.  Pat Parelli was up and about riding.  He asked if they would also gather the cattle..all 64 of them including three bulls.  How fun can it get!
Nova and Powder were part of the group.  Nova has been a little nervous about being on the trail, and now she gets to be on A TRAIL.  Nova led and followed on the mountain trail.  And, of course Tony has to break the trail riding rule.  He and Powder leave the group.  Nova got a little ancy when Powder left, but Jenny managed to convince her that she was safe.
Then the cow gathering was implemented.  They found nearly all the herd and started gathering them back to the ranch.  Nova was placed in position and away they ambled.  All the cows decided they didn't want to amble back to the ranch.  Instead they decided to head off in the direction that Nova was guarding.  All the cows turned and started on a direct line to Nova.  Nova is experienced with ten or so cows, maybe as many as 15.  Sixty four cows heading straight at her made her think, " I want out of here!"  She telegraphed her desire to Jenny.  Jenny is a horse whisperer and read Nova's thoughts loud and clear.  In her horse whisper voice, she told Nova, "Nova, you can do this!  Just put your ears back and look fierce!"  Nova trusted Jenny.  She put her ears back, way back.  Her head was ready to snake and mouth ready to eat any cow that had the audacity to even think about coming her way.  The cows thought… ooooooh.  That horse is not to be fooled with.  Let's head the way that she wants.  The cows resumed their slow amble to the ranch for a day of cow work.
That evening started cow play with Pat coaching the Vaughts.  First Nova and Jenny worked with the electric cow…the one that runs up and down the string.  Nova has played with this kind of cow all winter.  The idea is that's it's the horse's idea to follow the cow.  The rider's job is to provide help with the speed, not help with the reins/mouth.
Pat decided Jenny was doing too much with the reins, so he had her close her eyes.  Can you imagine riding your horse with your eyes closed?  Pat has done this for a long time.  He has people ride at all speeds with their eyes closed.  He says it really helps to improve your balance.
Jenny used to have us ride with our eyes closed in our group lessons.  We never went faster than a walk.  Much time has passed and I think she forgot that training lesson.  Well, she had a great opportunity to learn it again.  This winter, Pat had her ride one of his cutting horses when cutting cows.  We have a video of that.  The one where it looks like Jenny is jerking around in the saddle…  She really did have her eyes closed, riding a top cutting horse, while cutting a cow.  my thought is "EEeeek!"  But I digress
Pat had jenny ride Nova with her eyes closed, while Nova was cutting the electronic cow.  When he was happy with that, he had Nova and Jenny go into the cow herd.  Usually the rider focuses on the cow to be cut out from the herd.  But Pat always has a better idea.  His idea is to let the horse pick the cow!  Nova went into the herd, put her ears back and snaked her herd at certain cows that interested her. Then Nova got to follow that cow and cut them out of the herd.
Oh the fun. On Thursday morning, the Vaughts were planning on heading out on their conditioning trail ride with their new job of gathering the herd.
____________________________________________________________________________________________
VERSATILITY OVERALL PLACINGS
Youth Versatility:
Pleasure & Speed High Point: Toddy's Velvet Perfection; Nichole Copple for Susan & Terry Engle, Pleasant Hill Mo

Working Horse High Point: Co-High points
Toddy's Velvet Perfection, Nichole Copple for Susan & Terry Engle, Pleasant Hill MO
Nathan's Ovation, Caitlyn Vaught for Susan & Terry Engle, Pleasant Hill MO

Youth Versatility World Grand Champion Toddy's Velvet Perfection, Nichole Copple, Fair Play Mo for Susan & Terry Engle, Pleasant Hill Mo
Youth Versatility Reserve Wold Grand Champion Playboy's Lookie Here Now, McKenna Flory, Wallsburg UT for Stephen's Foxtrotters, Wallsburg UT
3. Nathan's Ovation, Caitlyn Vaught, Fair Play MO for Susan & Terry Engle, Pleasant Hill Mo
4. The Kansas Kowboy D., Issabella Brandreth, Canton GA for John & Samantha Brandreth, Canton GA
5. Cash's Ashley Renee, Johanna Merk, Bavaria Germany for Harry Patterson, Wichita Falls TX

Amateur Versatility:
Pleasure High Point- Co High Points- New York City Slicker, Gertrud Merk, Bavaria Germany for Waland & Lynne Burger, Stockton MO
Sunrise Temptation W, Susan Breau for Susan Breau, Peculiar MO

Speed High Point- Ferrari's Red Ruby, Montye Mickelson for Montye Mickelson, Kissee Mills MO

Working Horse High Point- Co-High Points- New York City Slicker, Gertrud Merk, Bavaria Germany for Waland & Lynne Burger, Stockton MO
JJ's Sweet Dream, Nadaja Mayer, Stutensee Germany for Waland & Lynne Burger, Stockton MO

Amateur Versatility World Grand Champion New York City Slicker, Gertrud Merk, Bavaria Germany for Waland & Lynne Burger, Stockton MO
Reserve Amateur World Grand Champion- JJ's Sweet Dream, Nadaja Mayer, Stutensee Germany for Waland & Lynne Burger, Stockton MO
3.Gold Digger's Dusty Son, Lynne Burger for Waland & Lynne Burger, Stockton MO
4. Dollar's Platinyum Plus, Alexis Zastoupil for Linda Shaddy, Grovespring MO & Carilee McNeil, Fair Grove MO
5. Ferrari's Ruby Red, Montye Mickelson for Montye Mickelson, Kissee Mills MO

Open Versatility:
Pleasure & Speed High Point- Stroker's Pepper Shaker, Janlyn White, Wallsburg UT ofr Stephen's Foxtrotters, Wallsburg UT

Working Horse High Point- Nathan's Ovation, Jennifer Vaught, Fair Play MO for Susan Engle, Pleasant Hill MO

Open Versatility World Grand Champion- Nathan's Ovation, Jennifer Vaught, Fair Play MO for Susan Engle, Pleasant Hill MO
Reserve World Grand Champion- Stroker's Pepper Shaker, Janalyn White, Wallsburg UT for Stephen's Foxtrotters, Wallsburg UT
3. A Thrill A Minute, Sally Scott for Sally Scott, Rogersville MO
4. Arizona's Outlaw MR, Julie Moore, Rogersville MO for Lothar Rowe, Scottsdale AZ
5. Arizona's Outlaw Kachina MR, Julia Schaefer, Graben-Neudorf Germany for Lothar Rowe Scottsdale AZ
RANCH HORSE

Amateur Ranch Horse World Grand Champion Toddy's Velvet Perfection, Nichole Vaught, Fair Play  for Susan & Terry Engle, Pleasant Hill MO
Reserve Amateur Ranch Horse World Grand Champion Attu, Caitlyn Vaught for Caitlyn Vaught, Fair Play MO
3. JJ's Sweet Dream, Nadja Mayer, Stutensee Germany for Waland & Lynne Burger, Stockton MO
4. Baron's Gold Dolly, Lexi Farrar, Liberty Hill TX for Kirsten Klindworth, Liberty Hill TX
5. Queenie Rose, Ty Fergeson, Liberty Hill TX for Kirsten Klindworth, Liberty Hill TX

Open Ranch Horse World Grand Champion Nathan's Ovation, Jennifer Vaught Fair Play Mo for Susan Engle, Pleasant Hill MO
Reserve Open Ranch Horse World Grand Champion A Thrill A Minute, Sally Scott for Sally Scott, Rogersville MO
3. JJ's Platinum Champagne Doll, Tony Vaught Fair Play Mo for Susan Engle, Pleasant Hill MO
4. Stroker's Pepper Shaker, Janalyn White Wallsburg UT for Stephen's Foxtrotters, Wallsburg UT
5. He Is Bodacious, Brad Flora, Koshkonong MO for Tina Stumpf, Columbia IL
Day one, Showmanship started the day off right!  Jenny and Nichole won the open and youth showmanship classes!  Nova and Velvet were in show horse success mode.
Tony and Powder joined in the next events and the ribbon sunumi started.  The Vaught family flooded me with ribbons.  Blue was the main color.  In the youth events, Nichole and Velvet mostly won the blue ribbon followed by  sister Caitlyn riding Attu.  In the open events Jenny got most of the blue ribbons with Powder and Tony getting many second place ribbons and a few third place ribbons.
I have this great chair with the shade top.  Today, it became the ribbon chair.  At the end of the day, it was also the garland chair.  Jenny and Nova won the Open Versatility Garland and Nichole and Velvet won the Youth Versatility Garland.
Pictures are on Facebook . At the moment, I can't upload pictures here.  Later…
We had friends show in the various events.  Susan Breau showed in Western Pleasure and won the class.  She was so excited and so happy to get that win.  Before the class, she was bubbling over with excitement and nerves.  She has also lost weight this winter and looked stunning in her show clothes with her shining happiness bubbling all over us!
Hope Kahout has to be the best dressed Western Pleasure rider ever.  I will post her picture and you can vote for Hope as most wondrous.  She rides a dark gold palomino and wore a turquoise outfit.  Boy Howdy.  Hope placed in the class and was a happy versatility evener!
Powder looked great in her new bridle.  Last year her whiteness faded out her face.  She needed a bling black bridle so we would see her beautiful green gold eyes with the black makeup.  Oh she is stunning, especially with her cowboy rider dressed in a dark red shirt.  It took a lot of finesse to get the cowboy rider to accept a bling bridle.  Whew  Powder is coming along looking improved over her three year old first season.  Powder is four years old and is in the beginning of her illustrious show career.
Strolling around the versatility arena, I was asked if I "bought" all those ribbons.  "Yes, I did in the entry fees!" I said!  Another person asked me if I was sorry to be winning all the blue ribbons.  I replied, "No Way!  I'm happy that my horses are winning all those blue ribbons!"
I love the people in the versatility arena.  They aren't just people, they are my family twice a year.
Tomorrow is Ranch Horse Day.  All three of my horses are entered in every event.  There is only open Ranch Horse classes. This means that Nichole and Caitlyn are competing along with the adults.  I predict that Nichole and Caitlyn will place higher in some classes than some of the adult riders.  I'm glad not to be competing against Nichole and Caitlyn!
Report tomorrow.  Pictures on Facebook.  Rain missed us all day and hit us right before the horse show this evening. But as I look out McDonald's window, the skies are blue.  Happy to be dry riders are riding in the performance arena right now and the versatility people are watching and thinking about hitting the mattress!
zzzzzzzz
Two hundred miles flew by and I entered the time zone known as Ava!  The golf cart guy met me at the entrance.  I found Nova, Powder and Velvet and the Vaught family.  Life is good.  I beat a lot of people here.  There are still parking spaces available if you want to run on down to Ava!
We had fun times at the office getting everyone signed up and ready to go tomorrow.  Everything went smooth as silk.  Everyone has numbers and even better, safety pins to attach the numbers to the saddle pads.  I chatted with everyone in the office.  They all were excited to see me and vice versa!  ha
I got Powder a duplicate set of registration papers as I misplaced her original papers.  I tell you this so that you will be as astonished as I was to receive a duplicate registration certificate for her with a solid gold seal.  I tried to buy a few more duplicate registrations, but it's not allowed.  $20 for a gold seal is darn amazing!
We watched Caitlyn and Izzy riding in the Kid's Day trail class with expert coaching from Steve Atkinson, a handsome young guy wonderful horse trainer, who never ages.  Ann Compton came strolling by with some serious fox trotter bling.  Ann is a young blond with bling.  She is covering the Kid's Day.  Look for the Online Newsletter to see some of her pictures and stories about the day.  I do have a complaint about Kid's Day.  The kids all got tie dye fox trotter T Shirts.  And my complaint is…where is my tie dye T Shirt?  Kid's only, drat it.
We took a break and dispersed.  I went on my daily run to WalMart and my annual drive around town to see what is new.  Currently I'm sitting in the wonderful True Brew Coffee and Sandwiche Show.  It's wonderful in here.  I'm having tea and a scone.  I have WiFi.  It's better than McDonalds where I normally hang out to publish the news of the show!
Tomorrow is a full day of every versatility class you can think of.  We have Open and Youth events tomorrow. Everyone shows in something tomorrow!  It's going to be a long day.  Some of the day might have some moisture coming from the clouds.  Hopefully it waits until we are done.
True Brew is open from 6:00-6:00 and to 8:00 on weekends.
Gotta run!  Gotta find everyone and watch everyone practicing to get ready for tomorrow!
Oh, and another thing….  the book, Susan FoxTrotter is on sale at the Fox Trotter Shop.  Buy a copy there, find me and get your book autographed if you are on the grounds tomorrow and Thursday.
 Powder is with Tony and Jenny Vaught for her start. (Both Tony and Jenny took two Young Horse Development clinics with Pat Parelli and Ronnie Willis before they had to drop out of the program.) And you know that my horses are gaited. Gait is forever on a gaited horse owner's mind. Tony said he had been riding Powder about a week or so.
 I gulped and thought, here's the moment to ask…. "How's her gait?" I said. Tony didn't answer for a few seconds. I thought he might say the awful pace word. Finally he replied, "Slow".
 Slow is good. Slow is the opposite of reactive and bolting. Slow is left brain. I like slow as an answer!
Just singing my happiness living my life with horses.
Friday was wonderful.  Powder came home from her 30 days of training with Tony and Jennifer Vaught.  It was good to have her back in the pasture again.  Powder and Velvet had never met.  Powder didn't move fast enough to suit Velvet, so Powder lost some hair. She's very aware of Velvet now.
Friday was lesson night.  I have my winter goals for  with Nova. 
We are to trail walk with head down until she is really relaxed.  You remember that picture of the Indian sitting on his paint horse. The horse has his head down and it's titled The End of the Trail.  That's the general idea except we are to do it at a slow walk.
We are to always work on flying lead changes and just regular lead changes
We are to work on our reining horse spins
We are to do a real trot where I have to post.  Nova's fox trot is now so developed that I have a difficult time getting her to do a square two beat trot
We are to do collected canter departs which is the opposite of strung out canter departs.
I was going to talk about riding both Velvet and Nova out on the trail on Sunday.  That was heaven!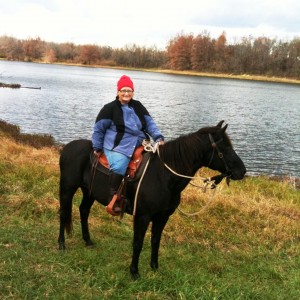 I was going to talk about taking Powder to Pine Dell this Monday night and playing with her.  I was blown away by her liberty trotting task and how she maintains the gait. There was no squirty speeding up, no tails up snorting. She just trotted around the round pen.  We went places in the dark, thru a narrow barn door, crossing a bridge while looking for the round pen light.  We started out in the big arena with two horses cantering around us.
Powder was as calm as could be.  I love this horse!
I love them all!!
I was going to go on and on, but Pawn Shop Stars is ready to start.  I must watch that show!
Powder and I took part in the first day of a Colt Start clinic today. She is in colt start training with Jenny, but this is a Colt Start clinic with Tony Vaught.  I love Colt Start Clinics.  You can learn just about everything you should know about horses when you participate in or watch a Colt Start Clinic with Tony Vaught.
Tony was in the Pat Parelli professional program for many a year and he took two Young Horse Development courses from Pat Parelli and Pat's mentor, Ronnie Willus.  You can't get much better education than that.
Well, back to Powder.  Our big excitement today was Powder getting to be ponied with JR.  It was so wonderful to watch my former wonderful horse, perform the critical task of pony horse.
What does that mean…  The pony horse has to be a finished horse. The pony horse has to go at any speed the rider dictates, stop on a dime, sidepass, and turn on the hindquarters…immediately!
The young horse is attached to the pony horse. The young horse has to learn where the best deal is. The best deal is to go alongside the pony horse exactly where the foal positions itself with the mom. The young horse's head should stay about even with the pony horse's shoulder.
(I tried to pony Velvet once with Sage.  I ended up with Velvet snubbed on the wrong side of Sage, with the lead rope under the saddle.  The rider of a pony horse needs to be skilled at this too.)
Being ponied is a big part of the development of the young horse.   The young horse gets used to a rider without being rode. The young horse has to maintain gait and learn that it's better to do what the lead rope sez. The young horse develops confidence when being ponied.  It's a must do young horse development task!
I'm so glad that Powder got this experience today!
Sunday, Powder will be headed to "For the Horse" Ranch to enjoy 30 days of training with Jennifer Vaught. 
Jenny was a Parelli 3 Star instructor for 15 years.  Pat found Jenny near the beginning of the development of the Parelli people training system and asked her to be an instructor. She has influenced untold numbers of people in the midwest.  She has influenced my life a great deal!
Jenny has taken two Horse Development courses with Pat Parelli and Pat's mentor Ronnie Willus and was certified as a Young Horse developer.
Jenny is the secret to all my successes with horses. She's started all my horses.  I can't imagine what I would do with a young horse without Jenny being in my life.
Powder will be the fifth horse for me to develop into a finished saddle horse.  I can't imagine developing a horse without that crucial start from a  Parelli certified "Colt Starter" and one who has started thousands of horses…..including Sage, Velvet, JR, Nova and soon Powder!
Powder has the potential to be the best of them all!
Jenny and Tony are going to be wintering in Florida for 2010.  They are taking in training horses.  They will be about an hour south of Orlando. Contact them if you are interested.
Surprise!  I asked Jennifer Vaught if she might want to train Powder for 30 days and the answer is YES!
We're talking mid October thru Mid November.  I've also just about talked Jenny into blogging about training Powder. Wouldn't that be something!
I think everyone should send Jenny an email and tell her how excited you would be to read a blog about Jenny's thoughts during 30 days of training.  What does she hope to accomplish in the daily sessions? What happens during Powder's training.  When does the first ride happen?  How far will Jenny and Powder get in 30 days! Just think about a diary of training one of JJ's daughter!
Send that email now!  forthehorse@ymail.com
For the Horse Ranch
Vaught Family General Store and Information
She was born two years ago.  Her birthday is today!  But hold on! She's going to be two again in 2011…for showing purposes!  Powder is two, she'll have two birthdays.   Isn't that two cool!
Powder was born in October and the rule is…Oct. thru December babies are deemed to attain their age in the following year.
In this past few weeks, I'm determined that Powder will have the best horse development ever.  I've been playing with her at home and taking her to Pine Dell.
Taking Powder to Pine Dell is totally cool. We have to get into the trailer.  At Pine Dell, we have two indoor arenas and two outdoor arenas in which to play. We also have a covered round pen.  Life is good for us.
A couple of days ago, I decided that we would play in the small outdoor arena by the road. We don't have a busy road at home.  But next to the smaller outdoor arena, cars and trucks and bigger trucks zip up and down that road.  We even had a motorcycle zip by and put on the big ZZZZZZZooom for us.  You know that big load snort horses have for big danger warning?   I'd forgotten about that snort until it went off in my ear.  Powder did the Big Exhale Snort right into my ear.  It made me yell.  Ouch
Tonight we played in the small arena.  There were little sounds in the rafters…like little feet pattering above Powder's body. SNORT!!!  Whoo WEE!
Later we had another horse come into the arena.  He was having some fun on his lunge line..bucking and carrying on.  Then we had the rumble snorting from Powder.  I got to see Powder with her tail straight up running around for a while.  But when she hit the end of the rope, she softened and came right back into softness.  Love that horse!
After we get done with all these new experiences…maybe this could be called seasoning, we have to get back into the trailer.  This isn't our favorite thing in the world. Tonight we had horses all over the place and a tractor.  Powder got in the trailer and ran out several times.  We waited until she was semi calm in the trailer before I threw the lead rope over her back and let her stay in.
It's a short ride home..perfect for trailer "seasoning".  She was really upset when we got home.  I opened the door. She came out with her front feet and started eating grass.  Her back feet were forgotten as they stayed in the trailer for a time.  Yep, the trailer is a big deal!
Powder- October 2010
12′ lead rope around her neck
22′ rope is how we play!