Archive for the 'Missouri Fox Trotter' Category
Cisco and Fancy played at liberty with me in the round pen today. They ran around while I looked at Cisco's back feet. He is still dragging both back toes. It occurred to me that maybe he needs to self-collect. I got the barrels in place with a space to run in between. Cisco scoffed at that and jumped. Fancy went to the outside through a space I thought too small for a horse. I gave th signal to stop running which Cisco obeyed. However, Fancy's nose was looking outside the round pen so she got to run a lot more until she obeyed the sign to stop and turn to me.
I went over to set up the barrels so there was no space between and I added the mounting block as a jump obstacle with the barrels. As soon as my back was turned, Fancy comes to help me. We got it set and I told both of them to go. Cisco jumped and Fancy went through the small space between the fence and the barrel. I forgot to close up that space. They went around twice and I gave the signal to stop and turn towards me. Again, Fancy missed the signal and got to go extra rounds.
I fixed the obstacles and Fancy had come to help me. She is not quite trained to let humans have enough personal space. We did have several trainings sessions during our time in the round pen to get Fancy to back out of my personal space. We also practiced turning her hindquarters with my body signal,
and then the stick signal. She has improved tremendously. She moved from a low phase stick signal.
However, there is still resistance. When a horse backs or turns the hindquarters, they give up dominance. Backing is really the worst dominance battle.
I ask Fancy to back and she does. She is far enough away that I'm in no danger from her mouth or front feet. There are a lot of pinned ears and glare when she backs, but she is backing as soon as I ask and with some speed.
I ask her to back and she pins her ears and lifts her front leg. That is the horse version of the middle finger!
She got to back a lot after that. The really nice thing is that she backed hurriedly away from my monster forward shoulders and swinging back and forth stick. She did not run away or back crooked. That is amazing!
We got back to the barrels and jumping. She refused, turned and ran the other way. However, Cisco stopped that. Fancy turned and ran back to the barrels. She jumped. I gave her the sign to stop and turn to me and….and….she did in about 10 more steps. I took that. Our session was over.
I believe that barrel jumping helps Cisco gather his body up. He doesn't falter or limp during the barrel jumping. He certainly needs to be exercised. It was only last year when I fed him alfalfa nuggets to get his body better filled out. Now he is on diet food!
Good session. A lot of improvement on Fancy backing and moving her hindquarters. The middle finger is a classic tale of a dominant people friendly filly.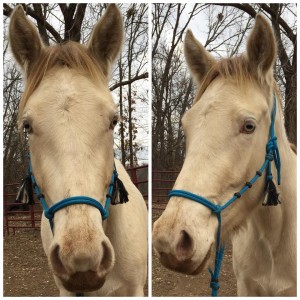 Everyone calls this Buddy sour, but that is so negative for a dependence problem. Cisco has a personality that lends him to be dependent on others…usually a horse. Cisco and Lucky were boarded together this summer. I've been trailering Cisco and Lucky lately to a park where my friend got to ride Lucky.
At no time was Cisco able to let Lucky out of his direct sight. If Lucky walked behind a trailer, Cisco went hysterical. I had to saddle Cisco where he could see Lucky. If not, Cisco became immediately a basket case of nerves. Saddling him was nearly impossible as I didn't exist as he swung his body around trying to see Lucky. I would have been stepped on or squished or the unsecured saddle would have been launched into space.

I just went with it. I also made darn certain that Lucky was in clear view when I mounted Cisco. I need a horse to stand still like a statue when I get on.

One day I delivered Lucky Star to Hope. When the truck and trailer came home an anxious Cisco was waiting for Lucky. I told Cisco he now owned two mares. Delta spoke up and contradicted that. She said Lucky Star was her boyfriend and if Cisco thought he could boss her around he would feel her teeth!

Trail ride date was upon us. Cisco and I got there first. Cisco had never seen Hope's trailer. When she came lumbering into the parking lot, Cisco screamed and screamed and screamed. Finally the trailer came toma stop and we could see Lucky Star. Cisco relaxed. Life was good.

Until the end of the trail ride

We tricked Cisco. Lucky stood by our trailer when Cisco went in. The door shut and Lucky walked away. Cisco became frantic. I had to jump into the truck and move. Horses have to brace themselves when the trailer moves. That stops the frantic movement.

Yesterday was our next meeting. Hope and Lucky got there first. Before we came into sight of the parking lot, Cisco started screaming. He knew where he was and thinks Lucky lives at the park. We screamed until I got parked, let Cisco out and we saw Lucky.
I've been in California for over a week.  I had the most amazing time ever!  I'm back home and have a talented young horse to develop.  There is nothing better than a beautiful, talented young horse and a 60′ round pen!
The herd was in the far pasture across the lake.  I called Fancy's name on my way to the barn.  When I stepped out of the barn with my assortment of tack, Fancy was waiting for me.  The herd was still in the far pasture, but Fancy came a good distance to see me!  I decided she needed some grain as an extra bonus reward and incentive for future join-ups!
Fancy and I played for nearly three hours!  Amazingly, the sun starts to go down now at 5:30pm.  Good Lordy.  Mother Nature is interfering with my horse play.
Fancy and I started with the 14′ rope and halter along with the horsemanship stick with the plastic bag on it.  Fancy is just a little unsure yet about the plastic bag.  She obeys the plastic rustling bag and doesn't quite trust it.  The plastic bag tried its best to be a friendly leader.  It even drug the ground in front of Fancy while we took a little walk around the round pen.  She didn't step on it yet.  She has not yet tried to dominate the plastic bag.  We did quite a few things with those tools.  We always do a ton of backing as Fancy loves to install her body directly into the human body.  We are also doing a lot of hindquarter turns as she does not yet know the "hindquarter" body language code to turn and come to me.  I do not yet "own" her hindquarters.  Fancy feels that she is in charge of where her body goes, not me.  That is a topic under discussion.
Next I switched to the halter and 22′ rope. We switched to the horsemanship stick with the 6′ rope on the end.  She got to run around with me in the director chair.  We tried for a consistent gait.  We failed, but daily improvement is coming.  Again we did a lot of backing.  Backing is not on a dominate horse's agenda.  Fancy's agenda would be to insert her head into my body.  My body hates that.
Fancy thinks the string is an accelerator.  When I swing the 6′ string, she thinks that means run.  My body is turned away from her and in a relaxed posture.  I whack at the ground and Fancy takes off.  I keep whacking, body position neutral until she decides maybe she can stop.  When she stops running the rope stops whacking the ground and she gets rewarded with the stick rubbing her with love.  I shift with my body position facing her, tension on the 22′ rope and life up, I ask her to circle around me at the trot and canter.  The 6′ string occasionally talks to her.  We did some direction changes and hindquarter stops.  It wouldn't yet be called a dance between her and me.  That's the fun.  The dance is coming and it will be ballet!
Next is liberty.  I take the halter off and ask her to circle around me at trot and canter.  We have a stop when she decides to stop, but our dance goal is to stop when I give the body signal.  Another goal is to stop when I ask her with the horsemanship stick.
Heck, she has no idea what that stick means when I tap it up and down in front of her.  Se we return to the 14′ rope and the plastic bag on the stick.  We do the stick-to-me walk.  Her goal is to keep her head even with my hand (next to my shoulders).  We walk forward.  The stick is behind my body.  I move the stick in front of my body and tap it up and down while my feet stop.  That is her cue to stop.  Then my feet go backwards.  The human body posture changes into the backing posture, the stick thuds on the ground and she matches 1-2 steps backwards.  That is huge.  We do that for a while and next the human body decides to change directions.  The dance gets a little technical here while Fancy decides what her body is supposed to do.  She matches me darn good for her first time at change of direction.  We couldn't have done this when Fancy first came to me as her goal was to put her head or shoulders inside my body.  We have achieved respect for my space now.  Running over me with her head or shoulders isn't allowed.
I look at the sky because the sun seems to have changed and am shocked by the rude sun behavior.  The sun is setting.  What!  It's only 5:00.  I decide that Fancy has done really well today and we should be finished.  But over on the fence, something is mocking me.  The driving bridle is mocking me.  "You promised," it said.  "A young horse needs a driving lesson."  OMG," I replied.
Fancy was having a good time with the reward hay when I stepped beside her and asked her to raise her head.  "You have to be kidding me," She said.  "I thought we were done and now you want to put a bit in my mouth?"  I persisted and Fancy had her bridle on.  I think her tongue wasn't prepared and it was over the bit.  However, she got her tongue under the bit and was chewing hay.  Off we went.  She drives!  She turns when the reins ask.  Today, we didn't stop when the reins asked.  The reins persisted, one tug at a time.  After we stopped, we tried the back up and it was successful after a few alternate tugs.
Finally, our development day was over.  She got to eat the remaining hay.  I haven't trained a young horse in a round pen is about a hundred years.  The last one was Powder and she is nine years old.  Those  young horse memory techniques are hard to dredge up.
Pat Parelli invited the Vaught family to come and ride with him for an entire month this summer in Colorado.  All the extended family are thrilled that the Vaughts have this great opportunity.  This is just thrilling.
The 2013 Spring went by and the great adventure was thought about.  Finally, real plans were in the working and finally, the making!  They left near the end of July and the first day of riding with Pat started July 24th.  I am very blessed that Jenny and Tony decided to take Powder and Nova with them along with four other horses.  They have to compete in the Missouri Fox Trotter 2013 Celebration.  They have to be ridden.  Working with Pat Parelli coaching them on cow work is my version of an a staggering opportunity for my horses.
The six horses get to stay in a small pasture that contains meadow and mountain.  It's a long way from the Vaught RV.  The whole family is going to get a 30 day high altititude  workout in their riding and fetching horses to and fro.  Pat is a workaholic and so are the Vaughts. When they return from Colordao, they will be so physically fit and able to jog a full marathon everyday, but why would they want to?
On the morning of  their second day, the Vaughts were headed out on a conditioning trail ride in the mountains.  Pat Parelli was up and about riding.  He asked if they would also gather the cattle..all 64 of them including three bulls.  How fun can it get!
Nova and Powder were part of the group.  Nova has been a little nervous about being on the trail, and now she gets to be on A TRAIL.  Nova led and followed on the mountain trail.  And, of course Tony has to break the trail riding rule.  He and Powder leave the group.  Nova got a little ancy when Powder left, but Jenny managed to convince her that she was safe.
Then the cow gathering was implemented.  They found nearly all the herd and started gathering them back to the ranch.  Nova was placed in position and away they ambled.  All the cows decided they didn't want to amble back to the ranch.  Instead they decided to head off in the direction that Nova was guarding.  All the cows turned and started on a direct line to Nova.  Nova is experienced with ten or so cows, maybe as many as 15.  Sixty four cows heading straight at her made her think, " I want out of here!"  She telegraphed her desire to Jenny.  Jenny is a horse whisperer and read Nova's thoughts loud and clear.  In her horse whisper voice, she told Nova, "Nova, you can do this!  Just put your ears back and look fierce!"  Nova trusted Jenny.  She put her ears back, way back.  Her head was ready to snake and mouth ready to eat any cow that had the audacity to even think about coming her way.  The cows thought… ooooooh.  That horse is not to be fooled with.  Let's head the way that she wants.  The cows resumed their slow amble to the ranch for a day of cow work.
That evening started cow play with Pat coaching the Vaughts.  First Nova and Jenny worked with the electric cow…the one that runs up and down the string.  Nova has played with this kind of cow all winter.  The idea is that's it's the horse's idea to follow the cow.  The rider's job is to provide help with the speed, not help with the reins/mouth.
Pat decided Jenny was doing too much with the reins, so he had her close her eyes.  Can you imagine riding your horse with your eyes closed?  Pat has done this for a long time.  He has people ride at all speeds with their eyes closed.  He says it really helps to improve your balance.
Jenny used to have us ride with our eyes closed in our group lessons.  We never went faster than a walk.  Much time has passed and I think she forgot that training lesson.  Well, she had a great opportunity to learn it again.  This winter, Pat had her ride one of his cutting horses when cutting cows.  We have a video of that.  The one where it looks like Jenny is jerking around in the saddle…  She really did have her eyes closed, riding a top cutting horse, while cutting a cow.  my thought is "EEeeek!"  But I digress
Pat had jenny ride Nova with her eyes closed, while Nova was cutting the electronic cow.  When he was happy with that, he had Nova and Jenny go into the cow herd.  Usually the rider focuses on the cow to be cut out from the herd.  But Pat always has a better idea.  His idea is to let the horse pick the cow!  Nova went into the herd, put her ears back and snaked her herd at certain cows that interested her. Then Nova got to follow that cow and cut them out of the herd.
Oh the fun. On Thursday morning, the Vaughts were planning on heading out on their conditioning trail ride with their new job of gathering the herd.
____________________________________________________________________________________________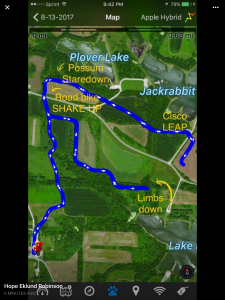 Our ride began on a lovely tree lined, shady trail until we encountered LIMBS DOWN. Ugh. No way to get through. We guffawed at the thought of getting OFF our horses to lead them through the branches. Get OFF? Then, remount FROM THE GROUND? Seriously? Nope.
Susan and I are loath to back track, but that was our only option. At the fork in the trail, we turned north. Low ground that had turned to ribbons of algae slop caused Cisco to LEAP across to save himself and Susan with him. It was SPECTACULAR! Cisco put much more effort into his launch than he or Susan needed. They lived.
Then, we followed a mowed trail into a sunflower field. Sunflowers weeks beyond their prime. We watched as herds of deer, hiding in the tall flowers, leapt to their feet to flee the field as we rode deep into their resting area. We retreated the way we had come.
"Run little possum!" Nope, he stared us down from the side of the trail. Did not budge. It could have been all over if he'd chosen to chase us!
Susan and I continued riding towards the road. Trees lining both sides of our trail, opening onto the road ahead. ZOOM! No sound. ZOOM! For a blink we see a bicycle/rider cross from left to right at sonic bicycle speed several strides ahead. Both horses saw the bicycle missile, thought to save themselves, and us with them! Good Susan Engle trained horses, reacted big, but mostly in place. After we assessed ourselves, we asked, "Are you OK?" Then, laughed. WE LIVED!
A week of extreme temperatures coming up has defeated me. I decided to bring the handsome geldings home from the boarding stable. Everyone will be pleased…the handsome geldings and the fulsome mares.
I pulled up and Cisco saw me immediately. I got out of the truck and Cisco whinnied loudly. Ahhhhh, I thought, "he really loves me". I walked up to his pasture and he whinnied again. But he wasn't looking at me. He was looking at the trailer. I walked past him and Cisco whinnied at the trailer. Did he think his mares were in there? Was he telling the trailer to open the gate so he could load up? Cisco loves the trailer more than me. Sigh
I got both geldings in hand and we loaded into the trailer and went home. I decided to rinse them off before letting them into the pasture. I decided to lead both of them into the barn and stall. Of course Lucky went first and Cisco was just barely able to avoid crushing me in his desire to be home. Lucky tried to take off before I got the halter off. He pulled the rope out of my hand. I stepped on the rope. He was stronger and pulled the rope away. Lucky went directly to the round bale, got on one knee and rubbed his neck. I had a time controlling Cisco to get his halter off. He took off. I followed intending to get the halter off Lucky. But the impulsive geldings decided to gallop off. Zoom they went with Lucky's rope floating in his jet stream.
The mares? They stayed in the barn. No way did they have the energy in the 90+ weather to gallop anywhere. Soon the speed machine geldings came racing back to the barn and I was able to get Lucky's halter off.
I'm drying off my sweat in the house now and saw the herd run across the dam. Evidentially Lucky and Cisco gently motived the mares to move out! Don't believe the gentle word.
How the Horse of No Saved My Life
I took Lucky and Cisco to one of our our outdoor arena summer home. It is perfect for Cisco's rehab. I was going to ride the "horse of no" and lead Cisco over the log obstacle, the low jump and the small wooden bridge. That was my intent and if Lucky would have let that happen, I might be in the hospital or funeral home now.
Lucky decided he wanted to play at liberty before I rode. He double dared me to make him a happy horse while trotting circles around me. I took out my top of the line horsemanship leader role and proceeded to fail at making him a happy horse.
Firstly, I failed at circles. Instead Lucky ran straight and did his best performance of a bucking horse. It takes a lot of energy to get that high flying air suspension bucking horse. Lucky just braces his front legs and puts his head down as he trots off.
This bracing the front legs with his head down always makes the saddle move forward. This saddle is much better that my former saddle. It managed to stay on his back, not on his neck. However, it still goes too far forward. I loosen the girth and move the saddle back in place and tighten it up again.
The knowledgeable horse trainer returns and fails again as Lucky performed his exciting version of a slow, low flying bronc.
Repeat with the saddle adjustment.
We are now completed the fourth bucking episode. I'm thinking of getting him in the round pen, remove the saddle and make him fly around. I'm getting irritated at my horsemanship failure.
Once again, I loosen the saddle and move it back. I tighten it again and BOOM! The girth strap pulls apart. It looked like a piece of beef jerky as it pulled apart.
Good Lordy! I could have been riding Lucky Star or even Cisco when the break occurred. I could have been cantering around the corner of the arena when the break occurred. I would have flown off with the saddle. That is a physics thing. The rider's body follows the saddle where ever it goes.
Lucky Star, "The Horse of No", saved my life! Thank goodness he was in his arguing mode.
The saddle is my new used saddle. I didn't like the leather strap. I had a feeling about it. However, it looked perfectly good to me. I was eventually going to replace it with my favorite nylon cinch strap. Whoops, instincts should always be followed!
When you buy a new used saddle, put on a new girth strap. You might not have a "Horse of No" to save your life!
Sunday Clinic Day with Jennifer Vaught
It was a most amazing time riding Cisco. Firstly, I asked for a bit of speed and he hollowed out his back and paced. We worked on that. Then he would go nicely until the corners where he paced. The first exercise Jenny had us do in the clinic today, involved a lot of walking and leg yielding. We were walking the long way down the middle of the arena when Cisco suddenly began walking faster with a huge long stride. Then he got excited and we jigged around. He wanted to dart and go fast. We got that under control. The last exercise of the day was everyone went to the rail, one at a time. We were to do transitions, all the gaits and canter. We did an awesome flat foot walk. We did an amazing soft fox trot! Cisco and I have not cantered all winter because he couldn't. So today, I asked him to canter. We went on wrong lead. But, it wasn't a "lameness" canter attempt. We stopped and tried for the correct lead again. Zowie! We cantered one beautiful lap around the arena. Cisco has recovered!
Here is Cisco's translation. "It is going to hurt when I go faster. I dread it so much that I'm going to hollow out my back to help stop the pain. Hmmm. Nothing hurts. My shoulder can move underneath this saddle! My goodness! I'm going to walk fast and see what that feels like! Wow! That felt good. OMG. My body feels great under this saddle! I want to run! I want to dash around! Yee Haw! Wait! You want me to fox trot? OK. Doesn't that feel good! Now canter? I can't wait! Isn't this fun! Thanks for getting off. I'm a little tired with all this exercise. We haven't done this in a long time!
Now get those ticks out of my mane! Let me eat some grass! Take me home!"
Lucky has a new saddle and suddenly he is one of two riding horses. Half the pressure is off! Next is to give Lucky the chance at the new saddle. I told him tonight when Cisco returned to his pasture. Lucky said, "A different saddle? I'll really like how it feels? Well, that is s p e c i a l. I volunteer to let Cisco use it all the time. I'll just stay here and run things at home. Sweetie and Delta need me full time to run the pasture process." The Lucky SNORT was directed to my face.
Cisco and Lucky own a Parelli Natural Performer saddle. The gullet is extra wide. It is 16.5 inch and was made in Germany in 2010. It is a good thing we got the extra wide. The standard would have been too narrow.
Parelli saddle
The bucking rolls are gone. Thanks Yellow Boot Saddelry for making the fenders short enough for me and removing the bucking rolls. The bucking rolls made the seat too small for me.
Cisco's lameness was stifle and something else. I guessed the saddle was causing problems. My beloved Circle Y Flex Lote saddle was discovered to have a broken tree last year. I'd been using my original
Circle Y Flex lite saddle. It occasionally caused me to get sore. It was probably too narrow for Cisco. I no longer endorse the Circle Y Flex tree saddle.
The stifle and mystery lameness got better and got worse. Stifle injection made Cisco worse. Cisco got better with each shoeing by Healthy Stride Farrier, Tony Vaught. But we couldn't keep the plus progression of zero lameness strides. Cisco got a month of freedom to heal.
Saddle search was on and I made a big commitment to the Parelli brand. I know if I ever sell this saddle, there will be buyers out there in the world looking.
The round bale had been consumed leaving only a cushion of hay on the ground. The horses deserted the round bale to the green grass. It appears that the green grass has been eaten down to the dirt.
Lucky Star has been telling me that he is starving. I retort and tell him both of us need to lose our roundness. He snorts on me and is actively looking for a smart phone that is nicker activated.
Lucky Star hates Siri. She never responds to his nicker activating attempts to contact the Too-much-Horse-Exercise Hot line.
Today I put out a brand new round bale to stop the horse starvation. All the horses ignored the round bale. They all went into their stalls and waited for the horse feed.
I kept telling them that the hay was their special treat today. After they gave up waiting for their horse feed, I saw Cisco use the round bale as a scratching post. Delta laid down and used it as a scratching post.
The starving horses have been eating the starvation dirt grass all the rest of the day.
Did Lucky Star lie to me about starving!
I go now to feed them their sweet horse feed.

Once upon a time the favored horse became replaced by the new guy.
Lucky Star, the "Horse of No" was a difficult horse for the human. He was dominate over the world, had little to no work ethic and didn't react to pain stimulus. Horses that are reluctant to move won't win many fans in the human and horse world. It takes a ton of horsemanship knowledge to work with these kind of horses. Lucky wasn't the most difficult ever horse. There exist "horses of no" that lie down when their human rider requests movement. Thank goodness Lucky didn't figure out that trick!
One day the raffle horse came into the human's world. Cisco was eager, willing, friendly and strived to do more than asked. The human's long years with Lucky made her very appreciative of a willing horse. Lucky Star became a pasture ornament. The fun of dealing with Cisco took the human's insane desire for forward movement away from the "horse of no".
At first Lucky Star was grateful to Cisco. Being a pasture ornament allowed Lucky a lot of time spent pretending to be a wild mustang running free with his herd of two mares and Cisco. Gradually, Lucky became a little bored in his 15 acre wild horse experience. One fall day when his grass was starting to die. Lucky decided to to expand his mustang roaming area. He jumped the fence, trying to get into the hay pasture. He made it, but in doing so, got a back foot caught in the fence. He tried to become a three-legged horse.
Lucky laid down for 12 hours at a time. He would not get up. The pain killer drugs produced colic. Colic kills horses. The vet started coming every day and giving a pain injection and avoided the colic causing medication. This allowed Lucky enough pain reduction that he started standing up at least part of the day. The colic went away. Along with the pain of recovery, his human spent a lot of time hanging out with him. Horse and human spent a lot of time together. Human worried and horse suffered. The treats he missed when the human started to spend all her time with Cisco resumed. Lucky Star will do almost anything for treats. Trying to cut off his foot was an accident. But the treats were wonderful.
There were some sticky recovery times when vet and human wondered if Lucky would live. This experience was the third time in his life when death was knocking on the door. Each time Lucky had a dedicated human taking care of him.
Lucky survived and his foot started the healing process. Again, Lucky became a pasture ornament while Cisco got all the treats, rubs and human time. A small resentment started building while his leg healed. Lucky wondered how he could get his human back again. How could he become the favored horse, not work and get all the treats?
Lucky made certain he was first in line with anything his human did. However, his argumentative brain would not give up his love for domination and his hatred of anything that resembled work on his part. He wanted his human back again, but just couldn't change the "No" that lurked in his personality. The human tried last summer to get through the domineering Lucky Star. There was no fun in the trying and again, Cisco won through.
Lucky Star got older and less extravagant in his need to be the ruler of the free world. Three people came forward with the need and desire to have a horse named Lucky Star. The human owner was thrilled! Lucky Had to be ridden so that he would be ridable success. Hmmmm, thought the owner, Lucky Star might work out. Oh wait, the human owner had just the slightest bit of fun riding Lucky.
Then the unthinkable happened. Cisco came up lame and the healing process is not an overnight process. Lucky's human started giving him treats and spending time riding and playing with him. The human took Lucky back into her heart.
Lucky Star did suffer through this process. The human employed "thunks" using a riding crop. The thunking was done on his shoulder, not the rear end which might buck. The thunking was done rhythmicaly every one, two and thunk. One day, he decided that arguing was not working. The "thunks" were very irritating.
Lucky decided to become a partner with his human. He decided it was easier to do what the human wanted, Immense rewards were experienced. Lucky Star got those beloved treats and he got rest time where he was rubbed and stoked. His mane and tail were combed and the itchy dandruff went away. Oh what a wonderful world enjoyed by a partnered groomed horse,
Lucky decided to fully participate in life with the human. Gradually, he got rid of almost all argumentative actions. On this past weekend during a two day clinic with Tony and Jennifer Vaught , he changed. Lucky Star got impulsion! He moved at the human requested speed, for as long as the human wanted! Miracle!
His new nickname is…..ROCKET MAN!
His human is having fun. Rocket Man is having fun and treats!
This romantic drama of the horse wanting his human in this story is called anthropomorphic. Horses do not think like this. Horses live in the moment. What really happened is the human used love, language and leadership. The human finally became physically effective. It took years!
Here are many articles to help all humans deal with the overwhelming number of horse and human problems. Go wild! Go Crazy! Read all these articles! learn Horsemanship!