Archive for the 'Velvet' Category
3/4/98
One of the Kansas City Regional Fox Trotter club's favorite game for a FUN horse show EVENT is musical sacks. There are some horses in our club that stomp on the sack when they get close. They've probably been trained to do that. I thought I would offer the readers of this Corner Page, a natural horsemanship training strategy to prepare for musical sacks. Musical sacks is played just like musical chairs, except the horses must step on the feed sack. We generally double the feed sacks. There will be one less feed sack than horses. The music plays and we circle the sacks. The music stops and we rush for a sack…just like musical chairs.
The main principle of natural horsemanship is to know that horses crave comfort. They will seek the answer to many a puzzle in their quest for comfort. The secret is to think how to train a horse to step on a feed sack to gain comfort. Ah…it gets easier now!
On the ground: Feed sacks can be scary. You need to show the horse that the feed sack is friendly. Fold the feed sack up into as small a package as you can and rub the horse all over with it…belly, rear, neck, between legs, and face. Do this and all the following steps until the horse is just standing there practically asleep while you are rubbing the feed sack all over their body. When this is successful, unfold the feed sack one more fold and proceed to rub the horse all over. Keep unfolding the feed sack and continue to rub.
What if the feed sack spooks the horse? You have to realize that spooking is uncomfortable. You have to continue to do whatever is spooking the horse until the horse stops. Then you stop also. Let's say, the crackling is spooking the horse. I would be playing with the feed sack in the round pen or with a 12 foot rope attached to the horse. If the horse wants to run around in a circle while the feed sack crackles, that's just fine. But the horse needs to gain comfort and that takes being brave. As soon as the horse stops and faces the fearful object, you stop whatever is making the object be fearful. I might stand facing away from the horse and just crackle the heck out of the feed bag. The horse might take off and that is fine. I would just keep crackling the bag until the horse realizes that the bag isn't going to eat him. When the horse stops, I stop crackling the bag. I probably would pet the horse. Then I would turn around again and crackle the bag.
When the horse is no longer afraid of the bag in your hand, put it on the ground and try to get the horse to step on it. In the beginning, if the horse bends down to smell the bag, I would instantly stop any pressure I am making to get the horse to step on the bag. I would pet the horse. Then I would resume trying to make the horse step on the bag. When any part of the horse's feet touches the bag, I would instantly stop my pressure. I would completely relax my body and pet the horse. If the horse takes the foot away, the horse gets longed and brought in to touch the sack. It doesn't take long after the 1st touch for the horse to figure out that comfort is touching the bag. After we have petted and rubbed while standing on the bag, I would make the horse longe for a couple of circles and then make the horse come in and step on the bag. In the beginning, I would try for a long time to get the horse to step on the bag. Then would come comfort…petting and rubbing and resting. After 4 or 5 times of touching the bag, I would give the horse less time to put a foot on the bag or away we go in the longe. It doesn't take long for that horse to figure out the big secret…step on that bag. I've found out that the horse's own feed sack is best. It smells really good to the horse. Treats are OK too, when the horse steps on the bag. I would put the treat on the bag. Then the horse knows that this is really a good thing!
Next step is riding. The same principle applies. Ride the horse around the arena or pen at a trot or canter and then come into the middle and step on the bag. When the foot touches the bag, immediately drain your body of all animation and rub the horse. Stand on the bag for a while and then do the same exercise. If the horse takes his foot off the bag, you immediately go to the wall and trot or canter for a while. Soon the horse learns again that the bag is the key to comfort and the horse will search out that bag and skid to a halt and STOMP it. You'll be a contender in musical chairs!
Just a warning….Velvet and I have played this game with the sack just a couple weeks ago. She loves standing on that feed bag! Watch out FUN DAY SHOW!!!
I decided to ride Velvet for a while at Pine Dell Farm every evening that it was in the high 20′s to 30′s.  Ah, life is good with an highly trained finished horse.
I just might be over my mad desire to have a young horse to finish every 5-8 years or so.  It's fun to get Velvet and I back into coordination.
Velvet brought me one step closer to redemption.  I don't believe I've ever felt the need to scream outloud my need for Jesus to save me.  I've had the thought many times, but I kept it internal.  I've had conversations wtih Jesus and God before, but no one got to listen in.  Velvet, the trained cow horse, got me to scream for help for all to hear. Everyone in the cow clinic and all the auditors and probably the neighbors heard me scream, "Lord Help Me Jesus!"
Velvet took over the cow.  Velvet is a trained cow horse. She understands being a cutting horse.  I've watched those cutting horses.  I understand the concept.  You put your hand and reins down on the horse's neck because the horse just takes over keeping the cow away from the herd. The cow runs trying to get past you and get back into the herd.  Your horse takes off and runs to keep herself between the little cow and it's cow friends.  Your horse blocks the cow.
It was in the 2nd dash and my hands were trying to communicate to Velvet what to do.  But Tony pointed out that Velvet knew exactly what to do and to let her do it. This involved me giving total control to my horse.  At that moment we were galloping back and forth. The cow ran. Velvet ran to cut the cow off. The cow turned the other way and ran off.  Velvet turned and ran to cut her off.
I've rode Velvet bridleless before thousands and thousands of times.  I've ridden her bridleless in front of large crowds of people.  But I've always been mostly in control of everything she did.  Occasionally, she would make a turn thru the middle of the arena that I wanted, but I pretended that cantering around the arena was exactly what I wanted to do. That was nice easy going cantering.
Velvet was in charge of the cow. She was galloping short burst of impulsion, spinning the opposite direction and galloping off again. This was an entire new feeling which might have prompted me to yell out, "LORD HELP ME JESUS"!
VERSATILITY OVERALL PLACINGS
Youth Versatility:
Pleasure & Speed High Point: Toddy's Velvet Perfection; Nichole Copple for Susan & Terry Engle, Pleasant Hill Mo

Working Horse High Point: Co-High points
Toddy's Velvet Perfection, Nichole Copple for Susan & Terry Engle, Pleasant Hill MO
Nathan's Ovation, Caitlyn Vaught for Susan & Terry Engle, Pleasant Hill MO

Youth Versatility World Grand Champion Toddy's Velvet Perfection, Nichole Copple, Fair Play Mo for Susan & Terry Engle, Pleasant Hill Mo
Youth Versatility Reserve Wold Grand Champion Playboy's Lookie Here Now, McKenna Flory, Wallsburg UT for Stephen's Foxtrotters, Wallsburg UT
3. Nathan's Ovation, Caitlyn Vaught, Fair Play MO for Susan & Terry Engle, Pleasant Hill Mo
4. The Kansas Kowboy D., Issabella Brandreth, Canton GA for John & Samantha Brandreth, Canton GA
5. Cash's Ashley Renee, Johanna Merk, Bavaria Germany for Harry Patterson, Wichita Falls TX

Amateur Versatility:
Pleasure High Point- Co High Points- New York City Slicker, Gertrud Merk, Bavaria Germany for Waland & Lynne Burger, Stockton MO
Sunrise Temptation W, Susan Breau for Susan Breau, Peculiar MO

Speed High Point- Ferrari's Red Ruby, Montye Mickelson for Montye Mickelson, Kissee Mills MO

Working Horse High Point- Co-High Points- New York City Slicker, Gertrud Merk, Bavaria Germany for Waland & Lynne Burger, Stockton MO
JJ's Sweet Dream, Nadaja Mayer, Stutensee Germany for Waland & Lynne Burger, Stockton MO

Amateur Versatility World Grand Champion New York City Slicker, Gertrud Merk, Bavaria Germany for Waland & Lynne Burger, Stockton MO
Reserve Amateur World Grand Champion- JJ's Sweet Dream, Nadaja Mayer, Stutensee Germany for Waland & Lynne Burger, Stockton MO
3.Gold Digger's Dusty Son, Lynne Burger for Waland & Lynne Burger, Stockton MO
4. Dollar's Platinyum Plus, Alexis Zastoupil for Linda Shaddy, Grovespring MO & Carilee McNeil, Fair Grove MO
5. Ferrari's Ruby Red, Montye Mickelson for Montye Mickelson, Kissee Mills MO

Open Versatility:
Pleasure & Speed High Point- Stroker's Pepper Shaker, Janlyn White, Wallsburg UT ofr Stephen's Foxtrotters, Wallsburg UT

Working Horse High Point- Nathan's Ovation, Jennifer Vaught, Fair Play MO for Susan Engle, Pleasant Hill MO

Open Versatility World Grand Champion- Nathan's Ovation, Jennifer Vaught, Fair Play MO for Susan Engle, Pleasant Hill MO
Reserve World Grand Champion- Stroker's Pepper Shaker, Janalyn White, Wallsburg UT for Stephen's Foxtrotters, Wallsburg UT
3. A Thrill A Minute, Sally Scott for Sally Scott, Rogersville MO
4. Arizona's Outlaw MR, Julie Moore, Rogersville MO for Lothar Rowe, Scottsdale AZ
5. Arizona's Outlaw Kachina MR, Julia Schaefer, Graben-Neudorf Germany for Lothar Rowe Scottsdale AZ
RANCH HORSE

Amateur Ranch Horse World Grand Champion Toddy's Velvet Perfection, Nichole Vaught, Fair Play  for Susan & Terry Engle, Pleasant Hill MO
Reserve Amateur Ranch Horse World Grand Champion Attu, Caitlyn Vaught for Caitlyn Vaught, Fair Play MO
3. JJ's Sweet Dream, Nadja Mayer, Stutensee Germany for Waland & Lynne Burger, Stockton MO
4. Baron's Gold Dolly, Lexi Farrar, Liberty Hill TX for Kirsten Klindworth, Liberty Hill TX
5. Queenie Rose, Ty Fergeson, Liberty Hill TX for Kirsten Klindworth, Liberty Hill TX

Open Ranch Horse World Grand Champion Nathan's Ovation, Jennifer Vaught Fair Play Mo for Susan Engle, Pleasant Hill MO
Reserve Open Ranch Horse World Grand Champion A Thrill A Minute, Sally Scott for Sally Scott, Rogersville MO
3. JJ's Platinum Champagne Doll, Tony Vaught Fair Play Mo for Susan Engle, Pleasant Hill MO
4. Stroker's Pepper Shaker, Janalyn White Wallsburg UT for Stephen's Foxtrotters, Wallsburg UT
5. He Is Bodacious, Brad Flora, Koshkonong MO for Tina Stumpf, Columbia IL
Velvet and Nichole won the garland in the youth Versatility Spring Show.  I clapped and cheered all the way through the blue and one red ribbon!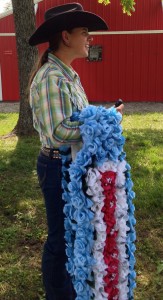 Ranch Horse Day was a surprise.  This year the Ranch Horse classes just had one classification…Open.  Open means professional horse trainers and everyone else can participate.  Nichole is 17.  She was in Ranch horse events competing against her mom, step father, younger sister and a host of other adult riders.Points are accrued based on the placing of the horse/rider and how many riders competed in the class.  The Ranch Horse Events go by quickly and no one was trying to compute points.  The Ranch Horse Conformation class was won by Tony and Powder.  Caitlyn won the Open Roping.  Jenny and Nova won the blue in Working Cow horse.  Nichole and Velvet took second in many ranch classes, not any blue ribbons.
My  earlier prediction was that Nichole and Velvet would win over some of the adults.  And she did, but none of us had any idea of the outcome that happened in real life.
The announcement was made.
The Ranch Horse Champion is Nichole Copple and Toddy's Velvet Perfection.
Tumult!  Screaming, yelling, cheering, clapping!  We learned that Caitlyn and Attu took second.  Oh my!  I got to hold the ribbon.  Velvet got to wear the garland.  We had our picture taken!
Afterwards, we all tried to take responsibility for Nichole and Velvet winning.  I mentioned that I took Velvet through the Parelli levels.  Jenny stated that she had trained Velvet.  Caitlyn didn't say anything, but she could have taken credit for learning how to ride on Velvet.  Tony didn't say anything.
After most everyone tried to take credit, Velvet glared at all of us.  We were hushed by the glare.  Velvet stated that she, herself, was old enough to be in the Open as she is twenty years old.  She further stated that this win was a team effort between herself and Nichole.  Then Velvet snorted on all of us and stomped her foot!
We all hushed up and gave Nichole and Velvet all the credit for being the Open Ranch Horse Champion!
Congratulations Nichole and Velvet!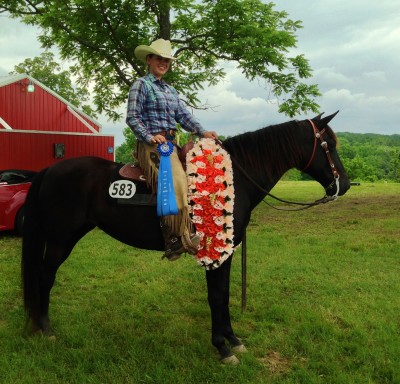 Day one, Showmanship started the day off right!  Jenny and Nichole won the open and youth showmanship classes!  Nova and Velvet were in show horse success mode.
Tony and Powder joined in the next events and the ribbon sunumi started.  The Vaught family flooded me with ribbons.  Blue was the main color.  In the youth events, Nichole and Velvet mostly won the blue ribbon followed by  sister Caitlyn riding Attu.  In the open events Jenny got most of the blue ribbons with Powder and Tony getting many second place ribbons and a few third place ribbons.
I have this great chair with the shade top.  Today, it became the ribbon chair.  At the end of the day, it was also the garland chair.  Jenny and Nova won the Open Versatility Garland and Nichole and Velvet won the Youth Versatility Garland.
Pictures are on Facebook . At the moment, I can't upload pictures here.  Later…
We had friends show in the various events.  Susan Breau showed in Western Pleasure and won the class.  She was so excited and so happy to get that win.  Before the class, she was bubbling over with excitement and nerves.  She has also lost weight this winter and looked stunning in her show clothes with her shining happiness bubbling all over us!
Hope Kahout has to be the best dressed Western Pleasure rider ever.  I will post her picture and you can vote for Hope as most wondrous.  She rides a dark gold palomino and wore a turquoise outfit.  Boy Howdy.  Hope placed in the class and was a happy versatility evener!
Powder looked great in her new bridle.  Last year her whiteness faded out her face.  She needed a bling black bridle so we would see her beautiful green gold eyes with the black makeup.  Oh she is stunning, especially with her cowboy rider dressed in a dark red shirt.  It took a lot of finesse to get the cowboy rider to accept a bling bridle.  Whew  Powder is coming along looking improved over her three year old first season.  Powder is four years old and is in the beginning of her illustrious show career.
Strolling around the versatility arena, I was asked if I "bought" all those ribbons.  "Yes, I did in the entry fees!" I said!  Another person asked me if I was sorry to be winning all the blue ribbons.  I replied, "No Way!  I'm happy that my horses are winning all those blue ribbons!"
I love the people in the versatility arena.  They aren't just people, they are my family twice a year.
Tomorrow is Ranch Horse Day.  All three of my horses are entered in every event.  There is only open Ranch Horse classes. This means that Nichole and Caitlyn are competing along with the adults.  I predict that Nichole and Caitlyn will place higher in some classes than some of the adult riders.  I'm glad not to be competing against Nichole and Caitlyn!
Report tomorrow.  Pictures on Facebook.  Rain missed us all day and hit us right before the horse show this evening. But as I look out McDonald's window, the skies are blue.  Happy to be dry riders are riding in the performance arena right now and the versatility people are watching and thinking about hitting the mattress!
zzzzzzzz
Two hundred miles flew by and I entered the time zone known as Ava!  The golf cart guy met me at the entrance.  I found Nova, Powder and Velvet and the Vaught family.  Life is good.  I beat a lot of people here.  There are still parking spaces available if you want to run on down to Ava!
We had fun times at the office getting everyone signed up and ready to go tomorrow.  Everything went smooth as silk.  Everyone has numbers and even better, safety pins to attach the numbers to the saddle pads.  I chatted with everyone in the office.  They all were excited to see me and vice versa!  ha
I got Powder a duplicate set of registration papers as I misplaced her original papers.  I tell you this so that you will be as astonished as I was to receive a duplicate registration certificate for her with a solid gold seal.  I tried to buy a few more duplicate registrations, but it's not allowed.  $20 for a gold seal is darn amazing!
We watched Caitlyn and Izzy riding in the Kid's Day trail class with expert coaching from Steve Atkinson, a handsome young guy wonderful horse trainer, who never ages.  Ann Compton came strolling by with some serious fox trotter bling.  Ann is a young blond with bling.  She is covering the Kid's Day.  Look for the Online Newsletter to see some of her pictures and stories about the day.  I do have a complaint about Kid's Day.  The kids all got tie dye fox trotter T Shirts.  And my complaint is…where is my tie dye T Shirt?  Kid's only, drat it.
We took a break and dispersed.  I went on my daily run to WalMart and my annual drive around town to see what is new.  Currently I'm sitting in the wonderful True Brew Coffee and Sandwiche Show.  It's wonderful in here.  I'm having tea and a scone.  I have WiFi.  It's better than McDonalds where I normally hang out to publish the news of the show!
Tomorrow is a full day of every versatility class you can think of.  We have Open and Youth events tomorrow. Everyone shows in something tomorrow!  It's going to be a long day.  Some of the day might have some moisture coming from the clouds.  Hopefully it waits until we are done.
True Brew is open from 6:00-6:00 and to 8:00 on weekends.
Gotta run!  Gotta find everyone and watch everyone practicing to get ready for tomorrow!
Oh, and another thing….  the book, Susan FoxTrotter is on sale at the Fox Trotter Shop.  Buy a copy there, find me and get your book autographed if you are on the grounds tomorrow and Thursday.
The Missouri Fox Trotter Horse Breed Association supports the members and our wonderful horse.
My article is about halfway down the page.
Thanks to all editors and those who do the hard work.
http://campaign.r20.constantcontact.com/render?llr=x7quz7dab&v=001ClIWeGrG49dukDNQtW62vWePLWitAZOQ89Vk6yoaXm671KuPvFPdz5Ut-VE0brzOuSsiyGiZ9YtcIFF9Ix3ANkur1ALZImt7rKzUneFxmVweOQxJrOeviylrgdXLaqtzoYPAymBiJEdt5vQgXtA5If7kA54f_eOGPiH4ElvBnbJPEWvijWs20J0KPUEvz9Zt9ojAwAJI8-SMhi2uaf–Ax-4BZ2H6Il6
This is the 2011 blog from the World Missouri Fox Trotter Celebration.  I posted the stories as I lived them when I could.  They will go away soon this year tom ake way for the 2012 blog.  I want to keep them forever.  I am honored to have been "the versatility blogger" two years in a row!
Reflections and Stories September 14th, 2011 |
Nova has improved quite a bit over last year. This year I caught on to the need for slow and steady, quiet hands, the head position that has her gaiting the best and my communication between her and I.  Poor Jenny, my trainer, has been trying to get me to understand my role for two years.  I think it's sunk in now.
 Tony Vaught tried to get me to understand my body's role in the reining horse spin and the slide stop this year.  I did fairly good in the spins because Nova is so awesome.  Maybe next year I will understand my role in the slide stop.
Here's Tony and Jenny talking about their favorite student, me! 
Just when ARE we going to get Susan to play with Cows? 
Speaking of an awesome slide stop. This is Jennifer Vaught and Big Barn's Slinger, as perfect as any horse can get in a slide stop: 
STICK THIS!
 I was glad to discover that my brain had a fine time remember the versatility patterns. They were crystal clear in my brain.  No dementia for me this year!
 I was thinking about all my fellow competitors.  Everyone who got a higher placed ribbon that me, deserved it. Well Mostly!  ha!
Here's the three great amateur riders that "dusted me" and Nova all week. They are all terrific people and I love them greatly:
 51 Tequila's Montana Sunrise, Robert Womack, for Robert Womack, Missoula MT
10 Jake's Elvis J., Robynn Gabel, for Robynn Gabel, Lander WY, Jaquelynn Dahlstedt, Lander WY
11 City Girls Bud, Ricka Mathews, for Ricka Mathews, Humansville MO, Bill Mathews, Humansville MO.
 I asked Jane Zubia why she came all the way from Wyoming to the Celebration.  It was after a big long day of amatuer and open classes. She paused and quietly said, "Someone has to!"  That was a deep thought with few words.
 Our youth from Utah were heavy into it.  I had two days of writing these winning names.
42 Cloud's Eldorado, Abbirose Buckley, for Abbirose Buckley, Mapleton UT
43 Sunrises Gold Patriot, Stephanie Harper, for Stephen's Fox-Trotters LLC, Wallsburg UT.
Every amateur and open competitor is glad that the Youth have their own classes. Otherwise they probably would just beat the socks off  us.  I know they would beat my socks off!
 Our Open riders showed how it's supposed to be done. The rest of us just look on in amazement when they ride
 My extended Vaught family daughters, Caitlyn Vaught won Ranch Horse Reserve World Grand Champion and Nichole Copple won the Ranch Horse and Versatility Youth World Grand Championships.  We went home a happy extended family!
 I realized that Nova is not a Showmanship kind of girl.  She's supposed to stand still and let people gaze at her perfectly lined up, saddleless body.  Her idea of a good time is to take a forward step..or a sidestep. She's an outgoing extrovert and she wants to move. sigh  I'll just say this once…if you're going to have a horse, you're supposed to ride. Sorry, that just slipped out.
 Then I have two stories to tell.
 Robynn Gabel told me this story about Elvis, her grand horse. Back when Robynn was a beginning adult rider, she bought the wrong horse.  Many of us adult riders buy the wrong horse when we start out.
 Battles occurred and it was a nightmare. Robynn ended up having a wreck with that horse and getting badly injured. Time passed and the injury healed.  Her special husband told her he wanted her to go look at a horse.  The bitter Robynn said,"Why would I want to look at a horse?  I'm not going to ride a horse ever again.  I've had it!"  But, that curiosity must have peaked and she thought it amazing that her husband would do this. So she went to see the horse.  The owners did everything with that horse to show how tame he was.  They probably rode him, slipped underneath him and stood on him.  "Well fine!" Robynn said, but I'm never going to ride another horse and she stalked out.  She heard horse footsteps behind her. She turned in alarm because her own horse would have followed her and bit her.  Robynn turned. Elvis walked up to her, put his head over her shoulder and hugged her.
I'm glad to have met Elvis in the arena.  Elvis went into the Costume class too, dressed as… ELVIS!  
Elvis is retired as of the end of the Celebration.  A grateful family awarded Elvis a special plaque for his role in making children's lives better. Robert Womack, my best friend Bob, is from far away Montanna also.  (The Montana stories are just piling up this Celebration.)  You remember Bob was voted the most fun rider in the versatility arena when he purposely knocked all the poles down…just to show us it could be done.
 So, I asked Bob why he was here.  He said that his son was supposed to come  to the Celebration and he was a smokin' rider.  But the son was just called up for duty in Afghanistan and couldn't come and ride in the Celebration.  So, Bob decided he would come and try to fill his son's shoes.  Bob came and won about everything. Bob is the Versatility Amateur World Grand Champion!  He did his son proud! Tequilla's Montana Sunrise did the Womack family proud!
 I just might be done now with the Versatility Blog.  It was an awesome week.  We had a great turn out in all the classes.  I'll just close with a prayer of happiness for the great time I had watching my grand horse, Velvet, and Jennifer Vaught in the open Ranch Horse classes.  Oh my stars! Thank you Jenny for all the great performances at the Celebration…for they were performances. 
This is Missouri Fox Trotter ROPING! 
Rope Floats to the Cow! 
Let's Get that little doggie to run a Figure 8! 
Keep up with my real life blog in the Missouri Fox Trotter Connection:
Susan's Viewpoint Stop in and enjoy my horse life From Splat to Bridleless 
BANNERS
September 11th, 2011 | Author:
Susan
Dawn Young of Free Rein Design made Banners to post around the grounds and at the Versatility Arena.  Not everyone that visits the Headquarters Show Ground comes down to visit the Versatility Arena, so those people that hung their banners in the versatility home did so knowing that the audience would be limited.  They put their banner in the versatility arena because of their belief in our versatility part of the fox trotter "pie".  Part of the  cost of the banner raised money for the versatility events. 
The 4 P's Ranch and Boss man Saddles 
Big Barn Ranch-Versatility and Competitive Trail Horses 
A most amazing wonderful Champion horse for sale-Does It All 
Vote Fox Trotter on America's Favorite Trail Horse! 
OK, this wasn't a banner, but it's time to talk about America's Favorite Trail horse.  We have more than one Missouri Fox Trotter that made it to the finals!  This is huge.  One vote per email address is allowed. We want everyone to vote for one of the Missouri Fox Trotters!  Here's what I'm going to do.  I've got an "AOL",  "Yahoo"  and (Google) "gmail" email adress.  I'm going to get a "ymail" address.  I'll be looking around for other free email accounts and then I'm going to use all those accounts and vote!  I urge you to do the same.  I met J.W. Hendrix at the Versatility arena.  He is a wonderful person. 
Boss Man Saddles – Harry rides his saddles in the events and the saddles are great! 
Posted in
Susan Engle
| Tags:
Missouri Fox Trotter
|
1 Comment »
FRIDAY-Can't Believe It's the LAST DAY
September 10th, 2011 | Author:
Susan
Let's see…Friday was a big day!  Velvet and Jennifer Vaught won Reserve World Champion. Susan (that's me) and Nova won two Reserve World Championships. 
Nova and Velvet gave the crowd their best ever performance in the Ranch Horse Pleasure and Ranch Horse Versatility classes.  That was awesome. 
Nova and I defeated the tire in 2011.  We pulled the darn heavy thing! We pulled it at a fox trot.  The tire defeated us in 2010. We got Nova's feet messed up in the out of control long rope.  This year, I dallied the entire loose end of the rope around the saddle horse and took off fox trotting! 
Nova jumped the log in the Versatility Ranch class and I stayed in the saddle.  We were clipping along at a nice fast canter and sailed over the log.  I think everyone in the crowd was amazed that I was still on the top side of my horse after that jump.  And then we had to immediately slow down into a fox trot and trot over some sand embedded poles.  Nova was sort of strong on continuing our strong canter, but she obeyed at the last moment before we stepped over the first pole. 
We had to do all that and then do a mini reining pattern!  Nova and went so fast, she blew my hat off.  Luckily, I have a stampeded string.  I've never learned how to keep a hat on my head at any gait other than a walk. 
The Budweiser Horses in their three semi trucks pulled into the headquarters of the Missouri Fox Trotters and gave an earth pounding demonstration of eight beautiful horses pulling a wagon. Boy Howdy! 
Our great Versatility committee planned a great award ceremony where Velvet and Nova won 4th in the world in their respective events.  High Point Fourth in the world for both my great horses. Thanks to Jennifer Vaught for making this a special story to add to the journal of Velvet's amazing life.  How that horse has enriched so many thousands of people is a whole separate story.  I don't exaggerate. 
We ended our great time with a catered BBQ dinner. The versatility competitors, workers, volunteers and friends all sat around and ate some darned good food. We had a raffle. We poked fun at each other.  we told lies and stories. What an amazing group of people gathered together on Friday early evening to end a great time. 
THURSDAY – RANCH HORSE DAY!
September 8th, 2011 | Author:
Susan
Cutting, Roping and Working Cow horse is the most exciting events in the Versatility Arena and it lived up to it's name. We got the top horses, the top riders and the best youth in the World.  It's a World Show and we have the best. 
I got to sit on the sidelines and cheer on the riders.  Our cutters controlled the cows.  We had some lively cows and a few that weren't crazy about going anywhere.  It's the luck of the draw in ranch horse events with cows. They have their own agenda and usually it's not the same agenda as the rider. 
The winners are all announced on Twitter at MOfoxtrotter. 
Lynne Burger and Jodie Styron decided to make a food event happen.  A whole bunch of amazing food was cooked to feed horse back riders at a horse show (and the watchers).  They brought the food out, the hungry people hovered around while pictures were taken. Finally, pictures were done and thecrowd descended on the food making it disappear.  Look for the food article in the journal!  I'm excited about that.  They might try for other horse magazines and there will be fox trotters in the pictures. 
The Ava 2nd grade came to visit today and they got to see the amateur and youth cutters.  As they filed along the side of the arena, the crazy cow decided not to go along with them.  That rider g0t another ride as it was thought that the string of kids might have affected the cow's desire to run into the pen. 
Some cows in the cutting class understand about the pen and they go down the side of the arena, maybe too easy if the rider has a great horse.  If the horse and rider are inexperienced, having a cow that understands about going to the pen is lucky.  That's what you have in Ranch Horse Event…luck and skill. 
Tony Vaught, open rider, has won the roping class three years in a row.  That's outstanding.  Sally Scott won the Working Cow Horse event and I bet the score sheet was close.  Suzanne Nebeker, Janet Johnson et all were great.  That's what the crowd pays for to watch this event.  I heard one woman sitting beside me say, "I forget how much I love it down here in the Versatility Arena.  I love to sit here and watch these horses and riders. 
Lisa Petty started showing today.  I've watched her horse improve year after year into a formidable competitor in every event from jumping, racing and cow events.  Her horse is a fabulous cow horse.   Lisa has this horse for sale. 
The youth were great in all three events.  I don't believe any youth roped their cow, but it wasn't for the lack of trying.  Nichole Copple and her horse Dusty were going about a hundred miles an hour in the working cow event, trying to beat turn the cow on the run down the fence. The cow tripped at the end of the arena and fell. Dusty tripped over the cow and fell against the gate.  Nichole held on even though her leg was slammed into the gate.  Dusty got up and kept on trucking and Nichole jumped off and checked him out.  Ended up that neither Dusty nor Nichole were hurt.  Where this all happened is where a bunch of us were sitting.  SCREAM 
Waland Burger won the amateur roping and that was fun to watch. 
Jennifer Vaught rode my horse, Velvet, in the Ranch Horse events today. Velvet and Jenny were awesome and both looked like they were the horse and rider on the best professional Horse Magazine.  If any of you are reading this and want a beautiful picture, I highly recommend contacting Jenny Vaught and Velvet!  But then I'm a tad prejudiced. 
Yesterday, Harry Patterson told me that I was the most improved rider in the classes.  I immediately pronounced him to be my #1 Boyfriend.  Today was a sad day as Harry was disappointed to find I wasn't a real cowgirl participating in the cow events.  I hate to disappoint my new #1 Boyfriend, so this coming year will be one of Susan and Nova meets the cows.  Maybe next year Harry will find out I'm a real cowgirl 
Harry rode in each event and did good.  He wasn't up there in the winner's circle, but it wasn't for lack of a good try! 
Friday, I have three events!  Come and watch the Versatility Arena at 9:00am 
Posted in
Susan Engle
|
2 Comments »
Day 4!
September 7th, 2011 | Author:
Susan
Today was another fun day in the Versatility Arena.  We gpt to see our new and furture champions. We got to watch our three year olds and four year olds perform everything!    Today we had the 3 Year Old Boss Man Versatility Futurity and the Boss Man Versatility Derby (4 year olds). 
Our future is assured by all these wonderful young horses.  The results of today were posted on the official Missouri Fox Trotter Twitter account which is MOfoxtrotter.  Find that Twitter and read the results of the classes almost before they are announced.  HA! 
Janet Johnson won the Boss Man Versatlity Derby and Brent Ratlif won the 3 Year Old Boss Man Versatility Futurity.  Congrats to both and all the riders that participated. 
This day was a day of rest and emotional balance for me after the full day of showing in everything yesterday.  Thank Goodness.  Have I mentioned that every day of this horse show is like a month of living.  It's that huge.  You never forget the experience and it makes you come back year after year. 
The Versatility area was filled with cars and golf carts today.  The stands had cheering people.  Horses and riders stood around waiting their turn.  Other horses and riders from all over the show grounds occasionally come down to visit.  We even had cows today. They all performed nicely.  
Overall it was a good good day and perfect weather continues. 
Day Three
September 6th, 2011 | Author:
Susan
The Versatility blogger is a tired puppy. Up at 6:30 after a fairly sleepless night, the day stampeded on. 
We had such a good turnout of amateur and open horses! Everyone is fun and pleasant to be around.
After a rocky Showmanship start with Nova (who can't stand still)  in the morning, we did wonderful in all the riding classes.
Nova and I nailed the reining class. I had fun out there on the pattern. Some said that Nova and I looked sexy!  I surely felt sexy out there with that slow smooth canter. Boy Howdy, you have to experience something like this just once in your life!  When we came out of the arena, we got cheered.  Harry Patterson (one of my new #1 Boyfriends (in training) yelled, "That's the Way It's DONE!" 
Here's Nova and I entering the "double"  box in the trail class. We had to go thru it, come back into it, turn a 270 to the right in one box and then a 360 in the other side of the box and exit. 
Double Box – Don't touch the Poles! 
I'll leave you with this picture-judges, great volunteers, DQP, helpers, judge and riders and horses all working together to make this a wonderful experience! 
Then Nichole and Velvet transformed themselves into a zebra and an African woman and wowed the crowd in the evening show Costume Class!!! 
Pictures later 
Day Two- Youth & Novice and More
September 5th, 2011 | Author:
Susan
we were treated just about everything today. The Novice classes are done. The Youth have all the Ranch Horse events on Thursday.
More open events were today. Well, just one but it was the English class with all the fancy braiding and little pieces of leather minus a horn pretending to be a saddle. 
The Youth Reining pattern was much more difficult to remember than the amateur pattern that we are riding tomorrow. I'm all in favor of young brains having to memorize more than us old folks! 
Tomorrow is the amateur and open versatility classes. I'm always glad that the open class is before mine. It helps me finally memorize the patterns! 
I met Ray Wilson today and we got caught up. I didn't recognize him because he looks younger. We couldn't figure out why. Maybe riding horses just makes us younger every day!  Ray is riding a beautiful palomino gelding that is for sale. Ray takes his horses everywhere and they have the correct gaits. Which leads me to a little speech on buying horses at the Celebration. You see people that you like, riding the smooth gaits. Ask those people if they have a horse for sale. There are several sales during the Celebration. There are dome been there done that horses that can put you in the show ring next Spring and the young pre-champions with proven bloodlines. Find one for yourself! 
Tomorrow night-Tuesday- is costume class. My horse Velvet will be in it with Nichole. Her sister Caitlyn is in it too. I can't spoil the secret of the costumes! 
Day One!!!
September 4th, 2011 | Author:
Susan
I haven't yet been able to leave the Versatility Arena today. We live it down here. Thus year we have the Youth Association B-B-Q to feed us. Yum 
The first day of Versatility has Janet Thompson and Kayley Watson winning multiple speed events. 
We have our very favorite rider now. He's a crowd pleaser. Robert Womack is the crowd favorite. Robert was running the barrels as fast as lightning and knocked over the first couple of poles. Then he proceeded to knock over every pole, just to prove a point. And he did. The crowd cheered! Robert came right back in the Stake Race and he is the amateur World Champion! 
Karen Grady, our versatility show chair came out for the stake race. She demonstrated the pattern for us. She got a big cheer from the crowd! 
The winners from each class today are posted in Twitter MOfoxtrotter 
It was around a 100 degrees here yesterday with Missouri humidity. About 3:00, the cold front marched in. It started spitting little rain while we were having our show. Most of us got cold and we had to get jackets. It's been so long since I've had a jacket on, I can barely spell the word. 
More from today later. Gotta run and watch the weanling model class. My stallion has a baby in the class! And he is cute! 
Cont.later 
Made It!
September 3rd, 2011 | Author:
Susan
I'm here! No Problems getting here! Old truck and ugly ttailer made it fine! I pre entered and slick and efficient office staff got me set up in seconds! 
Everyone is here! Stalls are filled with horses. Trucks and trailers pulling it every minute. Golf carts are all here too! It's a busy place! It feels like I never left last year.
All people were out tonight riding. It was just a little too hot this afternoon. 
Thank you Craig Dansie for letting Velvet and Nova stay in your stalls
Thank you Mary Nunnley for letting me hook up to your stalls electricity. Mary's stalls are for sale in barn 17. She has 3 stalls for sale and they are wonderful.  It's a quiet place, the view is wonderful and the people that live in the adjoining stalls are wonderful. 
KFC is closing. I got in right before they closed. It's difficult to blog when eating chicken! 
Youth and Open Speed events tomorrow!!
Yee Haw!!! 
My re-learning lesson from today is that when you go to take your shower at night…after a sticky hot day…be certain to take clean clothes with you!  Putting your dirty, sweaty clothes back on after a shower is not a pleasant experience. 
Pre-Ava minus Friday
September 1st, 2011 | Author:
Susan
I use my 3 horse trailer once a year..maybe twice.  I use it at Ava because it's a goose-neck and has a me-sized sleeping and dressing area.  It has air conditioning.  It used to be a nice looking steel trailer, but now it's probably one of the worst looking trailers that will be at Ava. 
I'm pretty proud of it. The rust is art-work is naturally beautiful.  The drop down windows in the horse compartment won't stay closed, so I duct-taped them shut. The 3 slide windows still work, so the lucky horse can get plenty of air.  It's a good thing my horse doesn't understand how horrid her trailer looks. 
I take that back. She knows. 
I drove it down to a clinic this past spring when I needed to haul three horses.  Now, I've been used to hauling my nice two horse bumper pull trailer around.  It's perfect and it still looks nice. 
When I pulled into my destination with the longer trailer, I sort of forgot that this three horse trailer was longer. The side of my trailer ran into this big steel post and sort of crushed / collapsed the front of the fender. Hay, it didn't rip into the tire, so no fixing needed.  That post also ripped part of that rubber strip thing that goes down the side of the trailer. 
I folded up the rubber strip thing and wrapped it with a bungy cord so it wouldn't attack cars on the road.  My husband promised that he would cut off that rubber strip, but he has forgotten.  It's sort of ornamental. 
Nova really has never forgiven me for me running into that post.  She and I have words when I ask her to get into this trailer.  You see, she was in the trailer when we drove into the post. You can imagine the words she has for me when I asked her to get into that evil thing. 
The last thing I check before heading to Ava is the air conditioning.  I pulled the trailer up to an electrical outlet tonight and my air conditioner still works.  YAY! 
Velvet and I used to own a trailer without Rust! 
It rumbles and vibrates, so I'm thinking that there must be mud dobbers on the fan.  The weather forecast is for me to desperately need that air conditioning until Monday. 
Come on down and see my beautiful trailer.  Judge for yourself if it's the worst looking trailer on the grounds! Vote for me! Find me on the south side of barn 18!  You will instantly know it's my trailer. 
Posted in
Susan Engle
| Tags:
Missouri Fox Trotter
,
Velvet
|
1 Comment »