Archive for the 'Miscellaneous' Category
It was the 50's. Life was good in a small Iowa town for the cute little red-haired girl. Enough Christmas years had passed and the little girl realized that she should get her mother a present. The concept of giving to others had come to the little girl.
"Mommy, what do you want for Christmas?"
Mommy thought about it for a couple of seconds and replied, "I'd like a toy and a red dress."
Mommy grew up during the depression when getting a toy for Christmas was very special. Having a little girl and a husband after WWII changed the world was a miracle many young women of that time didn't get.
Later, Daddy was informed they went shopping. Mommy got a toy and a red dress for Christmas from her little daughter.
Many years later, Mommy was a Grandma. Her favorite color changed to pink. Grandson had a great time shopping for a pink garment and a toy for his grandmother when he became old enough to learn about giving to others.
One year Grandma got a battery operated car race track for Christmas. She and Grandson had a great time with that toy over the Christmas holiday. Grandma and Grandson enjoyed many toys over theIr many Christmas family celebrations.
As the years passed, the Grandma toys became carousel horse snow globes and music boxes. They were beautiful toys.
The Grandson toys became cameras and then electronic devises.
Having fun on Christmas started a family tradition long ago by a strong woman who grew up during the depression and lived through the horror of WWII with a husband who enlisted after Pearl Harbor.
Give someone you love a toy for Christmas and maybe even something red to wear. Keep the joy in your loved ones life!
PS: Love is Christmas
PS: A horse, puppy and kitten have been legally defined as a toy for Christmas
November 29, 1997
I'm always on missions. The mission for this column is FEAR! I'm talking to new:
Women Adult Riders Inspired by the Option of Retirement or WARRIOR!
This is for the WARRIORS who have discovered the unforgiving hardness of the ground and developed fear. The WARRIOR buys a horse and it bolts, bucks or shys and the WARRIOR hits the ground. The ground whispers to you…death, broken bones, pain. Your continuing mortality becomes a great concern. Your self confidence goes underground!You are not alone. You are in the great majority. Fear can be conquered and bested! Listen WARRIOR…read my story and keep chipping away at the enemy.Year I: THE TRAIL RIDE STARTS THE YEAR OF FEAR

In our last episode, I hit the ground and my life was saved by trainers Jenny Copple and Karen Moulis of Pine Dell Farm, Pleasant Hill, Mo. Jenny trained Sage and Karen trained me. I ride nice safe "farm horses" and developed my riding skills. Sage and I met after two months of separate training. I wasn't scared of the gentle farm horses, but my body was as stiff as a board when I climbed aboard Sage. Sage hated my frozen body and refused to move, tried to bite my legs, and cow kicked. My immediate thought "My life is over. Surely Jenny will take me off this creature! But no, Jenny was telling me to squeeze her with my legs, spank her rear with my hand, spank her rear with the lead rope. Finally, she made a step and we started all over again."

Jenny talked me through this like the control tower guy in the movies helping the passenger land the airplane after the pilot dies. The only difference was that I wanted to be the dead pilot! About half way in the ride (we progressed about 5 yards), we started to move slowly about the arena with mad, disgruntled horse things happening. I decided that I should cry because I was a tremulous mess. I needed to cry. I teared up and thought, "I'm going to tell Jenny that I want off!" But Jenny kept talking to me…talking me through and finally the hour was over and I was alive! I was wringing wet with sweat. There were a lot of people in the arena that night…of course I couldn't see them; I only sensed them! They all came over and told me I did really well. Jenny told me I did really well. I felt better then, especially since my feet were on the ground. It was a one wine bottle night!

I continued to work with Sage on the ground and had the weekly riding lesson. The 2nd lesson I was much more confident; but Sage was worse. I had to get off and Jenny got on, and made Sage very uncomfortable about not moving. I got back on again with more confidence and made Sage move. It was a banner day. Several more rides and I had managed to ride her by myself. About two months later, Sage, husband and I went on the week long Eminence Trailride–in the Ozarks Mountains with only 4000+ other horses. My husband is a social person, not a rider and I intended to ride only in the parking lot and campground. But NO, my good friend told me "No-you're going on nice short daily trail rides. You can't come to Eminence and not ride! After you ride a week at Eminence everything else will be easy!"!

Sage did great. She wasn't scared of anything! She walked two inches beside clangorous diesel trucks. We rode around the campgrounds filled with horse eating sights. We participated in a horse show with a record number 60 horses in the arena at the same time. She was great!

I was a nervous wreck the 1st morning and cried making certain no one could see that I was crying. I had tears streaming down my face, but my face was absolutely frozen in a noncommittal nothing. I went for 15 or 20 minutes at a time holding my breath…maybe less. Sage and I did lots of ground work to get me prepared for riding!

We crossed water; we climbed hills. I survived! I didn't have fun, but it wasn't torture either. Every morning when I got up, I wondered if I'd be dead or disabled by the time the day's trail ride was over.

Thursday was the start of the year of fear. My friend erred in judgment and took me up and down a mountainous steep hill where the path consisted of rock ledges littered with loose rocks. Going up was frightening but the descent was beyond agony. I was frozen with fear going down. When I expressed some verbal dismay to my friend, she told me just to relax and lean back! HA! We did make it down alive, and even though I'm not a Catholic, I did the Cross Gesture! I couldn't get off to kiss the ground because I couldn't easily mount my horse.

We came to a river and two year old Sage was hot after climbing that horrid mountain. We were drinking and pawing to clear the dirt from the water and my friend yelled. However, I was intently watching Sage's front leg sinking into a hole. It just seemed to sink down farther and farther. I was patiently waiting for her to pull her leg out of the hole when my friend's frantic voice yelled "JUMP OFF!" This was a very loud and demanding voice! My body responded just when Sage sank down on her belly. I got up and waited for her to get up. "Quicksand," I was thinking when she didn't get up. She's caught in quicksand!" I was running in circles around her in the water around her trying to figure out how to get her out of the quicksand when my friend's voice penetrated my brain again. "Slap her; Yell at her! She's going to roll!" "Roll? I thought….not quicksand?" I yelled, jumped and flapped my wings and Sage heaved herself to her feet. I got the lecture about sweaty horses and pawing water!

At that time I couldn't mount my horse without a big natural mounting block and none was available within sight. My friend had to get off her horse and put my muddy wet foot on her leg so that I could heave myself on. My jeans from knees down were sopping wet and 20 pounds heavier. We made it across the river and I started thinking about our water adventure when we came to the part of the trail that was deep warm sand. . . .

Without any warning, PLUNK!…down we went. It was a broken record. No slouch in the learning not-to-die-experience, I was smart enough to leap off as we were going down. I dove into the deep sand in my sopping wet jeans. Yummy! 100 more pounds packed on my body. I was saved by my friend's husband who had come to join us. It took all his strength to get my weak,quivering, dead weight back on Sage. On the short distance home, including a wide river crossing, everyone rode very close to Sage ready to beat her if she even blinked a lay-down eye! I felt like a steer being herded by cowboy drovers!

After we got back and I had semi recovered, my friend's husband took me aside and had a little talk with me. "I am really worried about you and your "little, slight fox trotter! If only you had purchased a blocky horse—not necessarily a quarter horse…I'm certain that there are blocky fox trotters that could handle your weight. Sage isn't strong enough to handle you on these hills. If she would have tripped up there on those mountains and started to fall, she couldn't have recovered. You need a blocky horse."

Instant Bad Brain Image: I imagined that horrid ride down the loose rocky ledges, Sage and I falling; Sage with bones sticking up out of her. Sage dead of a broken neck. I love Sage. … THE BIG FEAR OF DOWNHILL HIT. I managed to contain the fear so no one else knew.

Sage, the 2 year old, wasn't afraid of anything in that camp of 4000 horses! Susan, the 49 year old, turned into a battered shell with zero self confidence. I made up some excuse about not wanting to stay, and we left the next day.

I was able to ride Sage around my property because it is mostly flat. I was so proud of Sage that she wasn't scared of anything in the world! This was the first of the major assumptions I have mistakenly made about Sage. This is when she started earning the nickname, "The Horse of No Assumptions". We were zipping by some bushes and heard a "tiny lion rattle sound". Without my permission, Sage took her saddle and leaped ahead about 5 feet. I was like those cartoon characters that run off a cliff. "HUH…there's only daylight underneath me," and…thud. I met the unforgiving ground again! I had to lay there for a while waiting for the intense pain to go away. After my tremulous mass of flesh calmed down, I was able to determine that I was not broken.

I was too hurt to climb back on. Riding was only pretend after that. It was too cold, too late, too hot, I felt too bad. Winter came…no riding and I was grateful.
Here's what I was left with in my 1st Year with Horses:
DOWNHILL FEAR: If the ground were sloped enough so a golf ball would roll downhill, I was major scared.

RIDING DREAD (RD) That's when all the excuses for not riding are made. It's a disease called RD!
I decided to ride Velvet for a while at Pine Dell Farm every evening that it was in the high 20′s to 30′s.  Ah, life is good with an highly trained finished horse.
I just might be over my mad desire to have a young horse to finish every 5-8 years or so.  It's fun to get Velvet and I back into coordination.
Velvet brought me one step closer to redemption.  I don't believe I've ever felt the need to scream outloud my need for Jesus to save me.  I've had the thought many times, but I kept it internal.  I've had conversations wtih Jesus and God before, but no one got to listen in.  Velvet, the trained cow horse, got me to scream for help for all to hear. Everyone in the cow clinic and all the auditors and probably the neighbors heard me scream, "Lord Help Me Jesus!"
Velvet took over the cow.  Velvet is a trained cow horse. She understands being a cutting horse.  I've watched those cutting horses.  I understand the concept.  You put your hand and reins down on the horse's neck because the horse just takes over keeping the cow away from the herd. The cow runs trying to get past you and get back into the herd.  Your horse takes off and runs to keep herself between the little cow and it's cow friends.  Your horse blocks the cow.
It was in the 2nd dash and my hands were trying to communicate to Velvet what to do.  But Tony pointed out that Velvet knew exactly what to do and to let her do it. This involved me giving total control to my horse.  At that moment we were galloping back and forth. The cow ran. Velvet ran to cut the cow off. The cow turned the other way and ran off.  Velvet turned and ran to cut her off.
I've rode Velvet bridleless before thousands and thousands of times.  I've ridden her bridleless in front of large crowds of people.  But I've always been mostly in control of everything she did.  Occasionally, she would make a turn thru the middle of the arena that I wanted, but I pretended that cantering around the arena was exactly what I wanted to do. That was nice easy going cantering.
Velvet was in charge of the cow. She was galloping short burst of impulsion, spinning the opposite direction and galloping off again. This was an entire new feeling which might have prompted me to yell out, "LORD HELP ME JESUS"!
I thought my life was pretty exciting. It is not the case.  I found out just how boring my real life was.  It happened at 5:45 AM October 2012  Tues.   I was trying to catch Lucky Star in the yard and put him back into the pasture. I've been from house to barn and no Lucky! Usually Lucky Star sees my in the yard and silently appears about 6″ from my face.   I shook the grain bucket and I caught a glimpse of him in the light of the garage.  He was heading the other direction…away from me.
What!
Lucky Star is a "always in my space" kind of horse.  He never runs away from me.
I hike after him and find him standing by the far fence.  I go get him.  I saw a big tree branch move on the other side of the fence.  What was there?  Big tree branches don't move like that on their own!
By this time all the other horses had finished eating and left the barn lot corral. They disappeared into the inky darkness of a crisp predawn day.  A horse whinnied.  The whinny didn't sound like it came from my pasture.  It sounded like it came from where the big tree branch moved.
What?
More whinny.  I see all my horses but Sue.  It's still dark.  I decide Sue must be the whinny source and she is out of the pasture.  How could she get out? There are no gates open.
I get into my car and drive out of my yard into the sod farm next door.  I drive along the fence row, looking for Sue.  Trees are lighted up in my headlights.  Nothing else.
No Sue, no nothing.
I return to where Lucky is eating his breakfast ..  I worry some more.
I drive out to the turf farm again.  Headlights shining into the row of trees lining the fence.  Nothing there.
Drive back to my yard, park my car and return to the barn, I see a shape in my yard.  It's shaped like a horse!
It is a horse.! It's not Sue. I have a loose horse in my yard!  I have a lost horse in my yard!
Horse goes over and sniffs noses with Sue and Lucky.  She's in a small dead end place.  She is calm and quiet.  I go get my halter.  I decide that I might live if I walk up to her in the narrow dead end place.  She's calm. She let's me halter her.  My my my!
I look at her and decide I have a short saddlebred horse.  Her neck is elegant and stretched up to the sky.  She's wondering what I'm going to do.  I'm wondering the same thing.
I lead her to the barn and she follows right along with me.
Thank you, Lord.
She's in a stall.  I give her lots of hay and go on to work.
I called the Cass County Sheriff  to report.  I call my town police and talk to the Animal Control officer.  I report a missing horse. Animal Control officer drove to my house to see the horse and took her picture.
No phone call all day from anyone about the horse.  I call to find there has been interest, but picture proved not to be the right horse. (How could there be interest in missing horses? How many missing horses are there in Cass County?)
Go home and feed the horse.  She is nice and friendly.  I let her out into the corral where the other horses sniff her.  She floats across the corral. Beautiful extended trot.  Horses sniff and loose interest in her.
I decide to let her out.  Since she had been cooped up all day, she had some energy. She galloped up and down the pasture.
I am standing in admiration of her beauty when two young men walk up to me.
Excited, I say, "Are you missing a horse?"
"Yes"  We chat a long time.  Nice young men. One of them is the owner.  We chat about how his horse got out of the boarding place.  Boarding Place thought the young man had picked her up and took her somewhere because the halter was missing.  When he took a bucket of oats to her this evening, she wasn't there.  She's missing.  He checks with police and gets sent to my house.
We chat about the horse.  She is 4 years old.  Young man bought her for his self and  his daughter.  Her name is Wild Fire.  He bought her when she was two.  Her former owner named her for the wild flower, Wild Fire.  (I shudder at the name.)
She had a week and a half of training by an Amish trainer somewhere down south of KC. She's quarter horse/fox trotter mix.  hmmm…I thought she was a short saddlebred.  I don't see QH in her at all.  She's a very elegant horse.  I don't see fox trotter in there, but fox trotters don't have a set look.
Young owner sez he just bought a truck. Truck broke down and he's in a bind and needs to sell this horse.  Taking her to auction Saturday.
We chat some more.  I mention killers and no one is buying horses because of  drought hay situation.
We chat about hay and how the boarding place before bought some cheap 3-4 year old hay.  Plus the other horses wouldn't let his horse eat.  Boarding owner wanted him to pay when his horse wasn't getting to eat the inferior hay.  He got her out of that situation.  She's been well taken care of and in her present boarding situation for 5 months.
He offered me $50 to keep horse till Saturday.  He has to borrow a trailer.  We talk about the magic number needed to fix his truck $300.
hmmm.  I like this young man.  His horse is proof of a well-loved and cared for horse.  He is polite and truthful.
The next day,Wednesday,  I tell Facebook groups about the horse. What to do to save this horse.  Let's raise $300 and he can keep his horse.  I'm doing my best to not own this horse.
Then the fatal comment came on Facebook:
Wild Fire is a Stolen Horse!
What.  Wild Fire is a Stolen horse is repeated and no further explanation
A day of fury on Facebook.
I report to police that allegation has been made that she has been stolen.
Fury keeps on coming on Facebook.
That evening, I come home to find the horse has leaped out of my pasture into my neighbor's pasture.  Neighbor has geldings that think they are stallions.  Or it could have been Lucky Star exerting some dominance over her and she jumped the fence to get away.  She found me because of Lucky Star and now she's with 5 other geldings.  She must be a great jumper!  There's not a scratch on her.
Called neighbor  and tried to explain this. She's at work and will get home in about half an hour.
Darknes comes. Young man, his wife and nearly one year old daughter come with a bucket of oats for their horse.
"Bad news," I say.  "Horse jumped fence and someone alleged she is stolen."
WHAT!
It's the former boarding place with the cheap hay and the horses that kept our horse from eating.  Boarding place locked horse up for non payment.  Owners Stole Their Own Horse.  That's the stolen part.  I am furious with the Facebook alleger. Furious!  I revel in furious, because it's been years since I've felt furious at anyone except spouse.
We drive 5 miles to see horse. If we had a gate between our pastures, it would be about a block away. She is now in stall in neighbor's barn.
Neighbor agrees to keep horse for time being.Owner sez it takes 4 grown men to load this horse.
Here's a horse destined for auction, alleged stolen, wanted for a child less than a year old and needs four grown men to load in a trailer!
I'm busy Saturday and Sunday, but tell them that I'll walk her back home if I can find a gap in another neighbor's fence.  Neighbor sez she has a shute system rigged up to trailer load a horse.
Monday am comes and I'm up at dawn plus an hour or so…9:00am.  I did find a gap in the fence.  I need to saw a tree limb so I can walk a horse thru.  I call up this neighbor and ask permission to lead a horse thru his yard.
"Sure" he says. He's noticed that his neighbor has an extra horse.
I go get the horse.  All her geldings try to friendly up to me and run away the mare.  We have words. I catch the mare.  She doesn't want to leave the pasture.  We have words.  Geldings decide to run elsewhere and watch the show.
I get mare to leave the pasture.  Whew!
We walk about a half mile to my house and I get her into barn stall again.
I go into house and collapse in my recliner.
After I recovered, I called the  young man and told him I was buying his horse.
Turns out she is half Morgan, 1/4 qh and 1/4 Arab.  That explains her "look" .  She is beautiful.
Jenny comes out on that Friday and takes about 15 minutes to load her.  She is a quick learner and not really too afraid of the trailer.  Jenny loads her in both my trailers.  It takes about 1/2 for all this to happen and she is a relaxed loading horse.  I get to take over.  It takes a few moments for my kind of communication to get through and some coaching from Jenny.  She loads.  I get her to load in both trailers.
Loading lesson done for life.  She can now be transported!
I take her on trailer ride on Saturday to Fair Play.  I played with her in the morning and another person played with her in the afternoon.  They are hooked on each other.  Love is blooming!
Meet Miss America…..  Missy….  MissA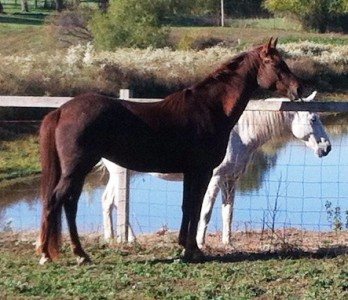 Good information! Thank You Susan! And then it happened…I went down the Rabbit Hole of Susan's Blog and have been happily reading your blog for an hour. I love you honesty. Makes me feel less alone on my horse adventures and gave me many belly laughs. I had to claw my way out of the Rabbit Hole to go pick up my truck. But I will surely retun to reading them very soon. Love to read your quirky writing! PS: Now don't get a big head over this post. As you know I tend not to be this kind. Sarcasm is more my speed.
It was announced that Rain- a Tribute to the Beatles, would be playing at The Kauffman Center for Performing Arts. Dang I missed this when signing up for the usher shifts. Of course, the usher spots were filled now. Hmmmm, thought I. I would like to hear the Beatles music again, so I vowed to get a ticket. Oooops forgot until the day before when attending usher training at The Kauffman Center. Life was good as the box office was open. I asked when the Beatles would be appearing and my answer was tomorrow. Ok! I'd like a balcony seat on the aisle and I could afford the $45 fee.
I got to the Kauffman Center early and got my favorite parking spot in the garage. I was dressed in my favorite leopard outfit and I was in the building! I went up to the sixth floor to get a cocktail and order another one to be ready for me at intermission. Hey! This is a rock concert and drinking is mandatory. I asked for something with a cherry and I got something with three cherries and vodka. Oh yum, it was good. It so happens that the balcony level has a few tables and chairs to sit on while waiting so I had chatted with my usher friend until she had to go and work her door. I was sitting there enjoying my cocktail when someone walked up to my table.
She walked up to me and started talking to me. I assumed she was going to ask to sit at an empty chair at my table, but she said something about upgrade a ticket. Huh! She told me that she had two tickets, but the other person didn't come and would I be interested in watching the concert in an upgraded seat. I managed to understand those words. She then showed me the ticket and the seat was in the section just behind the orchestra seats. This was a seat in the second best seat section on the theater! Oh Wow! I was thrilled to take the ticket. Fifteen minutes before show time! I ran down to the box office and donated my balcony ticket back to the Kauffmam Center.
I ran up a flight of stairs to find my seat. Door 4 row CC was my destination. The couple behind me were chatting and said row CC. I turned and told them that was where I was going too and they followed me. My goodness. The seat was in the middle of the theater right behind the sound engineers. Here was my gifted and turns out the couple had seats on the other side of me. Oh we were a happy row of people.
It is time! We had the announcement about turning off our phones and suddenly, we had the curtain pulled.
1. Words came across the screen. "Beatles came to the United States in 1964″. My brain barely had time to register that I was a senior in high school when the world changed. I marveled.
A bunch of fake TV sets were on the stage.
2. I heard and saw Ed Sullivan announce the Beatles. Video clips of that night were show. On stage. Everyone in America watched the Ed Sullivan show that night and the world changed. We all met the Beatle for the first time, at the same time. We saw and heard the audience of girls start screaming. I became emotional.
3. Lights came on the stage and Beatles started their music. An invisible knife came out of nowhere and went into my body. The knife stabbed my soul. My body suddenly wanted to SOB out loud. My body wanted to throw its self out of the seat and writh on the ground. Tears started. The knife continued to stab my souls throughout the first song. I was in agony. I did moan out loud. The woman my age sitting next to me made a few hand gestures to her face. I figured she was crying too.
4. Song ended, I tried to breath and recover from the knife wound. Much Appluae and screaming from the audience. The knife withdrew from my soul. Suddenly, without warning, they played song #2. Once again the knife returned and stabbed my heart again. I wondered if my body could physically throw its self on the floor and writh. No. My body will not fit on the floor. Seats in front of me are too close. My throats closed again. Tears started and I was wrecked as the song continued. I moaned in agony.
5. Song ended. Applause. The knife receded again. I clapped and manage to cheer in agony. Song number three started. The knife stabbed again. I remembered how to open my mouth and put my tongue on the roof of my mouth to stop the verbal crying. I wondered if I could live through the concert. I can't take two hours of this knife stabbing my soul.
6. We moved to 1965 to the Beatles concert on Shea Stadium. The performers on the stage played the songs as we watched the videos of people at that concert. Oh my! However, the knife did not return to stab my soul.
Beatles at Shea Stadium.
All those young people were my age in 1965.
7. Our performers took an off stage break while the audience was treated to commercials of the time. Remember Dippity Do? We saw the commercial. Remember the Flinstones? We watched Fred and Barney lazing around while Wilma was mowing the lawn using a small dinosaur. Fred and Barney were saying it was difficult to watch Wilma working so hard. So they got up and moved around the back of the house so they wouldn't have to watch Wilma. Then they lit up Winston cigarettes. Oh my! We saw the ad for cornflakes. Someone was eating cornflakes. How plain they were and the box said, "mixed with rice". We saw a woman with long hair having her hair ironed. Every commercial was amazing glimpse of our past life!
Our performers came back and played more Beatles songs. Now I started to not recognize some of the songs. By this time in my life, I hadgone to college. I had to study in college. I bet I didn't listen to the radio near as much. I remember that I had a record player and used it. But my emotionalism hell had gone.
I enjoyed the richness of the music.
At intermission I learned that my seat benefactor had watched the Ed Sullivan show for the Beatles show when she was ten! Oh my, the Beatles crossed all ages!
After the intermission, we enjoyed Sgt Pepper's Lonely Heart era songs. We watched video clips of beatnicks and soldiers in Vietnam Nam. I was still in college and remembered only the top songs.
Sgt Pepper's Lonely Heart Club.
The concert ended with Hey Jude. Cameras were mounted in the concert hall to record the audience! So while we all were standing and singing Hey Jude, the stage was scanning us, the audience! We saw the entire 4th floor and fifth floor with some of the sixth and possibly the 7th floor seats. The video was tinged like a Kodak imatagram color. We saw ourselves in the 60′s singing with The Beatles.
When the emotional experience ended, I profusely thanked my seat benefactor. She said it was meant to be. She searched for a lone attendee with worse seats than she had for a long while. She finally figured that coming up to the 7th floor to find me would work.
I managed to drive home. The next morning I awoke so tired, I felt like I had worked a hard day's night. I barely made it through lunch. Coffee let me make it through the aftermath of a gigantic emotional experience!
If you discover that this concert is coming anywhere within 200 miles of you, get tickets!
https://en.m.wikipedia.org/wiki/Rain:_A_Tribute_to_the_Beatles
http://www.raintribute.com/band#
I ushered the opera Marriage of Figaro the day after the Trump / Clinton presidential election.  Facebook was burning up.  I felt horrible on that morning as I was planning on celebrating our first woman president…not!  I decided that I couldn't even ride Cisco as I might take my sadness and grumpiness out on him.  But I did go to Cisco and was lucky enough to have multi world champion trainer, Erin Patterson, ride  him.  When I went to the pasture to get Cisco, I forgot about the election.  After I watched Erin ride Cisco she gave me a few pointers on more finesse.
After Cisco was done, I watched an old friend take a lesson with Erin.  You could feel her happiness to be back involved with horses pouring out of her pores.  It has been a long long time since she got to ride because life got in the way.
I went home and watched bits of Ellen and Steve Harvey while part of me tried to nap.
It wasn't long before it was time to get cleaned up and get my usher outfit on.
The Marriage of Figaro is a long opera.  The first act is an hour and a half.  Then there is a thirty minute intermission.  The second act is over an hour.  At intermission I was asking the patrons if they loved this opera.  One woman stopped and exclaimed, "This opera is great and just what we need on a day like today!"  I have to confess.  It took me a full thirty seconds or so to remember the nation's anger, my anger and sadness and fear of facing a brand new scary world.
So, if you are feeling hatred, sadness, anger etc, The Marriage of Figaro is in it's last week.  I recommend that you get tickets and soak up the magic of the amazing opera voices, the clever and tricky plot and laugh at all the humor included in the opera.  Also, since it is a long opera, you probably won't get home till the next day, so that takes nearly an entire day of not being sad, scared or mad at the USA political system.  Go to the Opera!
https://www.kcopera.org/performances/the-marriage-of-figaro-16/
Why did Velvet canter every time I asked her to leg yield at a lesser gait.  We were walking, I asked her to leg yield and she tried to canter.  We were in the next gait up, I asked her to leg yield and she tried to canter.  Then I realized I was asking her to leg yield with force in my legs.  I remembered that I thought about the difference between a cue and asking for a faster gait.
I've been thinking the same thing about Cisco lately.  How am I cueing him to leg yield and how do I cue him to canter.  It seems to me that I'm doing the same thing for both of those tasks and we are having a problem with it.
Today, I remembered that Velvet had already taught me the answer.  The answer is heels.  Velvet taught me that I should touch her with my heel to leg yield.  She tried to teach me to squeeze with both legs with my left or right heal in the correct position to ask for the left or right lead.
I also figured out today that when I am asking Cisco to keep fox trotting instead of slowing down, I should bend both knees and ask him to keep going with a gentle squeeze.  My goodness, it worked today.  We stopped breaking gait when I started bending my knees. and squeezing.
There are a few people that will understand this mumbo jumbo.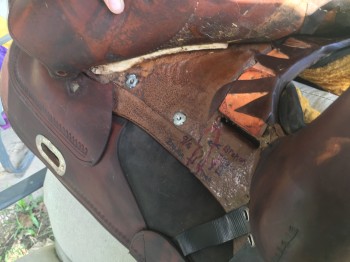 I love Circle Y Flex tree saddles so much that I have three of them. A couple years ago I managed to let go of the ones I don't use to get them checked and cleaned. However. I couldn't let the one that I use daily leave to get cleaned and checked. I had bought this saddle a long long time ago and it was checked out before I bought it.
This summer was a horrid hot and humid one. I stopped riding plus I was going on a week long trip. I decided to let Donna of Yellow Boot Saddlery take my beloved saddle, along with a few broken and filthy bridles to be checked, cleaned and oiled.
The unthinkable happened. Donna called me and I was somewhere in the middle of Kansas on my way to Colorado.
"Susan, I hate to give you this news. Your saddle tree is cracked. It is cracked on both sides."
My world spun to a stop. My beloved saddle was dead. MY BELOVED SADDLE IS DEAD! Donna managed to get a few more sentences in. She mentioned that they had seen a lot more cracked trees than they ever thought. She said many people are riding on saddles with cracked trees. My brain registered these words, but i heard the unsaid words, your saddle is dead. I was gruff with Donna. I think I was mean. She had called and gave me horrible news. Poor Donna was the bearer of bad news. Forgive me Donna. I have apologized since and Donna understands.
I came home from my week of wonderful travel and it was time to visit Yellow Boot Saddelry. Donna showed me my dead beloved saddle. I saw the cracks. Donna told me that the flex lite tree is not the best tree In the tree world for a daily, hard riding rider. My riding is all speeds with slide stops, roll backs. turns, spins, etc.. If I were an easy going recreational rider, the tree wouldn't be so stressed. I had certainly never thought of myself as a "hard rider".
More bad news was coming. My favorite "on the rail dressy bridle was made out of underbelly leather. My bridle had started stretching. It was too long in Cisco's mouth and it was the smallest it could go. This spring I was astride Cisco at a horse show with my class coming up next when the bit fell out of Cisco's mouth. That was exciting. Donna told me the sides of my bridle were made out of the cheapest worst leather part of the cow. It should be against the law to make a bridle out of this cheap leather. What! I have been "taken"! Buying a new bridle is cheaper than fixing this one. Sniffle
I brought my other two Circle Y Flex Lite saddles for Donna to check. They had been cleaned and checked 3 years ago. Both trees passed inspection, but I got to see again how cheaply it was made. My favorite of the two had a piece of leather and when Donna tugged on it, the stitching broke. The stitching material is cheap. Donna kept the saddle and sent me pictures a couple days later showing screws in the wrong place. The screws were ready to come lose and come thru the place where I sit. They were already loose and the saddle seat had bumps where they were about to erupt into my tender places. Good Lordy! Donna said this was an after market deal. Where did these misplaced screws come from. I bought this saddle used also.
Yellow Boot Sadlery just got started this year. Donna told me that they have found one in six saddles have broken or cracked trees. Those are bad odds. I'm keeping my broken saddle in my trailer and will show everyone what a broken tree looks like.