Archive for the 'Miscellaneous' Category
Good information! Thank You Susan! And then it happened…I went down the Rabbit Hole of Susan's Blog and have been happily reading your blog for an hour. I love you honesty. Makes me feel less alone on my horse adventures and gave me many belly laughs. I had to claw my way out of the Rabbit Hole to go pick up my truck. But I will surely retun to reading them very soon. Love to read your quirky writing! PS: Now don't get a big head over this post. As you know I tend not to be this kind. Sarcasm is more my speed.
It was announced that Rain- a Tribute to the Beatles, would be playing at The Kauffman Center for Performing Arts. Dang I missed this when signing up for the usher shifts. Of course, the usher spots were filled now. Hmmmm, thought I. I would like to hear the Beatles music again, so I vowed to get a ticket. Oooops forgot until the day before when attending usher training at The Kauffman Center. Life was good as the box office was open. I asked when the Beatles would be appearing and my answer was tomorrow. Ok! I'd like a balcony seat on the aisle and I could afford the $45 fee.
I got to the Kauffman Center early and got my favorite parking spot in the garage. I was dressed in my favorite leopard outfit and I was in the building! I went up to the sixth floor to get a cocktail and order another one to be ready for me at intermission. Hey! This is a rock concert and drinking is mandatory. I asked for something with a cherry and I got something with three cherries and vodka. Oh yum, it was good. It so happens that the balcony level has a few tables and chairs to sit on while waiting so I had chatted with my usher friend until she had to go and work her door. I was sitting there enjoying my cocktail when someone walked up to my table.
She walked up to me and started talking to me. I assumed she was going to ask to sit at an empty chair at my table, but she said something about upgrade a ticket. Huh! She told me that she had two tickets, but the other person didn't come and would I be interested in watching the concert in an upgraded seat. I managed to understand those words. She then showed me the ticket and the seat was in the section just behind the orchestra seats. This was a seat in the second best seat section on the theater! Oh Wow! I was thrilled to take the ticket. Fifteen minutes before show time! I ran down to the box office and donated my balcony ticket back to the Kauffmam Center.
I ran up a flight of stairs to find my seat. Door 4 row CC was my destination. The couple behind me were chatting and said row CC. I turned and told them that was where I was going too and they followed me. My goodness. The seat was in the middle of the theater right behind the sound engineers. Here was my gifted and turns out the couple had seats on the other side of me. Oh we were a happy row of people.
It is time! We had the announcement about turning off our phones and suddenly, we had the curtain pulled.
1. Words came across the screen. "Beatles came to the United States in 1964″. My brain barely had time to register that I was a senior in high school when the world changed. I marveled.
A bunch of fake TV sets were on the stage.
2. I heard and saw Ed Sullivan announce the Beatles. Video clips of that night were show. On stage. Everyone in America watched the Ed Sullivan show that night and the world changed. We all met the Beatle for the first time, at the same time. We saw and heard the audience of girls start screaming. I became emotional.
3. Lights came on the stage and Beatles started their music. An invisible knife came out of nowhere and went into my body. The knife stabbed my soul. My body suddenly wanted to SOB out loud. My body wanted to throw its self out of the seat and writh on the ground. Tears started. The knife continued to stab my souls throughout the first song. I was in agony. I did moan out loud. The woman my age sitting next to me made a few hand gestures to her face. I figured she was crying too.
4. Song ended, I tried to breath and recover from the knife wound. Much Appluae and screaming from the audience. The knife withdrew from my soul. Suddenly, without warning, they played song #2. Once again the knife returned and stabbed my heart again. I wondered if my body could physically throw its self on the floor and writh. No. My body will not fit on the floor. Seats in front of me are too close. My throats closed again. Tears started and I was wrecked as the song continued. I moaned in agony.
5. Song ended. Applause. The knife receded again. I clapped and manage to cheer in agony. Song number three started. The knife stabbed again. I remembered how to open my mouth and put my tongue on the roof of my mouth to stop the verbal crying. I wondered if I could live through the concert. I can't take two hours of this knife stabbing my soul.
6. We moved to 1965 to the Beatles concert on Shea Stadium. The performers on the stage played the songs as we watched the videos of people at that concert. Oh my! However, the knife did not return to stab my soul.
Beatles at Shea Stadium.
All those young people were my age in 1965.
7. Our performers took an off stage break while the audience was treated to commercials of the time. Remember Dippity Do? We saw the commercial. Remember the Flinstones? We watched Fred and Barney lazing around while Wilma was mowing the lawn using a small dinosaur. Fred and Barney were saying it was difficult to watch Wilma working so hard. So they got up and moved around the back of the house so they wouldn't have to watch Wilma. Then they lit up Winston cigarettes. Oh my! We saw the ad for cornflakes. Someone was eating cornflakes. How plain they were and the box said, "mixed with rice". We saw a woman with long hair having her hair ironed. Every commercial was amazing glimpse of our past life!
Our performers came back and played more Beatles songs. Now I started to not recognize some of the songs. By this time in my life, I hadgone to college. I had to study in college. I bet I didn't listen to the radio near as much. I remember that I had a record player and used it. But my emotionalism hell had gone.
I enjoyed the richness of the music.
At intermission I learned that my seat benefactor had watched the Ed Sullivan show for the Beatles show when she was ten! Oh my, the Beatles crossed all ages!
After the intermission, we enjoyed Sgt Pepper's Lonely Heart era songs. We watched video clips of beatnicks and soldiers in Vietnam Nam. I was still in college and remembered only the top songs.
Sgt Pepper's Lonely Heart Club.
The concert ended with Hey Jude. Cameras were mounted in the concert hall to record the audience! So while we all were standing and singing Hey Jude, the stage was scanning us, the audience! We saw the entire 4th floor and fifth floor with some of the sixth and possibly the 7th floor seats. The video was tinged like a Kodak imatagram color. We saw ourselves in the 60′s singing with The Beatles.
When the emotional experience ended, I profusely thanked my seat benefactor. She said it was meant to be. She searched for a lone attendee with worse seats than she had for a long while. She finally figured that coming up to the 7th floor to find me would work.
I managed to drive home. The next morning I awoke so tired, I felt like I had worked a hard day's night. I barely made it through lunch. Coffee let me make it through the aftermath of a gigantic emotional experience!
If you discover that this concert is coming anywhere within 200 miles of you, get tickets!
https://en.m.wikipedia.org/wiki/Rain:_A_Tribute_to_the_Beatles
http://www.raintribute.com/band#
I ushered the opera Marriage of Figaro the day after the Trump / Clinton presidential election.  Facebook was burning up.  I felt horrible on that morning as I was planning on celebrating our first woman president…not!  I decided that I couldn't even ride Cisco as I might take my sadness and grumpiness out on him.  But I did go to Cisco and was lucky enough to have multi world champion trainer, Erin Patterson, ride  him.  When I went to the pasture to get Cisco, I forgot about the election.  After I watched Erin ride Cisco she gave me a few pointers on more finesse.
After Cisco was done, I watched an old friend take a lesson with Erin.  You could feel her happiness to be back involved with horses pouring out of her pores.  It has been a long long time since she got to ride because life got in the way.
I went home and watched bits of Ellen and Steve Harvey while part of me tried to nap.
It wasn't long before it was time to get cleaned up and get my usher outfit on.
The Marriage of Figaro is a long opera.  The first act is an hour and a half.  Then there is a thirty minute intermission.  The second act is over an hour.  At intermission I was asking the patrons if they loved this opera.  One woman stopped and exclaimed, "This opera is great and just what we need on a day like today!"  I have to confess.  It took me a full thirty seconds or so to remember the nation's anger, my anger and sadness and fear of facing a brand new scary world.
So, if you are feeling hatred, sadness, anger etc, The Marriage of Figaro is in it's last week.  I recommend that you get tickets and soak up the magic of the amazing opera voices, the clever and tricky plot and laugh at all the humor included in the opera.  Also, since it is a long opera, you probably won't get home till the next day, so that takes nearly an entire day of not being sad, scared or mad at the USA political system.  Go to the Opera!
https://www.kcopera.org/performances/the-marriage-of-figaro-16/
Why did Velvet canter every time I asked her to leg yield at a lesser gait.  We were walking, I asked her to leg yield and she tried to canter.  We were in the next gait up, I asked her to leg yield and she tried to canter.  Then I realized I was asking her to leg yield with force in my legs.  I remembered that I thought about the difference between a cue and asking for a faster gait.
I've been thinking the same thing about Cisco lately.  How am I cueing him to leg yield and how do I cue him to canter.  It seems to me that I'm doing the same thing for both of those tasks and we are having a problem with it.
Today, I remembered that Velvet had already taught me the answer.  The answer is heels.  Velvet taught me that I should touch her with my heel to leg yield.  She tried to teach me to squeeze with both legs with my left or right heal in the correct position to ask for the left or right lead.
I also figured out today that when I am asking Cisco to keep fox trotting instead of slowing down, I should bend both knees and ask him to keep going with a gentle squeeze.  My goodness, it worked today.  We stopped breaking gait when I started bending my knees. and squeezing.
There are a few people that will understand this mumbo jumbo.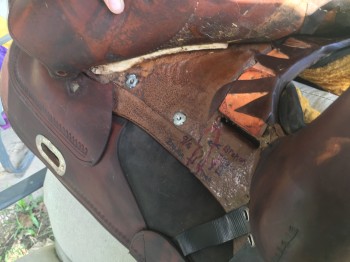 I love Circle Y Flex tree saddles so much that I have three of them. A couple years ago I managed to let go of the ones I don't use to get them checked and cleaned. However. I couldn't let the one that I use daily leave to get cleaned and checked. I had bought this saddle a long long time ago and it was checked out before I bought it.
This summer was a horrid hot and humid one. I stopped riding plus I was going on a week long trip. I decided to let Donna of Yellow Boot Saddlery take my beloved saddle, along with a few broken and filthy bridles to be checked, cleaned and oiled.
The unthinkable happened. Donna called me and I was somewhere in the middle of Kansas on my way to Colorado.
"Susan, I hate to give you this news. Your saddle tree is cracked. It is cracked on both sides."
My world spun to a stop. My beloved saddle was dead. MY BELOVED SADDLE IS DEAD! Donna managed to get a few more sentences in. She mentioned that they had seen a lot more cracked trees than they ever thought. She said many people are riding on saddles with cracked trees. My brain registered these words, but i heard the unsaid words, your saddle is dead. I was gruff with Donna. I think I was mean. She had called and gave me horrible news. Poor Donna was the bearer of bad news. Forgive me Donna. I have apologized since and Donna understands.
I came home from my week of wonderful travel and it was time to visit Yellow Boot Saddelry. Donna showed me my dead beloved saddle. I saw the cracks. Donna told me that the flex lite tree is not the best tree In the tree world for a daily, hard riding rider. My riding is all speeds with slide stops, roll backs. turns, spins, etc.. If I were an easy going recreational rider, the tree wouldn't be so stressed. I had certainly never thought of myself as a "hard rider".
More bad news was coming. My favorite "on the rail dressy bridle was made out of underbelly leather. My bridle had started stretching. It was too long in Cisco's mouth and it was the smallest it could go. This spring I was astride Cisco at a horse show with my class coming up next when the bit fell out of Cisco's mouth. That was exciting. Donna told me the sides of my bridle were made out of the cheapest worst leather part of the cow. It should be against the law to make a bridle out of this cheap leather. What! I have been "taken"! Buying a new bridle is cheaper than fixing this one. Sniffle
I brought my other two Circle Y Flex Lite saddles for Donna to check. They had been cleaned and checked 3 years ago. Both trees passed inspection, but I got to see again how cheaply it was made. My favorite of the two had a piece of leather and when Donna tugged on it, the stitching broke. The stitching material is cheap. Donna kept the saddle and sent me pictures a couple days later showing screws in the wrong place. The screws were ready to come lose and come thru the place where I sit. They were already loose and the saddle seat had bumps where they were about to erupt into my tender places. Good Lordy! Donna said this was an after market deal. Where did these misplaced screws come from. I bought this saddle used also.
Yellow Boot Sadlery just got started this year. Donna told me that they have found one in six saddles have broken or cracked trees. Those are bad odds. I'm keeping my broken saddle in my trailer and will show everyone what a broken tree looks like.
I was like this!! I was just like this. I rode other people's horses in my young adult formative years. Long long ago when I was in the middle of buying a piece of land in Walsenburg, Colorado, I paid a cowboy money so I could ride his horse. I got his horse and rode out into the dessert. Just me and the horse. I came back and rode around his property, because it was just a little boring out there. The cowboy seemed very very nervous. He said something about his wife being nervous about my riding the horse. I couldn't understand why. I can ride. I had horses in my age 6 to age 18 youth years. I did not develop fear about riding horses until I tried to ride Sage the third time and she spun me to the ground.
I remember one other time and it might have been during the same time span, I rode someone's horse in an arena pretending I was going to chase and cow and rope it. We backed up in the shute and burst out, pretending to chase the cow. Oh that was fun.
When I moved to the country, I rode a horse friend's quarter horse. I cantered around and had a good time on their property. Yee Haw
Turn the clock forward and I started with horses again at the age of 48, When I traveled somewhere, I would find fox trotter people or Parelli students and visit them. I rode their horses. Turns out, the people who profess to being Parelli people really didn't know the rules. I visited a friend in Phoenix. We rode her fox trotters in Phoenix. I was riding a horse that didn't understand the signal for stop, whoa, slow down, scream-we-are going to cross and six lane road and you have not yet stopped. The horse was great with kids, cars on the road, bushes, everything, but never learned to stop. People just pulled back on her mouth without teaching her what that meant. I used the snaffle bit on the bridle provided me. The bridle was missing the chin strap. So when my "bend the horse to a stop" reaction occurred, I pulled the bit out of the horse's mouth. I was riding a horse that did not know how to stop with no bit. Luckily this horse stopped when the other horse stopped. That is the only reason I am alive today. The second day, I used my bridle. I had brought my own bridle with me just in case. At least I could bend the horse's head around. I rode that horse for three days around Phoenix. About the 3rd day, she had learned to read my body signals and was learning what stop was. On the fourth day, I left Arizona and came home. I no longer ride other people's horses unless I know them well and they use the same signals to the horse that I use. Consequently, I have not rode many horses other than my own for about 20 years!
I rode Jenny's highly developed horse once. I was good enough that he did not take off in a gallop. But when I asked him to slow down, my lower legs did not relax. It took me a good long time of trotting around and sometimes cantering around before I could relax my legs enough that he slowed down. My lower legs kept telling him to go forward. I had to fight my legs to relax.
But I digress. I was going to tell you why you can't ride my horse unless you understand the same things I do.
My horse goes forward when I lightly tense my core muscles. We call this "life up". I am trying to teach Cisco to go forward when I squeeze my toes. Sadly, I forget to give this signal most of the time.
My horses know to go faster when I lightly press my calves against their side and tense my core muscles.
I do use the portion of my legs from my hips down to my knees for stabalizing my body if it starts to fall out of the saddle to the side.
Here is what we do not do. We do not use our legs from the knee down to hang on. We sit in the saddle on our back "pockets". That is how we keep balanced up there in the saddle or bareback. You look at those bucking horse/bull riders, they are sitting so far back on their "pockets" for balance that they look like they are laying down on top of the horse/bull.
So here comes someone who has watched TV cowboy shows or rode horses on a dude ranch. The someone tells my horse to go by pressing their lower legs quite firmly against my horse's sides. My horse thinks that is a signal to GO FAST! My horse takes off. The rider squeezes their legs really really hard against my horse's sides as a reflex to hold on. The rider's body tilts forward as a life saving measure. Squeezing the legs even harder against my horse's sides makes my horse go way faster! As long as those legs are locked against my horse, Cisco will be going fast. I did this once myself when first learning how to ride Velvet bareback. My legs tensed and locked. I knew my legs had locked and Velvet was not going to stop. Sadly, my brain thought it was going to die and it would not let my legs unlock. I had to ride that out and thank goodness Velvet was not a horse that approved of going fast for very long because of some leg pressure!
Thankfully, Lucky Star gets dominate quickly and slides to a stop. No one is going to tell him to canter very far. That isn't in his nature. So the human is way off balance trying to hunch down into a life saving bend. When Lucky slides to a stop, the human is off balance and will just tumble off…much like what you see when those jumping horses refuse a jump, but the human body is tossed forward.
I've seen Velet bolt with a beginning rider and thankfully it ended well.
It has taken me years to figure out what these riders do to cause my horses to bolt.
No, you cannot come out and ride my horses. You must take lessons from me first. I do not have a beginning rider horse.
You will be surprised to learn about Cisco's mind. Cisco is a left brain introvert. That means he thinks through things and isn't a big fan moving. He likes to move. He likes to stop. But what Cisco really is…is a worrier. He worries about things. It can take him a long time to get comfortable in a new place. His worry is very low key as he is thinking while he is worrying. During his worrying phase, he likes to move. That keeps him relaxed. When he moves, I'm usually talking about a walk, a nice comfortable walk. Depending on how much he is worrying, his stopping and standing still can go from fidgeting to hopping up and down with his front legs. Little rears, I call them.
A lot of people probably wouldn't even realize that he is worrying when he fidgets and hops. People might yell at him and in a large commanding emotional voice, might tell him to WHOA…WHOA while pulling back on the reins. What would that do to you if you were worried and then someone tried to force you to stand still and yell at you..with a bit of nervous energy. Usually, that doesn't work so well and when it does work, the human is lucky, very lucky that the horse didn't engage in something called "whoops, my human just fell off and I'm out of here!"
At the April 2015 Spring Show, we went into the arena really well and moved fine. Except for the rope gate held up in the middle of the arena. We couldn't go near the rope gate.
At he 2015 June Spring show in Ava, Cisco got a coughing problem which I now think was caused by a moldy stall. He had several shots from the vet to treat any infection that might be lurking in his lungs. And when we walked around the show grounds, he was fine…until I had him stop and stand still. That just didn't work. He started prancing and dancing. I told him to walk on and he seemed calm and relaxed. We rode in the arena and tried to practice our opening and closing the gate. Oh that did not work at all. He hopped and pranced all over the place when I tried to stop at the panel gate.
At he 2015 September Celebration, we were just a little worried about everything, but we lived through it. The panel gate was a problem. He was nervous and prancy at the gate. It was a left handed gate, but he did finally let me open it up with my right arm and back through the gate. I don't think I even let go of the gate, but he was nervous about it.
Now we come to the April 2016 show. I'm the show manager and have to wait until the show starts before I can go to my horse. Cisco and I can only do a brief session of ground play. Again we were on the obstacle course, ready to open the gate. Once again, he became nervous and prancy. Again I was forced to open the left handed rope gate with my right arm. You would think we had never practiced the gate opening. I've had a year to practice gate opening. Yes, he does appear just a little nervous at the gate, even when he is used to his environment. But another session of hopping and prancing around the gate during a horse show…nope. I never expected that.
We were in the fox trot obstacle course and then the open obstacle course. He was worse about the gate the second time.
I'm back in our home arena now and there is a round pen gate Cisco and I can go through. He is not exactly relaxed as we go through our gate entry. He doesn't like to stand still during our gate opening and closing. So that is what we will work on. We will be opening and shutting a gate with a lot of stopping during our gate activity.
On the ground I have two barrels and an upside down bucket placed around the round pen.  There are treats on top of these buckets.  Horse Treats.  Motivational behavior treats.
I stand with Cisco facing me, about 15 feet away from the horse treat object.  I raise my arm and point at the barrel.  I make various arm movements with both arms to get Cisco to travel to the object.  Eventually, he gets there through a combination of backing, going forward, moving his forequarters and hindquarters (not at the same time).  Finally, he stands with his head over the barrel.  The treat is right under his nose. He has no concept of touch the target game yet.  I come over and rattle the treat on the barrel.  Cisco lowers his head and discovers the treat.  We stand and marvel over how a treat could appear on top of a barrel.
We played the game with the two barrels and bucket about five more times.  He got the idea of following my arm directions.  Arm directions could mean a reward!
Cisco and I ended the session with me trying to run – nope – my pulled muscle objected to that.  We ended our session with Cisco running around and transitioning from trot to canter, trot, walk and stop.  Yee Haw today.
I told Cisco he was my best horse friend.  Lucky Star was waiting by the round pen gate.  He got a treat just for being alive with his bright chipmunk eyes.
I took all three horses into the round pen today.  We (they) got to run around the round pen according to the rules-of-round-pen.  Of course Lucky Star knows the rule of round pen, so when he asked to come into the middle with me three times, I let him.  The girls ran around for a while.  I stopped them and they were about 30′ away from me.  I made the round-pen body language "sign" saying, "Come to me".
One of these horses is a retired mare.  Her life from her training start was not a good one.  She was "driven over the edge" and became a crazy horse. Her distrust of humans was well developed because of her harsh "start".
Her new-to-horses-beginner bought her after an amazing weekend with the mare.  The couple visited the sellers for a weekend. They did everything with the horses.  The new to horses other part of the couple fell in love with an amazing two year old.  The two year old rode like an experienced horse.  They went on trail rides.  Both horses were fabulous and obviously well trained..  Both horses were purchased.  When the mare arrived at her new home, the drug had disappeared and her new owner had a crazy mare.  The other horse became a young green horse that fulfilled the "green on green makes black and blue" saying that us horse people are fond of regaling beginning riders with after they buy the wrong horse.
Thankfully, her new owners had just discovered Parelli and struck up an acquaintance with me.  And what that means is Jenny and Tony Vaught became their helpers. The new green mare owner studied everything Parelli.  The relationship of the crazy mare and the beginning rider was a rocky start.  The couple lived twenty three hours away from the Vaughts.
Three years went by and the mare developed a deep trust and bond with her owner.  They became an amazing team with a great relationship.  But the owner  told me that there were still some things that the mare had done that glorious weekend at the sellers that the mare still couldn't tolerate.
Life was good and then the bug problem started.  The mare became allergic to the bugs of her home state.  She returned to Missouri and started her new life as a retired mare and also got to have a foal.
I took her before the last winter was started as my pastures had grass and she needed grass and my winter supply of hay.  She blossomed with the grass and good hay.  Her personality towards humans  still was "You are human.  I don't trust you. I'm ignoring you unless you want to feed me."  One day when I was out with the horses, the mare came over to me and stood very close.  Her body touched me.  I looked at the mare and her liquid eyes made this statement, "You are a good human and I love you for taking care of me."  That was an awesome moment!
So, I have a new round pen, it is late summer and the story resumes.  I had the horses stopped in the round pen after trotting and cantering around.  When the mare ran around the round pen, her head was pointed to the outside.  She was not interested in anything my body had to say.
Of course she knows the body language that the natural horsemanship people use.  I made the body movement which translates into, "come to me".
She was startled that I used the signal.  I could see her thinking, "Susan knows how to talk to me!  She talks to me like my beloved former owner! Her ears pricked forward and she trotted to me.
Fall on the ground and cry now!
Soccer with 19000 fans. My son sang the National Anthem at Sporting KC and I get to be an honored guest at the game against St Louis. I get to be at field level before the game. Drums are drumming. Gigagiant screen is broadcasting. It is intense here and intensity builds up to fever level as we get nearer to the start of the game. I'm standing where the visiting team is seated. They come into the stadiumas I try to stay out of their way. They are young and very fit…and all good looking!
Color guard marched out into field. Fans are screaming and emotions are high. Nathan and Ben take the field and get ready to sing.
I'm in a totally different world….think Tomorrowlamd combined with Gladiators in The Roman Colosium about to take to the field with Charlton Heston. It is that intense.
I had a blinding flash of the obvious. This must be what a horse goes through when being taken from peaceful pasture and deposited from trailer into the intensity of a big horse show. Aha!
After the fabulous anthem with the entire crowd screaming with anthem happiness, we are escorted to our seats in the stadium. We are seated in the next section from the opposing St. Louis fans. Never, except during the half, did the St Louis fans have a moment of quiet. The three or four drummers and several hundred screaming people kept it up the entire game. One chant was S……T……..L. I believe that stands for ST. Louis
The other chants were too complicated for me to remember. Nathan chanted along with St Louis fans in a slightly negative manner. He changed the words. Near the end, Nathan made a certain number of fans in our section chant the I Believe chant. Things get exciting at soccer games!
I got caught up in the talented Sporting KC players as they made the body moves and feet dribbling skills to keep the ball away from the opposing player. I watched for a while and thought,my goodness, this is just like the tricky cow moves when trying to get back to the herd, past the cutting horse, during cutting.
And then I knew that I have gone over the hill in horse crazyiness. Tony and Jenny Vaught must have made a deep impression on my brain in all the cow clinics and cow herding lessons for me to compare soccor with cow work.
I occasionally glanced at the big clock as time went on. I swear the clock said 60 minutes a while ago and now it sez 68 minutes. Oh wait, I remember that we count up to 90 minutes in a soccer game. I remember that penalties add to the time, but the penalty added times are not reflected anywhere. They are a secret.
We were at 90 minutes and the game went on. I must have been looking at the poor exhausted St Louis drummers when I realized that all the fans were cheering at something. Movement wasn't happening on the field. I was trying to figure out what happened when I saw the teams shaking hands with one another. Oh, the game must have ended. The game ending must be a secret to new fans to the game. Everyone else seemed to be aware that the game ended. I stood up and cheered too, so everyone would know that I knew that the game was over and we won. YAY!
What crazy person invented such a game that ends and the new fans have no idea…and the clock is still at 90 minutes.
Soccer is weird…and so are horse events for those that don't know the rules.