I decided to ride Velvet for a while at Pine Dell Farm every evening that it was in the high 20′s to 30′s.  Ah, life is good with an highly trained finished horse.
I just might be over my mad desire to have a young horse to finish every 5-8 years or so.  It's fun to get Velvet and I back into coordination.
Velvet brought me one step closer to redemption.  I don't believe I've ever felt the need to scream outloud my need for Jesus to save me.  I've had the thought many times, but I kept it internal.  I've had conversations wtih Jesus and God before, but no one got to listen in.  Velvet, the trained cow horse, got me to scream for help for all to hear. Everyone in the cow clinic and all the auditors and probably the neighbors heard me scream, "Lord Help Me Jesus!"
Velvet took over the cow.  Velvet is a trained cow horse. She understands being a cutting horse.  I've watched those cutting horses.  I understand the concept.  You put your hand and reins down on the horse's neck because the horse just takes over keeping the cow away from the herd. The cow runs trying to get past you and get back into the herd.  Your horse takes off and runs to keep herself between the little cow and it's cow friends.  Your horse blocks the cow.
It was in the 2nd dash and my hands were trying to communicate to Velvet what to do.  But Tony pointed out that Velvet knew exactly what to do and to let her do it. This involved me giving total control to my horse.  At that moment we were galloping back and forth. The cow ran. Velvet ran to cut the cow off. The cow turned the other way and ran off.  Velvet turned and ran to cut her off.
I've rode Velvet bridleless before thousands and thousands of times.  I've ridden her bridleless in front of large crowds of people.  But I've always been mostly in control of everything she did.  Occasionally, she would make a turn thru the middle of the arena that I wanted, but I pretended that cantering around the arena was exactly what I wanted to do. That was nice easy going cantering.
Velvet was in charge of the cow. She was galloping short burst of impulsion, spinning the opposite direction and galloping off again. This was an entire new feeling which might have prompted me to yell out, "LORD HELP ME JESUS"!
I thought my life was pretty exciting. It is not the case.  I found out just how boring my real life was.  It happened at 5:45 AM October 2012  Tues.   I was trying to catch Lucky Star in the yard and put him back into the pasture. I've been from house to barn and no Lucky! Usually Lucky Star sees my in the yard and silently appears about 6″ from my face.   I shook the grain bucket and I caught a glimpse of him in the light of the garage.  He was heading the other direction…away from me.
What!
Lucky Star is a "always in my space" kind of horse.  He never runs away from me.
I hike after him and find him standing by the far fence.  I go get him.  I saw a big tree branch move on the other side of the fence.  What was there?  Big tree branches don't move like that on their own!
By this time all the other horses had finished eating and left the barn lot corral. They disappeared into the inky darkness of a crisp predawn day.  A horse whinnied.  The whinny didn't sound like it came from my pasture.  It sounded like it came from where the big tree branch moved.
What?
More whinny.  I see all my horses but Sue.  It's still dark.  I decide Sue must be the whinny source and she is out of the pasture.  How could she get out? There are no gates open.
I get into my car and drive out of my yard into the sod farm next door.  I drive along the fence row, looking for Sue.  Trees are lighted up in my headlights.  Nothing else.
No Sue, no nothing.
I return to where Lucky is eating his breakfast ..  I worry some more.
I drive out to the turf farm again.  Headlights shining into the row of trees lining the fence.  Nothing there.
Drive back to my yard, park my car and return to the barn, I see a shape in my yard.  It's shaped like a horse!
It is a horse.! It's not Sue. I have a loose horse in my yard!  I have a lost horse in my yard!
Horse goes over and sniffs noses with Sue and Lucky.  She's in a small dead end place.  She is calm and quiet.  I go get my halter.  I decide that I might live if I walk up to her in the narrow dead end place.  She's calm. She let's me halter her.  My my my!
I look at her and decide I have a short saddlebred horse.  Her neck is elegant and stretched up to the sky.  She's wondering what I'm going to do.  I'm wondering the same thing.
I lead her to the barn and she follows right along with me.
Thank you, Lord.
She's in a stall.  I give her lots of hay and go on to work.
I called the Cass County Sheriff  to report.  I call my town police and talk to the Animal Control officer.  I report a missing horse. Animal Control officer drove to my house to see the horse and took her picture.
No phone call all day from anyone about the horse.  I call to find there has been interest, but picture proved not to be the right horse. (How could there be interest in missing horses? How many missing horses are there in Cass County?)
Go home and feed the horse.  She is nice and friendly.  I let her out into the corral where the other horses sniff her.  She floats across the corral. Beautiful extended trot.  Horses sniff and loose interest in her.
I decide to let her out.  Since she had been cooped up all day, she had some energy. She galloped up and down the pasture.
I am standing in admiration of her beauty when two young men walk up to me.
Excited, I say, "Are you missing a horse?"
"Yes"  We chat a long time.  Nice young men. One of them is the owner.  We chat about how his horse got out of the boarding place.  Boarding Place thought the young man had picked her up and took her somewhere because the halter was missing.  When he took a bucket of oats to her this evening, she wasn't there.  She's missing.  He checks with police and gets sent to my house.
We chat about the horse.  She is 4 years old.  Young man bought her for his self and  his daughter.  Her name is Wild Fire.  He bought her when she was two.  Her former owner named her for the wild flower, Wild Fire.  (I shudder at the name.)
She had a week and a half of training by an Amish trainer somewhere down south of KC. She's quarter horse/fox trotter mix.  hmmm…I thought she was a short saddlebred.  I don't see QH in her at all.  She's a very elegant horse.  I don't see fox trotter in there, but fox trotters don't have a set look.
Young owner sez he just bought a truck. Truck broke down and he's in a bind and needs to sell this horse.  Taking her to auction Saturday.
We chat some more.  I mention killers and no one is buying horses because of  drought hay situation.
We chat about hay and how the boarding place before bought some cheap 3-4 year old hay.  Plus the other horses wouldn't let his horse eat.  Boarding owner wanted him to pay when his horse wasn't getting to eat the inferior hay.  He got her out of that situation.  She's been well taken care of and in her present boarding situation for 5 months.
He offered me $50 to keep horse till Saturday.  He has to borrow a trailer.  We talk about the magic number needed to fix his truck $300.
hmmm.  I like this young man.  His horse is proof of a well-loved and cared for horse.  He is polite and truthful.
The next day,Wednesday,  I tell Facebook groups about the horse. What to do to save this horse.  Let's raise $300 and he can keep his horse.  I'm doing my best to not own this horse.
Then the fatal comment came on Facebook:
Wild Fire is a Stolen Horse!
What.  Wild Fire is a Stolen horse is repeated and no further explanation
A day of fury on Facebook.
I report to police that allegation has been made that she has been stolen.
Fury keeps on coming on Facebook.
That evening, I come home to find the horse has leaped out of my pasture into my neighbor's pasture.  Neighbor has geldings that think they are stallions.  Or it could have been Lucky Star exerting some dominance over her and she jumped the fence to get away.  She found me because of Lucky Star and now she's with 5 other geldings.  She must be a great jumper!  There's not a scratch on her.
Called neighbor  and tried to explain this. She's at work and will get home in about half an hour.
Darknes comes. Young man, his wife and nearly one year old daughter come with a bucket of oats for their horse.
"Bad news," I say.  "Horse jumped fence and someone alleged she is stolen."
WHAT!
It's the former boarding place with the cheap hay and the horses that kept our horse from eating.  Boarding place locked horse up for non payment.  Owners Stole Their Own Horse.  That's the stolen part.  I am furious with the Facebook alleger. Furious!  I revel in furious, because it's been years since I've felt furious at anyone except spouse.
We drive 5 miles to see horse. If we had a gate between our pastures, it would be about a block away. She is now in stall in neighbor's barn.
Neighbor agrees to keep horse for time being.Owner sez it takes 4 grown men to load this horse.
Here's a horse destined for auction, alleged stolen, wanted for a child less than a year old and needs four grown men to load in a trailer!
I'm busy Saturday and Sunday, but tell them that I'll walk her back home if I can find a gap in another neighbor's fence.  Neighbor sez she has a shute system rigged up to trailer load a horse.
Monday am comes and I'm up at dawn plus an hour or so…9:00am.  I did find a gap in the fence.  I need to saw a tree limb so I can walk a horse thru.  I call up this neighbor and ask permission to lead a horse thru his yard.
"Sure" he says. He's noticed that his neighbor has an extra horse.
I go get the horse.  All her geldings try to friendly up to me and run away the mare.  We have words. I catch the mare.  She doesn't want to leave the pasture.  We have words.  Geldings decide to run elsewhere and watch the show.
I get mare to leave the pasture.  Whew!
We walk about a half mile to my house and I get her into barn stall again.
I go into house and collapse in my recliner.
After I recovered, I called the  young man and told him I was buying his horse.
Turns out she is half Morgan, 1/4 qh and 1/4 Arab.  That explains her "look" .  She is beautiful.
Jenny comes out on that Friday and takes about 15 minutes to load her.  She is a quick learner and not really too afraid of the trailer.  Jenny loads her in both my trailers.  It takes about 1/2 for all this to happen and she is a relaxed loading horse.  I get to take over.  It takes a few moments for my kind of communication to get through and some coaching from Jenny.  She loads.  I get her to load in both trailers.
Loading lesson done for life.  She can now be transported!
I take her on trailer ride on Saturday to Fair Play.  I played with her in the morning and another person played with her in the afternoon.  They are hooked on each other.  Love is blooming!
Meet Miss America…..  Missy….  MissA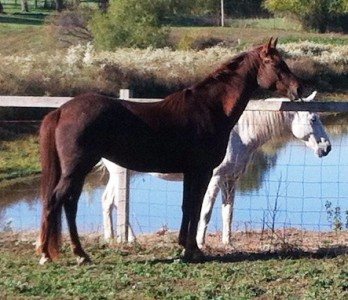 Cisco and I have been fortunate to get a trail ride partner. Hope is riding Lucky Star and I'm riding Cisco. Cisco and Hope are being rehabbed.
Cisco was rode for three years by his past owner. He was rode alone, along roads etc.. He was in trail training until his wildest spooks were the sudden stop and bracing his front legs. Then I won him in the raffle and he became my arena horse. It's been about three years of both indoor and outdoor arena riding with a few trail rides.
Did he change? Nope, he still braces to a stop spook in place. He is nervous out in the wild, but he is a right-brain extrovert and gets anxious in unfamiliar places. He gets more anxious if he has to stop and stand still. Standimg still is not possible.
Here's a little bullet story of how Cisco is doing
First Ride: nervous, wants to speed down the trail away from other horses. Rabbits, blind corners in trails where he can't see, colverts, and anything else makes him ready to pop. He will follow behind another horse and control his forward speed. I use the reins often and they are much ignored. I try to let reins go loose between attempts to slow him down, but I'm nervous too. Halfway through our short ride, my knees hurt. Oh great, I'm bracing my knees in fear. We get back to trailer and my knees really hurt when I dismounted and landed on earth.
2nd Ride: Cisco just a little more relaxed. I am able to recognize when my knees are bracing. The knee pain is lessened. When I dismount, there is no knee pain.
Third Ride: I don't remember the third ride
Forth Ride: That was when Hope and Lucky were arrested and ticketed. Someday, that story will be made available to all.
Fifth Ride: Cisco was calm and relaxed the entire ride. We rode with a nice calm horse named Storm. I believe he took all the burden off Cisco.
Sixth Ride: Cisco nervous again. No popping to a stop. Unable to stand still. Knees absolutely never hurt one minute. I'm getting relaxed now.
Everyone calls this Buddy sour, but that is so negative for a dependence problem. Cisco has a personality that lends him to be dependent on others…usually a horse. Cisco and Lucky were boarded together this summer. I've been trailering Cisco and Lucky lately to a park where my friend got to ride Lucky.
At no time was Cisco able to let Lucky out of his direct sight. If Lucky walked behind a trailer, Cisco went hysterical. I had to saddle Cisco where he could see Lucky. If not, Cisco became immediately a basket case of nerves. Saddling him was nearly impossible as I didn't exist as he swung his body around trying to see Lucky. I would have been stepped on or squished or the unsecured saddle would have been launched into space.

I just went with it. I also made darn certain that Lucky was in clear view when I mounted Cisco. I need a horse to stand still like a statue when I get on.

One day I delivered Lucky Star to Hope. When the truck and trailer came home an anxious Cisco was waiting for Lucky. I told Cisco he now owned two mares. Delta spoke up and contradicted that. She said Lucky Star was her boyfriend and if Cisco thought he could boss her around he would feel her teeth!

Trail ride date was upon us. Cisco and I got there first. Cisco had never seen Hope's trailer. When she came lumbering into the parking lot, Cisco screamed and screamed and screamed. Finally the trailer came toma stop and we could see Lucky Star. Cisco relaxed. Life was good.

Until the end of the trail ride

We tricked Cisco. Lucky stood by our trailer when Cisco went in. The door shut and Lucky walked away. Cisco became frantic. I had to jump into the truck and move. Horses have to brace themselves when the trailer moves. That stops the frantic movement.

Yesterday was our next meeting. Hope and Lucky got there first. Before we came into sight of the parking lot, Cisco started screaming. He knew where he was and thinks Lucky lives at the park. We screamed until I got parked, let Cisco out and we saw Lucky.
I've been in California for over a week.  I had the most amazing time ever!  I'm back home and have a talented young horse to develop.  There is nothing better than a beautiful, talented young horse and a 60′ round pen!
The herd was in the far pasture across the lake.  I called Fancy's name on my way to the barn.  When I stepped out of the barn with my assortment of tack, Fancy was waiting for me.  The herd was still in the far pasture, but Fancy came a good distance to see me!  I decided she needed some grain as an extra bonus reward and incentive for future join-ups!
Fancy and I played for nearly three hours!  Amazingly, the sun starts to go down now at 5:30pm.  Good Lordy.  Mother Nature is interfering with my horse play.
Fancy and I started with the 14′ rope and halter along with the horsemanship stick with the plastic bag on it.  Fancy is just a little unsure yet about the plastic bag.  She obeys the plastic rustling bag and doesn't quite trust it.  The plastic bag tried its best to be a friendly leader.  It even drug the ground in front of Fancy while we took a little walk around the round pen.  She didn't step on it yet.  She has not yet tried to dominate the plastic bag.  We did quite a few things with those tools.  We always do a ton of backing as Fancy loves to install her body directly into the human body.  We are also doing a lot of hindquarter turns as she does not yet know the "hindquarter" body language code to turn and come to me.  I do not yet "own" her hindquarters.  Fancy feels that she is in charge of where her body goes, not me.  That is a topic under discussion.
Next I switched to the halter and 22′ rope. We switched to the horsemanship stick with the 6′ rope on the end.  She got to run around with me in the director chair.  We tried for a consistent gait.  We failed, but daily improvement is coming.  Again we did a lot of backing.  Backing is not on a dominate horse's agenda.  Fancy's agenda would be to insert her head into my body.  My body hates that.
Fancy thinks the string is an accelerator.  When I swing the 6′ string, she thinks that means run.  My body is turned away from her and in a relaxed posture.  I whack at the ground and Fancy takes off.  I keep whacking, body position neutral until she decides maybe she can stop.  When she stops running the rope stops whacking the ground and she gets rewarded with the stick rubbing her with love.  I shift with my body position facing her, tension on the 22′ rope and life up, I ask her to circle around me at the trot and canter.  The 6′ string occasionally talks to her.  We did some direction changes and hindquarter stops.  It wouldn't yet be called a dance between her and me.  That's the fun.  The dance is coming and it will be ballet!
Next is liberty.  I take the halter off and ask her to circle around me at trot and canter.  We have a stop when she decides to stop, but our dance goal is to stop when I give the body signal.  Another goal is to stop when I ask her with the horsemanship stick.
Heck, she has no idea what that stick means when I tap it up and down in front of her.  Se we return to the 14′ rope and the plastic bag on the stick.  We do the stick-to-me walk.  Her goal is to keep her head even with my hand (next to my shoulders).  We walk forward.  The stick is behind my body.  I move the stick in front of my body and tap it up and down while my feet stop.  That is her cue to stop.  Then my feet go backwards.  The human body posture changes into the backing posture, the stick thuds on the ground and she matches 1-2 steps backwards.  That is huge.  We do that for a while and next the human body decides to change directions.  The dance gets a little technical here while Fancy decides what her body is supposed to do.  She matches me darn good for her first time at change of direction.  We couldn't have done this when Fancy first came to me as her goal was to put her head or shoulders inside my body.  We have achieved respect for my space now.  Running over me with her head or shoulders isn't allowed.
I look at the sky because the sun seems to have changed and am shocked by the rude sun behavior.  The sun is setting.  What!  It's only 5:00.  I decide that Fancy has done really well today and we should be finished.  But over on the fence, something is mocking me.  The driving bridle is mocking me.  "You promised," it said.  "A young horse needs a driving lesson."  OMG," I replied.
Fancy was having a good time with the reward hay when I stepped beside her and asked her to raise her head.  "You have to be kidding me," She said.  "I thought we were done and now you want to put a bit in my mouth?"  I persisted and Fancy had her bridle on.  I think her tongue wasn't prepared and it was over the bit.  However, she got her tongue under the bit and was chewing hay.  Off we went.  She drives!  She turns when the reins ask.  Today, we didn't stop when the reins asked.  The reins persisted, one tug at a time.  After we stopped, we tried the back up and it was successful after a few alternate tugs.
Finally, our development day was over.  She got to eat the remaining hay.  I haven't trained a young horse in a round pen is about a hundred years.  The last one was Powder and she is nine years old.  Those  young horse memory techniques are hard to dredge up.
Pat Parelli invited the Vaught family to come and ride with him for an entire month this summer in Colorado.  All the extended family are thrilled that the Vaughts have this great opportunity.  This is just thrilling.
The 2013 Spring went by and the great adventure was thought about.  Finally, real plans were in the working and finally, the making!  They left near the end of July and the first day of riding with Pat started July 24th.  I am very blessed that Jenny and Tony decided to take Powder and Nova with them along with four other horses.  They have to compete in the Missouri Fox Trotter 2013 Celebration.  They have to be ridden.  Working with Pat Parelli coaching them on cow work is my version of an a staggering opportunity for my horses.
The six horses get to stay in a small pasture that contains meadow and mountain.  It's a long way from the Vaught RV.  The whole family is going to get a 30 day high altititude  workout in their riding and fetching horses to and fro.  Pat is a workaholic and so are the Vaughts. When they return from Colordao, they will be so physically fit and able to jog a full marathon everyday, but why would they want to?
On the morning of  their second day, the Vaughts were headed out on a conditioning trail ride in the mountains.  Pat Parelli was up and about riding.  He asked if they would also gather the cattle..all 64 of them including three bulls.  How fun can it get!
Nova and Powder were part of the group.  Nova has been a little nervous about being on the trail, and now she gets to be on A TRAIL.  Nova led and followed on the mountain trail.  And, of course Tony has to break the trail riding rule.  He and Powder leave the group.  Nova got a little ancy when Powder left, but Jenny managed to convince her that she was safe.
Then the cow gathering was implemented.  They found nearly all the herd and started gathering them back to the ranch.  Nova was placed in position and away they ambled.  All the cows decided they didn't want to amble back to the ranch.  Instead they decided to head off in the direction that Nova was guarding.  All the cows turned and started on a direct line to Nova.  Nova is experienced with ten or so cows, maybe as many as 15.  Sixty four cows heading straight at her made her think, " I want out of here!"  She telegraphed her desire to Jenny.  Jenny is a horse whisperer and read Nova's thoughts loud and clear.  In her horse whisper voice, she told Nova, "Nova, you can do this!  Just put your ears back and look fierce!"  Nova trusted Jenny.  She put her ears back, way back.  Her head was ready to snake and mouth ready to eat any cow that had the audacity to even think about coming her way.  The cows thought… ooooooh.  That horse is not to be fooled with.  Let's head the way that she wants.  The cows resumed their slow amble to the ranch for a day of cow work.
That evening started cow play with Pat coaching the Vaughts.  First Nova and Jenny worked with the electric cow…the one that runs up and down the string.  Nova has played with this kind of cow all winter.  The idea is that's it's the horse's idea to follow the cow.  The rider's job is to provide help with the speed, not help with the reins/mouth.
Pat decided Jenny was doing too much with the reins, so he had her close her eyes.  Can you imagine riding your horse with your eyes closed?  Pat has done this for a long time.  He has people ride at all speeds with their eyes closed.  He says it really helps to improve your balance.
Jenny used to have us ride with our eyes closed in our group lessons.  We never went faster than a walk.  Much time has passed and I think she forgot that training lesson.  Well, she had a great opportunity to learn it again.  This winter, Pat had her ride one of his cutting horses when cutting cows.  We have a video of that.  The one where it looks like Jenny is jerking around in the saddle…  She really did have her eyes closed, riding a top cutting horse, while cutting a cow.  my thought is "EEeeek!"  But I digress
Pat had jenny ride Nova with her eyes closed, while Nova was cutting the electronic cow.  When he was happy with that, he had Nova and Jenny go into the cow herd.  Usually the rider focuses on the cow to be cut out from the herd.  But Pat always has a better idea.  His idea is to let the horse pick the cow!  Nova went into the herd, put her ears back and snaked her herd at certain cows that interested her. Then Nova got to follow that cow and cut them out of the herd.
Oh the fun. On Thursday morning, the Vaughts were planning on heading out on their conditioning trail ride with their new job of gathering the herd.
____________________________________________________________________________________________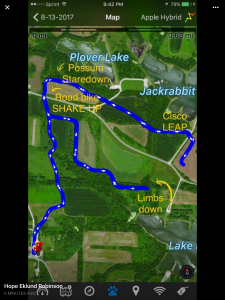 Our ride began on a lovely tree lined, shady trail until we encountered LIMBS DOWN. Ugh. No way to get through. We guffawed at the thought of getting OFF our horses to lead them through the branches. Get OFF? Then, remount FROM THE GROUND? Seriously? Nope.
Susan and I are loath to back track, but that was our only option. At the fork in the trail, we turned north. Low ground that had turned to ribbons of algae slop caused Cisco to LEAP across to save himself and Susan with him. It was SPECTACULAR! Cisco put much more effort into his launch than he or Susan needed. They lived.
Then, we followed a mowed trail into a sunflower field. Sunflowers weeks beyond their prime. We watched as herds of deer, hiding in the tall flowers, leapt to their feet to flee the field as we rode deep into their resting area. We retreated the way we had come.
"Run little possum!" Nope, he stared us down from the side of the trail. Did not budge. It could have been all over if he'd chosen to chase us!
Susan and I continued riding towards the road. Trees lining both sides of our trail, opening onto the road ahead. ZOOM! No sound. ZOOM! For a blink we see a bicycle/rider cross from left to right at sonic bicycle speed several strides ahead. Both horses saw the bicycle missile, thought to save themselves, and us with them! Good Susan Engle trained horses, reacted big, but mostly in place. After we assessed ourselves, we asked, "Are you OK?" Then, laughed. WE LIVED!
Good information! Thank You Susan! And then it happened…I went down the Rabbit Hole of Susan's Blog and have been happily reading your blog for an hour. I love you honesty. Makes me feel less alone on my horse adventures and gave me many belly laughs. I had to claw my way out of the Rabbit Hole to go pick up my truck. But I will surely retun to reading them very soon. Love to read your quirky writing! PS: Now don't get a big head over this post. As you know I tend not to be this kind. Sarcasm is more my speed.
Turns out Cisco has EPM. It is a neurological disease. All info below did not apply to Cisco. We are in the midst of fighting that disease now. We are expecting 100% recovery.
——————————————————————————————————————————————————————————
I was a beginning human in "stifle" when Cisco became lame on his right back leg this past February. Lame means limping in this instance. I had confusion about where the stifle is located in the horse. It was explained to me it was the horse's knee. I've always been confused about the horse's knee and the hock. I thought they must be the same, but from millions of conversations, I had my doubts. I always just pretended to know the different parts of the horse's hind leg. Being in horses 20 plus years would make one assume that they understood horses' joints. I was just too embarrassed to ask anyone about my knee and hock confusion. Normally I don't mind showing my uneducation, but not on this subject! It sounded so easy. Oh was I dead wrong!
Here are parts of the horse-labeled
Here is a good article to start with except it doesn't have a picture of a real horse. This article is just slightly frightening!
Here is the best article so far that I have read by immensely respected Nancy S. Loving. And it is frightening….
Here is an article with pictures and beginner understandable language. This article is followed by many many links to other informative stifle articles. Also this article has pictures which really help our beginner understanding.
Here is a detailed written explanation of how vet medicine is coming along with stifle lameness.
Here is the web site of a human and horse physical therapist who specializes in rehabilitation of the horse stifle. I bought her DVD and now understand more of what is going on. Also there is a great discussion amount different people who have tried most of the treatments that are done with the stifle. These treatments are what your vet will recommend for your horse. Horse and Hound Physical Therapy
The stifle lameness took me highs and lows from February to August. Lameness and seemingly recovery and then lameness again. Plus I was sick during this time. I was found to have an internal blood leaking problem which I self-diagnosed as a vitamin defiancy until I thought my heart would explode and went to emergency room! It has been a rough first half. There were tears about Cisco. Stifle! I hate that word and all the anguish.
Thank you good friend Mindy who guided me to The Horse and Hound DVD and now finding and reading these articles above. Thank you Tony Vaught for continue to improve Cisco's body and leg balance with his shoes. Tony is a Healthy Stride Farrier and works with Linda Parelli's horses when they are located in Florida.
I think we need to keep Cisco's shoes on this coming winter!
I am still confused, but Cisco is now 85% sound in my opinion. I might be an intermediate beginning stifle learning human now.
Note: I was riding Cisco and put my feet out of the stirrups and pretended to ride bareback. Immediately, my toes went up and heels down. Then I felt it! I felt the wobble at the right leg stifle. Aha! Now I can feel it when my feet are in the stirrups. Try it.
Trail riding was going great with Cisco. His gaits were strong. I felt no wobbles for around a month. I left town for 10 days. His pasture situation is static. He and other horses walk occasionally about a football field to graze twice a day.
When we had our first trail ride his back feet were slipping like a very short slide stop. Hmmmm. Second ride we increased our distance from 5 miles to 7 miles. We were on about 4 miles when something went very wrong and a lameness napped for about 4 steps. He recovered, but I thought I felt a slight wobble. On the third ride at about a mile, he started laboring to walk. It didn't feel lame. But it felt awful. We turned around and headed back to,trailer and he commenced to pace at a regular walk. That is an awful feeling.
I became hysterical. At home I saw him dragging his back toes. Stifle was back!
I called our local Magna wave person and after his treatment, his toes no longer dragged. He was using his hind end and picking up his feet. Yesterday I had the she replaced. Today is a massage.
I asked a Facebook horse friend group to tell me their stifle experience. Here goes:
>I had a little horse who had stifle issues and had the tendons in both hind legs cut. he was 7 or 8 when we had the surgery he did great lived to be 34 and never took a bad step after that. I used him for competitive trail rides and then my nephew rode him and then my niece rode him.
>I have a liitle mare with a stifle problem. It comes and goes. Right now I am using Magna Wave Therapy on her. It still comes and goes, but, it has really helped and so far she hasn't been a candidate foe surgery or shots.
>my vet says cut it there will be no issues later no more then there is in any old horse they all get some arthritis he has never had any horses with issues later down the road i do believe this cause my barrel horse was clipped he did so good afterwards and my uncle bought him from me yrs later, he rode him in the mountains hunting then yrs later he was sold to a family to be a kids horse he never had any issues. yes gaited horses seem to have it more i have snip a couple it healed in a couple days and was riding in 4 days
>I know several that had the tendon cut and never had problems because of it. A couple lived to 30 and didn't have arthritis in their stifles and several are late 20s now
>Chatted with a fox trotter show horse owner who had the tendons cut on their horse. Horse was soon recovered and doing great. The horse relapsed when shown in a small arena. Later horse was shown at World Show and won ribbons.
Talked to another that had stifle tendon cut. Horse is also a show horse and is doing great.
Chatted a couple months ago with a person who had gaited horse tendons cut. Horse went thru a lot of rehab and finally ended up with a rideable horse with a correct, but short stride.
>Dr. Frees at Wilhite and Frees veterinary is one of the few vets skilled at treating upward fixation of the patella. Instead of cutting the tendon horizontally, it is cut vertically in small inscesions: Medial patella ligament splitting .Works very well and the horse is still able to lock its leg at rest.
9/25/2017. Took Cisco to Dr Randy today. I was expecting Open heart surgery, kidney transplant, and brain surgery.
Instead he had a chiropractic treatment.
His left hip was locked. He had TMJ. His lower neck acupressure point tested positive.
All his muscles are tense. Back legs are stiff.
We are to switch to lower starch feed, start a magnesium supplement, exercise starting Wednesday, keep a diary and come back in a month.
I'll let you know what feed we switch too later.
I'm not to expect immediate change for a week, so arena riding will work best. Also his history that I have recounted might signal EPM. (Don't worry about that. I know it's not EPM.). No pain was felt in stifle. Dr Randy asked me why stifle was diagnosed. He hasn't cut a stifle for years. (It is the gaited horse magic cure.)